Shoreditch is notorious for Indian restaurants. The type where there's carpet on the walls, garish pantings and certificates claiming they were 'Best Restaurant of the Year 1994′. It's at these particular curry houses where you can bask in bowlfuls of chicken korma, fill your boots with lime pickle and poppadoms, and get hit with that all too familiar carb slump moments after leaving said establishment.
There's a new kid on the block, where you'll find none of the above. It goes by the name of Gunpowder, a home-style Indian kitchen that has taken the London food scene by storm and here's why:
Gunpowder Restaurant: The Vibe
Located a short walk from Spitalfields Market, Gunpowder can easily be missed. The frontage is dark and muted – a single sign hangs above the door. Don't be fooled by the lacklustre exterior, it's inside where the magic happens. The restaurant isn't big, it's compact – there's a handful of window seats and a couple of tables down the righthand side. The place is abuzz, it's lively, and for such a small place, there's a thriving atmosphere. Gunpowder has a certain charm, it's very East London without even realising it. It's moody, cool mixed with industrial chic. Housed in a former curry house, Gunpowder takes no influence from the curry haunts of yesteryears.
Gunpowder Restaurant: The Food
Gunpowder leaves other Indian restaurants for dead when it comes to their food. It's fantastic. Their menu is sharing plates and are served as and when they're ready. Leading you on this culinary journey is Head Chef Nirmal Save, who earned his kitchen stripes at The Oberoi in his hometown of Mumbai and at Zaika and Tamarind Collection in London. The menu features dishes from the Northern and Southern regions of India, and is well balanced by having as many veggie options as there are meaty dishes.
The spicy venison and vermicelli doughnut has fast become an Instagram sensation, and by looking at it you can see why – it's a thing of absolute beauty. Meaty chunks of venison, in a surprisingly light deep-fried vermicelli casing. Maa's Kashmiri lamb chops should be ordered. Immediately. The chops are just, glorious. The way in which these chops are cooked, adds a smokey, rich taste and compliments the heady mix of spices. The chops are served alongside a homemade mint sauce – it's aromatic and adds another layer of tang to the dish.
Another meaty wonder is the chettinad pulled duck served with homemade otthappam. The duck is pretty damn moreish, it's been slow cooked with mixture of yet more spices, shredded and filled into an otthappam – a street food favourite in South India. The oothappam is pancake-esque, but in miniature form. Served with ribbons of pickled carrot for a flavourful finish.
Veggies, listen up – the sigree grilled mustard broccoli is a taste sensation. In essence, it's a broccoli cooked in spices, but it's just so well executed. The dish may be simple, but the flavour certainly aren't. The broccoli is cooked al dente, and is finished by roasting in the oven cooked with a combination of spices. That's it – one bite and your mouth will be flooded with a parade of flavours that makes the Brazil carnival look tame.
If there's one dish that you see constantly coming out of the kitchen, it's the Gunpowder aloo chaat. The base of the dish is aromatic spiced potatoes with nutty black chickpeas. The potatoes are gloriously covered in a sweet yoghurt, all showered in a homemade tamarind chutney for a sweet and tangy taste.
Four words: old monk rum pudding. Order it and bask in this delightful boozy bread and pudding type dessert.
Gunpowder Restaurant: The Verdict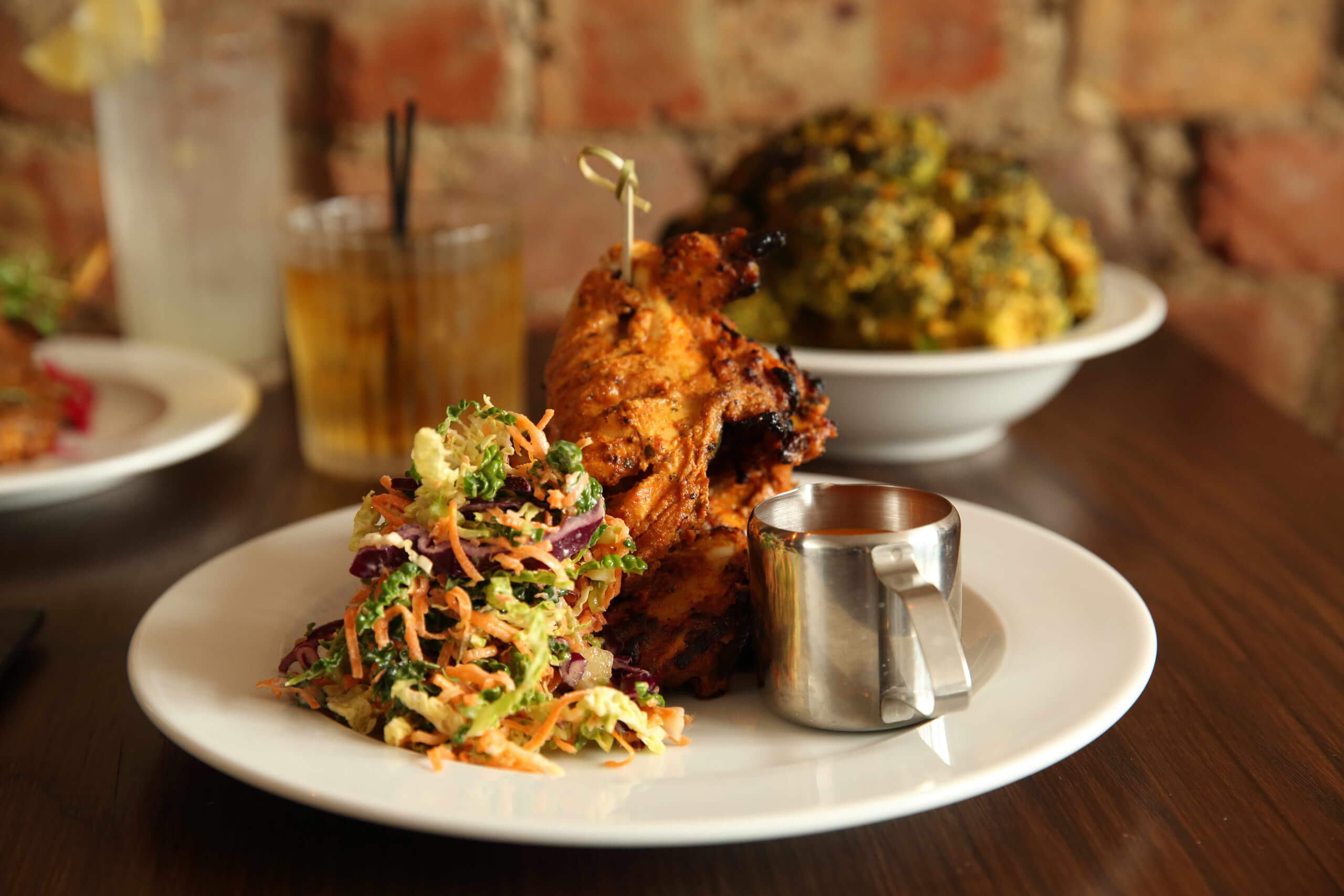 Eating at Gunpowder feels like you're eating your way though a family recipe book. Each dish has been well put together – from the spices they're cooked in, to the dips they're served with. Next time you're in Shoreditch, make sure you pop into Gunpowder. I promise, you won't regret it.
Photo Credit: Laurie Fletcher