Looking for a new Middle Eastern restaurant in London? It's about time you discovered Delicatessen Hampstead, one of the most exciting new restaurant openings of 2018. Read on to discover more:
You're going to love the recently-opened Delicatessen in Hampstead; this neighbourhood restaurant on Rosslyn Hill serves up the most delicious modern Middle Eastern soul food, with a warm, all-inclusive approach and great vibe. The man behind the magic is Israeli-born executive chef, Or Golan, who has worked in some of Tel Aviv's best restaurants, and later became Yotam Ottolenghi's head chef when he moved to London.
The mix of influences at Delicatessen is wonderful; the food is inspired by Golan's roots, especially his Moroccan and Lebanese grandparents, and Jewish cuisine. Expect a hotpot of cultures and the merging of two heritages – the vibrant spices and flavours of the Sephardic Middle East with the Ashkenazi dishes of Eastern Europe. It's delicious and just totally works.
We totally loved the food at Delicatessen; expect extravagantly flavoursome and creative dishes, which are designed for sharing in true Middle Eastern fashion. Their mezze-style sharing plates are just divine and make for a great, sociable dining experience. We devoured our starters – a divine beef carpaccio with truffles and artichoke, flavoursome burnt aubergine with tahini and figs and Lambshuka, a wonderful mix of lamb, herbs, preserved lemon, tahini and nuts. Delicious alongside their Yemenite kubaneh – a pull-apart yeast bread – the starters are a great introduction to the creativity and skill of the kitchen.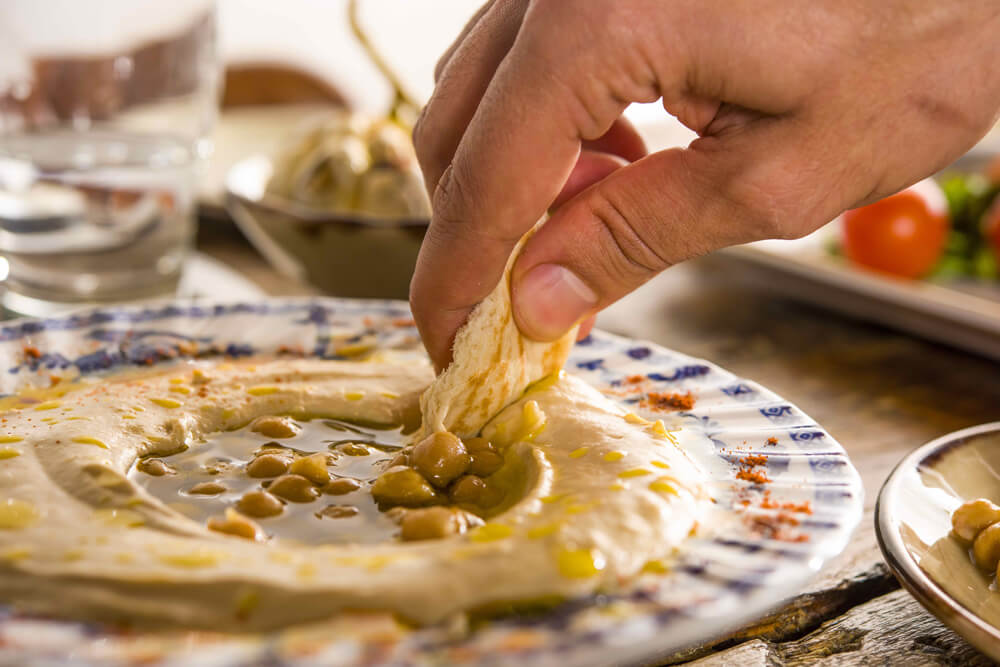 Each mezze is bursting with flavour and vibrancy, from the bold flavour of truffle alongside melt-in-the-mouth beef carpaccio, to the sourness of preserved lemon with the spiced lamb, these are dishes not afraid of flavour. My personal favourite was the burnt aubergine with tahini and figs; the combination of sweet fig with the burnt, rich aubergine and nutty of tahini was just the perfect combination, and the kind of dish that will have you licking the plate clean.
Although you could totally dine out on the mezze-style starters alone, they've also got some fantastic mains (be warned: the portions are massive). The bold flavours continue with dishes such as ras el hanout lamb chops, with lavender and wheat broth, a traditional Palestinian dish of chicken mesachen with sumac, zaatar, seared laffa and rose petals and seabass with burnt tomato and tahini siniya. I opted for the beef dafina with ox cheek, mushrooms, wheat and radish salad, which was an utterly divine Moroccan-inspired beef stew, with all the spices and aromas you could wish for, and delicious risotto-like grain base. My other half (obviously) went for the 350g Rib Eye steak and declared it one of the best steaks he's ever eaten. That's that then.
For desserts, they've got a tasty selection to satisfy a sweet tooth – we went for the churros with sugar cinnamon and hot chocolate sauce, although the tradition Malabi with passion fruit, rose petals coconut and nut brittle comes highly recommend. All in all, the food was fantastic and I'm so happy that this restaurant has joined the Hampstead neighbourhood, as it's a very exciting addition.
The drinks list here is short and simple, featuring wines from Israel, France, Spain and the States with a focus on robust reds, perfectly suited to Delicatessen's rich, flavoursome dishes. There's also a couple of cocktails for good measure – cocktails are given a fresh, exotic twist with a Middle Eastern pomegranate Sangria.
We absolutely loved this restaurant. You can really tell that their menu has been crafted as a culinary journey that travels from subtle, delicate flavours to bold, colourful bites. There's such an array of flavours and textures on offer, it's one of those restaurants that you really can't order badly. Take my word for it: just go.