When you think of tapas, you're probably more likely to envision a relaxed affair on a terraza in Madrid than a sleek sit-down meal in Milan. However, London restaurateurs Alberto and Arian Zandi – known for neighbouring Kensington sister restaurant Zuaya – are attempting to shake things up by merging the two.
Como Garden: The Lowdown
The West London restaurant aims to offer a tapas experience that "combines the most popular dishes from all regions of Italy, presented in a design setting that has been inspired by the glorious gardens of Lake Como". With Zuaya, which opened in 2019, the Zandi brothers have shown that sharing culture can be transported to Latin America, successfully fusing Brazilian, Peruvian and Mexican dishes. But just how easily can the humble small plate format be applied to classic Italian cuisine?
Como Garden is situated just a short walk from Kensington High Street station, occupying a corner that leads down an unexpectedly quiet side street that provides a perfect setting for informal cobbled pavement outdoor dining. Inside, though, it's a much more grand and Mediterranean entity; hanging vines and potted plants decorate the room, while an olive tree show-piece overlooks the cosy sitting booths in the room's centre for a more romantic and intimate dining experience, although perhaps not the seating of choice for the more claustrophobic of customers.
Como Garden: Eat and Drink
The menu is split between three pseudo-courses – antipasti tapas, meat and seafood tapas and homemade pastas – and diners are advised to pick from each (ideally, three dishes per person) for full enjoyment. Meanwhile, the drinks menu offers Italian favourites; everything from negronis and Aperol spritz to Como Garden signatures, like Lecca-Lecca (vodka, amaretto, lemon juice, sugar) or Lago Amaranto (gin, limoncello, blackberries, egg white, sugar).
During our visit, we opted for a starting course of fried calamari and parsley aioli, and burrata with pesto and Datterini tomatoes from the antipasti tapas menu. After all, is it a true Italian-inspired feast without a burrata to tear into? It doesn't disappoint either, the burrata, topped with toasted pine nuts, is a mouthwatering delight. The calamari, meanwhile, is enjoyably tender (without suffering from sogginess and chewiness like bad calamari so easily can fall foul to) yet comes with a satisfying crunch too. Surprisingly though, it's the delicious aioli here that stands out for this dish.
When the pasta dishes arrive, it's clear that Como Garden don't skimp on portion sizes – these are more medium plates than the small plates of Spanish tapas. Quite swiftly after the first dishes, we're served second hearty helpings of lobster and tomato linguine and beef ragu tagliatelle. The parmesan and herb-topped beef ragu is rich and moreish, while the heavenly lobster linguine – always worth treating yourself to – might just be the pick of the night as a whole. It's with these dishes, however, that the Italian tapas concept falters a little though – pasta, after all, is a little less easy to share than finger foods. Just to be safe, you may not want to wear white when you visit.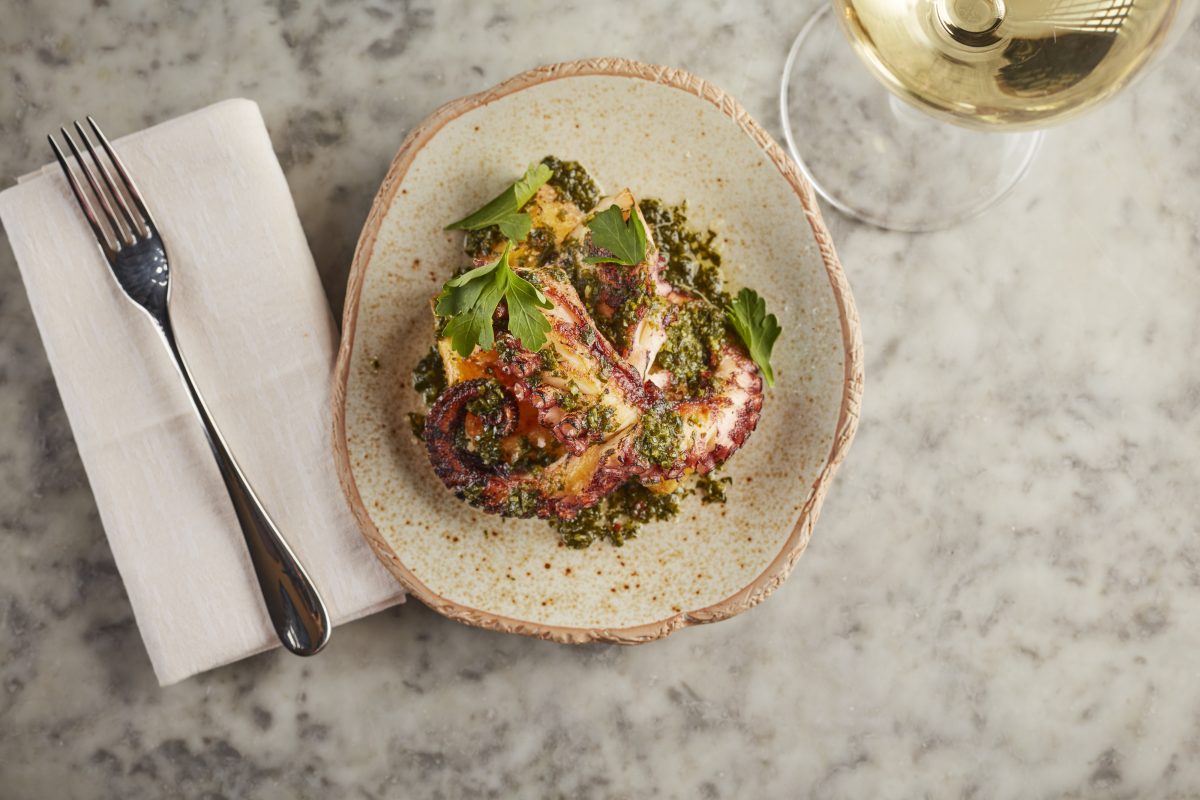 To conclude our meal, we were served grilled octopus – which was firm, flavorful and came with a zesty gremolata and topped some slightly spicy sauce – as well as a perfectly cooked beef sirloin steak. Then, after a round of a thirst-quenching gin fizz and a negroni (that cocktail-du-jour right now in the capital), we went for a lighter option for dessert. The lemon meringue pie and Italian gelato are great choices to cut through the richness of the rest of the menu.
Overall, Como Garden impresses for its strong flavours, generous portion sizes and successful exporting of Italian favourites in a sharable setting – although, again, things might get a little messy for some. First date or important work lunch? Maybe this isn't the one for you. But if you're after some mouthwatering Italian plates to share with those nearest and dearest, in a setting that'll make you think you're in Lombardy rather than London, then definitely give Como Garden a visit.
For further information on Como Garden, see here. 
37-45 Kensington High St, London W8 5ED