It's week seven and we don't know about you, but we're starting to get into a serious a lunch-funk. If you're bored of eating the same lunch day in, day out, and you're looking for some fresh inspiration then we have something that might help: our pick of the best cheesy vegan lunches using Violife dairy-free cheese. Violife has all the goodness and melty-ness that you'd want from cheese, just without the dairy, making it the perfect addition to a vegan lunch. Your challenge for the week ahead: have a go at making one of these easy vegan lunches.
1. Cheesy Potato Rounds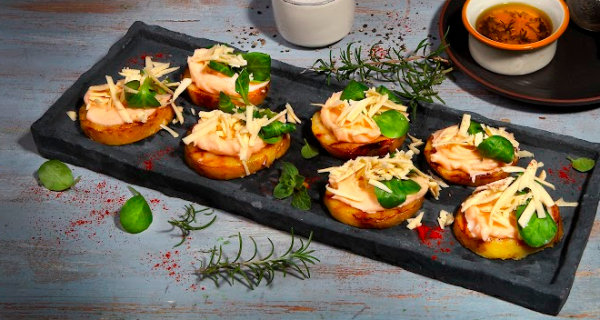 Prep time: 10 mins
Serves:  8
Ingredients
– 1 pack Violife EPIC Mature Cheddar Flavour Grated
– 100g Violife Creamy Original
– 4 large potatoes, baked whole with their skin on for about 40 minutes
– 1 rosemary sprig, chopped
– 1 garlic clove, minced
– 50g lamb's lettuce
– 2 tbsp olive oil
– Salt & Pepper
– 1 tbsp smoked paprika
– Fresh oregano
Method
Trim the ends of the potatoes and slice them into 1cm thick rounds.

Brush with oil and sprinkle with salt, pepper, garlic and rosemary.

Place the potatoes on a grill rack, olive oil side down and grill for 5-7 minutes on each side.

In a bowl, mix together the Violife Creamy with paprika and chopped oregano.

Spread the mixture on top of the cooked potatoes, top with lamb's lettuce and sprinkle with Violife EPIC Grated.
2. Spinach and Sun-dried Tomato Toastie
Prep time: 5 mins
Cooking time: 10 mins
Serves: 2
Ingredients
For the spinach cream:
– 100g Violife Creamy Original
– 100g fresh spinach, roughly chopped
– 20g sundried tomatoes, chopped
– 2 garlic cloves, minced
– 1 tsp olive oil
– Pinch of salt, to taste
For the grilled sandwich:
– 4 slices Violife Original Slices
– 4 slices bread of your choice
– 1 tbsp coconut oil
Method
Heat a teaspoon of olive oil in a skillet. Add the garlic and sauté.

Add the spinach and salt and sauté for 1-2 minutes and transfer to a bowl.

Stir in the Violife Creamy and chopped sun-dried tomatoes and add salt to taste.

Spread coconut oil on one side of each of the bread slices and add them to the pan, oiled side down.

On each slice, spread 2 violife Original slices, spinach cream filling and top with the other slices of bread, oiled side up.

Use a spatula to gently press down on the grilled sandwich during frying. When the bottom is browned, flip the sandwich and cook until the other side is toasted too, about 2-4 minutes on each side.
3. EPIC Mac and Cheese with Broccoli
Prep time: 30 mins 
Cooking time: 45 mins
Serves: 6
Ingredients
– 1 pack Violife EPIC Cheddar Flavour Grated
– 1 pack Violife Prosociano
– 1 pack macaroni
– 1 large broccoli
– 625ml almond milk
– 35g flour
– 3 tbsp dry breadcrumbs
– ¾ tsp paprika
– ¼ tsp garlic powder
– 2 tsp extra virgin olive oil
– 1 tsp salt
– ¼ tsp white pepper
– Fresh thyme
Method
Cook the macaroni in boiling water until 3 minutes undercooked. Add the broccoli and continue cooking for 2 minutes longer until the pasta is slightly undercooked. Drain and return to the pot.

To prepare the sauce, heat 500ml of almond milk in a medium pot, stirring often until steaming hot.

Whisk together the remaining 125ml almond milk, flour and ¾ tsp salt, until completely smooth.

Whisk the flour mixture into the milk and bring to a simmer whisking until thickened.

Remove from the heat and stir in the Violife EPIC Mature Cheddar Flavour Grated and half of the grated Violife Prosociano. Pour the sauce into the cooked pasta and stir until coated.

Transfer the pasta mixture into a prepared baking dish.

In a small bowl stir together the breadcrumbs, paprika, ¼ tsp salt, garlic powder, fresh thyme and the rest of the grated Violife Proscociano.

Drizzle in olive oil and stir until completely combined. Sprinkle with the crumbs and transfer to the oven. Bake for 15 minutes at 160°C until the pasta is bubbling and the topping is golden.
For more dairy-free lunch-spo and another vegan lunch idea check out this easy Courgette Sabzi from Asma Khan.