Forget Easter Eggs, real OGs know that Hot Cross Buns are the actual star of the show this season. One a penny, two a penny, Hot Cross Buns now come in a ridiculous amount of styles, and to get in the Easter spirit, London well and truly has you covered. Here's the best in the capital for 2023:
The Lowdown: A little different from the classic Hot Cross Bun, Executive Chef Phil King has cleverly created the Pophams Croissant Hot Cross Bun. Each pastry is packed with raisins, currants, sultanas, candied peel, a bit of apple, mixed spice, kings ginger and cinnamon and brushed with a citrus, maple and cardamom glaze. Served in all three Pophams bakeries in London with a side of cultured butter, and available for delivery in London only.
The Lowdown: The beloved, buttery Hot Cross Buns from Suffolk's Pump Street Bakery are each scented with warming nutmeg, cloves and cinnamon and studded with sweet currants apple. The signature spring bake is also a key ingredient in their bakery series Hot Cross Bun 58% bar, which is available to buy this Easter in bar form. A combined Hot Cross Bun box, which includes buns and a bar, is available online for nationwide delivery from £16.
Where: Order online 
The Lowdown: Head Baker Janine Edwards has created some of London's favourite bakery items since Toklas opened in 2021. From Mince pies on the top of everyone's Christmas list, to the Dark chocolate and bitter honey biscuits that frequent every aficionados' 'Best Cookies' lists, the Hot Cross Buns at Toklas are no different. Using a blend of heady spices and plenty of citrus from the Todolï Citrus Fundacio, Valencia, the buns are balanced, zesty and well-spiced – a total winner for Easter.
Where: 1 Surrey St, Temple, London WC2R 2ND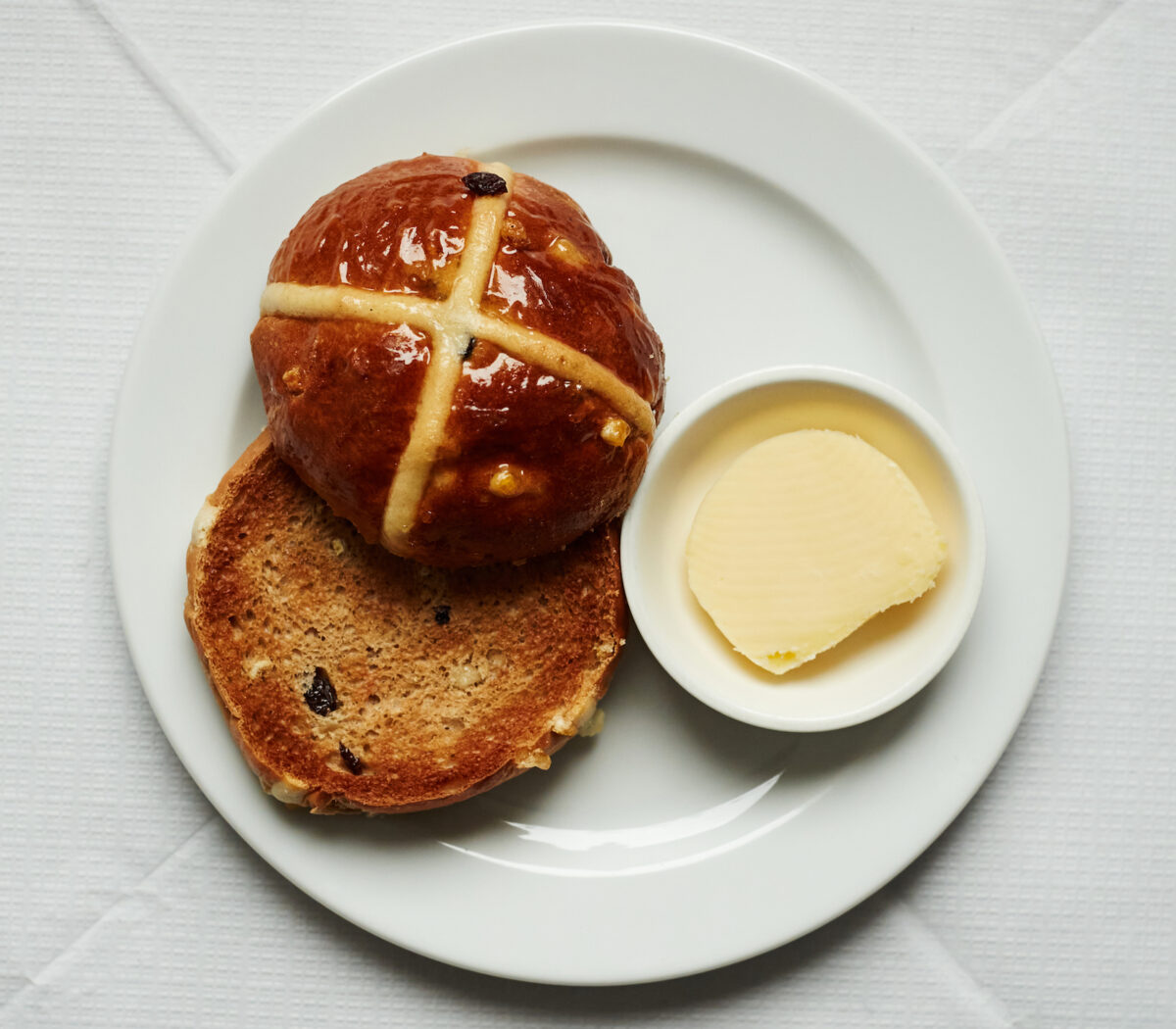 The Lowdown: St. JOHN's Hot Cross Buns are long-proved and slow-risen for that excellent, deep-yeasted dough flavour, which so perfectly offsets the sweet warmth of the spices, and provides the ideal foil for the essential (!) large quantity of butter. Studded with dried fruit, candied peel and crystallized ginger for a subliminal zing, these buns are the most glorious classic treat from one of London's most iconic and beloved bakeries.
Where: Locations here
The Lowdown: Baking master, Verena Lochmuller (Ottolenghi Test Kitchen), has developed a recipe with a lot more fruit, zest and spice (including black pepper and Rooibos tea) compared to your average supermarket buns. After the fruit mixture has been macerated in the rum and rooibos tea for a few days, the buns are made by incorporating a flour/water paste called Tangzhong, which increases the dough's ability to hold water. This makes them moist and gives them a slightly bouncier crumb. The dough is also rested over a longer period in the fridge to create a depth of flavour.
Where: Locations here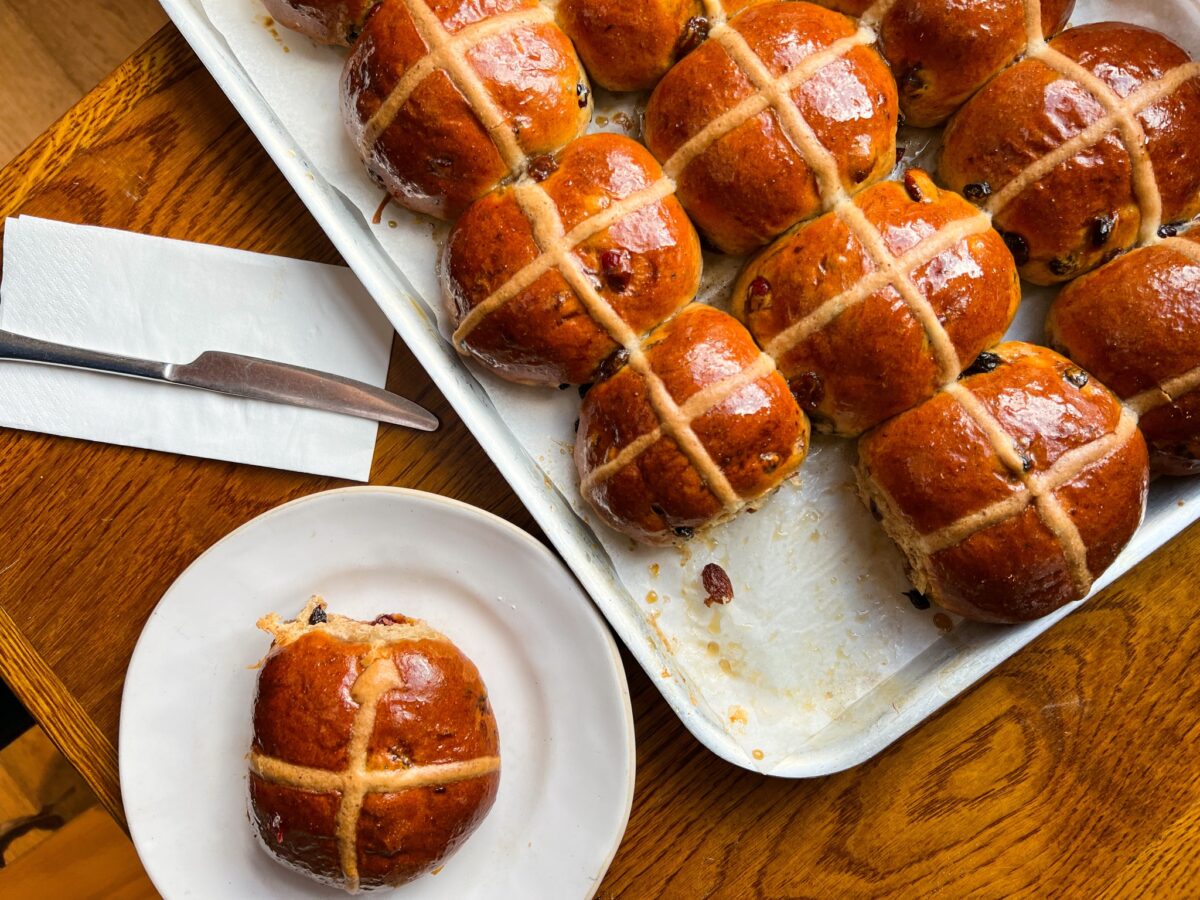 The Lowdown: Gail's are the Hot Cross Buns dons. Every year, its bakeries are stacked with these pudgy spiced buns. For 2023, the bakers have tweaked the recipe, adding rye oat flour and a new type of starter, as well as an ancient spice mix called Grains of Paradise. Originating from West Africa, the mix carries flavours of black pepper, coriander, ginger and citrus. ⁠Simply gorgeous.
Where: Locations here 
The Lowdown: Melrose and Morgan's Hot Cross Buns are soft, yet dense with a tasty spiced flavour from the generous helping of cinnamon, nutmeg and allspice. If you're partial to a fruity bun, these are a certified winner. Toast them for a proper 10/10 snacking experience.
Where: Primrose Hill, 42 Gloucester Avenue, London NW1 8JD and Hampstead, Oriel Hall, Oriel Place, London NW3 1QN
The Lowdown: Crosstown have created a sweet treat hybrid: the Hot Cross Bun Doughnut. The creation is crafted with vegan Easter spiced dough, filled with a deliciously creamy cinnamon custard, topped with Seville orange glaze, and finished with a spiced cross and candied orange peel. We know it's not a traditional Hot Cross Bun, but we're all about the doughy mash-up.
Where: Order online
The Lowdown: Panzer's Deli & Grocery in St John's Wood, one of London's original Jewish delis, stick to the classics when it comes to its Hot Cross Buns. The dough is proven for 24 hours and made using spelt, rye and strong flour, as well as barley malt syrup and candied orange peel. Honest. Simple. Delicious.
Where: 13-19 Circus Rd, London NW8 6PB
The Lowdown: Independent French bakery Comptoir Gourmand has elevated the humble Hot Cross bun to the next level by creating Hot Cross Brioche Buns – a buttery (and fluffy) take on the Easter classic. Featuring a secret spice blend, lemon and orange peel and lots of currants, finished with the classic cross, they're sticky and best served with lashings of butter.
Where: Locations here 
One for luck…
The Lowdown: For a limited time only head on down to Gelupo to get your hands on the Hot Cross Bun Ice Cream Sandwich, available from 27th March. In collaboration with London bakery Jolene, the hot cross buns, freshly baked each morning with Wildfarmed flour, come studded with candied citrus peel and raisins, and filled with your choice of gelato (there's over 20 flavours to choose from!).
Where: Gelupo, 7 Archer St, London W1D 7AU