There's becoming a common theme with the food I cook; look good for minimum effort. Huevos Rancheros is a dish that can be served for breakfast, lunch or dinner, appearing pretty complicated, but in fact couldn't be simpler.
Avocados have become a little obsession of mine of late. I used to really dislike them, then all of a sudden – BAM – I can't get enough of the stuff. They just go with absolutely everything, am I right? A staple ingredient that can be used as part of any meal of the day or even a snack, avocados are becoming my new BFF.
Made in under 20 minutes, this colourful Mexican creation screams complex, but little will your guests know just how easy it is to throw together. While it bubbles away on the hob, cook up some brown rice as the perfect accompaniment.
Huevos Rancheros Recipe
Serves 4
Cook time: 20 minutes
INGREDIENTS:
4 eggs 4 slices of bacon 1 tbsp olive oil ½ yellow pepper, chopped 4 medium mushrooms, chopped 4 cherry tomatoes, chopped 1 can chopped tomatoes 1 tbsp tomato sauce, 1 tbsp chilli, chopped 1 avocado, peeled and chopped Handful of grated cheddar cheese Black pepper, to season Handful of fresh coriander
METHOD: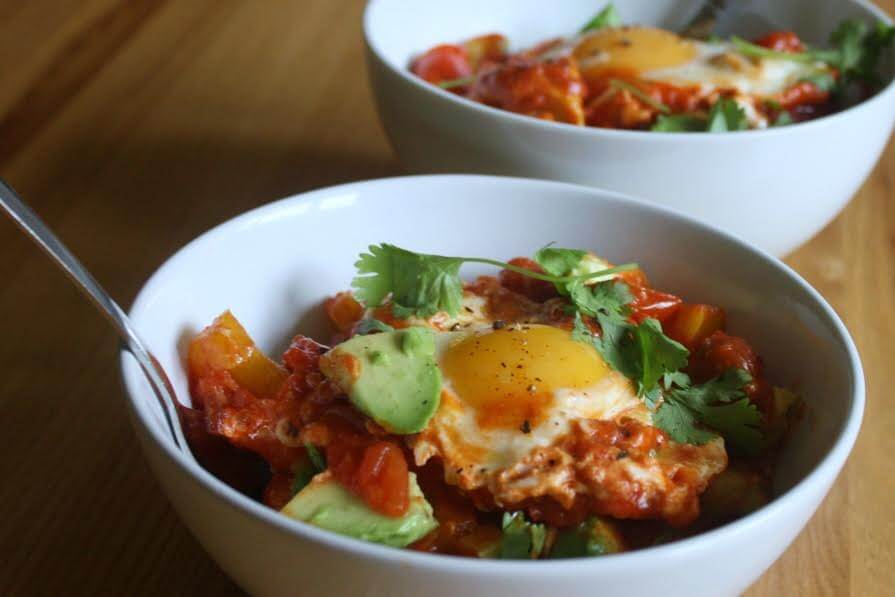 1. Take the four slices of bacon, place on a microwaveable plate, cover and cook on full power for 6 minutes.
2. While the bacon cooks, heat 1 tbsp of olive oil in a large pan and add the chopped pepper, mushrooms and cherry tomatoes. Cook for a few minutes.
3. Once they begin to brown, add the can of chopped tomatoes, 1 tbsp of tomato sauce and the chilli. Stir and cook for roughly 3-4 minutes.
4. Remove the cooked bacon from the microwave, chop into small pieces and add to the saucepan. Stir well.
5. Next, crack the eggs one at a time into an egg cup. Make a hole in the mixture and gently poor in. Repeat for all four eggs. Cover and cook for a further 5 minutes on a medium heat, or once the eggs have begun to solidify.
6. Remove the lid, then add the avocado, grated cheese and season with black pepper.
7. Serve with a handful of coriander.