A brief history into my stint whilst living in Hong Kong: I loved it. For a year I worked in Hong Kong and I was exposed to the bright lights, fast paced lifestyle of this cosmopolitan island.
I could chew your ear off about where you need to visit, but for now, I'll leave you with this: Hong Kong was on another level when it came to eating out. We dined like kings; the cult-like crispy pork and rice, hot pots, dim sum dinners, boat fresh fish and…brunch.
Hong Kong treats brunch like one big boozy celebration – either starting or rounding off the weekend in delicious style. And with Tea Room at Bun House taking their cues from HK's indulgent brunch scene, I felt it was only right to check it out.
Brunch at Tea Room: The Lowdown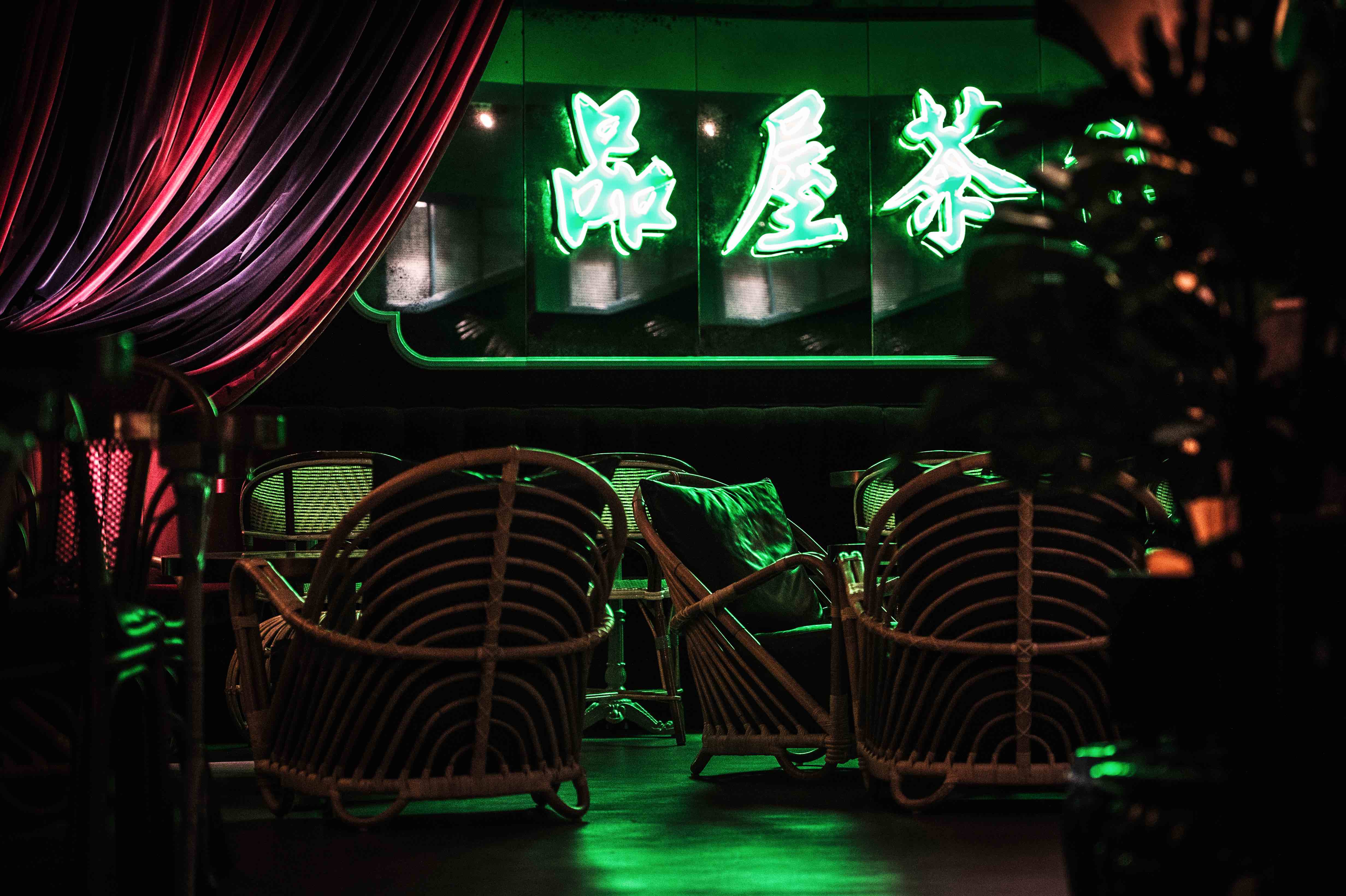 Husband and wife duo,  Z He and Alex Peffly, are behind Bun House in Soho; a two level restaurant with the upstairs a treasure trove of hand warming fluffy pocket-sized buns, and downstairs, the Tea Room, a subterranean cocktail bar complete with 1960's furniture, neon lights and one of the best dining soundtracks I've ever had the pleasure of listening to.
The brunch menu, which is available at the Tea Room, has been devised based on the flavours of Z He's childhood as well as dishes from the Hong Kong street cafes (dai pai dongs). A Guangzhou native, Z has vivid memories of cycling to school past street vendors ladling out steaming bowls of noodles and broth. This is a different kind of brunch, and without giving too much away – I was into it.
Brunch at Bun House: The Food
This brunch is a party for your tastebuds. The HK French toast with peanut butter and cheese was a symphony of sweet, salty and savoury flavours all in one mouthful. Don't knock the the peanut butter and cheese combination; the nutty spread balanced nicely with the savoury cheese and the lashing of syrup added further decadence.
For savoury, we ordered the cumin potato hash and mince, topped with a fried egg. The potatoes had all the traits you'd want from a fried carb: crispy caramelised outer, while simultaneously having a creamy, silky interior. And the yolk of the egg was a dazzling deep, sun kissed orange that was still runny and gooey.
The wok-fried soy cheung fun noodles, again topped with mince and fried egg, proved to be another hit. Thankfully, the contents hasn't been covered in a heavy hand of soy sauce, which allowed the noodles to shine through. The dish was a textual delight – soft mince, gelatinous and chewy noodles, and a rich fried egg. We also tried the kaya butter toast with spa egg and soy, but found this dish underwhelming.
And for something liquid based, the Bloody Marys have been given an Asian makeover. The white papaya, spiked with white pepper-infused baijiu and topped with a prawn skewer was delicate and floral. On the non alcoholic front the Cold Yuen Yeung (a chilled milk tea and coffee concoction) was the ultimate spring cool down.
Just a note: the menu is particularly meat heavy, but they're more than happy to adapt various dishes to suit your requirements.
Brunch at Bun House: The Verdict
I may not be heading back to Hong Kong anytime soon, but this brunch provided a nostalgic bite and further showed that brunch doesn't have to be centred around avocado (praise be). Come and see brunch beauty in all its glory this weekend.
Visit Tea Room's website here. 
24 Greek St, Soho, London W1D 4DZ