Looking for the best food in London right now? As usual, we've got you covered with our round-up of the best new openings, refreshed menus, pop-ups and bars across London. Tuck in:
What: Albion Shoreditch is launching a brand new menu in celebration of British Sandwich Week 2019.
The Lowdown: The all-day café, bar and grocery on the ground floor of Boundary London, has launched a brand new sandwich menu to coincide with British Sandwich Week. Using the best seasonal produce and locally-sourced ingredients from around the UK, the menu features nine options, including The Albion's ham and cheese toastie on buttered sourdough and The Albion Ploughman's with Lincolnshire poacher cheese, salad, tomato and piccalilli on wholemeal.
Price: From £4.50-£5.50 takeaway, and £6.00-£7.50 to eat in
Where: 2-4 Boundary Street, Shoreditch, London, E2 7DD
What: Spelzini is a new all-day restaurant and bar in Shoreditch, celebrating the best of British.
The Lowdown: Spelzini is an all-day restaurant and bar in the heart of Shoreditch, that celebrates the best of British produce and the culinary traditions of London's Mediterranean community. Open for breakfast, brunch, lunch, dinner and Aperitivo, Spelzini serves simple, quick and affordable dishes, from gastronomic Sandwiches to gluten-free chickpea flour flatbread pizzas and Cicchetti-style sharing plates, alongside an eclectic drinks menu of wine, aperitifs and vermouth cocktails.
What's More: To celebrate its opening, the team will be giving away one free Hot Sandwich & Cold Ice Cream Sandwich for the first 50 guests who arrive at the venue on Friday 31st May from 5.00pm, plus a 50% off both dishes until 8pm.
Where: 154-158 Shoreditch High St, Shoreditch, London E1 6HU
Photo Credit: @FoodFeels
What: The Alchemist Opens in Old Street this Friday.
The Lowdown: Immersive cocktail bar and all-day dining experience, The Alchemist, is set to cast its spell on Shoreditch with the opening of a new London venue. Commanding a section on City Road, it will be a devilish addition to the heart of London's creative tech hub. Boasting more than twenty molecular mixologists, mystical concoctions will be created that brim with a fusion of flavours such as the signature Colour Changing One, the Bubblebath and the exclusive augmented reality cocktail collection. A team of culinary demons will also delight with a tantalising menu to enjoy throughout the day and night including broken eggs, tempura prawn lollipops, grilled mac 'n' cheese stack and their infamous cotton candy baked Alaska.
Where: 145 City Rd, Old Street, London EC1V 1LP
What: World-famous Spanish nightclub and restaurant venue, Opium Restaurant & Club, has launched in London
The Lowdown: Following Opium's success in Madrid, Marbella, and Barcelona; Opium London Restaurant and Club is the brand's first international venue and fourth addition to the collection. Opium, which is already Nicki Minaj's go-to place to party when she's in the capital, has quickly become the place to see and be seen. Championing a Spanish and Pan-Asian-inspired menu and an entirely unique take on Japan's ever-popular Kakigori's alongside a whole host of incredible international acts and music artists; Opium London Restaurant & Club is set to rule the city's diary pages.
Where: 9 Rupert Street, London W1D 6DG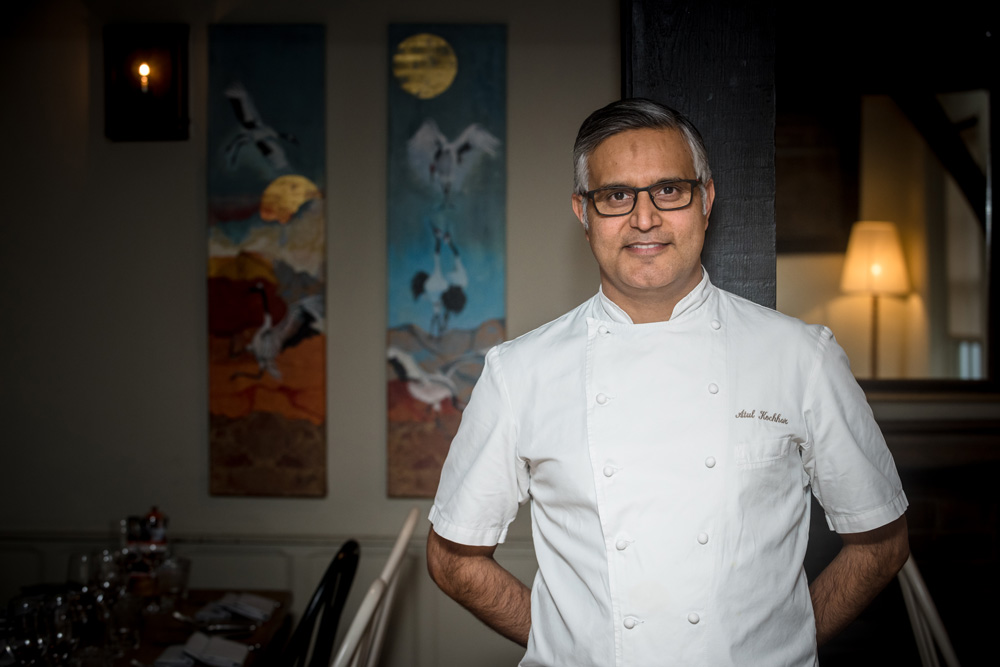 What: Atul Kochhar hosts Zero Waste Lunches at Kanishka to support Great Ormond Street Children's Hospital
The Lowdown: Commencing this Sunday May 26th, every last Sunday of the month Atul Kochhar will be hosting a three-course, zero-waste charity lunch at Kanishka in support of Great Ormond Street Children's Hospital, commencing 26th May at £25 per person (and an additional charity donation, if desired). Dishes will revolve around high-quality off-cuts from Kanishka (Kochhar's Mayfair restaurant) which have been carefully vacuum packed and frozen, to be lovingly re-presented at Atul's Zero Waste Sunday lunches which will contain all of the dazzling flavours and signature flair of the cooking that he is famous for. Not only this, but these lunches will also contribute to efforts towards sustainable living and eating, and simultaneously contribute to the life-changing work that GOSH does every day. Tickets can be purchased online.
Where: 17-19 Maddox St, Mayfair, London W1S 2QH
What: Petersham Nurseries Covent Garden celebrates its 1st Anniversary with the Floral Court Festival, Friday 24th to Monday 27th May
The Lowdown: Petersham Nurseries Covent Garden will be celebrating its 1st Anniversary with the Floral Court Festival, taking place from Friday 24th to Monday 27th May. The festivities will include a carefully curated selection of events, from a Prosecco and Oyster Cart in the Courtyard for the duration, to a Lululemon yoga brunch on Saturday 25th May, as well as live music (from Opera to House DJs) throughout the festival. The festival will culminate on Monday 27th with 'Monday Market Day', a one-off market in Floral Court with some of Petersham Nurseries' favourite suppliers, including Neal's Yard Remedies. The full list of events is available on the website.
Where: Petersham Nurseries, Floral Court, London, WC2E 8JD
What: Filipino rum brand Don Papa unveils plans for a three-week residency in East London, featuring a series of events inspired by its motherland.
The Lowdown:  From 22nd May -8th of June 46 Great Eastern Street (Shoreditch) will be transformed into a Filipino paradise called 'Casa Sugarlandia'  courtesy of the Filipino rum brand, Don Papa. The name of the pop-up is inspired by the lush and exotic island of Negros, where DonPapa is made, which known locally as "Sugarlandia" because it grows some of the world's sweetest sugar cane. Highlights include free karaoke on Thursdays, hosted by international drag collective Sink the Pink, an in-house menu from three rotating chefs including BBQ chefs du jour SARAP, cocktail masterclasses and a bespoke menu of Don Papa house cocktails. Entry to the pop-up is free and open to the public (some events, such as the supper clubs, are ticketed).
Where: 46 Great Eastern Street, Shoreditch, EC2A 2EP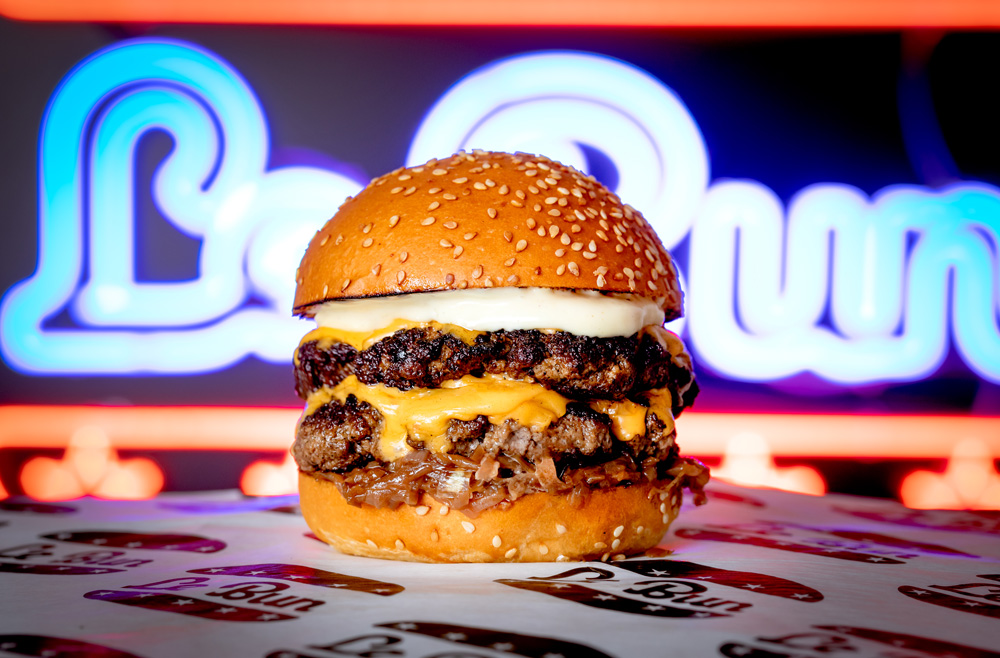 What: Le Bun launches a month-long residency at Sebright Arms
The Lowdown: After a sell-out month at The Truman Brewery in April, hit French/American burger joint Le Bun are launching a four week pop up at the Sebright Arms pub in Hackney from Tuesday 21st of May. Bringing a host of new buns, hot wings and vegan-friendly dishes, new menu items include Truffled CBD Fucking Vegans burger and the reintroduced Return of Le Mac, followed by additional Le Bun classics to be revealed each week throughout the month. Wing Wednesdays will include a bucket of Old Blue Last beer and hot wings for just £20, and weekend brunches will kick off with dishes such as Le Bun's smashed avocado bun, Fried Chicken & Caviar Benedict and Le Cheeseburger Bloody Mary (complete with mini burger garnish)
Where: Sebright Arms, 34 Coate St, E2 9AG
What: Vivek Singh's Cinnamon Kitchen City has launched an exciting new menu, to be enjoyed on its new-look tropical terrace.
The Lowdown: Injecting some fire and spice into the Square Mile, the new all-day menu at Vivek's original Cinnamon Kitchen restaurant on Devonshire Square is all about modern sharing plates, grills, classic curries and biryanis – for those after that extra bit of spice away from the hustle and bustle of London's busy streets. The all-weather terrace has been transformed, complete with giant palms and plants, colourful daybeds and festival-style festoon lighting. We kicked off with finger-friendly firecracker chicken wings and masala popcorn followed by some of the dishes, washed down with the City Lights cocktail. The Express Lunch Menu is perfect for those short on time, ready in 15 minutes or less, or if you have longer, take a trip down memory lane with the Tasting Menu which takes in the very best dishes from the last ten years.
Where: 9 Devonshire Square, London EC2M 4YL
What: Secret Samosa Club is back for a three-month pop-up after its bonkers sell-out stint at Great Guns Social. This time, there is a bangers and mash samosa and rather excitingly, Rick Matharu has created a 'naanwich' – freshly made every day, delivering tandoori bacon and a cheese pull to die for, creating an insane sort of BLT.
The Lowdown: Joti Sohi, ex-Management Consultant and now London's Samosa Queen, today announces a three-month residency at the vibrant Tuk Tuk bar in Shoreditch. SSC is the brainchild of Rick Matharu, creator of 'Naanwiches' – ridiculously filling, totally delicious, tandoori bacon-filled creations, complete with moreish cheese pull – and his renowned range of Butter Chicken, Punjabi Cheeseburger, and Dosa samosas. The residency also promises new 'secret' samosa recipe as well as the classic Chaat Fries, Butter Chicken Loaded Fries and Gobi Wings. Vegans are well catered to with the Dosa Samosas, Chaat Fries and Samosa Chaat.
When: Secret Samosa Club at The Tuk Tuk bar launches on Friday 10th May and will run for three months.
Where: 12-14 Kingsland Rd, London E2 8DA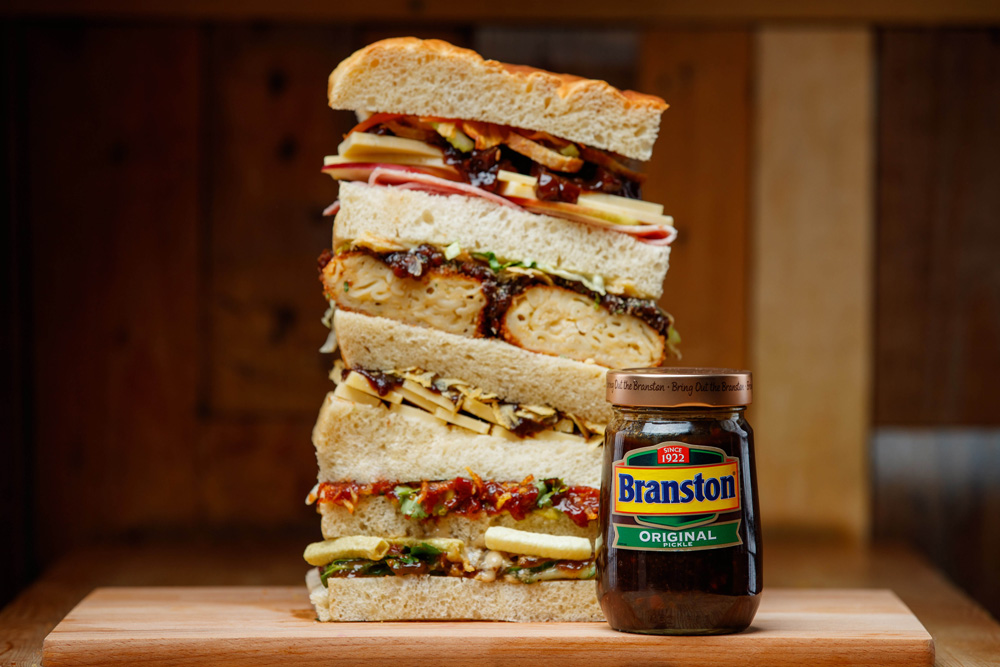 What: Max Halley and Branston create 5-layered ultimate sandwich stack for British Sandwich Week (19th – 25th May)
The Lowdown: Iconic sandwich filler, Branston Pickle has teamed up with the king pin of sandwiches, Max Halley, to create a mouth-watering sandwich stack – 'All The 'Decade'nce' – with each of the five layers made from the classic food combos and Branston associated with different generations, from Baby Boomers to Gen Z, just in time for British Sandwich Week (19th-25th May). For British Sandwich Week only, an epic combination of all the best flavours from each layer –the Branston Boss Sandwich will be on sale in Max Halley's Sandwich.
Price: £9.50
Where: 19 Crouch Hill, Stroud Green, London N4 4AP
What: The Curtain Hotel, East London based members clubs, has launched a new afternoon tea celebrating the best of British classic tea treats.
The Lowdown: Indulge in traditional afternoon tea with all of the trimmings, including plain & fruit scones with jam and clotted cream, a selection of fine tea cakes, smoked salmon bagel, Gin & tonic cucumber sandwich, devilled eggs, and a tea of choice. Partnering with local social enterprise, Hackney Herbal, the Green Room has curated a bespoke blend of teas and infusions. The tea offering caters for traditional, floral and spicy tea tastebuds, with the bespoke 'Curtain Blend' including flavours such as echinacea, sage and liquorice. Guests can also add a glass of Veuve Clicquot Yellow Label Brut NV to complete the quintessential tea experience in the beautiful surroundings of the Green Room.
Where: Green Room located within The Curtain, 45 Curtain Rd, Hackney, London EC2A 3PT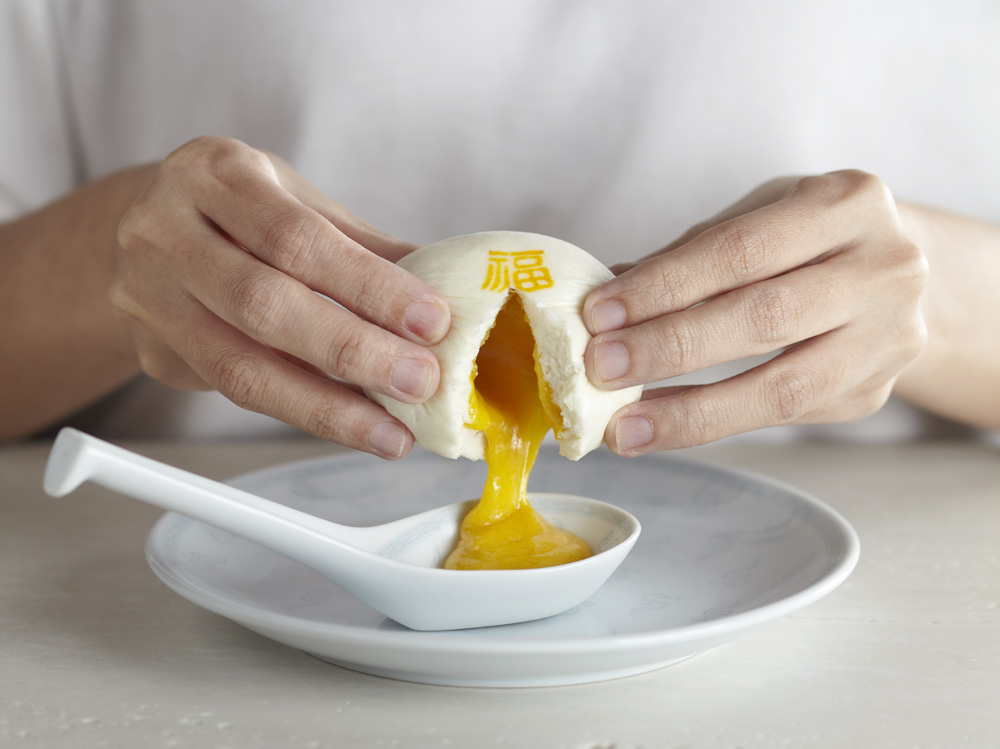 What: The long awaited for Salted Egg Yolk Custard Lava Buns have arrived at Din Tai Fung
The Lowdown: Din Tai Fung's signature dessert has finally arrived at it's Covent Garden restaurant. The buns, which are marked with a yellow stamp to symbolise good fortune, reveal a naturally vibrant yellow custard that flows like lava when broken into. The slightly grainy texture and intense flavour of the custard comes from duck egg yolk, with a subtle amount of salt that brings out the flavour of the duck egg yolk. Available Friday – Sunday only, the white, soft, fluffy buns are steamed in a traditional bamboo basket and served individually (£3) or in threes (£9) with only 200 pieces available on each day – once they're gone, they're gone!
Where: Din Tai Fung, 5 Henrietta St, Covent Garden, London WC2E 8PT
What: Your favourite (all pink friendly) vegan joint Kalifornia Kitchen has just launched CBD high tea menu at its Percy Street site.
The Lowdown: From yesterday, Kalifornia Kitchen is serving CBD high tea menu that will run weekly, featuring a menu of CBD-infused cakes, pastries & drinks. CBD is a safe, non-psychoactive part of the cannabis plant, which could contain a host of health benefits.
Price: £42 per person
Where: 19 Percy Street, London, W1T 1DY
What: The latest outpost of Island Poké has opened in Victoria
The Lowdown: Island Poké has launched its first menu addition since its opening; the Huli Huli Chicken bowl. The Huli Huli Chicken bowl has been created for Londoners looking to grab a protein packed lunch on to go. In a nod to poke's Hawaiian origins, the star of the Huli Huli Chicken Bowl are tender chicken thighs marinated in miso, grilled over charcoal, then topped with Island Poké's Huli Huli Sauce made with fresh pineapple, miso, soy, sesame, and chilli.
Where: Victoria, Shoreditch, Kingly Street, Broadgate Circle, Canary Wharf, Great Titchfield Street, Bank
What: The Gentlemen Baristas, are celebrating the 1st Birthday of their London Bridge site by giving away FREE coffee on the 25th May from 7am-5pm.
The Lowdown: London's well-mannered coffee connoisseurs, The Gentlemen Baristas, are celebrating the 1st Birthday of their London Bridge site by giving away FREE coffee, all day – true gents! Styled on a traditional Victorian shop, the location serves their own-roasted coffee alongside breakfast food, delicious toasties and cakes. In keeping with the boutique format, the store also sells oils, jams and preserves, alongside beans from The Gentlemen Baristas roastery and accompanying coffee equipment for any wannabe baristas!
Where: The Gentlemen Baristas, The Coffee Store, Nr Borough market, 11 Park St, London Bridge, London, SE1 9AB.
What: Hacha is specialist agave spirits bar (or 'agaveria')  on Kingsland Road, Dalston, championing an innovative and approachable way to try agave spirits. The bar was launched by Tequila and Mezcal aficionado, Deano Moncrieffe, who is Luxury Tequila Ambassador for Diageo Reserve. 
The Lowdown: Named after the axe used to cut agave pinas, Hacha, pronounced 'Acha', will serve a specialist and ever changing collection of fine and rare Agave spirits. Available to order individually or as a tasting flight, each serve will be paired with a flavour enhancer allowing guests to uncover untold profiles and enjoy a new and accessible way to try agave spirits. As well its evolving menu of 25 different Tequilas, Mezcals and lesser known agave spirits, the bar also serves sumptuous cocktails (including the Mirror Margarita served on tap) and delicious Mexico-inspired small plates.
Where: Hacha 378 Kingsland Rd, London E8 4AA
What: Jay Morjaria from BBC's Million Pound Menu has returned to Borough's Great Guns Social for his third residency until 25th May, ahead of the launch of his debut restaurant later this year.
The Lowdown: Jay gives a preview of his signature cooking style – a plant-based menu which draws inspiration from both his travels and culinary training in Europe and East Asia (in particular South Korea), using the very best of seasonal British produce. Guests can expect dishes such as Pajeon – a Korean rice flour pancake, served with Smoked Beetroot and with wild garlic, as well as Grilled Sprouting Broccoli with Walnut Miso and a Kimchi Crumb. Diners can order a selection of small plates or choose the chef's tasting menu. There will be a lunch menu served between 12-2.30pm Tuesday to Friday. The residency will run until 25th May.
Where: Great Guns Social, 96 Southwark Bridge Road, London, SE1 0EF
What: A sensory edible cinematic experience!
The Lowdown: 'Meals on Reels', a multi-sensory edible cinematic experience kicks off with one of Britain's biggest cult films, Withnail and I, on the evening of Friday, 24th May. The scene is set with the pub's private Control Room featuring elements from Withnail's shambolic kitchen and Monty's old country house. Get ready to eat and drink your way through the desperation and adventure of Withnail and Marwood whilst feasting on a whopping 10 small plates and knocking back plenty of drinks, reflecting the drunken exploits of the film's stars, Richard E. Grant and Paul McGann.
Price: Tickets are £20 for early birds and £25 thereafter. Tickets are limited, so book now HERE.
Where: The Signal, 7 Devonshire Road, Forest Hill, SE23 3HE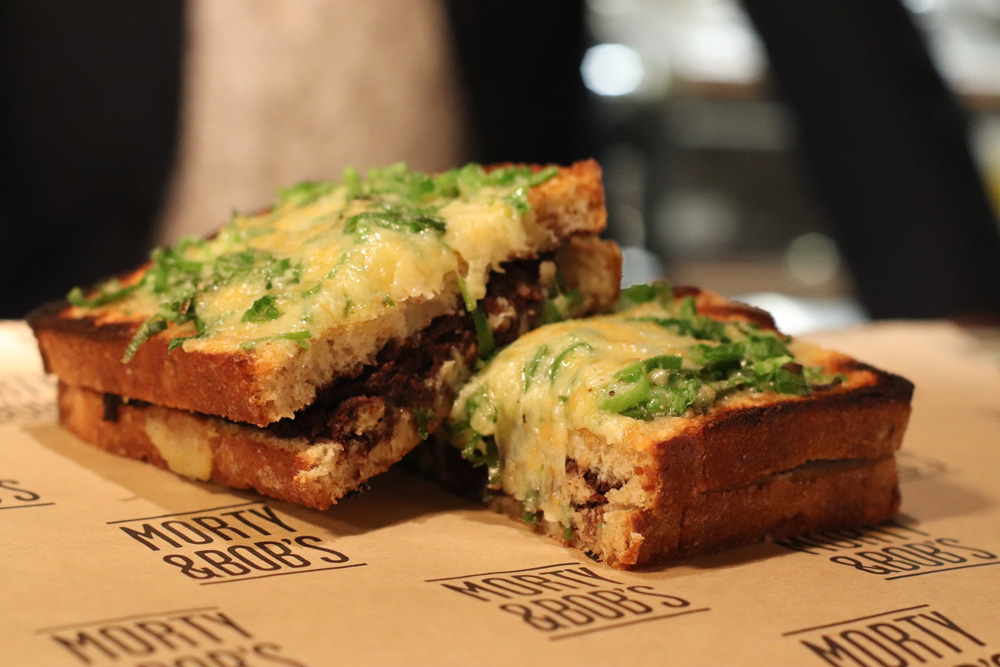 What: Morty & Bob's is launching rotating toastie collaboration, starting with Mark Hix MBE
The Lowdown: The grilled cheese gurus at Morty & Bob's are launching a rotating toastie series; The Melt Collaboration. Each month, in the new Coal Drops Yard site, the restaurant-cum-bar will join forces with a specially-selected chef or popular food establishment to design a limited edition toastie. Celebrated chef, Mark Hix will kick things off on Monday 13th May with his take on the modest British favourite. The M&B x Mark Hix creation is available throughout the month of May and consists of soft black pudding, spring onions and tangy apple sauce, grilled between thick slices of sourdough bread, which are topped with melted Neal's Yard Dairy cheddar.
Where: 49 Coal Drops Yard | London N1C 4DQ
What: Santo Remedio launches the Mexican Margarita brunch
The Lowdown: Hotshot husband and wife team, Edson and Natalie, have created the new brunch offering serving their version of mid-morning classics as well as their most popular dishes, inspired by recipes found in Mexico City, Yucatan, Oaxaca and beyond. Dishes include; guacamole with tortilla chips, baby potato flautas, chilaquiles verdes o rojos with fried eggs (a traditional Mexican dish of fried tortillas bathed in salsa until tender) and torta ahogada (a popular Mexican sandwich filled with tender, melt-in-the-mouth pork), and the Mexican burger with chorizo, chipotle ketchup and jalapeño mayo. This burger is a brunch saviour.
Price: For £45 guests can fill their boots with unlimited Margaritas, bubbles or beer along with three courses and extra tasters.
Where: Santo Remedio, 152 Tooley St, London, SE1 2TU
What: Crosstown Partner with Bluebird Chelsea, Bringing their Doughnuts to the King's Road in a Bespoke Floral Afternoon Tea for the Chelsea Flower Show
The Lowdown: Crosstown are bringing their celebrated doughnuts to the King's Road for a limited time as they partner with Bluebird Chelsea to create a special floral inspired doughnut afternoon tea for The Chelsea Flower Show. Running from the 21st – 25th May, the courtyard will be serving a three-tiered afternoon tea pilled with Crosstown doughnut bites, cakes, scones and sandwiches.
Crosstown's bespoke vegan orange blossom dough bite will feature centre stage on the tea stand accompanied by a selection of floral cakes from Bluebird's pastry chef. Red velvet and rose petal cupcakes; caramel mocha choux buns; neroli blossom and strawberry macaroons and the flower pot of dark chocolate mousse with yuzu curd and chocolate soil will sit alongside warm homemade scones with jam and butter, and an assortment of sandwiches.
Where: Bluebird Chelsea, 350 King's Rd, London SW3 5UU
What: COYA Angel Court introduces weekend party brunch
The Lowdown: COYA host Amazonian party brunch every Saturday.  This experience is for those looking for something out of the ordinary, the show stopping event is a three hour affair of bottomless pisco sours and other cocktails, Champagne, vibrant Peruvian dishes, music and special performances. The celebration starts in the Pisco Bar & Lounge with unlimited pisco sours, espresso martinis, margaritas, bloody mary's while tacos, bao buns and anticuchos are passed around on smoking grills. Jungle foliage will fill the space and guests are invited to sample unlimited COYA signatures from the decadent starter stations filled with ceviches; beef tataki; kingfish tiradito with truffle oil to name a few and salads including kale with candied walnuts and manchego. The DJ will set the tone throughout the experience, playing a mix of tribal beats and uplifting house music.