From Mexican baked eggs to Caravan's unbelievable cornbread, this city is brimming with fantastic brunch ideas. But if you're bored of the standard Eggs Benedict, why not (literally) spicing things up. Forget chocolate, if you're looking for a great way to spend this Easter weekend, try one of these great eggs dishes instead. Here's our favourite quirky eggs in London:
If you fancy spice… Akuri at Dishoom
What: Akuri at Dishoom. Spicy scrambled eggs – an Irani café staple – piled up richly alongside plump pau buns and served with grilled tomato (£6.90)
Where: Dishoom, 5 Stable Street, London N1C 4AB
Why: If you like spice, these eggs are the one. Dishoom in Kings Cross and Covent Garden has such a wicked vibe, and the food is top. They also serve unlimited porridge and unlimited chai, so you can make a morning of it. Word of warning: it gets really busy at the weekends, so prepare for a queue. Word of insider knowledge: they serve Chai while you are waiting. Win.
If you fancy cheese… Egg en Cocotte at Duck and Waffle
What: Duck Egg en Cocotte – wild mushrooms, Gruyère, truffle and soldiers (£13)
Where: Duck and Waffle, Heron Tower, 110 Bishopsgate, London EC2N 4AY
Why: If you're not coming for the views (which, really, you should be), come for the sensational food masterminded by Daniel Doherty. There's literally not a dish on this menu you wouldn't want to devour – try the Elvis Waffles with chocolate and peanut butter, or this fantastic melty cheese eggs dish with rich truffle and slightly nostalgic toasted soldiers. Nom.
If you fancy posh… Confit Egg at Smokehouse
What: Smokehouse's Foie gras, confit egg, apple pie & walnut (£11.00)
Where: Smokehouse, 63–69 Canonbury Road, Islington, London, N1 2DG
Why: Newly opened Smokehouse is tipped to be the next big thing in Chiswick. Think seasonality and outstanding produce at its heart; the new restaurant is housed in a beautiful old pub, decorated in shades of white and great, with a roaring fireplace, reclaimed chandeliers and scrubbed pine tables. Paved terrace and lawn, planted with beds of rosemary and a pergola covered with roses. Heaven.
If you fancy Turkish… Turkish Eggs at The Providores
What: Turkish eggs from Changa restaurant in Istanbul – two poached eggs on whipped yoghurt with hot chilli butter and sourdough or seeded granary toast (£9.90)
Where: The Providores and Tapa Room, 109 Marylebone High Street, London, W1U 4RX
Why: Peter Gordon's cuisine knows no bounds. This sensational eggs dish has people crossing town for it – as well as the granola with New Zealand honey. Also try the unusual sweetcorn and blueberry fritters, with avocado and rocket salad. It gets busy in the mornings so try to book in advance!
If you fancy Israeli… Shakshuka at Nopi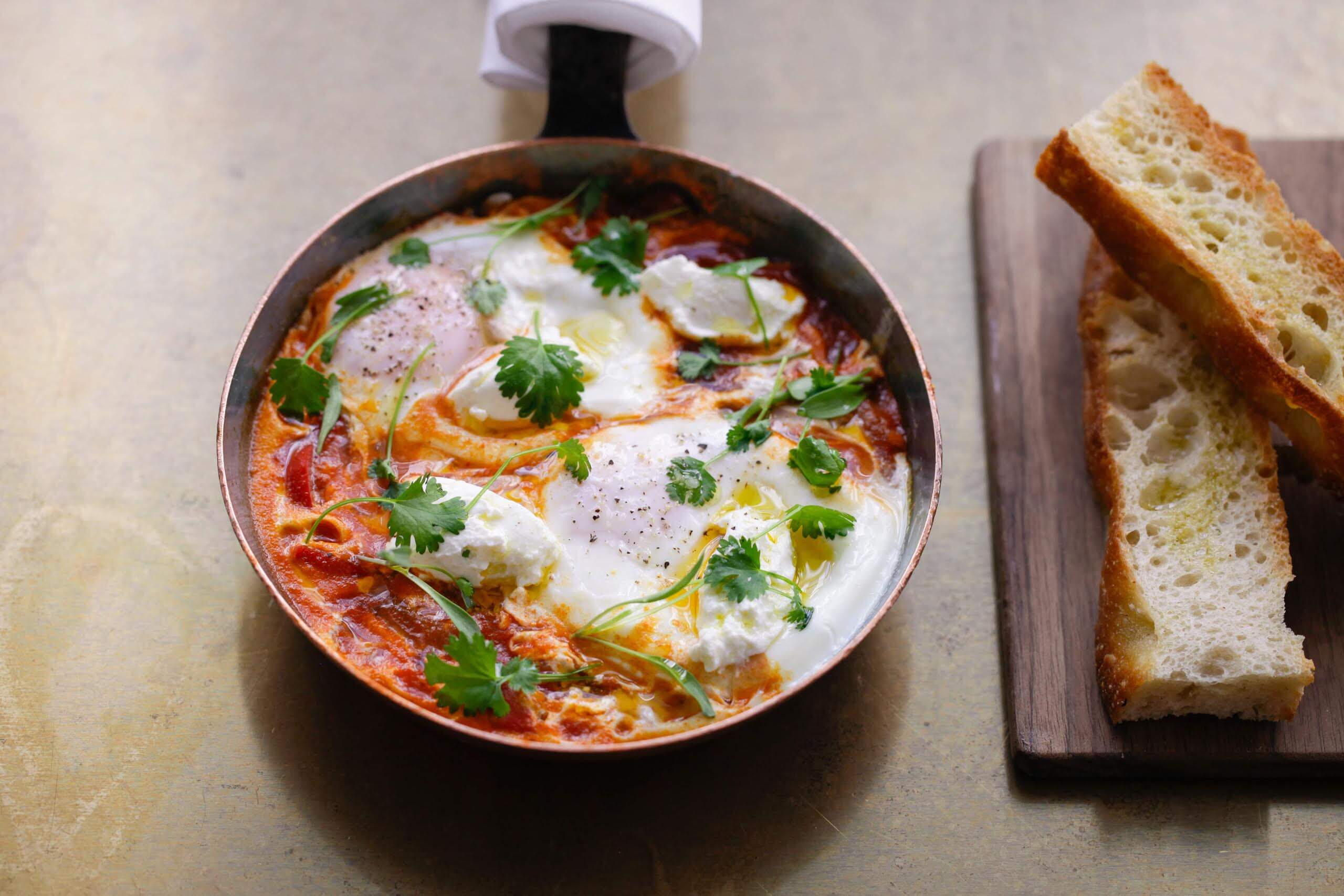 What: Shakshuka – braised eggs, piquante tomato sauce, smoked labneh (£11.5)
Where: Nopi, 21-22 Warwick Street, London W1B 5NE
Why: Nopi is cool on so many levels; the decor, the white walls, the low-lighting. They do fantastic juices and some of the best breakfast in London  – the Shakshuka here is given a special kick with the smoked labneh – a traditional Lebanese soft cheese, with a slightly sour tang, that highlights the smoky flavours of the tomato sauce. Just brilliant.
If you fancy quirky… Full English at Rum Kitchen
What: Jamicanme Breakfast – pulled pork, spicy sausage, eggs, tomato, beans, mushrooms & toast (£9.50)
Where: 1st Floor, Kingly Court, Carnaby Street, Soho, London W1B 5PW
Why: If you're feeling the effects of the night before but you're  done with the traditional full English, Jamicanme takes all the usual components but combines them with Jamaican spice for a fry up that's anything but ordinary. And nothing says Hair of the Dog like a rum and coke, right?
If you fancy fluffy… Cornbread at Caravan 
What: Jalapeno cornbread with fried eggs, black beans and guindilla pepper (£9)
Where: Caravan, 1, Granary Building, Granary Square, London
Why: The struggle to choose which dish to feature in this piece for Caravan was real. But their cornbread is tops; delicious, savoury cake-y goodness with a Mexican spice and depth, it's everything you could want in a brunch dish. If you're feeling bold, try the Pumpkin Waffle with baked ricotta, maple and pecans – it's utterly fantastic.
If you fancy Indian… Dosa at Eastway at Andaz Hotel
What: Eggs on Brick Lane – soft poached eggs with mild curried potatoes on a dosa pancake served with crushed smoked tomato chutney (£12)
Where: 40 Liverpool Street, London EC2M 7QN
Why: The 5* Andaz Liverpool Street has a fantastic weekend brunch menu at Eastway Restaurant, tantalising foodies with its a collision of two continents – offering gluten-free treats, freshly squeezed juices, bubbling mimosas and an interactive DIY Bloody Mary bar. Think pancakes filled with mild cheddar and served with blackberry compote, and 'Love it or 'Ate It' Chicken' (£15) – confit chicken legs glazed with Marmite and spices, accompanied by rosemary and bacon waffle.
If you fancy Mexican… Mexican Baked Eggs at Wahaca
What: Mexican Baked Eggs – served in a skillet with buttered sourdough in 3 delicious ways: Roast tomato and chipotle £6; Tomatillo crème fraiche £6; Refried beans with chargrilled British Chorizo £6
Where: Wahaca Oxford Circus – here
Why: Wahaca is quick, easy and always delicious. It's one of those places you can stumble into and be guaranteed to have a fantastic meal. Their Mexican Baked Eggs are rich and satisfying – perfect with the sourdough. My personal favourite are the simple eggs with crème fraiche. Finish with the classic Mexican hot chocolate with chilli, and consider it a Mexican fiesta.
If you fancy Asian… Poached Egg at House of Ho
What: Apple-Smoked Pork Belly, Braised Cabbage, Egg (£12.00)
Where: 57-59 Old Compton Street, Soho, London W1D 6HP
Why: The taste of Vietnam with a modern twist, in the heart of London's Soho, House of Ho is great for a quick bite and if you're in the mood for something with an Oriental twist. Bobby Chin's eclectic cuisine includes delights like Smokey Aubergine in a Warm Scallion Vinaigrette and Fresh Steamed Lobster with Glass Noodles 18.50 served in a clay pot. While they don't do brunch as such, this dish has all the good elements of brunch about it. Come for the poached egg, stay for a Saigon Sour with Woodford Reserve, lemongrass and egg white. Nom.
If you fancy an omelette… Sugar-Cured Omelette at The Modern Pantry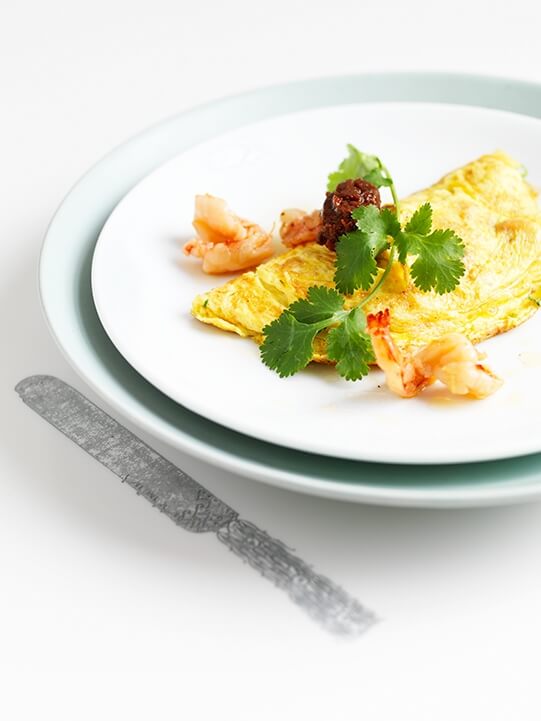 What: Sugar-cured New Caledonian prawn omelette, green chilli, spring onion, coriander, smoked chilli sambal, toast (£9.20)
Where: 47-48 Saint John's Square, Clerkenwell, London EC1V 4JJ
Why: You literally cannot go wrong at The Modern Pantry; everything on their brunch menu is simply fantastic. We love the raspberry & ricotta pancakes with berry & liquorice compote and crème fraiche, and the grilled cornbread with chorizo and two fried eggs. Anna Hansen's cuisine is daring, yet elegant, with some unusual flavours thrown in – this omelette is unlike anything you've tried before, and the smoked chilli sambal gives the dish a fantastic richness and serious kick. Heavenly.
If you fancy something new… Huevos Rancheros at Bad Oeuf
What: Creamy scrambled eggs, masa harina, chilli, chorizo, peppers and fried tacos (£9)
Where: Unit 1b, City Point, 1 Ropemaker St, London EC2Y 9AW
Why: Neil Rankin, Head Chef of the Smokehouse, has done something really rather wonderful with Bad Oeuf. The restaurant serves us (mainly) eggs, and really, really well. Think: burgers, ribs, eggs and tacos, with some devilish cocktails to wash it all down. Try the crispy fried eggs with Malaysian hot sauce and the cheeseburger hash with crispy home fries. The perfect place if you're in the mood for Brinner – they serve eggs until 11pm!