Looking for the best brunch in London this weekend? Well, look no further. If you haven't noticed, we're very passionate about good eggs, coffee and Sundays. Here's where to find London's best brunches this weekend:
What: Regularly touted as one of the best places for coffee in London, come to The Haberdashery in Muswell Hill for amazing Italian Hot Chocolate and one of the best brunch in London. This is the place for all-day breakfast, sandwiches, and cakes served in vintage crockery with tea cosies and bunting – you'll fall in love with The Haberdashery. They have taken shabby chic to a new level and it's a girlie paradise. They have a regularly changing menu – and their sandwiches and soups, served with vintage terracotta bread pots, are seriously good.
Eat: Brunch is served all day on weekends – win win! There's free range eggs with toast, warming bowls of porridge with poached pear, blueberry, banana, prunes and honey, or the classic sausage roll on bread. For something hearty, try their veggie breakfast with free range eggs, halloumi, spinach, mushroom, confit tomato, homemade hash brown and toast. For a weekend treat, their thick-cut French toast with grilled cinnamon-y banana and maple syrup is dreamy. They also do the best hot chocolate in London: fact.
Where: 22 Middle Ln, London N8 8PL
What: Canto Corvino, the stunning, 140-cover modern Italian restaurant and bar in the heart of Spitalfields, is serving weekend brunch between 11am and 3pm on weekends – it's the best brunch in London for easy, Italian-inspired dining. Head Chef Tom Salt has wowed the critics with his rich, bold flavours since the restaurant opened in late September and his brunch is equally impressive, bringing together Italian, American and English influences to create a vibrant and utterly delicious offering.
Eat: Highlights include Tom's clever take on the brunch classic Eggs Benedict, with Uova Puttanesca – tuna and poached egg muffin with caper and anchovy hollandaise. You can't miss the baked eggs with pumpkin, tomato, polenta and gorgonzola – it's a must-try. For meat lovers, there's also short rib hash, fried egg and devilled jus and Tuscan sausage, fried egg muffin with grilled vine tomatoes. Lighter dishes include pancakes, such as lemon and ricotta with honey and thyme, and banana with peanut butter, as well as Cornflake French toast with burnt plums and whipped crème fraiche. Yes please.
Where: Canto Corvino, 21 Artillery Lane, Spitalfields, E1 7HA
What: No67 is an independent café and restaurant within the South London Gallery, with a great atmosphere and perfect menu for groups and families. They provide a robust, seasonal menu of lovingly prepared daily specials, sandwiches, top class coffee and cakes (including vegan options). Come visit for brunch which is served 10-3.30pm at the weekends and see for yourself. Best brunch in London for easy diners, hands down.
Eat: If you fancy something healthy, try the quinoa and buckwheat granola with coconut yoghurt and berry compote. Or go classic with scrambled eggs with smoked salmon or streaky bacon. For veggies, there's mezze of baba ganoush, beetroot, hummus, peppers stuffed with feta, olives and sourdough toast. There's also vegan banana bread, and for a twist on a classic Full English, try the Full Spanglish with eggs, chargrilled chorizo, beans, roast mushrooms and toast.
Where: 67 Peckham Rd, London SE5 8UH
What: St Clements is a new cafe in Parsons Green, serving fresh seasonal food and fantastic coffee. Why visit? Well, all their food is hand made each day in their kitchens, using recipes which have been carefully devised, tested and re-tested. There's a focus on quality – they've built a group of wonderful suppliers who provide them with outstanding fresh ingredients.
Eat: Their food is wholesome and nutritious with many gluten-free and dairy-free options.
As the seasons turn, their breakfast and lunch menus evolve with them. During the colder months at lunchtime you will find soups, lasagne and stews alongside salads incorporating blood oranges, apples, damsons, pomegranates and pears. At weekend brunch, there's porridge with grated apple, toasted coconut and honey and maple and almond granola with Greek yoghurt and Autumn fruit compote. For something substantial, try baked eggs with chorizo, tomato and spinach or leek and feta fritters with poached eggs, avocado, harissa, dukkah and wild rocket. Don't forget to pick up a homemade cake on the way out!
Where: 201 New Kings Road, London, SW6 4SR
5. Worth Travelling For: Big Easy
What: Just in time for festive catch ups, the new Big Easy Canary Wharf is now offering a fabulous weekend brunch, with unlimited BBQ meat or lobster. At Big Easy, limitless Bar.B.Q is on offer alongside two hours of Big Easy brew, prosecco or house wine, for just £29.50.
Eat: If BBQ isn't your thing, new for Canary Wharf is an all-American breakfast menu served 9am-12pm at the weekend. An eclectic range sees classic state-side dishes including potato hash with burnt ends and eggs, and chicken fried steak, eggs and country gravy, served alongside creations such as lobster or brisket Eggs Benedict and Nutella Smores Cronuts. The menu also includes a selection of 'wake up' cocktails, including Tipsy Tea – a fragrant sweet tea with orange vodka – and the classic Corpse Reviver No.2. In terms of value for money, we reckon this is the best brunch in London this weekend.
Where: 1 Crossrail Place, Canary Wharf, London, E14
And one for luck…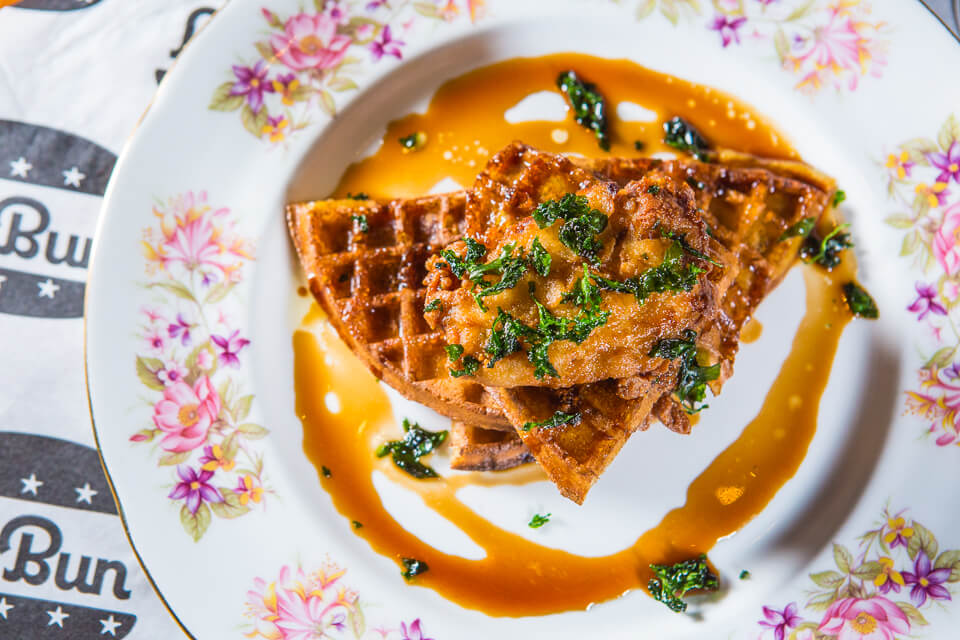 What: The best brunch in London for pop-up and street food lovers, we'll tell you that for free. Le Bun will be taking over the restaurant and bar at The Zetter Hotel in Clerkenwell to launch 'Le Bun at Le Zetter' for a five-week residency. The Le Bun team will be transforming the space into their very own neon-filled, luxuriant Le Bun diner, to launch exclusive new dishes alongside their signature American street food spin on French classics.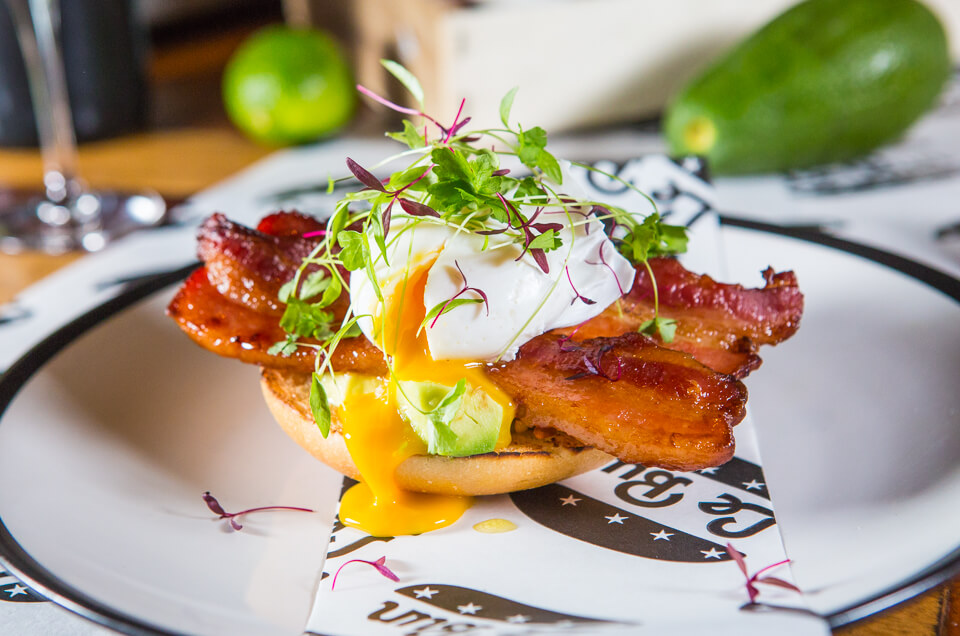 Eat: Le Bun give iconic French ingredients the American diner treatment, serving ingenious twists on familiar dishes. At weekends diners can look forward to a special Le Brunch menu with the option of bottomless Prosecco for an additional £15, example dishes include Le Benedict Bun with eggs, maple bacon, shaved asparagus, hollandaise, brioche and Truffles n' Waffles with confit southern fried chicken, shaved autumn truffle, house waffles, maple truffle butter and red wine jus. 
Where: St John's Square, 86-88 Clerkenwell Rd, London EC1M 5RJ