Want an incredible breakfast but don't want to break the bank? Never fear, About Time is here. From fantastic eggs on toast to warming bowls, here's London best breakfasts for under £5:
1. For the Indian Brekkie: Dishoom 
Order: Kejriwal – two fried eggs on chilli cheese toast
Price: £4.90
Breakfast Win: Bombay-inspired cafe Dishoom serves up some unbelievable breakfast dishes with an Indian twist. We're talking about Bombay omelette (£6.90), their famed bacon naan (£5.20) and 'that' granola (£5.20) that keeps us coming back. Dishoom operates like a well-oiled machine, from the friendly staff and service to serving up bowl of their steaming hot chai porridge (£3.90) – the food is always good. The brekkie menu has a great selection of different options, all reasonably prices and damn delicious.
Where: King's Cross, Shoreditch and Covent Garden
Order: Simple Eggs – creamy scrambled eggs on toasted sourdough with slow roast tomatoes
Price: £5
Breakfast Win: Wahaca may be known for their Mexican fare and innovative cooking, but their breakfast offering are also worthy of a mention. From the well-loved avocado on toast (£4.50) to the porridge topped with agave, seed mix and blueberries (£4), the menu features classic breakfast dishes with a purse-friendly price tag. If you're willing to spend an extra pound, their Mexican eggs with tomato and toast is fantastic (above). Their scrambled eggs are rich, creamy and served on a slab of sourdough – making Wahaca a perfect morning pit stop.
Where: Locations here
3. For the On-the-Go Brekkie: Beigel Bake 
Order: Bagel with traditional salt beef
Price: £3.70
Breakfast Win: This is just a bagel place, but an institution. Serving hungry Londoners to clubbers and early-rises – without sounding like a tour guide operator, Beigel bake is a must visit. Swerve the pastries and order the bagel with traditional salt beef  – it's why you went there and you won't be disappointed. Freshly baked bagels stuffed full of expertly cooked salt beef. It's the stuff of dreams, people. Best of all, if you fancy a bagel early doors – the place is open 24 hours. Brinner is definitely OK in our books.
Where: Brick Lane, London
4. For the Breakfast Bap: Mountain's Boston Sausage 
Order: Boston sausage bap
Price: £4.50
Breakfast Win: The chaps at Mountain's Boston Sausage know a thing or two about making a proper Lincolnshire banger. Having been in the butchery business since 1852 they're experts in all things meat. Their Boston sausage bap makes the ones from the hot food to go counter look well below par. Nicely seasoned and cooked, their sausages are complimented with a generous portion of onions, coming together in a classic white bun. The Boston burger (£5) is also another breakfast option – Boston Sausage meat patty served in an organic white roll, with onion marmalade, stilton cheese and rocket.
Where: Monday – Saturday.  Borough Market
5. For the Vietnamese Brekkie: HOP
Order: Egg, bacon and crispy shallot congee
Price: £3.50
Breakfast Win: Only launched last month, HOP is about bringing fast and fresh tastes of modern Vietnamese street food to London. Stop by at lunchtime for pho, bun noodle salads and fusion summer rolls – it's classic Vietnamese food done very, very well. Their breakfast menu all come in under £5 from breakfast Bahn Mi with fillings including omelette (£3.25) and bacon and fried egg (£3.75) to their congee  – savoury rice porridge infused with Asian aromatics. Swap your porridge for their egg, bacon and crispy shallot congee, it definitely different, but it's rather tasty.
Where: 2 Finsbury Avenue Square, Broadgate, London EC2M 2PA
6. For the Fruity Brekkie: MOJO
Order: Orange Tahini Paste on Toast – sesame seed made with fresh orange and organic honey
Price: £4.95
Breakfast Win: Mojo is all about creating a healthy experience by finding the perfect balance of nutritious yet outrageously good food – we can seriously vouch for the sweet as kale smoothie – it's the one. Using wholesome and responsibly sourced ingredients  they have created an easy to navigate breakfast menu including homemade nut butter on toast (£4.95) and greek yogurt with homemade compote (£3.50). Opt for the orange tahini paste on toast for a fruity kick with a slight bitterness. Ooft.
Where: 8 D'Arblay Street, London W1F 8DP
7. For the Nutritional Brekkie: POD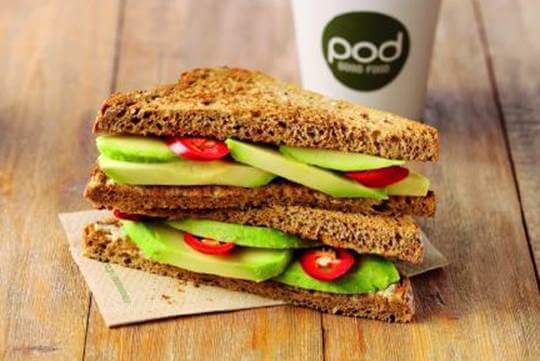 Order:  Avocado and chilli toast
Price: £3.75
Breakfast Win: With over 20 Pods across London, this chain knows how to rustle up healthy, fast food. Their summer menu features some new on-the-go dishes of chorizo power eggs with tomato, mixed seeds, spinach and  fresh chilli (£4.99 large) and the totally dreamy gluten-free porridge (£1.99). For those wanting a spicy kick at breakfast, the no-nonsense avocado and chilli toast is the absolute winner.
Where: Locations here
8. For the Gluten-Free Brekkie: Ethos 
Order: Gluten-free buttermilk pancakes with raspberry, maple and almond
Price: £5
Breakfast Win: If you haven't been to Ethos you really need to, the serve dishes from around the world that are full of flavour, health and a better option to your sandwich meal deal. The restaurant is a pay-by-weight concept and serve gluten-free, dairy-free and vegan options. Stop by for breakfast and dig into scrambled eggs with a range of different toppings (£4.50), dairy-free porridges (£4.50) or keep it simple with poached egg and asparagus spears on toast (£5). Nothing quite beats their pancakes and although they're gluten-free, they still taste damn fine – topped with heaps of good stuff.
Where: 48 Eastcastle Street, London W1W 8DX
9. For a Meaty Brekkie: Street Kitchen 
Order: Bacon brioche
Price: £3.90
Breakfast Win: Street Kitchen are all about well-made sandwiches (which can be bought be the inch), salads and a wide array of other lunch time offerings. Their spiced aubergine salad our firm favourite. Swing by en-route to the office for the likes of filled brioche with home-smoked bacon or bacon and free-range egg, slathered in Stokes ketchup and homemade onion chutney. If you're feeling adventurous on a Friday, order their shakshuka (eggs poached in tomato sauce) served in either a pita or pot and is sure to heal hungover souls.
Where: Broadgate Circle, London
10. For the Mexican Brekkie: Luardos 
Order: Breakfast burrito – Rice, beans, salsa, rancheros, guacamole and fresh coriander
Price: £4.50 for veg and £5 with chorizo
Breakfast Win: All hail Luardos, a food truck dishing out tasty Mexican burritos, they serve only burritos and they serve them well. They freshly prepare all ingredients daily and prepare their  'secret' guacamole recipe –  it puts other guacamole to shame. Tuck into their breakfast burrito, full of Mexican flavour, spice and heaps of ingredients – way better than your sad bowl of cereal.
Where: Locations here