About Time: You Visited London's Tastiest Cookie Dough ShopBy Alicia Grimshaw
We're those guys. The guys that will buy a tub of Ben and Jerry's cookie dough and proceed to pick out all the cookie dough, because let's face it, the chunks of raw cookie mixture is the best damn thing. When the email dropped into our inbox that a cookie dough shop was opening in London, we simply went wild. If you like OTT sweet treats, and enjoy munching down on decadent chocolate creations – this new opening is right up your street.
MyCookieDough: The Lowdown
MyCookieDough is opening its doors on Thursday 21st September at Westfield Stratford, London. Bringing you an array of freshly baked warm cookie dough flavours, served with fresh and creamy soft whipped ice cream, the new opening is a mecca of nostalgic bites and proper indulgent treats.
MyCookieDough: The Menu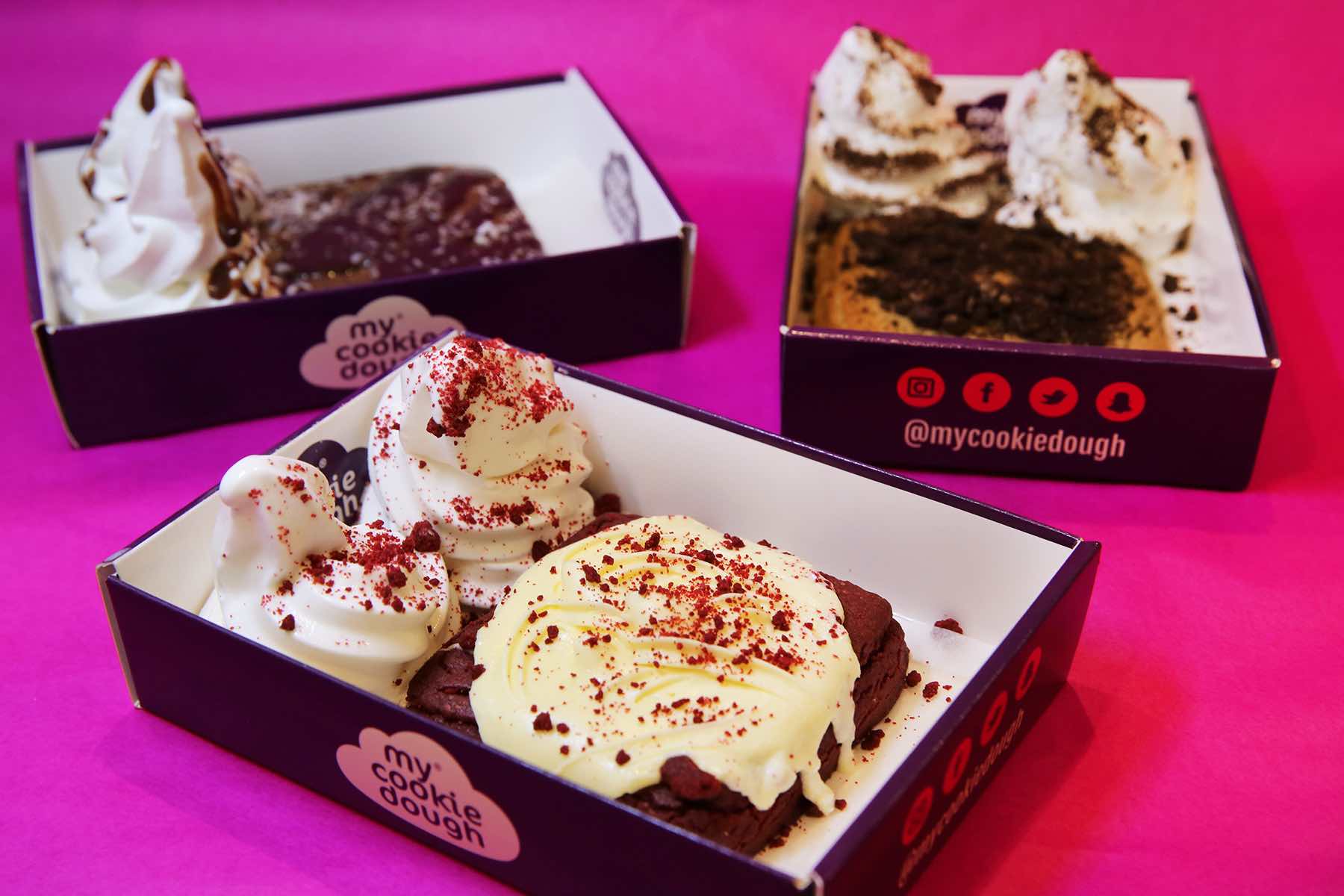 All the cookie dough is freshly baked, to ensure you get a warm and perfectly gooey cookie dough every time. To celebrate its launch into London, on Thursday 21st September at the Westfield Stratford store, the MyCookieDough team will be running giveaways throughout the day. Visitors of the new London store will be able to feast on classic cookie dough flavours as well as new and exciting ones: Original Milk Chocolate Cookie Dough; Salted Caramel Brownie Cookie Dough; Red Velvet Cookie Dough topped with cream cheese icing; and the Nutella Cookie Dough, a delicious classic freshly baked cookie dough swirled with hazelnut and chocolate.
As well as the absurdly tasty range of Cookie Dough bites, MyCookieDough will be offering Dough Shakes on the menu, thick creamy milkshakes blended with fresh ice cream and cookie dough. Good grief. Flavours include Peanut butter and Chocolate; Nutella; Salted Caramel; Fudge Brownie; and Malteasers.
But wait, there's much. So so much more. MyCookieDough also sell Clouds, a mixture of cookie dough pieces and fresh ice cream, encased in a giant fluffy purple candy floss cloud. Think big fairground vibes.
MyCookieDough: The Details
MyCookieDough will be open from Thursday 21st September, at Westfield Stratford, London, located on the lower ground floor and will be available on Deliveroo local to the Westfield Stratford store.