The quest for London's most showstopping pastries has taken us all over the capital. From sourdough wonders found in the north London suburbs to Danish bites in Hackney – here's the finest, flakiest pastries we're loving in London right now:
1. For a Pain au Chocolat: Dominique Ansel
What: You'd expect Dominique Ansel's bakery to come up with some standout pastries – indeed it is hard to choose just one – but the coconut frangipane pain au chocolate is one of the standout stars. Excellent quality chocolate and plenty of rich, coconutty frangipane, twice baked, crunchy on top – a unique combination.
Where: 17-21 Elizabeth St, Belgravia, London SW1W 9RP
2. For Seasonal Pastries: Pophams
What: Pophams are the breakout stars of the laminated pastry world. Among their seasonally changing pastries is a very special nectarine and ginger custard number. But we're here for the original creation; a PBJ, perfect layers of pastry stuffed with home made raspberry jam, spiked with a touch of ginger, its tartness perfectly offsetting the rich wodge of crunchy peanut butter on top – with three slices of banana to complete the trinity.
Where: 19 Prebend St, London N1 8PF
Photo Credit: Pophams Bakery 
3. For Sourdough Pastries: Margot Bakery
What: Go to Margot Bakery for the babka, stay for the weekend special pastries, including owner Michelle's own favourite, the tahini frangipane caramel croissant. All her bread and pastries are made with a sourdough starter, lending everything a wonderfully complex flavour. Definitely worth the schlep into north London suburbia.
Where: 121 E End Rd, London N2 0SZ
4. For Almond Pastries: Brick House Bakery
What: Brick House Bakery might be famous for their tartine-style sourdough, but the lesser known bostock, a slab of buttery, perfectly fluffy brioche twice baked with a topping of almond-rich frangipane so the edges go all crunchy and crisp is glorious. Go for the jam bostock, which has an extra layer of blackcurrant jam in the mix.
Where: 1 Zenoria St, East Dulwich, London SE22 8HP
Photo Credit: Brick House Bakery 
5. For Danish Pastries: Dusty Knuckle Bakery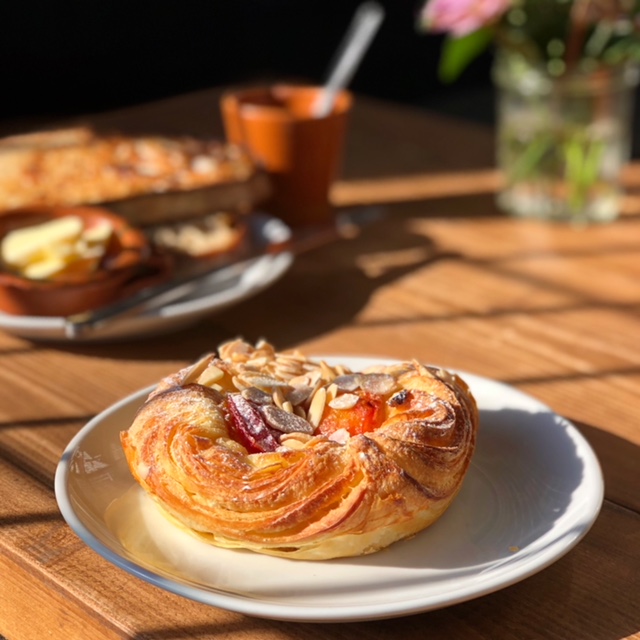 What: Dusty Knuckle Bakery is hidden away at the back of a car park off the Kingsland Road. It's worth seeking out – and get there early because their pastries tend to sell out. They're already well known for their apple turnover and sticky bun, but the seasonally changing fruit custard danish pastries are highly recommended: the pastry is light and flaky, there is plenty of custard and on our last visit, juicy Victoria plums were the star of the show.
Where: Abbot St, London E8 3DP
Photo Credit: Dusty Knuckle Bakery 
6. For All the Pastries: Little Bread Pedlar
What: Little Bread Pedlar sell their wares on Saturday mornings at Bermondsey Spa, and now at the weekly Canopy Market in Kings Cross too. Their pastries are baked a deep golden brown, the almond croissants are heavenly, but it's definitely worth trying the fruit danish – depending on the season, filled with anything from figs to strawberries and cream.
Where: Arch Spa Business Park 4, 6 Dockley Rd, London SE16 3FJ
Photo Credit: Little Bread Pedlar 
7. For Pretty Pastries: Hedone Bakery
What: While you're in Bermondsey Spa make some time and spare some room for Hedone Bakery, which set up shop inside Dynamic Vines on Saturday mornings. Hard to tear yourself away from their impossibly beautiful patisserie, but the pastries and viennoiserie are equally fabulous; try the raspberry pistachio palmier with deep golden caramelised pastry which shatters into sweet, crunchy caramel shards as you bite in.
Where: Unit 5, Discovery Business Park, London SE16 4RA
Photo Credit: Hedone Bakery 
8. For Cruffins: Caravan Fitzrovia
What: Caravan restaurants are investing in a new bakery unit, all the better to produce their brilliantly inventive creations, currently on sale in their new Fiztrovia site. There's a twice baked matcha cheesecake cherry number – and a range of 'cruffins' on sale later in the mornings – we've enjoyed the peach melba, filled with almond custard and raspberry preserves and a chunky peach compote. What's not to love?
Where: Yalding House, 152 Great Portland Street, London W1W 6AJ
9. For Morning Buns: Fortitude Bakehouse
What: Tucked away in a cobbled mews behind Russell Square station is the Fortitude Bakehouse, a haven of hearty sourdough-based baked goods, lunchtime salads and stews. Go first thing for warm, fresh-from-the-oven morning brioche buns, filled with custard and a daily changing fruit like plum or black cherry, or there's a chocolate version with a hint of orange water in the custard.
Where: 35 Colonnade, Bloomsbury, London WC1N 1JA
Photo Credit: Fortitude Bakehouse
10. For Middle Eastern Pastries: Honey and Co
What: No list of top pastries would be complete without Honey and Co – the array of cakes on sale in the tiny restaurant and the shop across the street is impossible to resist. Their trademark Fitzrovia bun, a Middle Eastern take on the Chelsea bun, is filled with sour cherries and pistachios and a great deal of love. On your way out, pick up a bag of marzipan cookies or sumac shortbread, and live your best life.
Where: 25 Warren St, Fitzrovia, London W1T 5LZ