As part of BeLOVeD Date Week, we searched high and low for London's tastiest date breakfasts. We've always been big fans of Caravan's delicious date and banana porridge, and we thought, surely, there must be more. And there were. And how. Without further adieu, date lovers, we present to you London's best date breakfasts. From Turkish yogurt to superfood porridge, here's where to get your sweet, date-y fix this week:
Post in association with BeLOVeD as part of BeLOVeD Date Week – follow them on Twitter here and like them on Facebook here. For more information, see BeLOVeD's website here.
1. Best Indulgent Date Porridge: Caravan
What: Organic oat porridge, banana, dates, brown sugar
Price: £5.50
Why: It sounds simple, but it tastes so, so good. Caravan is not one to skimp on goodness; they are super generous with all the toppings – expect heaps of banana, lashing of incredible date syrup on top and the most perfectly cooked oat porridge below. The porridge is one of the best we've ever tried in London – hands and spoons down.
The Venue: Think industrial chic decor, an upbeat vibe and eclectic global cooking in an old granary building that speaks of New York cool. Caravan is simply the best place for brunch in London. If you can't handle an hour-long waiting time on weekends, try the Exmouth Market branch which tends to be a little calmer than its Kings Cross sibling. They do fantastic cornbread, avocado on toast and honestly – everything on the Caravan brunch menu is worth trying.
Where: 1, Granary Building, Granary Square, London N1C 4AA, United Kingdom
2. Best Greek Yogurt with Dates: London Riviera
What: Greek yoghurt with dates, cardamom and honey
Price: £40 for 3 courses
Why: Sit on sun beds by the river and take in the spectacular views of Tower Bridge, while you feast on a delicious Eastern Mediterranean brunch with a drink, all with added live entertainment. What better way is there to spend your weekend? London Riviera have just launched a new bottomless brunch at their pop-up on the Southbank, every Saturday and Sunday. For £40, you can choose 3 dishes and 2½ hours of unlimited Sangria and Bloody Mary's – add an £5 extra for unlimited Bellinis.
The Venue: London Riviera is a five-month food and drink bespoke pop-up, inspired by the over-the-top Miami beachside and the chic French Riviera. Decked out with palm trees, luxurious day-beds, giant pineapples and pink flamingos, and with a world-famous iconic backdrop, it's the place to be this summer. The menu includes delicious Middle Eastern treats, such as freshly baked flatbread with crumbled goats cheese, cherry tomatoes, olive oil and chermoula and Grilled merguez sausages with wilted spinach, roast potatoes and tomato relish.
Where: London Riviera, More London, Riverside will be located next to City Hall
3. Best Quinoa Date Breakfast: Maple and Fitz
What: Quinoa, almond milk, cinnamon, Medjool dates, chopped pecans, banana
Price: £5
Why: For an alternative to regular granola, this healthy breakfast creation is the one. It's free from refined sugar; they use dairy-free almond milk which makes the breakfast sweet and creamy, and the addition of cinnamon, banana, date and pecan is just too good. Come to Maple and Fitz for their great range of healthy breakfast options – everything from avocado and chilli on toast to homemade granola with creamy natural yogurt and Medjool date compote. Healthy heaven.
The Venue: Maple and Fitz use fresh and wholesome ingredients to create delicious and nutritious food that will leaving you feeling energised and fulfilled. They serve the very best in-house cold-pressed juices, summer smoothies, substantial salads, delicious snacks and healthy breakfasts. For lunch, try the Julius Caesar salad – shredded kale, romaine, mangetout, toasted buckwheat, cabbage, toasted pumpkin and sunflower seeds with pecorino and Dijon-lemon yogurt dressing, it's the bomb. Their Matcha Latte with almond milk and honey is the perfect post-lunch pick-me-up, too.
Where: 36A Berners Street, London, Westminster W1T 3LY
4. Best Date Bagel: Delancey and Co
What: Phat Elvis – toasted cinnamon and raisin bagel with peanut butter, Nutella, chopped dates and banana
Price: £4.50
Why: Because we can't be healthy, 100% of the time, right? If you haven't been to Delancey and Co, you really have to. If for nothing else but the Smores' with Fluff, nutella and banana on Challah bread (pictured). They do absolutely killer food at breakfast and lunch, and it's a peanut butter lovers dream. They've got Reese's Cereal, peanut butter cheesecake and peanut butter cookies. If you order their 'USA Cereal Pot', you can choose from a selection of cereal, and add on Fluff, banana or Nutella, too.
The Venue: The serve dreamy bagels – get the cinnamon and raisin bagel with either peanut butter or Fluff. The concept is simple: choose between Challah, rye or poppyseed bagel, and one of the epic fillings. For lunch time, it's all about the smoked salmon bagels and salt beef creations. We love the over-the-top sandwiches – make ours a Pizza Bagel with salt beef, cream cheese, tomato sauce, mozzarella and oregano. Nom.
Where: 34 Goodge St, Fitzrovia, London W1T 2PR
5. Best Turkish Yogurt with Dates: Anderson & Co
What: Turkish yoghurt – yoghurt, raspberries, blueberries, pistachios with date and vanilla compote (+£1.50)
Price: £4.50
Why: For homemade breakfast goodness, head to Anderson & Co. The Turkish-inspired cafe serves it all; there's everything from watermelon and raspberries with a lime and watermelon syrup, to bircher muesli with apple and elderflower juice, poached pear and hazelnuts. If you like building your own breakfast, order the turkish yoghurt with raspberries, blueberries and pistachios, and choose to add on their incredible date and vanilla compote, or banana and toasted almonds. If you want to go all out, try their French toast with cinnamon sugar with turkish yoghurt, lemon zest, fresh berries and two rashes of bacon.
The Venue: Established in 2010, Anderson & Co is a family run neighbourhood cafe and brasserie on Bellenden Road in Peckham, selling Square Mile Coffee, Birchill Teas and a broad range of both Brick House and Blackbird Bakery breads every day. An extensive breakfast menu, including lots of Turkish-inspired treats, is served until late, is accompanied by, award winning sandwiches, fresh home made salads, lunch specials and delicious cakes. Enjoy your breakfast in the warm kitchen, or sit in the covered garden, filled with plants and flowers. Absolute heaven.
Where: 139 Bellenden Rd, London SE15 4DH
6. Best Indian Date Porridge: Dishoom
What: Organic porridge oats cooked with milk, banana and sweet Medjool dates
Price: £3.90
Why: For one, the porridge here is never-ending portion: if you wish for more, you need only ask. If you fancy brunch with a difference, you have to try Dishoom's fantastic food offering – the bacon and egg naan roll is an unapologetically flavoursome version of an old favourite, and the masala beans make Heinz's offering look like specks of cardboard. This brunch is everything you need and more. Don't miss their great juices – the strawberry and black pepper is a particular favourite.
The Venue: A noisy slice of Bombay, scooped up and transported to Shoreditch and Kings Cross. Dishoom's eastern outpost (there's another in Covent Garden too) is a gorgeous homage to the faded elegance and enthusiastic hospitality found in traditional 1960s Bombay cafes. Hark back to a finer age as you peruse the menu, which is packed with authentic Indian favourites alongside fabulously spicy version of brunch's familiar faces.
Where: Kings Cross, Shoreditch and Covent Garden
7. Best Dairy-Free Porridge: Nama Foods
What: Spiced coconut porridge with mature coconut, dates, almonds, apple, vanilla, cinnamon, nutmeg, hemp seeds, cacao and blueberries
Price: £7.50
Why: For healthy perfection – raw food is one of the healthiest food options available. It's food as close to nature intended as possible. It's 100% meat & dairy free and gluten-free friendly. It's also vegan, organic, and unprocessed… Try their raw sprouted buckwheat gluten-free granola with home-made almond milk, goji berries and fresh fruit, which is great as a sweet gluten-free breakfast. For something deliciously different, try the raw coconut porridge topped with hemp seed, cacao nibs and goji berries and walnut pancakes topped with banana 'ice cream' with frozen banana, maple syrup and star anise almond crumble. Their almond milk is some of the best in London.
The Venue: Nama Foods in Notting Hill is not only, gluten-free, it's also dairy-free, vegan and raw. It's a raw food nirvana, offering – beyond dining – raw food courses, catering, raw food cleanses, juice cleanses, and all manner of information on the raw food lifestyle. Their sole aim is 'wellbeing through nutrition' – harnessing the power of natural food to create balanced, nourishing, life-enriching dishes that help you to attain greater levels of health, in both body and mind. Heavenly.
Where: 110 Talbot Road, London W11 1JR
8. Best On-the-Go Date Breakfast: Pret
What: Almond, Cacao and Date Shake
Price: £2.99
Why: It's super healthy – simply raw cacao powder blended with dates and almond milk, so it's vegan-friendly and dairy free! This sweet treat is a nice little on-the-go breakfast or afternoon pick me up, we'd recommend it in the morning with their incredible dairy-free coconut yogurt topped with cacao nibs. So virtuous it totally cancels out their killer mac n' cheese you're going to have at lunch.
The Venue: Pret is an all-time National favourite – from berry and granola yogurts and sublime porridge in the morning, to the perfect Egg Mayo sarnie and the ultimate smoked salmon sandwich in the afternoon, you simply can't go wrong at Pret. We're yet to get hold of the recipe for their porridge (how do they make it so creamy?) but we're holding out.
Where: Throughout London
What: Toast of the Town – wholemeal toast with cinnamon and date butter
Price: £1.50
Why: Sweet, crunchy, delicious – and one of the cheapest on-the-go breakfasts in London, we can't help but love this Leon creation. If you want something more, you need to try Porridge of the Gods – it comes with banana, chocolate flakes and blossom honey, and we see right through until lunch time. For savoury breakfasters, try their egg pots – the smoked salmon and avocado pot is a particular favourite, it's the perfect post-gym breakfast (or, in our case, no gym breakfast). Don't miss their Flat Whites, too, they make great ones.
The Venue: Leon believes that Fast Food can be Good Food, and their meals are filling, delicious and, mostly importantly, healthy. The menu is inspired by the flavours, variety and natural healthiness of Mediterranean cooking, come for the Indian curries at lunch and great hummus sides. They work closely with our nutritionists Yvonne Bishop-Weston and Carole Symons to make sure that the overall menu offers options for everyone, and you can really taste the quality.
Where: Throughout London
10. Best Date Everything: Sesame
What: Greek yogurt with mixed seeds and date molasses, and porridge with date molasses and Medjool dates
Price: From £1.45
Why: They love a date at Sesame – you can get date molasses on porridge, yogurt or sprinkled over Medjool dates, too. Come here for great food. They love date molasses here – another term for date syrup. The word is derived from mel, the Latin word for "honey". Date syrup is a natural sweetener with richness and treacly depth. It can be used in a dressing for salads and vegetables, to sweeten stews or just drizzle over yoghurt or porridge in the morning. Also, try mixing date syrup with tahini and spread on toast. It is very sweet, so only a little is needed. Try their fresh lemonade while you're here, it's sensational.
The Venue: The Ottolenghi team has searched across the Mediterranean – from beach shacks in Istanbul to the alleys of Jerusalem – for the best street food there is. Get ready for thick, fluffy pittas bursting with flavours – sumptuous salads and exotic desserts. Think: a menu is inspired by the vibrant market stalls and the smoking grills of the Middle East. Not only can you eat in or take away, but they've partnered with Deliveroo, so Sesame's delicious food can be delivered straight to you.
Where: 23 Garrick St,WC2E 9BN, London
11. Best Chia Date Breakfast: Tanya's Cafe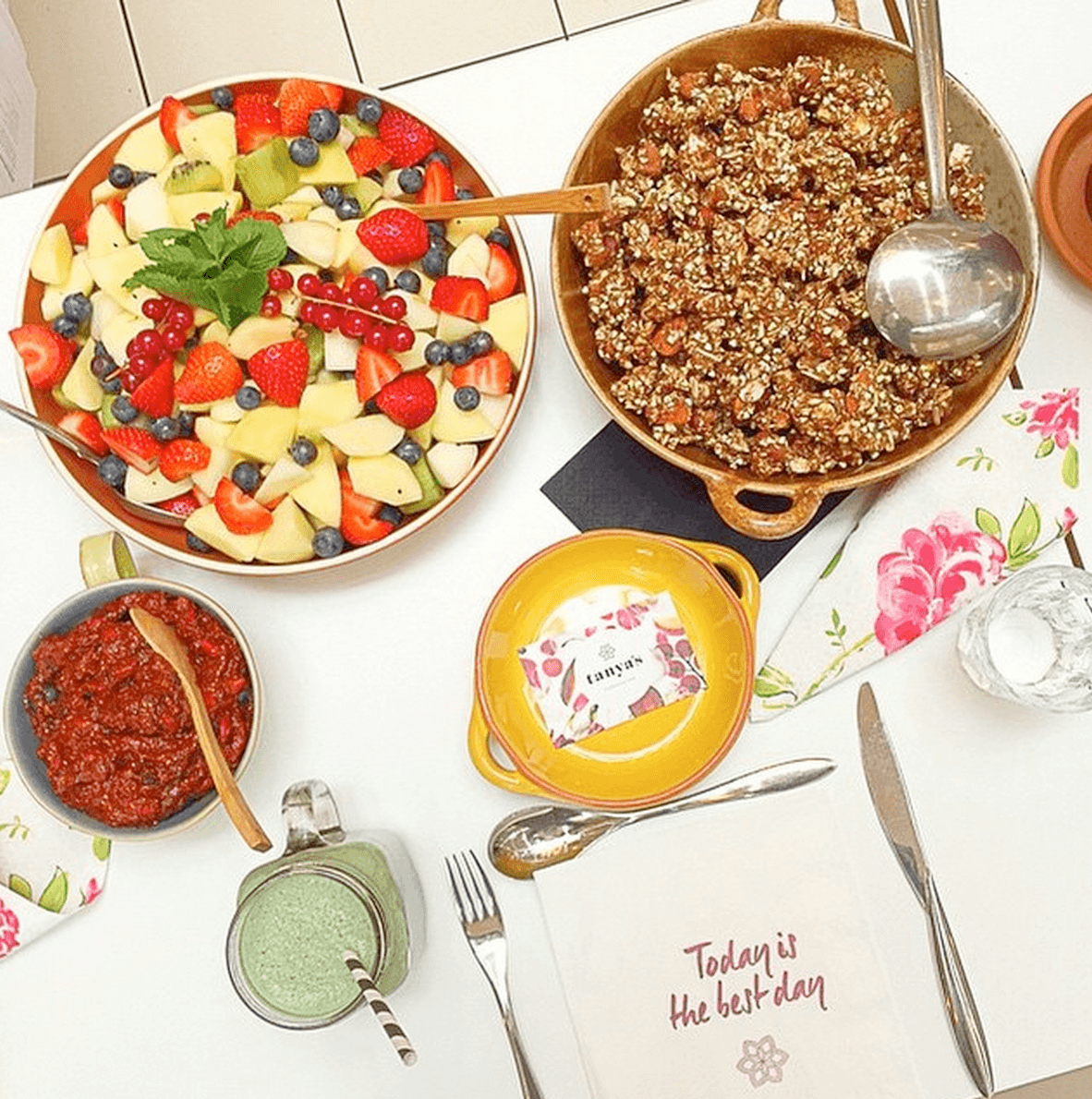 What: Floral Chia – dates, coconut milk, lucuma, stevia, banana, fresh mint and calendula flowers
Price: £7.25
Why: For feeling virtuous, that's why. Plant-based food, all organically grown and free from refined sugar and gluten is why Tanya's Cafe has become a popular haunt. Their cold-pressed juices are outrageously good, packed full of flavour and with all the fruity goodness you might expect. Their nut milk coffees for breakfast are a great change from your sugar loaded, whipped cream coffee monstrosity you order on your breakfast run. Try the smoothie with hazelnut milk, dates and vanilla – it's our favourite morning pick-me-up.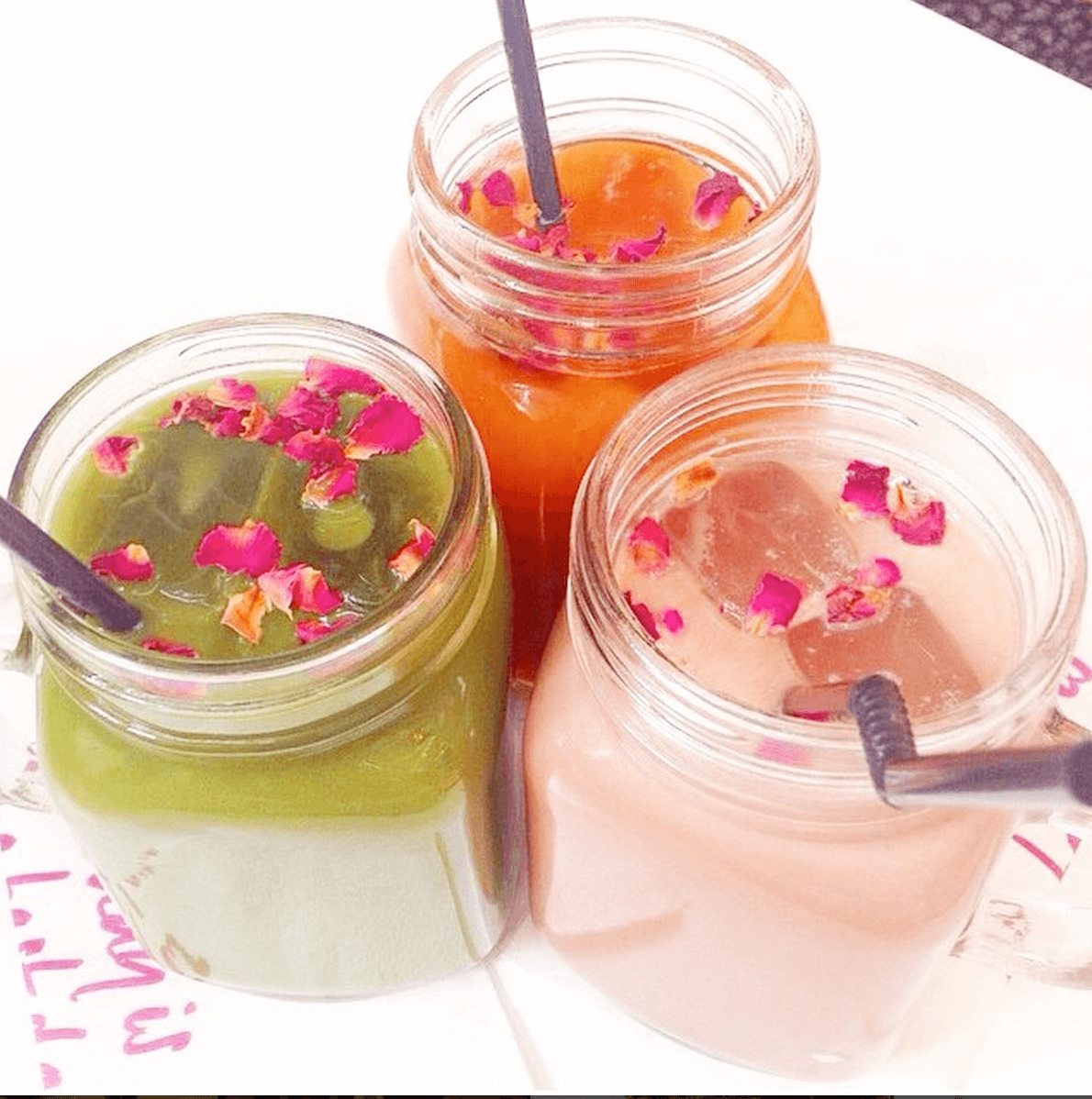 The Venue: Everything at Tanya's is raw living, plant-based, hand-picked, organically grown, ethically sourced, and free from refined sugar, dairy or gluten. That's some pretty bold claims and they are proud of them. For breakfast, their avocado on toast and raw granola are particular favourites, and expect great salads at lunch time and killer smoothies.
Where: 35 Ixworth Pl, London SW3 3QX
12. Make It at Home: Beloved Dates
Feeling inspired? Why not make a delicious breakfast at home using BeLOVeD Dates – they've got fantastic date nectar for drizzling over porridge, and date granola if you're feeling fruity. About Time readers get a trial of BeLOVeD – simply click here. Stay tuned for Beloved breakfast recipes throughout the week!
Post in association with BeLOVeD as part of BeLOVeD Date Week – follow them on Twitter here and like them on Facebook here. For more information, see BeLOVeD's website here.