Now we can't resist a mince pie – even before December. But if you want an alternative festive dessert to brighten up the dark evenings, here's our list of some of the best London has to offer.
1. For Some Truly Stunning Creations: Dominique Ansel Bakery
The Lowdown: Dominique Ansel Bakery has brought out a fabulous range of desserts; from the gingerbread 'pine cone' covered in dozens of tiny chocolate petals and filled with speculoos mousse, to a chestnut and rose cassis Mont Blanc and our favourite – the gingerbread croissant, rich and heavy with spiced frangipane.
Where: 17-21 Elizabeth St, Belgravia, London SW1W 9RP
2. For Beautiful Patisserie: Hotel Café Royal
The Lowdown: Head to Hotel Café Royal where Sarah Barber and team have come up with a red and green striped Xmas croissant filled with caramelised apple jam, a delicate plum and ginger tart, and a chocolate ganache, crystalised hazelnut, and salted caramel creation complete with chocolate reindeer.
Where: 68 Regent St, Soho, London W1B 4DY
3. For a Boozy Cake: Butterscotch London 
The Lowdown: Order online or pick up from their café in White City: home made panforte, gingerbread men and a beautiful reindeer chocolate truffle cake which you can make even more festive with a splash of Baileys, Rum or Bourbon.
Where: Westworks Lobby, 195 Wood Lane, London W12 7FQ
4. For a Decadent Doughnut: Bread Ahead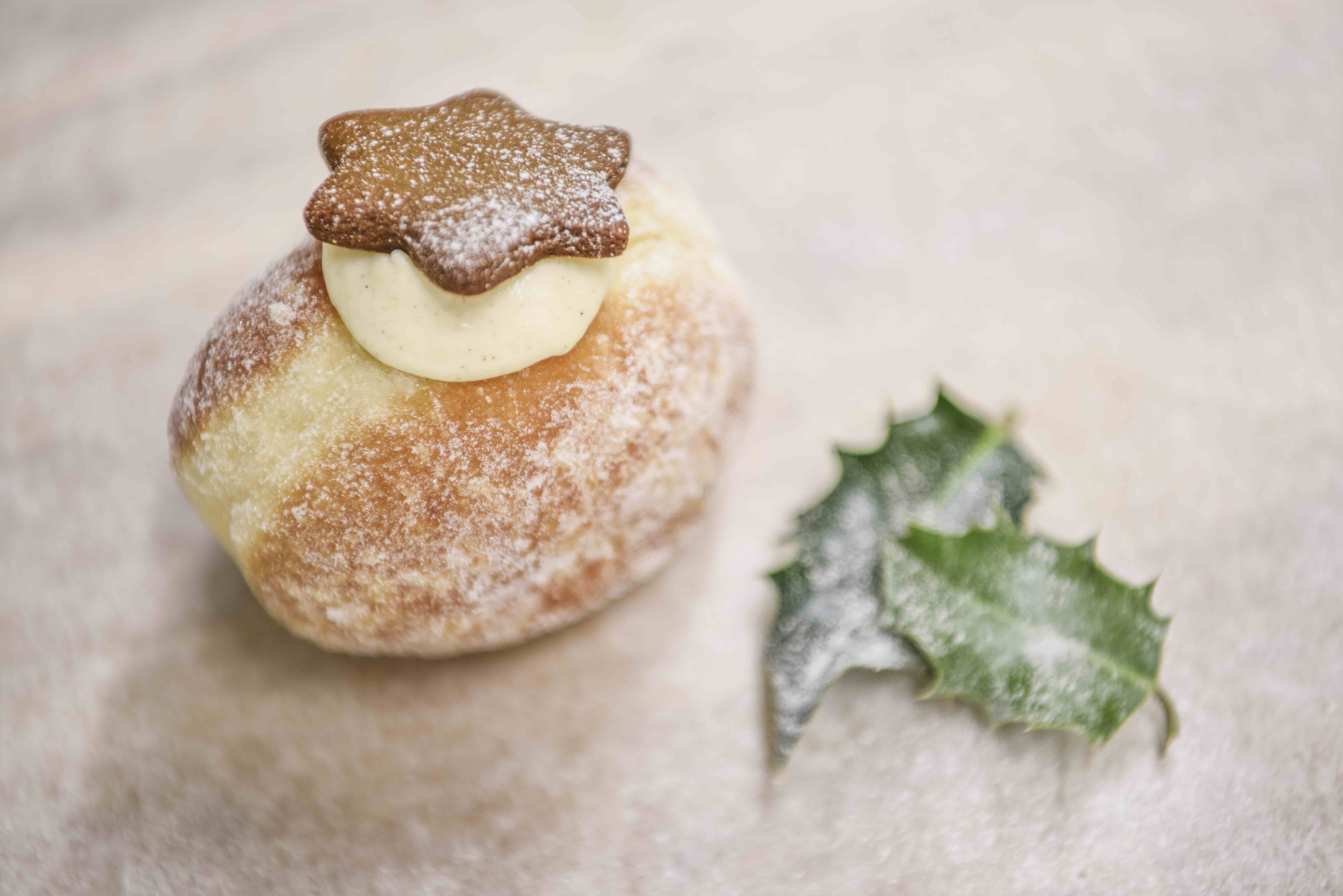 The Lowdown: Bread Ahead have the ultimate festive doughnut this year – a Christmas pudding doughnut, stuffed beyond your wildest dreams with spiced, fruity custard and topped with a mini gingerbread star. Try it at their festive pop-up café in Mayfair.
Where: Borough Market, Cathedral St, London SE1 9DE and 42 North Audley Street, London W1K 6ZR
5. For All Your Caramel Needs: Lily Vanilli 
The Lowdown: Lily Vanilli has controversially produced some savoury mince pies with cheese and Branston's pickle. Or you could go sweet with her festive Baileys sticky toffee pudding with custard and salted caramel. Get them while they're hot at the new Kitchens at Old Spitalfields Market or her bakery off Columbia Road on Sunday mornings.
Where: 6, The Courtyard, Ezra St, London E2 7RH
The Lowdown: You can trust The Good Egg to produce a brilliant babka, and their Xmas one is an absolute winner. It's swirled with soft marzipan and plump dried fruits and plenty of spiced butter – plus now their new Soho branch is open you can get it there too. They'll even deliver a loaf (small or large) while it's still warm – order on their new website.
Where: 93 Stoke Newington Church St, Stoke Newington, London N16 0AS
7. For Added Michelin Stars: Harrods 
The Lowdown: Harrods rather splendid new food hall is a temple of delights, not least the range of patisserie by Michelin starred chef Helene Darroze. They include a lemon and chocolate Buche de Noel and a blackcurrant chestnut tart (on chestnut pastry, no less) crowned with an expertly piped swirl of cream.
Also at Harrods, a new winter range of Fraise Sauvage desserts by the YBF award winner Terri Mercieca – including her take on tres leches spiked with a touch of rosemary, and a hybrid red velvet Eton Mess creation.
Where: 87-135 Brompton Rd, Knightsbridge, London SW1X 7XL
8. For Some Jolly Good Buns: Gail's
The Lowdown: Gail's Bakery has created a Christmas bun – a rich dough spiralled with frangipane, chocolate crumbs and vanilla and iced with orange crème fraiche. There's also a ricotta, sour cherry and pistachio croissant to start your day as you mean to go on.
Where: Locations here 
The Lowdown: There are many panettone in town, but our pick of the bunch is by Selfridges, studded with blonde chocolate, salted caramel and toasted hazelnuts. Definitely one that won't linger, still wrapped, way after Xmas. For a more traditional version, the new ones from Lina Stores are rather special too.
Where: 400 Oxford St, Marylebone, London W1A 1AB
10.For Cheesecake: Honey and Co and Brett and Bailey 
The Lowdown: Festive cheesecake yearnings? If you're lucky, Honey and Co will have produced one of their pumpkin ones – check their café or the shop opposite for what's baking each day. Or Brett and Bailey now have their sumptuous chestnut and cranberry baked cheesecake at their various weekend market stalls.
Where: Honey and Co: 25 Warren St, Bloomsbury, London W1T 5LZ. See Brett and Bailey locations here 
One for luck…
If You're Not Cold Enough Yet: Gelupo
The Lowdown: Ice cream is not just for summer. Check out Gelupo for their festive flavours – including a speculoos ice cream sandwich or Christmas Cake gelato. Added bonus – it won't melt down your new top.
Where: 7 Archer St, Soho, London W1D 7AU