Although it may feel a bit like treason celebrating Italian food this week (it's coming home), it's fair to say no cuisine brings people together quite like pizza. Whether you're heating up a Dr. Oetker after a night out (we've all been there), taking a picky family member to Pizza Express, or eating a gorgeous Diavolo with a sourdough base at a neighbourhood Italian restaurant, pizza feels like the epitome of modern eating, something enjoyed solo or with friends.
Now, we could wax lyrical all day about how much we love pizza and its warm, cheesy place in our hearts, but after 16 months of uncertainty, lockdowns and emotional turmoil, it's the little things that make the biggest impact – and in our case this was the DeliVita.
Plonked in front of our door in the biggest cardboard box we'd ever seen, we looked at the DeliVita as a saviour of lockdown boredom. Fed up of stir frys, regret-fuelled Dominos orders and banana bread, we thought the DeliVita would be a fun piece of kit to jazz up a boring weekday, but it ended up being so much more.
Set up was easy, you literally pop the oven itself on any stable service (we chose our outside table), and the kit comes with a wealth of tools to feel like you're working in a kitchen in Napoli (shame we just can't speak Italian). And, of course, the oven is wood-fired; the heating process was remarkably cathartic, and involves slowly building a fire within the dome, stoking it, blowing it, and slowly adding more kindling until the oven hits a sweet spot of 300 degrees, at which point you push the wood to the back using the incredibly satisfying wire brush. Whilst we lived out our Bear Grylls fantasy, we got our partner to roll out the dough provided and add on a wealth of toppings (we went for a 'what have we got in the fridge?' approach), then it's simply a matter of loading into the oven (using what I can only describe as a big spade) and the pizza cooks within minutes. And it's not just pizza, as we soon found anything that needed cooking, we popped it in the DeliVita instead. We're talking about steak, prawns, bread, and anything else we could get our hands on.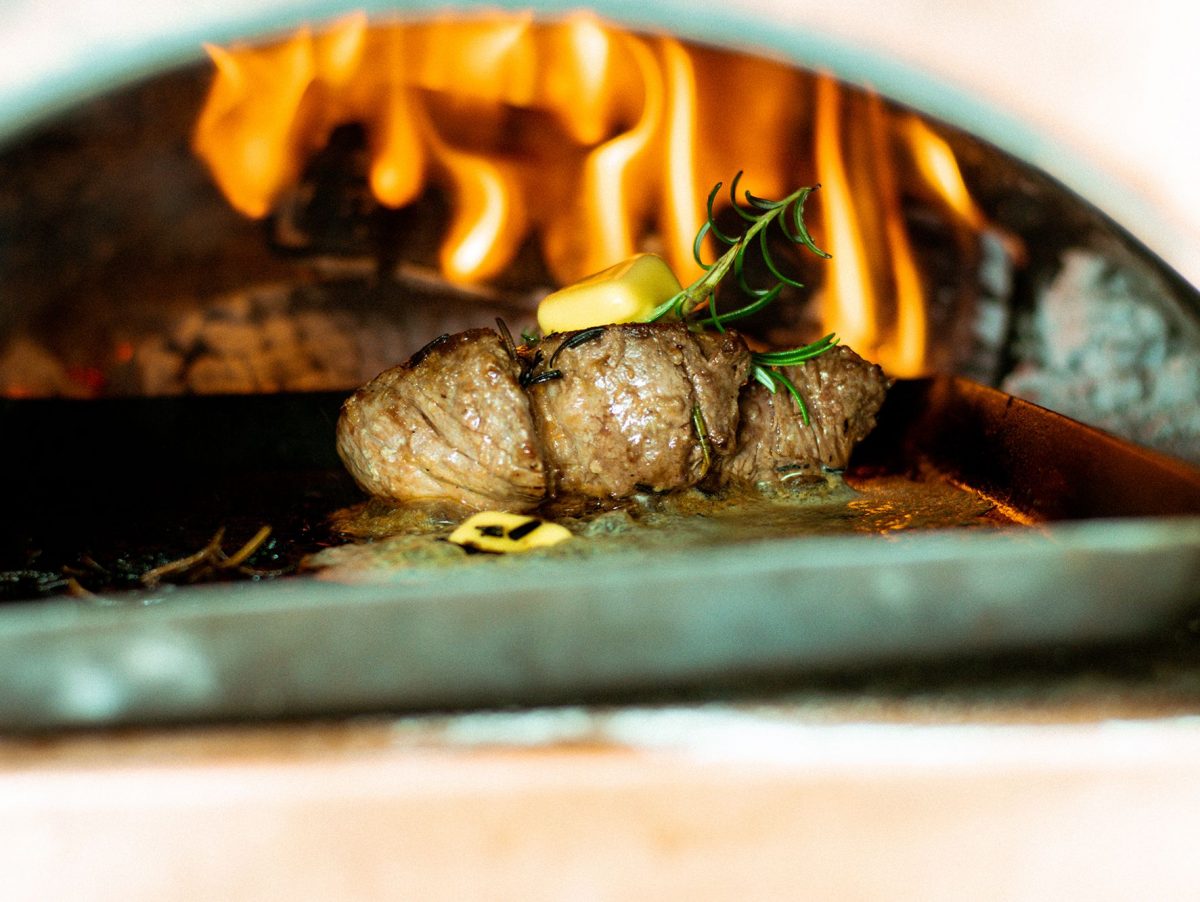 We all know everything tastes better homemade – especially when you've built your own fire to cook it with – but with no hyperbole eating a wood-fired pizza after a year and a half in rural lockdown felt like a religious experience. With a gloriously crispy base, and the toppings ever so slightly catching and caramelising, the end product was everything we wanted and more – an absolute garden gamechanger.
Now, at the price point we know it's not exactly an impulse buy, however, if you're the type to host regular garden parties, want to spice up summer dinners, or just eat a lot of pizza, the deli vita is undoubtedly a worthwhile purchase. Taking outside dining to a new level, the ease of set up/use/cleanup, the sleek and aesthetically pleasing design and the actual end product it creates, makes it a total no brainer for any pizza fan, and who knows – maybe you could just start flogging your creations to pay it off.
For further information on DeliVita, see here.