Are you a crisp lover? Always the one searching for the nibbles at a party? You're not alone. If there's one thing we love at About Time HQ, it's a good snack. Not just any snack, but a delicious, crunchy munch that's perfect when you just need a little something to get you through the afternoon. Our favourite crisp brand of choice has to be Burts, who only use the best quality ingredients in their delicious crisps and puffs, and we're so excited to be working with them on a special Chips Week! You can get involved with Burts' Crisp Week by following them on Twitter here, Facebook here and Instagram here, and share your crisp love by using the hashtag #BurtsChipsWeek. If you haven't tried Burts before, here's the lowdown of their divine product range:
Burts are all about adventure; started by two young dads who were bored with the same old snacks, the company set about to create something truly unique. Using the finest British and Devon ingredients, Burts source their ingredients from people they trust. Their chips are busting with flavour, each one a new experience, that goes perfectly with a crisp glass of white wine (see what we did there) or your favourite IPA. What we love about Burts is they challenge the norm – whether it's Caribbean coconut curry crisps or firecracker lobster crisps, the brand offers something truly different that will get your tastebuds zinging. Hand-cooked, made in Britain, the chips are nothing but pure quality, through and through.
If crunchy crisps are your thing, you won't be disappointed with the Burts original crisps range. For a classic crunch, try their sea salt and malt vinegar crisps, fish n' chips crisps (don't knock them until you've tried them) or the vintage cheddar and spring onion. I love the fish n' chips crisps – bursting with flavour, for me, these crisps are deeply nostalgic and remind me of childhood trips to Brighton pier and eating battered cod and chips on the beach!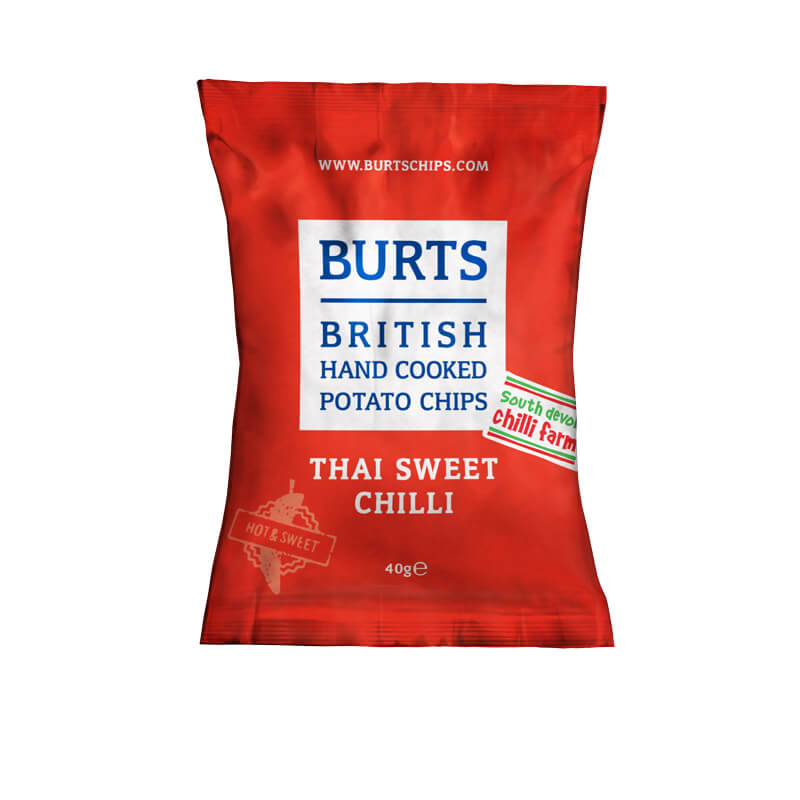 If you're looking for something more daring, there's a few modern, fusion flavours we love, such as Thai sweet chilli and firecracker lobster. I really enjoy the heat of these spicy crisps, and think they go perfectly with a glass of Sauvignon Blanc in the summer months. For meat lovers, there's Devon roast beef, smoked crispy bacon or spicy chorizo crisps to get stuck into –  which are all really big on flavour! And for something simple, you can't miss the sea salt and crushed peppercorns flavour – it's pure, honest goodness.
The Burts lentil waves and quinoa crinkles are where things get quirky. These 'better for you' crisps are the perfect snack when you're looking for something light and healthier, that still wins on taste. The lentil waves come in three flavours: sour cream and chive, lightly salted and Thai sweet chilli. Less than 99 calories a bag, they are the perfect grab-and-go snack when you're rushing around the city and need a boost!
The sour cream and chive is my personal favourite – it reminds me of smoked salmon and sour cream sandwiches as a child, and I can't get enough of them. And gluten-free foodies don't need to miss out, either, as Burts quinoa crinkles are totally gluten-free and less than 90 calories a bag. The quinoa crinkles come in two flavours: West Country cream cheese and sweet pepper and chorizo. The cream cheese flavour are subtle and yet delicious, with a real creaminess than goes perfectly with the crunch of the crisp. We love.
Sponsored post in assocation with Burts. You can get involved with Burts' Crisp Week by following them on Twitter here, Facebook here and Instagram here, and share your crisp love by using the hashtag #BurtsChipsWeek.