Are you mad about cheese? You're not alone, friend. And hey, good news, we've got a whole week dedicated to it! We teamed up with our friends at Collier's Cheese for a special Cheese Week on About Time. For more cheese loving follow Collier's on Twitter here and like them on Facebook here. The wonderful chef, Stephen Terry shares his favourite Collier's Cheese recipes.
Baised Beef, Bread and Collier's Cheddar Cheese Pudding 
Flaky braised beef combines with layers of fried sourdough and Colliers cheese to produce this delectable oven baked pudding.
Uncovering ingredients from the diverse Welsh landscape and all that it has to offer, this delicious recipe combines mouth watering local Welsh produce including Collier's Cheddar and freshly baked sourdough bread.
Serves 4 
Ingredients
For the Beef
1kg Shin of beef on the bone
1kg Oxtail on the bone
2 Medium Carrots – Peeled and cut in half,
1 Medium Onion – Peeled and cut into four
2 Sticks of Celery – Washed
1 Small Head of Garlic – Cut in half
3 Bay Leaves
1 Sprig of Thyme
1 Beef Stock Cube
For the Pie
A preferably round oven proof serving dish to bake the pie in,
approximately 7" in diameter and 3" deep
8 thick slices of good bread – sourdough if you can get it
3 tablespoons of good Dijon Mustard or English if you prefer
200g approx of Beef Fat for frying bread, 150g Grated Collier's Cheddar Cheese. Salt and pepper to season.
Method
To Cook the Beef Shin and Oxtail

1. Place the beef shin and oxtail in a thick bottomed saucepan with the vegetables, stock cube and herbs. Cover with two litres of water and a circle of parchment paper and a tight fitting lid.
2. Place into an oven set at 130 ̊C and cook for approximately 5 hours.
3. When cooked, remove beef shin, oxtail, carrots & celery from cooking liquor and allow to cool enough to comfortably handle. When so, remove the meat from the bones. Discard the bones and put the meat to one side as you reduce half of the cooking liquor by 3⁄4 and reserve the other half for finishing the dish with.
To Make the Pie
1. Fry the bread in hot beef fat. It should be golden brown on both sides but not fried completely all the way through. Brush the fried bread liberally with the mustard. Flake the cooked beef shin and oxtail roughly and roughly dice/chop the cooked carrots and celery. There should be a total of three bread and cheese layers and two beef layers.
2. Start with a layer of fried bread in the bottom of the dish and sprinkle with a third of the Collier's Cheese and then half of the cooked beef and vegetables. Season with salt and pepper. Repeat the above and finish with the final layer of bread and Collier's Cheese.
3. Gently pour over the beef stock and place in an oven set at 160 ̊C for approximately 20 minutes. To serve, remove from the oven, allow to stand for five minutes and serve.
Cauliflower Soup with Collier's Cheese and Chive
This recipe is a twist on the classic comfort dish and combines 2 staple winter ingredients, cauliflower and cheese. The dish is finished off with a generous sprinkling of chive and is perfect for serving up to friends and family on a cold Winters evening.
Ingredients
1 Large White Cauliflower
1500ml Boiling water
100ml Milk
75g Butter
Salt to taste
1 small bunch of chives – Finely chopped
200g Grated Collier's Cheddar
Method 
1. Bring the water and milk to the boil.
2. Remove all green outer leaves from the cauliflower and finely slice the cauliflower using a mandolin.
3. Heat the butter in a large (approx 20cm across) heavy bottomed pan add the cauliflower to the melted butter and cook over a medium heat with a lid on. Check the cauliflower every 3-4 minutes to ensure it is not catching on the bottom.
4. Approximately 15 minutes after the cauliflower is cooked add the almost boiling/just boiled water and milk, bring to the boil and cook for a further two minutes.
5. Remove from the heat, season with salt and liquidize. You do not need to pass the soup through a trainer.
6. Pour into your bowls and sprinkle with lots of grated Collier's Cheddar, melt the cheese with a Chefs blow torch if you have one or place the bowls under the grill to melt. Sprinkle with chopped chives and serve.
This scrumptious recipe incorporates new potato, asparagus and bacon with the distinctive taste of Colliers Cheddar that delivers a tasty meal option that brings Michelin style dining to your dinner table.
With delectable flavours and texture delivered from the fried cheese and soft potato this meal makes the perfect addition to any dinner party menu and will be sure to impress friends and family alike.
New Potato, Grilled Asparagus and Deep Fried Collier's Cheddar with Bacon and Pickled Onion Rings 
Serves 4 
Ingredients 
250g Collier's Cheddar Cheese cut into 2cm squares
12 Spears of asparagus peeled and blanched
8 Slices of good dry cured streaky bacon
12 Medium sized new potatoes, cooked and cut in 1⁄2
1 Small White onion, peeled and sliced horizontally into 5mm slices
50g Mixed Seasonal salad leaves
Salad Dressing
10ml Olive Oil
Squeeze of lemon juice
For the Breadcrumbs
100g Panko Breadcrumbs
100g Flour

2 Eggs beaten 

250ml White Wine Vinegar
250g Caster Sugar
Bring to the boil, add sliced onion rings, remove from heat and allow to cool
Method
1. You will need a small deep fat fryer at 180 ̊C
2. Breadcrumb the Collier's Cheddar squares by passing them through the flour then beaten egg and then finally the breadcrumbs ensuring every time that they are coated completely before going onto the next stage of the breadcrumbs.
3. Heat a cast iron grill pan over a medium to high heat, put a little olive oil on the cooked potatoes and cooked asparagus and place in the grill pan to mark it and reheat them. Place the potatoes cut side down only. When all are coloured season with a little sea salt and keep to one side.
4. In the same grill pan cook the bacon until well marked. Remove and put to one side.
5. Cook the breadcrumbed cheese squares in the deep fat fryer until golden brown. Remove onto kitchen paper and season with sea salt.
6. Toss each salad individually incorporating grilled potatoes, Bacon, asparagus and mixed salad leaves. Once on the plate, place equal amounts of deep fried cheese squares on each plate and garnish with pickled onion rings.
Breadcrumbed White Onion and Collier's Cheddar Risotto Cake with a Radiccio and Chicory Salad and Honey
The savoury flavour of the cheddar and onion is perfectly paired with the sweetness of the honey salad and makes a great addition to any tea table or Winter menu.
Serves 6-8
Ingredients
For the Risotto Cake
180g Risotto Rice

550ml Chicken Stock

175g Collier's Cheddar – Grated

1 Clove of garlic – Peeled and finely chopped

2 White Onions – Peeled and finely chopped

1 Small bunch of flat leaf parsley finely chopped 20m Olive Oil 

Sea salt for seasoning
100ml Rape seed oil for shallow frying 1 Large head of Chicory
1 Large head of Radicchio
1 tablespoon finely chopped chives
10ml Olive Oil and a squeeze of lemon juice for dressing
Dash of Honey
For the Breadcrumbs
100g Panko Breadcrumbs
100g Flour
2 Eggs beaten
Method
1. Heat 20ml of Olive Oil in a heavy bottomed saucepan. Bring the Chicken stock to the boil
2. Soften the garlic, onion and parsley in the olive oil without colour. Cook for 3-4 minutes. Add the rice to the above and 'toast' in the oil for 2 – 3 minutes until it has a slightly translucent appearance. Add the stock and cook the rice until all the stock has been absorbed and the rice is firm to the bite but not raw in the middle of the grain. Add the Collier's Cheddar, combine, season and pour onto a shallow cling filmed tray approximately 2cm in depth. Cover with cling film and allow to fully cool in the fridge.
3. Put the breadcrumbs, flour and beaten egg into three separate trays. Cut the risotto cake into the desired portions and pass each through the three trays ensuring every time that they are completely covered before the next tray.
4. Heat 100ml of rapeseed oil in a shallow frying pan and fry the breadcrumbed risotto cakes on all sides until they are golden brown in colour. Place the golden brown risotto cakes into an oven at 180 ̊C for 4-5 minutes.
5. Toss the salad leaves in a little olive oil and lemon juice, adding the chopped chives and salt and pepper to taste. Place the hot risotto cake with some salad on a plate and drizzle with a little honey.
Indulge both a sweet and savoury tooth with this unconventional cheesecake recipe accompanied with crumble and pickled celery.
Collier's Cheddar Cheesecake, Shortbread Crumble and Pickled Celery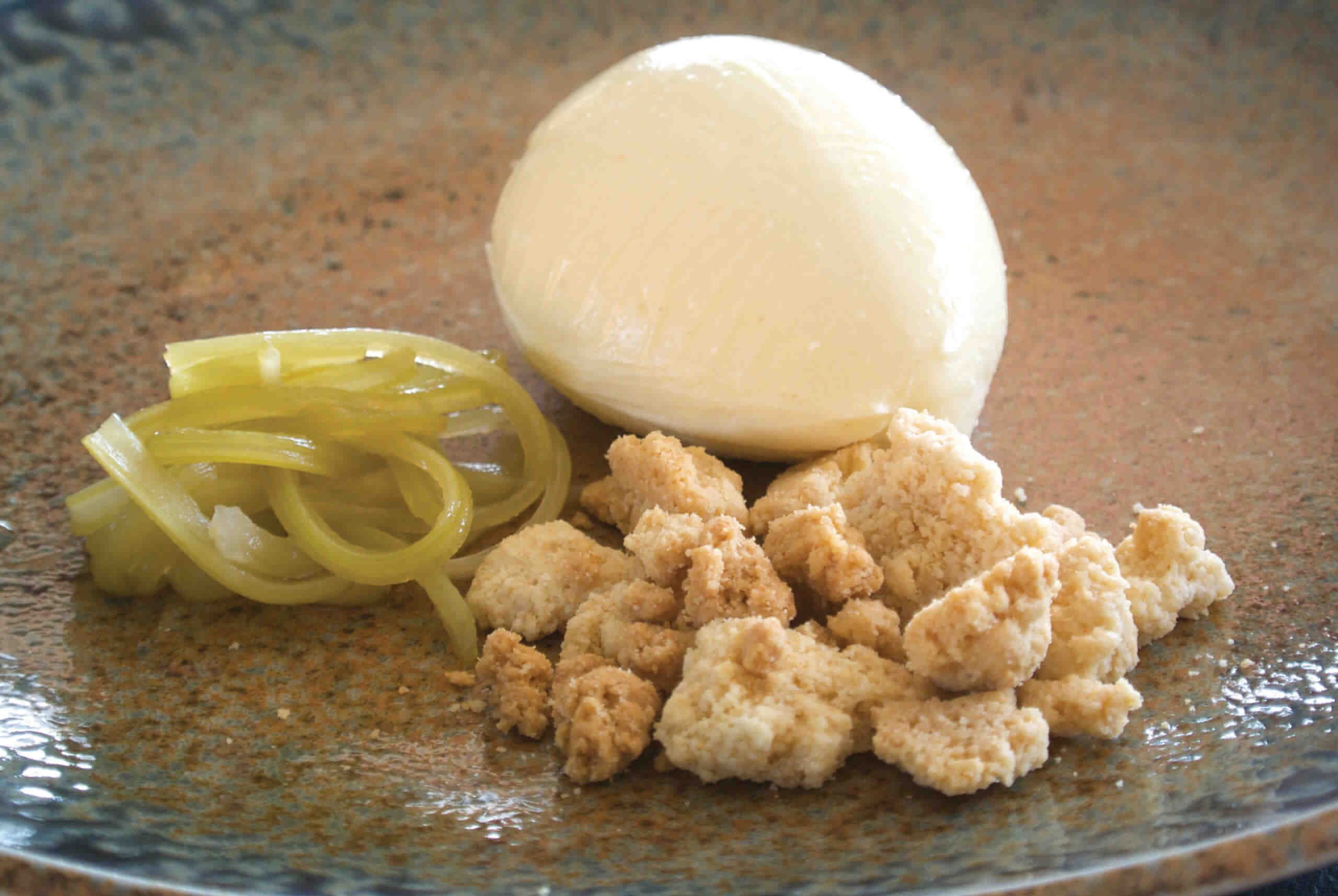 A rich, creamy cheesecake is paired beautifully in this recipe with light crumble and pickled celery for a divine taste experience. This simple to make recipe combines the great taste of Colliers mature cheddar with light and creamy cheesecake for a delicious dessert option
Serves 6-8 
Ingredients
For the Cheesecake
375g Cream Cheese
75g Sugar
15g Corn Flour
Cream all of the above in a food processor
1 Whole Egg

200m Double Cream

Pinch of Salt

Add all of the above to the 1st mixture after creaming
For the Shortbread Crumble
40g Softened Salted Butter
60g Flour
1 tbsp Corn Flour
Pinch of baking powder
30g Sugar
Pinch of good quality Sea Salt 1⁄4 tsp Vanilla Extract
For the Pickled Celery
8 Sticks of Celery – peeled and cut into thin strips
250ml White Wine Vinegar
250g Caster Sugar
2 Star Anise
Method
1. Combine all the ingredients together in a food mixer thoroughly until they start to crumb together but not brought together as a dough. Pour out onto a non-stick baking tray and bake at 150 ̊C for around half an hour or until slightly golden in appearance. Allow to cool.
2. Bring water to boil, add celery, remove from heat and allow to cool. 
3. Place the cheesecake mixture into a cling film lined baking dish so that it is no shallower than 4cm. Cook in a preheated oven at 150 ̊C for approximately 20 minutes or until set.
4. When cooked remove from oven and return the mixture to the food processor and bowl you originally made it in. Add the Collier's Cheddar Cheese and reprocess until smooth. Pour into a dish to set and allow to cool for at least 5-6 hours.
To Serve
1. Scoop out portions of cheesecake with a hot spoon and garnish with some shortbread crumble and pickled celery.