About Time: You Discovered the Latest Vegan News in LondonBy Alicia Grimshaw
Looking for some vegan eats to spice up your life? Say no more. Think of us as your little black book, always handy to whip out when you need somewhere new to discover – whether that's vegan dishes, menus or openings.  Enough with the chit chat – it's time to eat:
1. For a Pop-Up: Tiger Bites Bao x Birthdays 
What: Birthdays in Dalston have welcomed Tiger Bites Bao into the kitchen for their next pop-up residency. Think  Taiwanese/American fusion street food and fully loaded bao buns. Hubba hubba.
Why: Expect the best damn vegan bao including their epic vegan chick'n made with the widely popular tofu and seitan mix piled high with Chinese pickles, sriracha and other finger licking ingredients. Also on the menu is the vegan chick'n popcorn bites served with a choice of Sriracha sauce, Sriracha mayo or Sriracha maple syrup glaze. And there's a vegan deep-fried ice cream masterpiece for pud.
Where: 33-35 Stoke Newington Rd, Stoke Newington, London N16 8BJ, UK
What: Palm Things is a series of collaborations with talented people to make gorgeous, limited-edition things. It brings together fresh talent and established brands to create highly covetable, genuinely exciting new stuff. And the first Palm Things partnership brings you a range of three creamy flavoured plant mylks, designed and made by BIG BOSS PALM especially for the launch of Crosstown Doughnuts' first fully vegan store.
Why: Handmade with care in South East London, Palm Things mylks are raw, made from a base of coconut and cashew and contain all-natural ingredients. The range includes charcoal and vanilla, turmeric and cinnamon, and lucuma and spirulina.
Where: 5-6, Picton Pl, Marylebone, London W1U 1BL
What: Pret has rolled out a new spring menu full of vegan lunchtime options like the avocado, olive and tomato baguette and a chilli flatbread.  And for the first time: a vegan cookie.
Why: The vegan Chocolatey Coconut Bite is one of the most popular snacks at Pret, and loyal Pret fans are always asking for more vegan sweet treats and snacks and, as a result, Pret is now launching its first vegan bakery item – the Dark Chocolate and Almond Butter Cookie. The cookie combines vegan dark chocolate with almond butter and a little sea salt to make a delicious vegan sweet treat.
Where: Locations here 
4. For an Opening: Rudy's Dirty Vegan Diner
What: Serving up all your American fast food favourites, prepared fresh to order and 100% vegan friendly – Rudy's Dirty Vegan Diner is a new walk-in diner, offering all day dining delights.
Why: At Rudy's Dirty Vegan Diner you'll find the staple classics available under one roof; The Dirty Burger to The Dirty Dog (both served in vegan brioche), mac n' cheeze to Rudy's reuben (a vegan pastrami grilled rye sandwich with all the trimmings – sauerkraut, cream cheeze, grilled onions and Russian dressing.) There's also a weekly changing menu of American comfort food specials, including the likes of vegan meatloaf, Philly cheese steak, spicy vegan buffalo wings with blue cheeze and country fried chicken, biscuits, mash and gravy.
Where: North Yard, Camden Market, London, NW1 8AH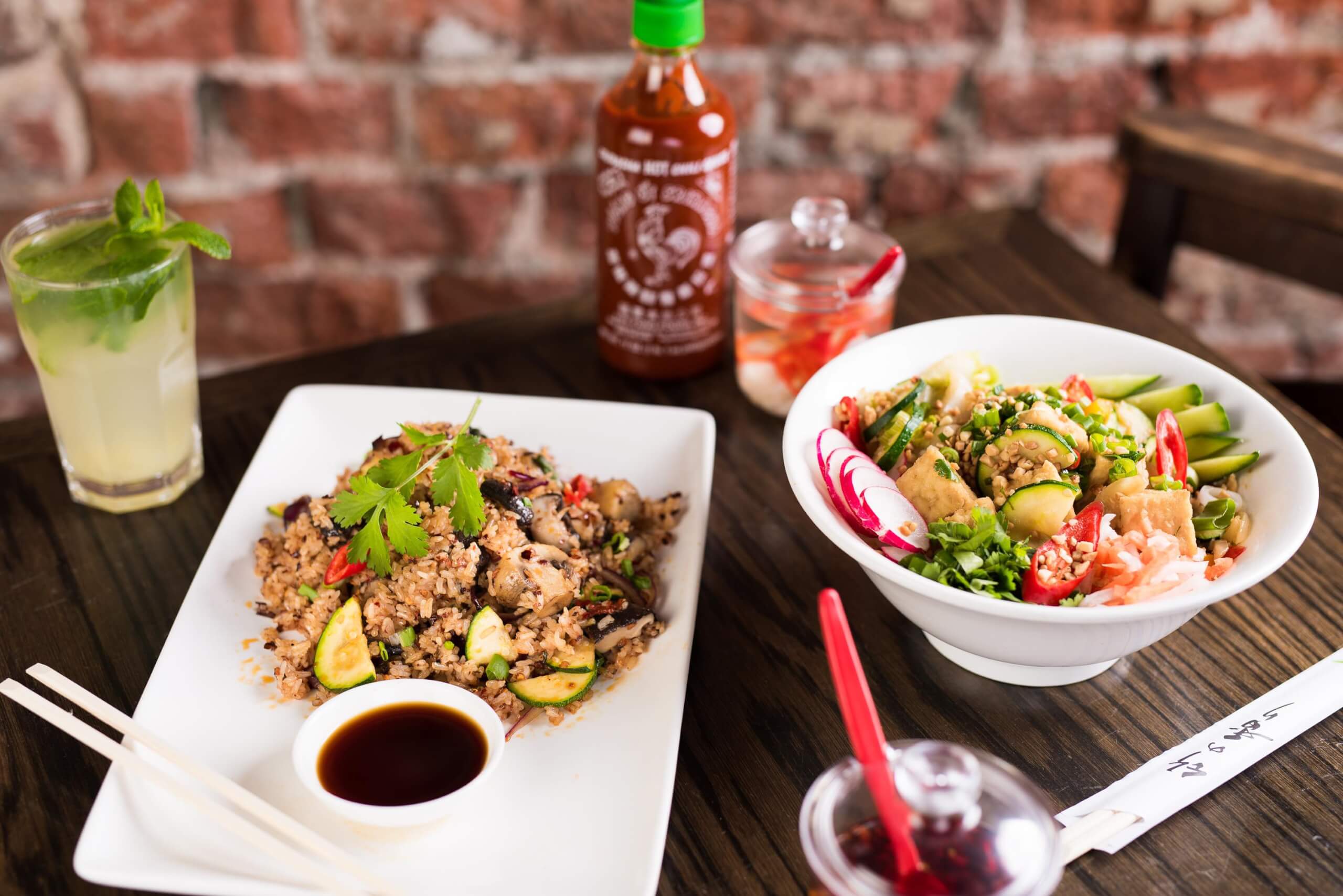 What: Pho's menu is cracking when it comes to vegan options (about a quarter is aimed at the plant-powered queens), and they've just added two new rice dishes to their meat-free roster.
Why: First up: a super healthy tofu and vegetable rice bowl, topped with wok-fried Chinese leaf, radish, cucumber and pickles, finished off with peanuts, herbs and fresh chillies. The Pho team have also added another fried rice dish – a spicy, flavourful and hearty plate of wok-fried shiitake mushrooms, courgette, Thai basil and chillies over broken rice topped with fresh herbs. Ooo-er.
Where: Locations here 
One for luck… 
What: There's no stopping the Vegan Nights team. After only putting their last event to bed earlier this month, they're back for another instalment and they're not holding back this time – prepare yourself for some of the most exciting and diverse food and drinks vendors from across London (and the UK) all under one roof. There's DJs, live music, cocktails, booze and seitan burgers.
Why: Experience vegan joy with indulgent baked goods from Cupcakes and Shhht, authentic Japanese vegan bento from Hai Dozo and sloppy, grab-a-fistful-of-napkins burgers from Mooshies.
Resident CookDaily returns again, bringing his Laotian heritage to the menu alongside incredible plant-based offerings. And SpiceBox will be cooking up all sorts of Indian fare served atop a fluffy naan.
Where: 93 Feet East 150 Brick Lane E1 6QL
Tickets here 
Photo Credit: Spice Box