About Time: You Discovered the Best Street Food Burgers in LondonBy Alicia Grimshaw
To coincide with National Burger Day 2018, we've pounded the pavements of London to find the best street food burgers in the capital – and we've uncovered some gems. There's everything here: beef masterpieces, lamb patties, and slow and low cooked meats. Let's all praise the mighty burger:
Order: Hot Mess – 45 Day Aged Beef Patty, pepper Jack cheese, jalapeños and chipotle mayo
The Run-Down: Drawing inspiration from burger joints all over the world – from London to Miami, Vegas to LA, Berlin to NYC – the Burger and Beyond team don't need bricks and mortar walls to create some of the best burgers in the capital. Nothing comes close to their cheeseburger (sometimes it's good to keep things classic, ya know?), but the Hot Mess is a spicy mouthful of beefy, cheesy joy. Once you've ordered their mac 'n' cheese tater tots, you'll never order chips again.
Where: Locations here 
Photo Credit: Burger and Beyond 
Order: Brisket Burger – aged beef patty, American cheese, pulled beef brisket, pickled red onions, and garlic mayo
The Run-Down: Founded in 2016 by husband and wife team Liz and Stew, Black Bear Burger go back to basics with their offering. The focus here is on high-welfare beef and all other ingredients are locally sourced and made from scratch to compliment the patties. The array of flavours in the Brisket Burger are next level; punchy condiments, a succulent patty, tender beef brisket and tart pickled onions all combine to form a truly unforgettable dining experience.
Where: Boxpark Shoreditch, 10 Bethnal Green Rd, London E1 6GY
Photo Credit: Black Bear Burger 
Order: The Canard Burger – confit duck, rocket, duck skin crackling, caramelised onion and honey mustard mayo
The Run-Down: After travelling around the Gascon region in France a few summers ago, eating their way around different varieties of confit duck, founders Hugo and Jake found it hard to find a place in London that served decent confit duck leg, and so, Canard London was born. Reinventing the burger with a classic French twist, The Canard burger is exceptional: beautifully presented, made with care and a combination of flavours that will leave you crying 'Oh la vache!' long after you've demolished it.
Where: Peckham Town Centre Carpark, 95A Rye Ln, London SE15 4ST
Photo Credit: Canard 
Order: Beef Burger – aged beef patty, American cheese, pickles, mustard and fried chicken mayonnaise
The Run-Down: We don't throw around these claims lightly, but Other Side Fried knock up some of the best fried chicken bites in London: these guys are like the white poultry messiahs. The smoked honey butter, which is not spread, but lathered onto the chicken, is so rich that we want an IV drip of it running straight into our stomach. While we can talk about their fried chicken burgers until the cows come home, they recently added a beef burger to their roster, and good grief, it's supersonic. Did you just read the description? FRIED CHICKEN MAYONNAISE.
Where: Locations here
Photo Credit: Other Side Fried 
Order: Bacon Swiss Burger – beef patty with Swiss cheese, candied bacon and crispy onions
The Run-Down: No list worth its red meat would miss Mother Flipper. This street food favourite has a cult following thanks to some tasty combinations, such as the mushroom swiss flipper and the candied bacon burger. Since becoming a regular fixture at Brockley Market, the chaps at Mother Flipper have been satiating the masses with their range of unbelievable burgers. Each of their burgers arrive standard in a shiny, demi-brioche bun and comes accompanied with some truly knock-out condiments like pepper Jack cheese and their own special sauce. Make sure you try the candied bacon: it's out of this world.
Where: Check locations here 
Photo Credit: Mother Flipper 
Order: Double Cheeseburger
The Run-Down: After getting hooked on the burger scene Stateside, Zan Kaufman set up Bleecker St. in 2012 with the aim of dishing up some of the best burgers in London. After sampling the range of bites on offer, we're pleased to confirm that the burgers at Bleecker St. put others to shame. They use rare-breed, pasture-fed beef that has been dry-aged for about forty to fifty days, which gives the burgers its rich, intense flavour. The double cheeseburger is a nod to the simple pleasures in life, reinforcing the fact that sometimes, keeping it traditional is the best move. The burgers here are lovingly cooked and well-crafted meaning that no matter what you choose, you're always in for a meaty thrill.
Where: Locations here 
Photo Credit: Bleecker St. 
Order: The Truffle Burger – Beef and smoked bacon burger, crispy shallots, fig jam, raclette cheese and truffle mayonnaise
The Run-Down: You can see why Truffle London are a firm favourite with hungry Londoners: the way they create their burgers is nothing short of an edible art form. Served in a shiny bun, their namesake burger is other-wordly. There's always a slight risk of truffle overpowering whatever dish it's in, however the folks at Truffle work this to their advantage and make their earthy mayonnaise the focal point of their flagship burger, balancing it delicately against the tangy fig jam and shallots. Your tastebuds will be singing for hours after this one.
Where: KERB markets: King's Cross, Gherkin, West India Quay and Paddington
Photo Credit: KERB 
Order: Bacon Double Cheeseburger – aged beef patty, smoked cheese and thick Tomahawk bacon
The Run-Down: Lagom are their name, and smoked meats are their game. Influenced by his British/Scandinavian background, founder and chef Elliot Cunningham has married the two cuisines to create some sensational munch. The menu features slow and low-cooked meats stuffed into baps, and the Mcdonald's slaying bacon double cheeseburger.  There really is no other burger quite like it.
Where: KERB St Katherine's Dock market and Hammerton House Brewery
Order: Classic Roberto – signature 28 day dry aged chuck steak patty with garlic and balsamic, topped with melted mozzarella, crispy Parma Ham, sundried tomato relish and rocket, served in a brioche bun.
The Run-Down: Two words: Italian burgers. Inspired by the tastes and flavours of the Almalfi Coast, Baggio Burger, headed up by Nino, uses quality artisanal ingredients, a pinch of Nonna's love, and a whole lotta beef. The first burger Nino created was the Classic Roberto, and to this day, it's still a local favourite. You've got a truly resplendent marriage of textures and flavours going on here – crispy parma ham, melt-in-the-mouth beef patty, and a soft, supple brioche bun.
Where: Locations here 
Photo Credit: Baggio Burger 
Order: Bacon Cheeseburger – 6oz aged beef patty, applewood smoked bacon, American cheese, pink pickled onions and lettuce
The Run-Down: Hank's started life as a street food stall, and they've just moved into a permanent site in Deptford Market Yard. The menu has evolved over time; when they first started out the New Orleans-inspired street food shack were all about the po'boys, but now they've moved onto burgers, and trust us, we're not complaining. These burgers are like a hand grenade to the palate, simply bursting with fresh ingredients and locally-sourced produce.
Where: Deptford Market Yard, London SE8 4BX
Photo Credit: Hank's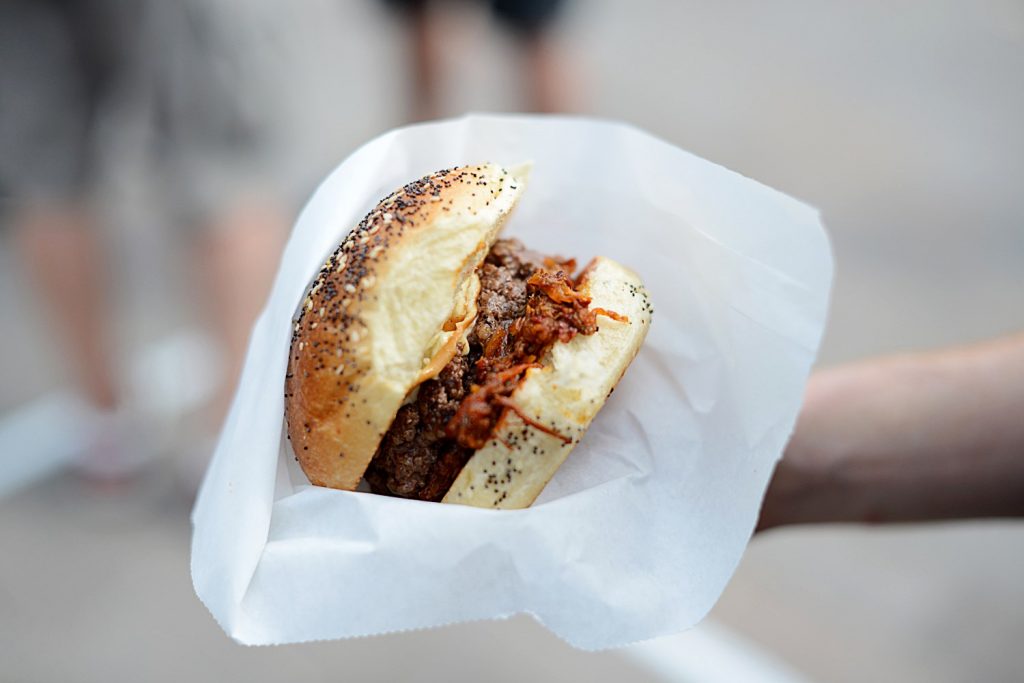 Order: Belly Connection – beef patty, pork belly, gorgonzola, pimiento mayo, pickled red onions and gem lettuce
The Run-Down: Every place has their own take on the mighty burger, and Tongue n'cheek have their own spin: Italian flavours. You've got everything from cod cheek rolls (winner of the British Street Food Award, no less) to Philly cheesesteak sandwiches, and of course their burgers. The star of the show is undoubtedly the Belly Connection – a two meat combination of beef patty and pork belly that'll have you questioning whether there's a better meat partnership that exists.
Where: KERB markets: West India Quay and Gherkin
Photo Credit: Tongue n' Cheek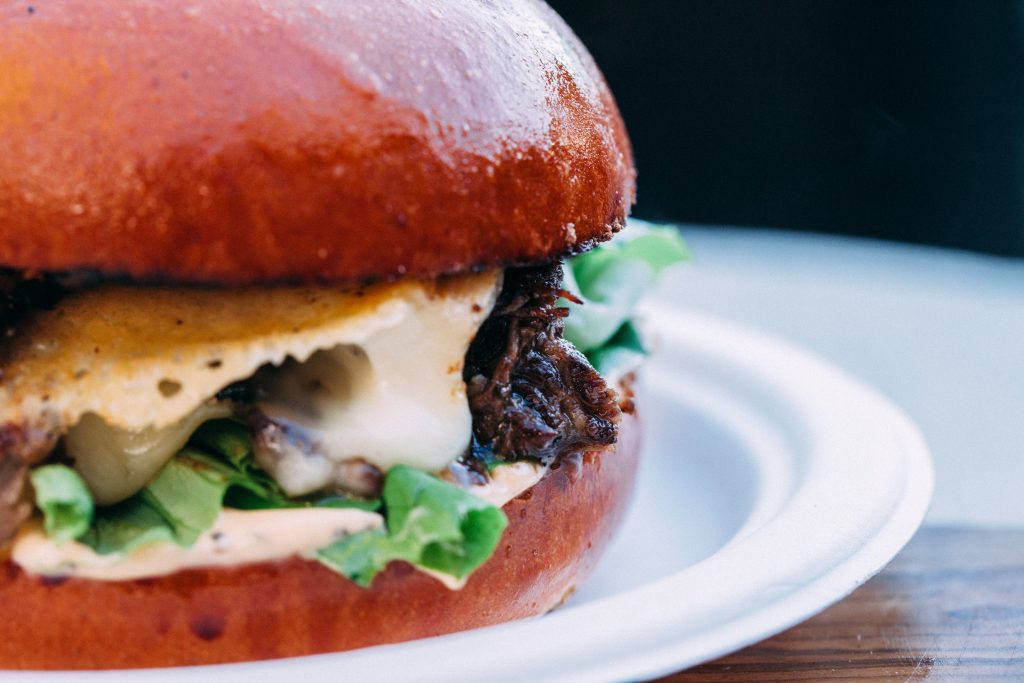 Order: Beef Bourguignon Burger – grilled beef stew, lettuce, gravy and sauce
The Run-Down: Don't be fooled by The Patate's burgers; under the lid lies a mountain of homemade beef bourguignon swimming in dark gravy. It's a super-rich, herb-infused, onion-studded triumph of a casserole that will make you want to put all future stews in between two slices of bread. Oh my word, it's good.
Where: Locations here 
Photo Credit: KERB
Order: The Dalston Dip – aged beef patty, mustard glaze, caramelised onions, American cheese, and Nanny Bill's burger sauce. Served with a pot of grave for dipping or pouring.
The Run-Down: Nanny Bill's opened the hatch to its 1970's Citroen HY truck for the first time in spring 2015, feeding the food-savvy patrons at east London's food market Night Tales. Now, they've been popping up all over the shop (Camden, Kensal Rise, and most recently at John Lewis' Rooftop on Oxford Street). Want a burger served with a bucket load of gravy? You've come to the right place. It's a messy, fist-full-of-napkin type jobby, but it's worth getting your chops lathered in their flavour-packed gravy.
Where: Check our their latest locations here 
Photo Credit: Nanny Bill's 
Order: The Spanglish Burger – aged Galician and Angus patty, smokey piquillo mayo, Manchego emulsion, lettuce confit tomato and pickle
The Run-Down: The brainchild of Eduardo and Daniele, who met over 10 years ago in southern Spain, EDū's 'mixto' concept take inspiration from classic Spanish recipes. The menu is a moving feast, changing regularly, using seasonal produce with signature dishes staying faithful to the menu, including the 'Cheeky Dog', Spanish pork belly baos and the EDū burger.
Where: Flat Iron Square, 64 Southwark St, London SE1 1RU
Photo Credit: EDū London 
Order: Argentinian-Style Asado Burger – minced lamb shoulder served in a brioche bun with chimichurri sauce, Provoleta cheese and grilled red peppers
The Run-Down: The Lambassador's mission statement is to put British Lamb back on the foodie map, and good grief, do they go about it in a good way. The Asado Burger is emblematic of their goal; a drool-worthy combination of tender minced lamb shoulder, bitey chimichurri sauce, topped off with a melting Provoleta cheese and red peppers that says 'We're all about lamb, and we're here to show you why.' If you're feeling like you haven't had your lamb fix in a while, look no further.
Where: Locations here