About Time: You Discovered the Best New Restaurants Opening in London This WeekBy Angelica Malin
This week sees a slew of new restaurants cropping up in the capital. There's openings to suit every taste and budget – from Asian small plates to Iranian fare, and not forgetting, the Japanese speciality, shokuji. Here's what's hot, new and delicious in London town this week:
1. For Home-Style Iranian Cuisine: Berenjak 
The Lowdown: Reinterpreting the classic hole-in-the-wall kabab houses which line the streets of Tehran, Berenjak in Soho, will evoke the style of a rustic Persian kabab house, featuring signature dishes using seasonal British produce.
Eat and Drink: Whether perched around the kitchen counter or breaking bread at one of the communal tables, kick off with mazeh, an assortment of punchy small plates including Kashk E Bademjoon, blackened aubergine with whey, walnuts and dried mint, and a daily-changing Kuku, a fragrant omelette of seasonal herbs and Cacklebean eggs, served with whipped Westcombe ricotta. To follow, take your pick from traditional kababs on freshly baked breads hot from the tanoor, inspired by Tehrani street vendors. Each kabab is threaded onto a skewer before being thrown on the glowing embers of the charcoal mangal to grill: these include Jujeh, a whole poussin marinated in saffron, lemon and tomato, and a Cabrito kid goat Koobideh, a tender minced meat dish that's a staple at every kabab house.
Where: 7 Romilly Street, Soho, London W1D 5AL
The Lowdown: Tapas Brindisa are heading to Battersea Power Station for their latest opening. Marking 30 years since founder Monika Linton first brought the best artisanal Spanish produce to the UK, the new restaurant opening on 1st November, will be a culmination of 3 decades as the finest purveyors of Spanish food and culture.
Eat and Drink: Centred on Spanish home-cooking, with recipes collected over the years by Monika and Brindisa's chefs, the new menu includes: cured smoked Cecina beef with dark chocolate and Manchego, roasted aubergines with peppers and black olive dressing, and salt cod with anchovy, frissé and Romesco salad. This will sit alongside Brindisa's signature classics including Gambas al Ajillo; Monte Enebro with orange blossom honey and beetroot crisps; hand-carved 100% acorn-fed Jamón Ibérico Bellota; and black rice with crispy squid.
Where: Battersea Power Station, 25 Circus Road West, London SW11 8EZ
3. For Authentic Japanese Food: Omoide
The Lowdown: After cutting his teeth in Michelin-starred kitchens alongside Adam Byatt at Trinity in London, RyuGin in Tokyo, and Eleven Madison Park in New York and most recently Head Chef at Restaurant Story in London, Chef Angelo Sato will open Omoide (O-Moy-Day) on Bermondsey Street.  Throwing open the doors on 30th October, the restaurant will specialise in "Shokuji", a popular meal consisting of rice, pickles and soup found in both the home and as an important course on kaiseki menus, a multi-course dining experience found across Japan.
Eat and Drink: Choose from signature chirashi rice bowls or customise your own rice bowl to go. Signature dishes will include yuzu salmon, made using yuzu-spiked salmon, sushi rice, topped with avocado, cured cucumber, sushi ginger, goma wakame, pickles and crispy shallots, or the humble chicken, made with Den dashi chicken on 5 grain sushi rice, with umami mushrooms, shichimi mayo, spicy beansprouts, pickles and crispy shallots. Omoide's chirashi rice bowls will sit alongside a selection of dashi, a Japanese broth rich in umami, here filled with udon noodle and with a choice to add on a ramen egg.
Where: 126 Bermondsey St, London SE1 3HS
4. For Fire-Pit Cooking: Gridrion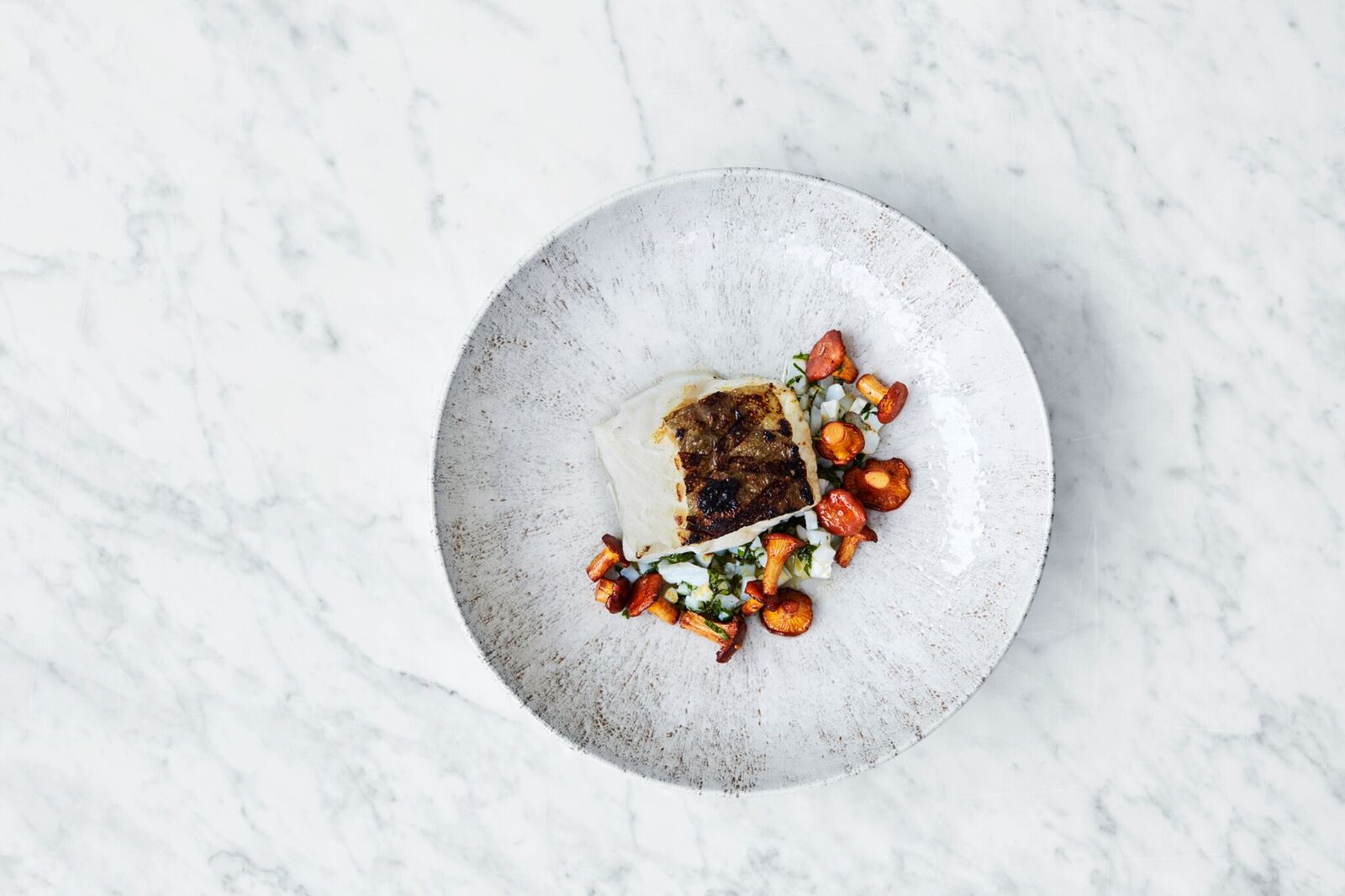 The Lowdown: Gridrion, the new restaurant from chefs Richard H Turner and Colin McSherry, is set to open in Mayfair on 30th October. The restaurant will combine Turner's expertise in open flame cooking and ethical sourcing with McSherry's creativity and fine dining craft, honed at kitchens including The Clove Club, The Ledbury, The Fat Duck and Murano. And not forgetting the liquid libations, a cocktail list by Max and Noel Venning and wine list by renowned wine expert Fiona Beckett completes the stellar line-up of collaborators.
Eat and Drink: The hearty modern British menu celebrates seasonal, ethically-sourced ingredients, with meat, native fish and vegetables given equal attention. Fire-cooked specialities to be shared or enjoyed individually include wood roast scallops with bone marrow XO, smoked eel with braised shin of highland beef, ash baked turnip mimosa, burnt leeks with hazelnut Aillard and brown butter, whole roast turbot with chicken salt and butter, roast red mullet with Gentleman's Relish, penny buns and sorrel, and salt-baked celeriac with wild mushrooms and brown butter crumb.
Where: Old Park Lane, Mayfair, London W1K 1LB
5. For Asian Flair: Pachamama East
The Lowdown: The creators of Peruvian-inspired restaurants Chicama in Chelsea and Pachamama in Marylebone are bringing their new arrival, Pachamama East, to the heart of Shoreditch on 1st November. Pachamama East will focus on fresh seasonal produce and applying the bold flavours, aromas, textures and spices that make Asian food so utterly tasty.
Eat and Drink: With an emphasis on sharing, the lunch and dinner menus will offer dishes from soil, land and sea categories, such as grilled hispi cabbage and smoked aubergine, whole jiang-glazed chicken and hand-pulled lobster noodles, alongside a variety of ceviches. The snacks menu will include delicacies such as Sichuan fried chicken and pork belly chicharrones. Not forgetting the best meal of the weekend, Brunch at Pachamama East will serve up, alongside many other delicious dishes, Peruvian waffles with a choice of irresistible toppings.
Where: 73 Great Eastern St, London EC2A 3HR