About Time: You Discovered the Best Mince Pie Creations in LondonBy Angelica Malin
Mince pies are like Marmite: you either love them or hate them. Lucky for all the mince pie fiends out there – we're big fans. Hit us with a heavy dose of spiced mincemeat any day of the week. From cookies to doughnuts and everything in between – here's the best mince pie creations in London. Ho ho ho:
1. For an Asian Inspired Dessert: Yum Bun
What: The inventive folks at Yum Bun have created an Asian inspired Christmas pudding: hot and crispy mince pie gyoza served with a dollop of brandy butter ice cream. These pockets of deliciousness are stuffed with a molten medley of spiced mincemeat encased in a lovely lil batter duvet.
Where: Street Feast venues: Dinerama, Hawker House and Giant Robot
Photo Credit: Yum Bun
2. For an Indian Pudding: Cinnamon Bazaar
What: Cinnamon Bazaar's buttery, warming mince pie naan creation is stuffed with dried fruits, nuts and spices that have been marinated in dark rum, brandy and red wine for six months and is topped with homemade cinnamon ice cream. The perfect dessert to enjoy after a festive feast or simply on its own.
Where: Cinnamon Bazaar, 28 Maiden Lane, Covent Garden, London WC2E 7JS
3. For Vegan Bites: Crosstown Doughnuts 
What: This is a festive first: Crosstown have launched vegan Christmas doughnuts. Two of the new flavours, the winter fruit crumble and vegan mince pie dough bite are made using egg and dairy alternatives, such as chia seeds, coconut butter and almond milk.  The mince pie dough bite is filled with home made fruit mince, smothered with brandy icing and topped with home-made vanilla crumble.
Where: Locations here 
What: When festive cheer meets quality French patisserie, magic happens. A 2017 sensation, The Mince Pie Croissant by PAUL, has returned this year alongside two new flavour combos: almond and apricot and blueberry and red fruit. The all-butter croissant is filled with rich, sweet mincemeat and dusted with icing sugar. The ideal breakfast bite.
Where: Locations here
5. For a Mince Pie Hybrid: Paul a Young
What: Brownies are their own are great, as are mince pies – but put the two together and you end up with Paul A Young's brownie mince pies. Paul's award-winning fudgy brownie (regularly voted the Best in London) feature a  buttery, rich sweet pastry filled with homemade cognac and ale soaked mincemeat.
Where: Locations here 
6. For a Doughnut: Bread Ahead
What: We should all count our lucky stars that Bread Ahead have once again created their epic mince pie doughnut for the festive season. This teatime favourite comprises smashed mince pies and vanilla cream, all sandwiched into a spiced doughnut. Tasting is believing.
Where: Locations here 
What: Pret always bring the christmas goodness with their yuletide treats. And this year it's no different. The latest sweet bite to hit Pret's shelves is the mince pie cookie – a seasonal ginger orange cookie with a mincemeat middle, combined with Bramley apple for added texture and flavour, and finished with a dusting of icing sugar.
Where: On every high-street in London
8. For Cookie Cups: Blondies Kitchen
What: Feast your eyes on Blondies Kitchen latest creation: a mince pie cookie cup. A vanilla cookie dough cup, filled with traditional mince meat filling, and dusted with icing sugar for an extra ooh la la. Go all out and buy a box of six – one is just never enough.
Where: Buy online 
9. For a Fancy Dessert: Coral Pearl
What: Festive dessert yearnings? One of the fanciest mincemeat-based puddings going, Coral Pearl's stunning mince pie doughnut is coated in pine nut sugar and served with lashings of boozy brandy custard.
Where: 30 Henrietta St, London WC2E 8NA
10. For a Collaboration: Lily Vanilli x Branston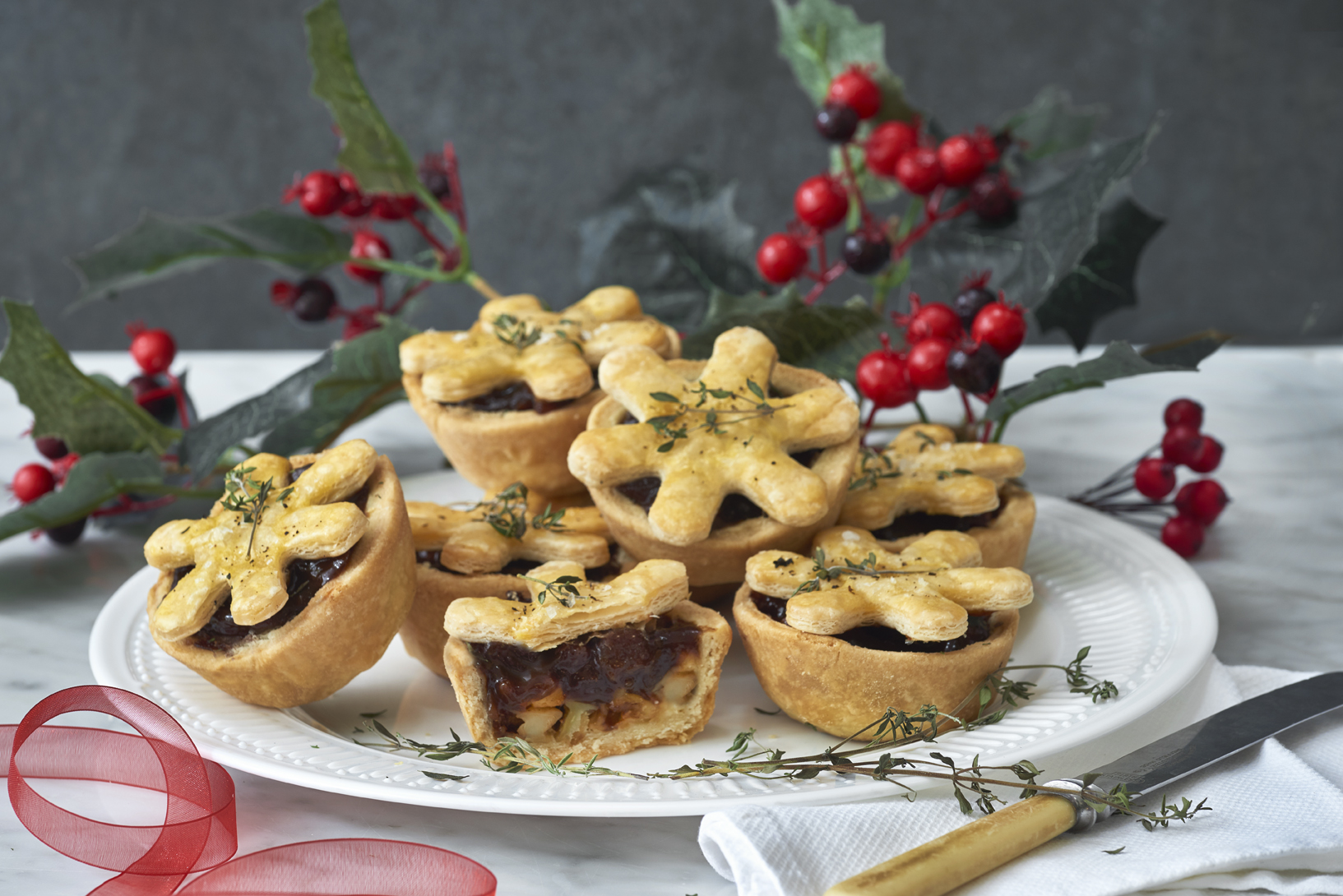 What: Branston have collaborated with east London baking extraordinaire Lily Vanilli to create a unique take on a Christmas classic. The cheese and pickle mince pies are stuffed with fine diced roast potato and cheddar with a huge dollop of Branston's on top, and stuffed into short crust pastry.
Where: 6 The Courtyard, Ezra St, London E2 7RH