About Time: You Discovered the Best Late Night Eateries in ChinatownBy Angelica Malin
Chinatown London is a paradise for night owls. Busy restaurants sit alongside some of the capital's best cocktail bars, which are found hidden above and below the bustling streets, mixed in with karaoke joints and dance floors open until the early hours of the morning. From after work drinks and mahjong to incredible cocktails and late night food gems, here's the best places for after hours fun, grub and drinks in Chinatown.
6pm – After Work Drink(s)
The team behind The Palomar have revamped The Blue Posts pub just two doors down on Rupert Street and turned it into the perfect neighbourhood hangout. Work your way through a lineup of independently brewed cask ales and if you get peckish, choose from a seriously impressive selection of bar snacks – the Black Country 'No Nonsense Pork Crunch' is the king of pub snacking.
Where: 28 Rupert Street, London, W1D 6DJ
7pm – Pre-Dinner Mahjong 
Pop next door to 1930s Taipei inspired tea house, XU, for a spot of pre-dinner entertainment. Not many people know how to play the Chinese tile based game mahjong, and fewer people know that XU Teahouse and Restaurant is home to two permanent mahjong rooms. Available to hire for two hour slots, you can spend an evening sipping on the recently launched seasonal cocktail menu and cramming in XU's infamous Shou Pa Chicken. (A short guide and cheat sheet is provided for those unfamiliar with the rules.)
Where: 30 Rupert Street, London, W1D 6DL
8pm– Dinner 
Chinatown London is bursting from the seams with interesting and delicious dinner options. From mind-blowingly delicious laksa at C&R Café to Korean BBQ joint Olle, as well as a collection of traditional Cantonese eateries and mouth-numbing Sichuan menus at JinLi and Shu Xiangge, there is more than enough to pick from.  
Where: Chinatown, London
9pm – Dessert 
All good meals end with something sweet, so save room for a walk along Newport Court, known familiarly by some as 'Dessert Alley'. Offerings are hevenly and toothsome, including Filipino Mamason's Dirty Ice Cream and matcha mastery at Tsujiri to innovative dessert specialists RORO.
Where: 32, 33 and 34 Newport Court, London WC2H 7PQ
1opm – Karaoke 
No trip to Chinatown London is complete without a Karaoke experience. Head back along Gerrard Street to Plum Valley to one of their four private karaoke rooms. Sing the night away with a group of chums – Lychee Martini in hand.
Where: 20 Gerrard Street, London W1D 6JQ
11pm – Vietnamese Cocktails and Bar Snacks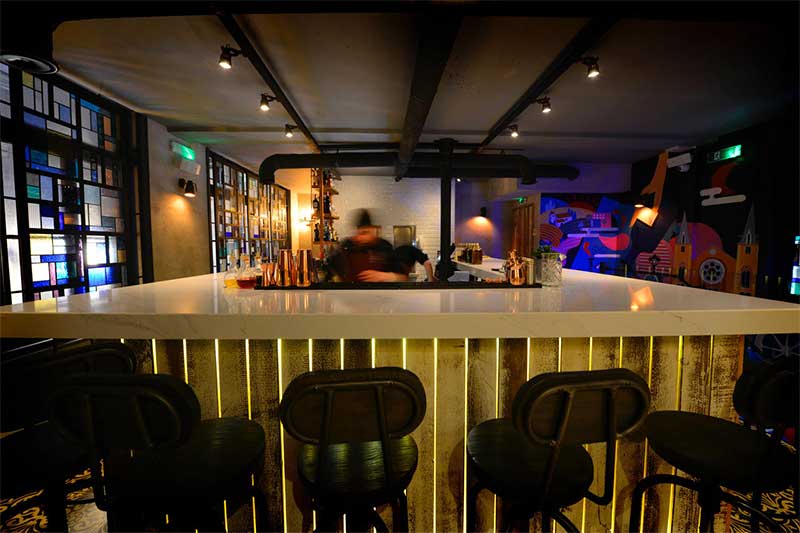 After belting out some classics it's time for a refreshing drink or two. Chinatown London is home to a number of award-winning cocktail bars. Head upstairs to the newly opened art-deco bar, Viet Lounge, and indulge in lovingly mixed cocktails from Head Bartender Alex Loois, with a side of delectable Vietnamese bar bites. Situated on the 3rd floor, a central bar is pride of place at Viet Lounge where you can pull up a stool and watch Looi shake up cocktails made with homemade Asian syrups. Sample the likes of a 'Ho Chi Minh', made with vodka, lychee liqueur, homemade yuzu syrup, fresh pineapple, fresh lime juice and basil leaves, or 'Gangnam Style' with Korean rice wine, kirsch, Angostura Bitter, Plum Bitter, nutmeg, egg white, lemon and homemade rosemary syrup.
Where: 34-36 Wardour Street, London W1D 6QT
12pm – 'A Journey Through China' at Opium Cocktail Bar 
Continue your cocktail crawl by venturing behind Gerrard Street's jade-green door where you'll find decadent multi-story drinking den Opium, transporting you to a bygone Chinese era via expertly mixed tipples and elegant surroundings. Opium's intimate hidden bar, Peony, has just launched an exquisite menu of ten new cocktails – each one named after and taking inspiration from a Chinese city. Titled, 'A Journey Through China', Peony's territory-spanning menu leads your taste buds on an exploration of the vast country; from the mountainous northwest city of Urumqi to the metropolises of Hong Kong, Shanghai, and Beijing. In true Opium style, each cocktail is less a drink in a glass, more a theatrical experience with many ingredients indigenous to the city the drink is named after. Side note: Opium is open until 3am (Thurs-Sat) should you wish to settle in for the evening.
Where: 15-16 Gerrard Street, London W1D 6JE
1am – DJ        
Dance till late at ICHIBUNS recently opened ICHIBAR, who run a programme of house DJs every weekend. Open until 2am and serving up an extensive list of Japanese whisky, gin, craft ale, sake alongside an innovative new cocktail menu, grab yourself a drink and while away the rest of the night on the dance floor.
Where: 22 Wardour Street, London, W1D6QH
 2am – Late Night Dumpling Feast 
Every good night ends with a trip to your local takeaway. But in Chinatown London forget chicken and chips or a kebab – it's time for late night dumplings. True to its name, Dumplings' Legend is the only place for a late night dumpling fix. Open till 2.30am on a weekend, it offers an extensive menu of steamed delights, including 'Xiao Long Bao', its signature dumpling dish.
Where: 15-16 Gerrard Street, London W1D 6JE
 3am – Takeaway Time
The final pit stop for hungry night owls in Chinatown London is late night favourite Hung's. Open until 4am daily, treat yourself to a satisfying bowl of beef brisket noodles or a selection of Cantonese BBQ meat – the mixed platter comes highly recommended for indecisive diners or if you're feeling extremely hungry.
 Where: 27 Wardour Street, London W1D 6PR