About Time: You Discovered the Best Foodie Spots in Elephant and CastleBy Corissa Hollenbeck
Elephant & Castle is the picture of gentrification; pop-up restaurants are sandwiched between crumbing estates and glossy skyscrapers. What used to the part of London you avoided on your way to Dulwich has now become the biggest developing project in all of Southwark. Construction has almost finished on four sky-high apartment blocks, complete with retail spaces on the ground floor. Once these retail spaces are open, more creative enterprises are sure to fill the neighbourhood. In fact, several new restaurants and novelty bars have opened already.
While new restaurants are arriving, others will be closing soon. The Artworks Elephant is essentially a smaller version of Shoreditch's Boxpark, and features everything from life-changing Ethiopian to late-night craving Cuban food. However, due to new developments, The Artworks Elephant will be closing in late December. Go now! Not included in this list, but an iconic E&C mainstay is Mercato Metropolitano, a sprawling street food hall which serves some of the freshest and best pasta dishes in our fair city. Here's our top picks of the best foodie spots in Elephant & Castle:
1. For a Ballin' Brazilian Brunch: Tupi
The Lowdown: This South American restaurant is the newest south London addition to its sister in Peckham. Though their menu includes every meal of the day, we would recommend going for breakfast, as the menu is the most exciting. Combining old school Brazilian classics with a London millennial flair (essentially, hollandaise meets avocados), they tick all the right brunch criteria: flavourful, filling, and gorgeous. If you feel the need to visit during Happy Hour, treat the manager to a cocktail for surefire banter all evening.
Don't Miss: The sweet potato rosti. Hollandaise on top of poached eggs, avo, and a deep fried sweet potato rosti. Somehow, it's exactly what you've been craving.
Where: 2 Castle Square, Elephant Rd, London SE17 1EN
Photo Credit: Tupi, Instagram
2. For the Best Pizza Dough You've Ever Had: Theo's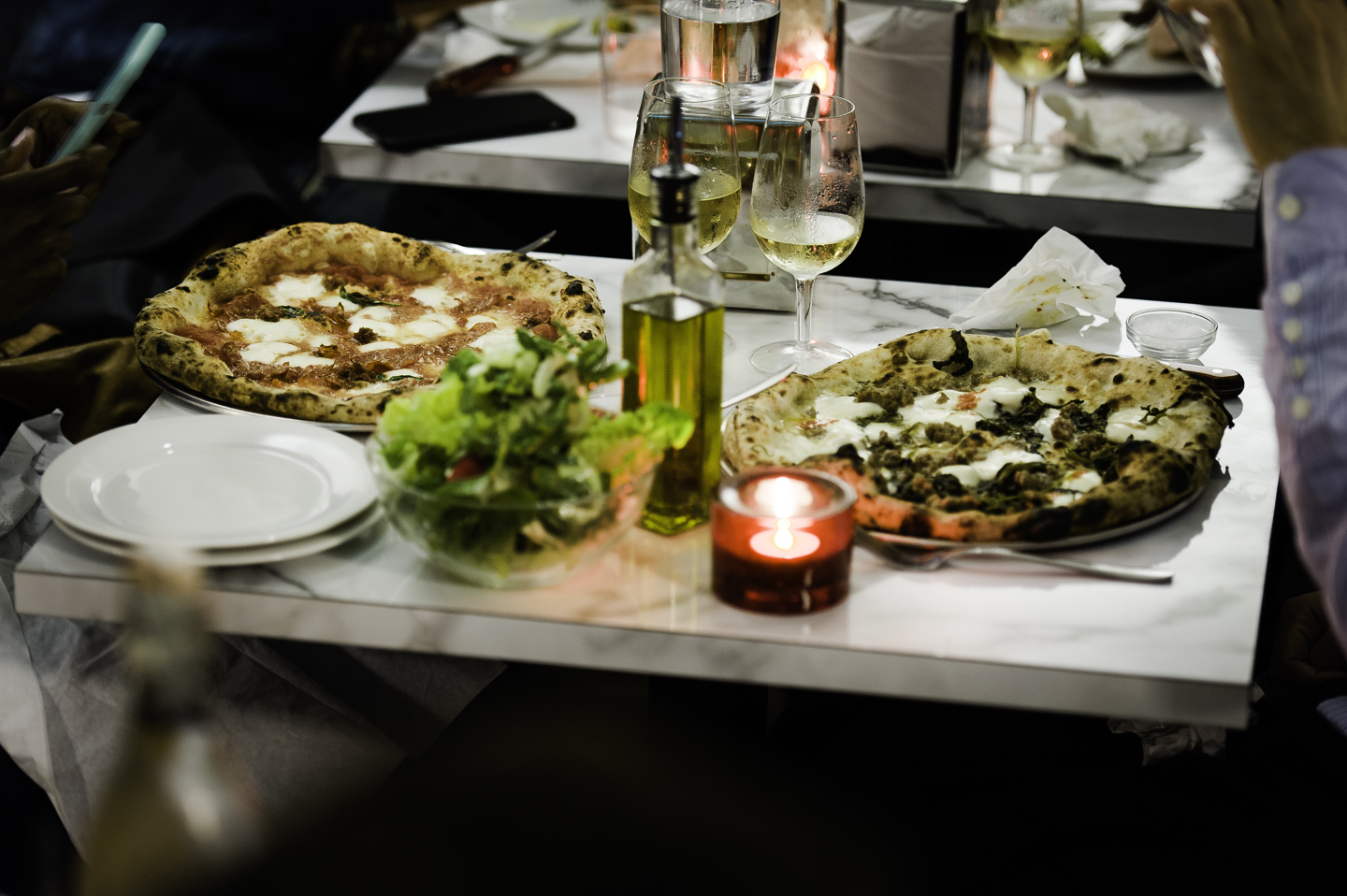 The Lowdown: If you've spent time in Camberwell you've heard of Theo's incredible pizzas. The recent success has prompted Theo to open up a new location right across from E&C station. From calzones to classic Italian cocktails, this is a perfect date night that soon turns into a weekly ritual. Their insanely delicious pizza dough is topped with a classic tomato sauce, luxurious mozzarella, and simple toppings that hit all the right notes. Arrive with an empty stomach and devour an entire wood-fired pizza for one.
Don't Miss: Their tiramisu. They've managed to perfect the ratio of espresso-soaked lady fingers to decadent cream, and it's the perfect size to share.
Where: 17-18 Elephant and Castle, London SE1 6TH
Photo Credit: Theo's
3. For a Magical Cocktail Experience: The Cauldron
The Lowdown: This unique 'bar' is one of the few that requires an advance booking. Following immense success in  New York, The Cauldron has opened its doors to Londoners. Though prices are pretty steep (£30), you definitely get your money's worth. Create your own concoction in a masterclass after donning your wizarding robe and personalised wand. Yeah it's a little bit touristy, but it's so much fun to geek out. Plus, who doesn't want a cocktail that changes colour, bubbles, and smokes?
Where: 7 Elephant Rd, London SE17 1LB
Photo Credit: The Cauldron 
4. For the Late-Night Food of Your Dreams: Jama Havana
The Lowdown: These Cuban sandwiches, fries, and sauces will change any previous ideas you had about Cuban food being modest. Mouthwatering chicken is paired with plantains and roasted pineapple, and it's a match made in heaven. The 'Presidente' sandwich is filled with slow roasted pork shoulder and a homemade 'mojo' mayo that you can honestly just eat by the spoonful. Their jackfruit vegetarian sandwich is just as tasty (if not more) than any meat option. If you want to try something different, opt for the yukka chip and dip (deep-fried root vegetables with a mint and avocado sauce). Lastly, grab a pint from Hop Art, the craft beer bar, to complete the Jama Havana experience.
Don't Miss: The dirty fries. So OTT, so worth it.
Where: Unit 7, The Artworks Elephant, Elephant Rd, London SE17 1AY
Photo Credit: Jama Havana
5. For Spice Combinations You've Only Ever Heard About: Beza Ethiopian Food
The Lowdown: If you've never had Ethiopian food, start here. The second you walk into her shop, Beza takes care of you, even if you have no idea what to order. Cooking each part of the menu with care and an absurdly tasty (and secret) blend of spices, Beza's Ethiopian food is a really unique dining experience. Luscious hummus, incredible lamb, and perfectly spiced vegetable medleys will keep you there for seconds and thirds.
Don't Miss: The Yesiga Tibs. Chopped beef pan-fried with fresh tomatoes, red onions, and Ethiopian spices. Sounds simple, but Beza manages to make it satisfyingly complex.
Where: 17a Elephant Rd, London SE17 1AY
Photo Credit: Beza, Instagram
7. For Crazy Cuisine Combos: Marcel and Sons
The Lowdown: This Mauritian food combines the best bits of European, African, and Indian cuisine. Though their menu is small, it is mighty. The Bol Renverse is a fried rice with sausage, chicken, mushroom, onion and topped with an egg, which makes it perfect for any meal of the day. Their bao buns feature mind-blowing combinations of mayo, spice, fried onions, and cucumber. Choose from strips of fried beef, sea bream, or taro as base, and enjoy from there. If you want to try something new and learn about a culture through food alongside it, Marcel and Sons is the place to go.
Don't Miss: The mushroom vegan bowl. Though I'm never sure how to pronounce the names of the obscure mushrooms, they work in force to create a delicious dish. Completely vegan, and missing nothing. If you're not sure what to order, get this.
Where: 5 Elephant Rd, London SE17 1LB
Photo Credit: Marcel and Sons, Instagram
8. For the Best Vegan Dessert in London: Cupcakes and Shhht
The Lowdown: Because desserts rely so heavily on butter and eggs, baking a vegan anything is crazy difficult; but Cupcakes and Shhht makes it look easy. Their cupcakes are to die for (obviously) and their croissants are so delicate that you start to wonder if they've cheated and used butter after all. The only thing sweeter than their desserts is the interior décor of their shipping container. Outfitted in statement cushions, fairy lights, and pastel everything, it's worth visiting for the coziness alone. The coffee menu is more extensive than I thought possible, with each item worth a try (Himalayan salt coffee included).
Don't Miss: Their brunch menu. Come early on a Saturday or Sunday and you'll see where Cupcakes and Shhht really shine. Maple tempeh pancakes, unicorn freakshakes, and vegan options you previously hadn't thought possible take the (cup)cake.
Where: 10, The Artworks, Elephant Rd, London SE17 1AY
Photo Credit: Cupcakes and Shhht, Instagram