About Time: You Discovered the Best DIY Meal Kits in LockdownBy Alicia Grimshaw
Looking for the best DIY meal delivery kits? Look no further.
The lack of dinner time inspiration has hit us hard. We're week 12 into lockdown, and having rinsed the local restaurants on Deliveroo (big up Nando's for their reappearance), it's about time we explored other dinner ideas. If, like us, you're repeatedly reaching for the same ingredients and cooking the same meals, we're here to help.
With the 'gram flooded on a daily basis with drool-worthy meals from your pals – seemingly everything does look tastier thanks to a Valencia filter – it's about time you upped your dinnertime with a little help from the professionals.
From pasta kits to recipe boxes – here's 10 the best DIY meal delivery kits you need to try in lockdown. Happy munching:
What: DIY Burger Kit (£25)
The Lowdown: Burger legends Patty & Bun have revolutionised for lockdown and created the ultimate at-home kit that's going to totally level up your lockdown. No matter how long we slave over a disposable BBQ, we just haven't managed to satisfy our craving for a dirty burger at home just yet, that was until this box of gold arrived at the front door. Providing everything you need to make 4 stunning burgers (just add lettuce and tomato), we were totally blown away with the attention to detail; from fluffy brioche buns through to stunning patties from meat masters HG Walter, not to mention the glorious caramelised onions and mouthwatering signature smokey mayo (honestly we'd take a bath in the stuff). Needless to say, the DIY box is the next best thing to eating in the restaurant itself (and you can eat them in your pants without getting kicked out).

Ideal For: A messy date night with a twist.
What: Coconut Noodles (£14)
The Lowdown: Burmese restaurant Lahpet has built up a steadfast reputation thanks to its home-spun cooking focusing on the cuisine of Myanmar. With restaurants opening a long-way off, the Shoreditch hangout has adapted to the new landscape selling pantry products and meal kits via their online shop. No doubt one of the best DIY meal delivery kits; the DIY kits feature some of the most popular dishes on the menu such as the Ohn-no Kauk Swé (coconut noodles with chicken). Enough for two (generous) portions, the easy-to-follow kit features a pre-made fragrant coconut base pimped up with a range of other ingredients including spring onion, egg, lime and coriander. Tie your hair back and slurp your way through a rich broth peppered with hunks of deliciously tender chicken and crispy noodles for extra crunch. Utterly divine.
Ideal For: A restaurant-quality meal at home.
What: Cheese Toastie Kit (£10)
The Lowdown: Look, we're not gonna act like it's difficult to buy the ingredients for a cheese toastie from your local supermarket, *however* this DIY kit from The Cheese Truck has totally changed our toastie action for the better. One of the  best DIY meal delivery kits for cheese lovers – with detailed instructions to follow along with, it's easy and effortless to recreate the festival favourite from home; simply layer caramelised onion and a cheddar/ogleshield mix on beautifully crunchy sourdough (they even provide the butter), and use a trusty frying pan to achieve the golden crispy outer. With some cornichons on the side, treat yourself to boujee cheese-coma experience within your own four walls.
Ideal For: A posh take on a lunch favourite.
What: Lamb Rump (£11.98)
The Lowdown: While most of us long to up our kitchen appliance game in lockdown, the lack of space in London flats has us refraining from finally snapping up a slow cooker. Fear not: for all your slow-cooked meat needs, the team at field&flower have produced a range of sous-vide cuts – slow-cooked in a water bath to retain all of the natural moisture in the meat. All you have to do is bang the meat in the oven, and rustle up a side dish. Take the lamb rump – an instant AT favourite – both tender and packed with flavour after being infused with butter, rosemary and garlic by their expert chefs, and ready in under 20 minutes. A mouth-watering pink finish that no slow cooker could mimic. And the crispy aromatic duck will give your local Chinese restaurant a run for their money.
Ideal For: A quick weekend dinner.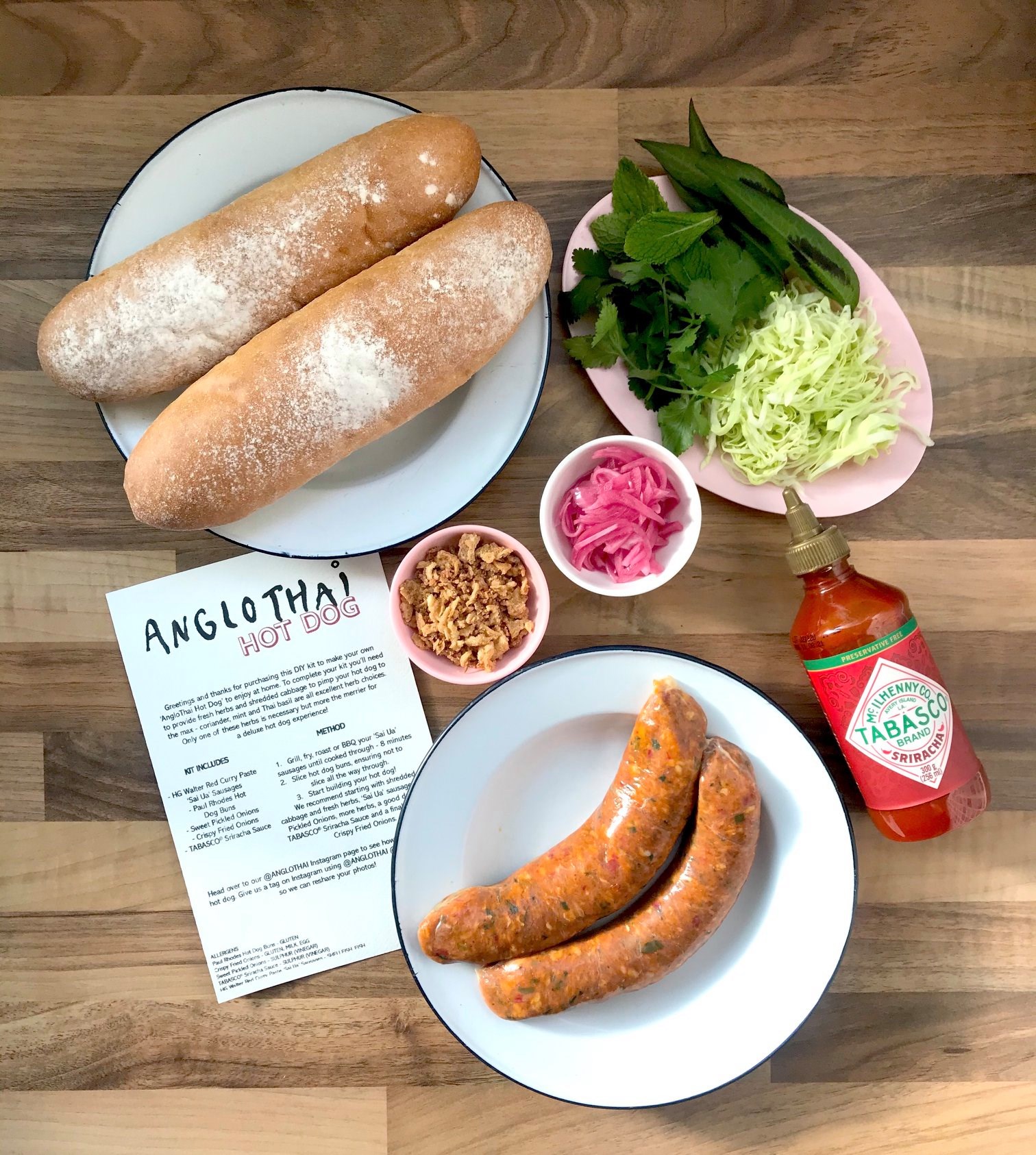 What: Anglothai Hot Dog (£25)
The Lowdown: When Tabasco, HG Walter and Anglothai announced a collaboration, our mouths were instantly watering, and we couldn't wait to get our hands on these groundbreaking hot dogs. Totally changing up everything you expect from a dog, this kit was mind-blowing from the offset. Beautiful (and massive) Thai spiced dogs compliment fluffy buns from Paul Rhodes Bakery in Greenwich, layered on a mix of crispy fried and sweet pickled onions and slathered in Tabasco's new Sriracha sauce, culminating in a taste sensation that seamlessly combines oriental flavours with BBQ charm. With four dogs in the kit (enough for a hungry family), you'll never want to cook a normal hot dog again.
Ideal For: Spicing up a family mealtime.
What: Curry Night Recipe Box (£45)
The Lowdown: When SpiceBox publicised they're rolling out meal kits, we knew spice queen Grace Regan wouldn't let us down. For all the plant-powered diners out there missing their fill of tasty Indian fare – the curry night recipe bundle ticks all the boxes. And dare we say it's better than some of the takeaways we've tried in lockdown. Up for grabs is a Tikka Masala or Cashew and Coconut Korma, both bursting with fresh ingredients and homemade curry sauces, all vegan no less, accompanied with freshly baked naan breads, rice, pakoras and samosas, accompanied by a date and tamarind chutney. The box also includes a tarka daal, a dish of depth, and creaminess, providing the perfect comfort food bite. No messing around, just chop, simmer and dig into an almighty feast.
Ideal For: A plant-based feast that's big of health and flavour, too.
What: Hello Fresh Box (£30)
The Lowdown: We all know about Hello Fresh by now, whether it's friends insisting we use their codes, or by receiving a million leaflets outside a tube station (remember getting the tube?) – we feel like it's been in the public eye for a while now. If like us you've been on the fence, lockdown is the perfect time to give this a go, and change up your home cooking for the better. The process is simple, with an easy to use website you select which meals you want, then kits arrive to your door, individually packed with everything perfectly measured for each recipe (down to the herbs and spices). There's great variety in the dishes, and each one accounts for all ranges of cooking ability. If you want to try something new for mealtimes but don't want to trawl around supermarkets buying ingredients yourself, Hello Fresh is absolutely perfect.
Ideal For: Adding some variety to lockdown cooking, regardless of your cooking skill.
What: Feast Box (recipes starts from £6.20 per person)
The Lowdown: If we can't travel the world in person at the moment, at least we can in our cuisine! Ok, that sounded less cringey in our head, but basically we're saying we love what Feast Box are doing at the moment for lockdown cooking. Without a doubt, one of the best DIY meal delivery kits to try during lockdown. Crafting accessible, easy-to-make recipe boxes with rare ingredients (all measured out perfectly), Feast Box has a different theme and cuisine every week, meaning it allows you to rustle up meals big on flavour; from Indonesia to Sri Lanka via North London. It's a blessing knowing every single thing goes into each meal, portion sizes are reasonable, and every meal takes no longer than 25/30 mins to cook, making it perfect for both a special weekend dinner and a lazy Monday night. If lockdown fatigue has got you wanting to expand your culinary horizons from your own kitchen, Feast Box is a game-changer.
Ideal For: World cuisine themed nights to spice up lockdown.
What: Sicilian Four-Course Supper Club (£22 per person)
The Lowdown: For a DIY delivery kit when fancy Italian cuisine, here's a hot lockdown must-buy: Strazzanti's four-course supper meal, delivered to your door every Friday. Spearheaded by three sisters, Emilia, Nina and Sofia Strazzanti, the dynamic trio have created a joyride of flavour-packed meals, featuring high-grade produce such as olives, sun-dried toms and homemade Sicilian cakes (easily eaten as an 11am snack). There's also a step-by-step Strazzanti recipe card and video with the exact ingredients to make your own pasta dish from scratch, featuring fresh artisanal pasta from Pasta e Basta, along with a loaf of freshly baked bread. This is one Friday night dinner you don't want to miss – and even better, the majority of the food is ready to eat, except the main pasta dish…so you won't be tied to the cooker all evening.
Ideal For: Pulling out all the stops for a slap-up dinner.
What: Pasta for two people (£12.50)
The Lowdown: If food can get delivered through the letterbox – we're into it. Nonna Tonda have come up with a nifty kit featuring all you need for a blowout carb-fest for two, and it handily fits through your letterbox. Failed to hit the pasta making clichés in lockdown? Fear not, set Instagram alight with Nonna Tonda's bundle comprising fresh pasta, a sauce and fresh parmesan. Made each morning, and delivered the same day, the pasta is the best in the business (smooth, springy and light), and the sauce is made using the best seasonal British produce. With recipes fuss-free and easy to follow, taking around five minutes to make, Nonna Tonda's kits are a failsafe dinnertime option.
Ideal For: Impressing a loved one.