About Time: You Discovered the Best Chinese New Year Menus in LondonBy Alicia Grimshaw
We may be nearly 8,000 km away, but that doesn't stop London embracing Chinese New Year with a vigour normally reserved for Beijing.
Falling on Friday 16th February and running for two weeks, this is the year of the Earth Dog. In Chinese culture; a dog is considered a noble and loyal creature. The Earth Dog in particular is connected with fairness, morality and honour. For many, this year will be associated with brotherhood, solidarity and spiritual wealth over material wealth.
Time to fill your boots (and stomachs) with the best Chinese New Year menus in the capital:
1. For Limited Edition Dishes: Hakkasan 
What: Hakkasan are rolling out a limited edition signature menu created by Hakkasan chefs from London, USA, the Middle East and Asia. Available until 4th March, the menu is centred around ingredients believed to bring good luck and prosperity for the coming year.
Eat and Drink: Highlights from the menu include oyster with lotus root and crispy rice in mantau, braised beef tongue and caramelised walnuts with asparagus and mint, and crispy scallop in sweet plum sauce with mango in a golden cup. Main dishes include baked Chilean sea bass with kumquat glaze, as eating fish at Chinese New Year is said to bring increased prosperity. Don't miss the abalone fried rice in bean curd wrap with Chinese sausage and shiitake mushroom, wok-fry native lobster in superior stock with edamame and caviar, and Rhug estate organic lamb in seaweed soy with celery and enoki mushroom. To finish: Golden Fortune dessert with ginger caramel, roasted macadamia nuts and lemongrass.
Price: £88 per person
Where: Locations here 
2. For Iconic Dishes: Duddell's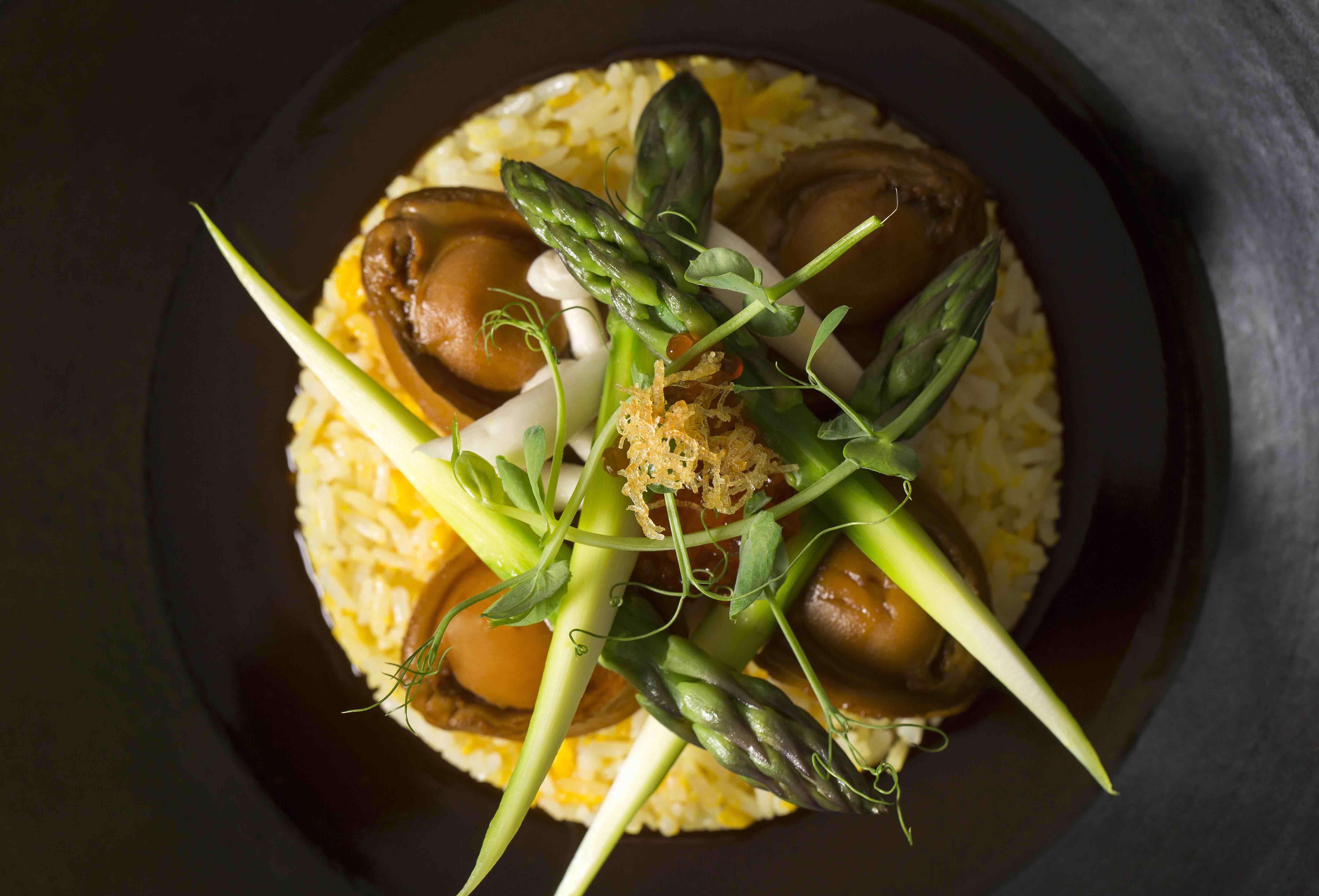 What: Not featuring Duddell's in our Chinese New Year feature would just be criminal. Since opening last year, they've totally rocked the capital with their iconic Chinese dishes and that dim sum selection. Head chef Daren Liew has chosen a very special selection of dishes to mark this celebration, each with a particular meaning or significance.
Eat and Drink: The menu showcases some of the best in Cantonese cuisine, starting with Duddell's signature royal dim sum symphony, and delicate dumplings filled with lobster and asparagus, and spicy turbot and pickled chilli. Mains to share include black cod with crispy radish and supreme soy, and abalone with smoked chestnut and corn fed chicken toban. On New Year's Day (16th February) lucky diners may even get to see a traditional dragon dance, believed to bring good fortune.
Price: £88 per person
Where: 9a St. Thomas street, London SE1 9RY
3. For Regional Chinese Dishes: Hutong 
What: This year Hutong will be celebrating with dishes inspired by regional cooking styles and delicacies from across the country. Head chef Fei Wang has combined a series of traditional dishes, with those eaten traditionally on Chinese New Year, with the menu running until 25th February. 
Eat and Drink: The Chinese historical cuisine menu will feature a range of dishes to bring diners luck and prosperity for the New Year. First up is auspicious samba, as the name suggests, auspicious sambo means 'everything is lucky', and encourages diners to embrace the past, present and future. It combines three different regional dishes and flavours on one plate: spicy, lightly fried ma la beef tenderloin, hot and sour konnyku, a Chinese-style potato, and steamed, sweet and spicy yam. There's also handmade king prawn dumpling with hot and sour soup, steamed whole sea bass with spicy garlic sauce and 'nian-go' dessert – a sweet, sticky cake which is deep-fried and served with concentrated milk.
Price: £88 per person
Where: 33, The Shard, 31 St Thomas St, London SE1 9RY
4. For Taiwanese Bites: Daddy Bao 
What: Opening their doors in Tooting on 16th February, Daddy Bao will be ditching the set menus and keeping it simple with their CNY offering.
Eat and Drink: Take a trip on the Northern Line to Daddy Bao where the kitchen team will be serving up signature pillowy bao buns, crunchy fried chicken and Taiwanese snacks a plenty. You'll find Mr Bao – slow braised Flock and Herd pork, pickles and peanut powder packed into a milky white bun, and the Drunken Prawn Bao – a classic bun stuffed with beer-marinated prawns, pickled mooli and spiced spring onion.
Price: Dishes from £6
Where: 113 Mitcham Rd, London SW17 9PE
5. For a Collaborative Menu: TĪNG Lounge at The Shangri-La Hotel 
What: The Shangri-La Hotel has partnered with international Emmy-nominated TV Chef and food author, Ching He Huang to create a Chinese New Year menu. The innovative Chinese dishes created by Ching and the hotel's Executive Sous Chef, Daniel McGarey, will be available in the TĪNG Lounge on level 35 of the hotel for one month, commencing Friday 16th February.
Eat and Drink: The menu features three-cup chicken with pineapple 'shard', spicy honey garlic prawns, clams in shrimpy hot black bean sauce, and golden tofu featuring edible gold sprinkles. And for a bowl of longevity: Zhajiang noodles. Golden yellow noodles are a symbol of long life and promote good health and to ensure extra longevity, do not cut the noodles. This Beijing classic is made with fresh hand-pulled noodles, 'Zhajiang mein' (mixed sauce noodle), and features pork, one of the most popular meats in China.
Price: Dishes from £11
Where: Level 35, Shangri-La Hotel, At The Shard, London, 31 St Thomas Street, London SE1 9QU
Photo Credit: James Bedford 
6. For Cantonese Classics: duck duck goose 
What: duck duck goose in Pop Brixton is planning a special CNY menu for one day only (16th February). Renowned for its tasty Cantonese cuisine, duck duck goose's Chinese New Year feast will include old favourites such as the prawn toast revisited, but they've also upped the ante…
Eat and Drink: Rock oysters with Sichuan and ginger vinegar kick start the show with a lychee imperial to wash them down (a take on a Kir Royal). From there expect duck and foie gras spring rolls, typhoon shelter crab with heaps of fried garlic, chilli and spring onion or whole steamed bream with ginger and spring onion. To finish, a nod to the fortuitous colour red, with a blood orange and ginger sorbet doused in plum wine. If you're feeling less virtuous go for the peanut butter French toast with caramel and soy ice cream.
Price: £35 per person
Where: 49 Pop Brixton, Brixton Station Road, London SW9 8PQ
Photo Credit: Camille Mack
7. For a Tasting Menu: Serge et le Phoque
What: With its origins in the great city of Hong Kong, Serge et Le Phoque welcomes in Chinese New Year with a five course tasting menu rooted in the traditions of China. Amidst delicacies from across the globe, Serge et le Phoque will be showcasing their sophisticated menu on Friday 16th and Saturday 17th February, alongside specific wine pairings for each course.
Eat and Drink: Serge et le Phoque have created this five course tasting menu with a curated cocktail to accompany the aperitif of oysters with soy, black vinegar, cedrot, coriander and buckwheat, sesame focaccia, and a tapioca cracker. These aperitifs will then be followed by a selection of delicate amuse bouche; pork and prawn dumplings, and salt and pepper mylor prawn. The next course will be a light starter of scallop with turnip, shitake, century egg and chilli, followed by turbot, ginger, shallots and oyster mushroom, and salt baked Pork "Char siu", aubergine and cucumber. To finish on a sweet note, there is a selection of traditional Chinese desserts such as the pomelo with shiso, and jasmine ice cream with lychee, milk cookie.
Price: £75 per person
Where: 20-21 Newman Street, London W1T 1Pg
8. For a Feasting Menu: Lucky and Joy 
What: Pop-up Chinese restaurateurs Lucky & Joy are back in London – and for Chinese New Year the restaurant has created two menus (a feasting menu for 4+ people, and a banquet menu for 8+ people), plus they've teamed up with Smirnoff vodka and Gordon's London Dry to create two special Asian-fusion cocktails.
Eat and Drink: The feast is served family-style and includes dishes such as broccoli with garlic and ginger, sweet potato wontons with chilli vinegar, and turnip cake with soft egg. For mains there's a big ol' plate of chicken and fish in a spicy broth for prosperity, and sides like and yunnan pinapple rice.
Price: £25 per person
Where: 299 Railway Arches, Cambridge Heath Road, London E2 9HA
Cocktail image: Justin De Souza
What: Both Yauatcha locations (Soho and Broadgate Circle) will serve a celebratory Chinese New Year menu with dishes inspired by the annual celebration and featuring ingredients which are traditionally believed to bring good fortune. And Yauatcha has also teamed up with two artists, Lydia Kasumi Shireff and Jamie Julien Brown, to create innovative Chinese lantern art installations for the restaurants.
Eat and Drink: The menu will offer two dim sum dishes; salted egg yolk custard sesame ball (representing togetherness), and Chilean sea bass roll (symbolising financial prosperity). Main dishes will include golden fortune prawn in lime sauce (for seafood has connotations of good luck) and braised pork shank with lotus seed and mushroom. In a nod to the art, enjoy the Haoyun Lantern petit gâteau dessert with soy caramel and mandarin (eating citrus is believed to bring luck whilst 'haoyun' translates as 'lucky'). A number of limited edition macarons will also be available, in flavours including vanilla orchid, a lucky flower for 2018, and raspberry Szechuan, vibrant red in colour to reflect Chinese New Year celebrations.
Price: Dishes from £12
Where: Locations here 
10. For a Traditional Menu: Le Chinois 
What: Located on Sloane Street in Millennium Hotel London Knightsbridge, Le Chinois will be serving a special celebratory menu made up of authentic Chinese dishes from 15th-28th February.
Eat and Drink: The Deluxe Chinese New Year Menu includes a whole host of mouth-watering creations from Head chef, Anthony Kong, including sizzling golden tofu with straw mushrooms, Yong chow fried rice served with barbecued pork, shrimps and vegetables, and fresh steamed lobster with Chinese rice wine and eggs whites.
Price: £58 per person
Where: 17 Sloane St, Knightsbridge, London SW1X 9NU
One for luck… 
11. For Fortune Cookies and Cocktails: P.F. Chang's Asian Table
What: P.F. Chang's Asian Table invites Londoners to ring in the 2018 Chinese New Year with a new limited edition cocktail and dessert. They'll also be handing out 300 fortune cookies filled with foodie freebies – including one very special prize of dinner for two for an entire year.
Eat and Drink: Kick off with a limted edition Chinese New Year Umeshu Fizz cocktail made with Umeshu, lemon juice, crème du apricot and prosecco, followed by a celebratory feast from the a la carte menu. Tuck into starters like the original dynamite shrimp and the original Chang's chicken lettuce wraps, followed by Mongolian beef and Kung Pao chicken. Sushi lovers will love the black truffle rainbow sushi roll with yellowfin and ahi tuna, and for pudding there's a decadent butterfly poached Asian pear tartlet.
Price: The Umeshu Fizz cocktail is £8, the Butterfly Asian Pear tartlet is £6.50 and dishes on the a la carte menu start from £5.50.
Where: 10 Great Newport Street, London WC2H 7JA