About Time: You Discovered London's Hottest New CollaborationsBy Alicia Grimshaw
Summer may be a distant memory, but London is still red hot with new collaborations. From a very saucy dessert to a limited edition kebab, read on to discover the capital's hottest partnerships:
What: Provisioners has launched a limited-edition menu in partnership with comedian Jack Whitehall and his food blog, FoodSlut. Jack and co-founder, Marcus Petty-Saphon, along with chef  Thom Bateman, have created a special menu – available every Friday evening and weekends until 18th October.
The Lowdown: Dishes include the outrageous and delicious Slutty Burger – double patty smashed dry-aged beef with brown butter baconnaise, bread and butter pickles, crispy onions, shredded lettuce and maple ketchup; Nashville hot chicken sandwiches – fried chicken breast coated in the FoodSlut 'slutty secret recipe' spices, served on thick white bread with comeback sauce, pickles, shredded lettuce and slaw; and the vegan starter of Korean-style cauliflower bites.
Where: 4 Queen Elizabeth St, London SE1 2LL
What: Le Bab has collaborated with their close friend and uber-regular guest, Big Zuu for a special kebab, available throughout October.
The Lowdown: Big Zuu – a London grime artist, member of West London's MTP Crew and popular host of TV show Big Zuu's Big Eats for Dave – worked with Le Bab's executive chef Manu Canales to design his perfect kebab. The Big Zuu kebab takes the chicken kebab to an entirely new level with a combination of BBQ free-range grilled chicken shish and crispy-fried chicken, all under one sourdough naan blanket. "Salt & vinegar" cassava chips and scotch bonnet BBQ sauce are a celebration of his Sierra Leonian heritage, the garlic mayo provides another Lebanese touch, with grated parmesan adding a nod to Italy.
Where: Top Floor, Kingly Court, Carnaby Street, London W1B 5PW
Photo Credit: Justin De Souza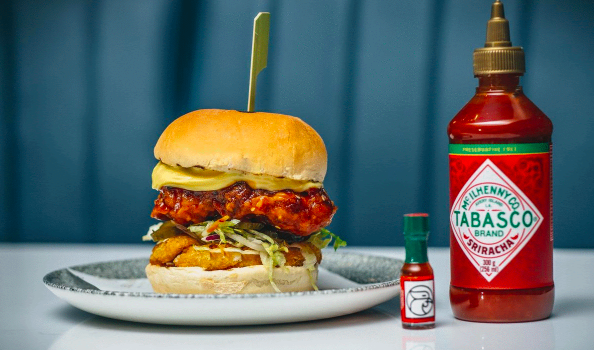 What: Recently opened Seoul Bird, West London's Korean fried chicken specialists, have teamed up with Tabasco to bring three limited-edition dishes to their menu for an eight-week run.
The Lowdown: Korean American chef Judy Joo has created new dishes featuring the Burnin' Bird Burger of crispy Korean fried chicken thighs tossed in Tabasco Sriracha sauce filled with smashed tater tots topped with crisp iceberg lettuce, pickled cucumbers, red onion and kewpie mayo served with a mini bespoke Tabasco bottle. Elsewhere on the menu there's a side of tater tots with cheese sauce drizzled with Tabasco Sriracha sauce finished with kimchi pico de Gallo sour cream and coriander as well as the weekend special of Chilli Chicken and Wicked Waffles, Seoul Bird's double-fried Korean chicken thighs drizzled with Tabasco Sriracha sauce served on homemade cheesy waffle.
Where: Westfield London Shopping Centre Ariel Way, The Balcony, London W12 7GE
What: Soho's Indo-Chinese restaurant Fatt Pundit has announced a one-off collaboration with the award-winning Snowflake Gelato, who have given the restaurant's iconic sizzling brownie a luxury gelato makeover.
The Lowdown: The Fatt Pundit x Snowflake Gelato sizzling brownie special features a perfectly rich chocolate brownie, topped with a bespoke scoop of Snowflake Gelato's vanilla gelato with chocolate-covered honeycomb crunch, served tableside in a cast-iron pan before being topped with a generous helping of hot chocolate sauce.
Where: Fatt Pundit, 77 Berwick Street, Soho, London W1F 8TH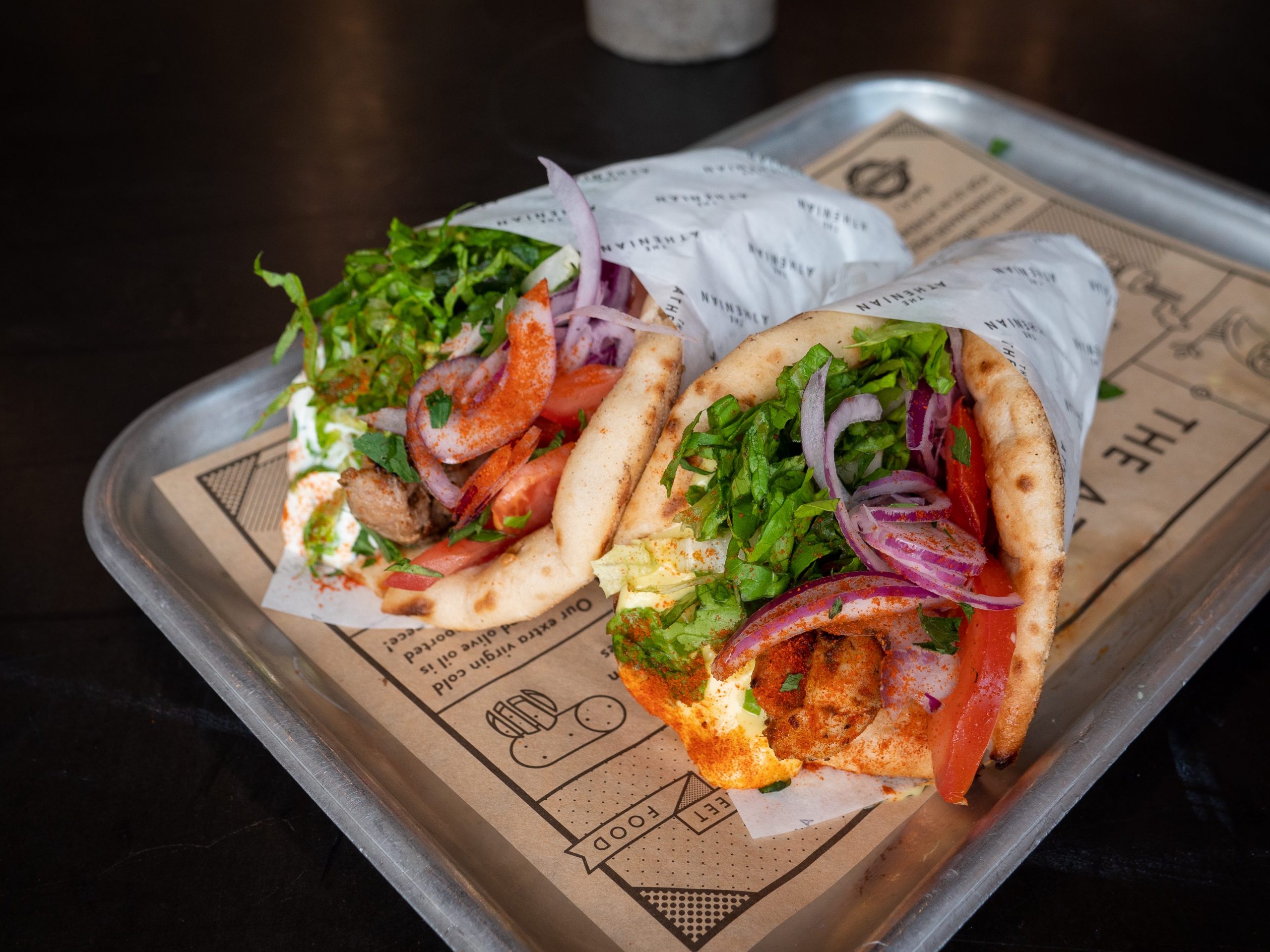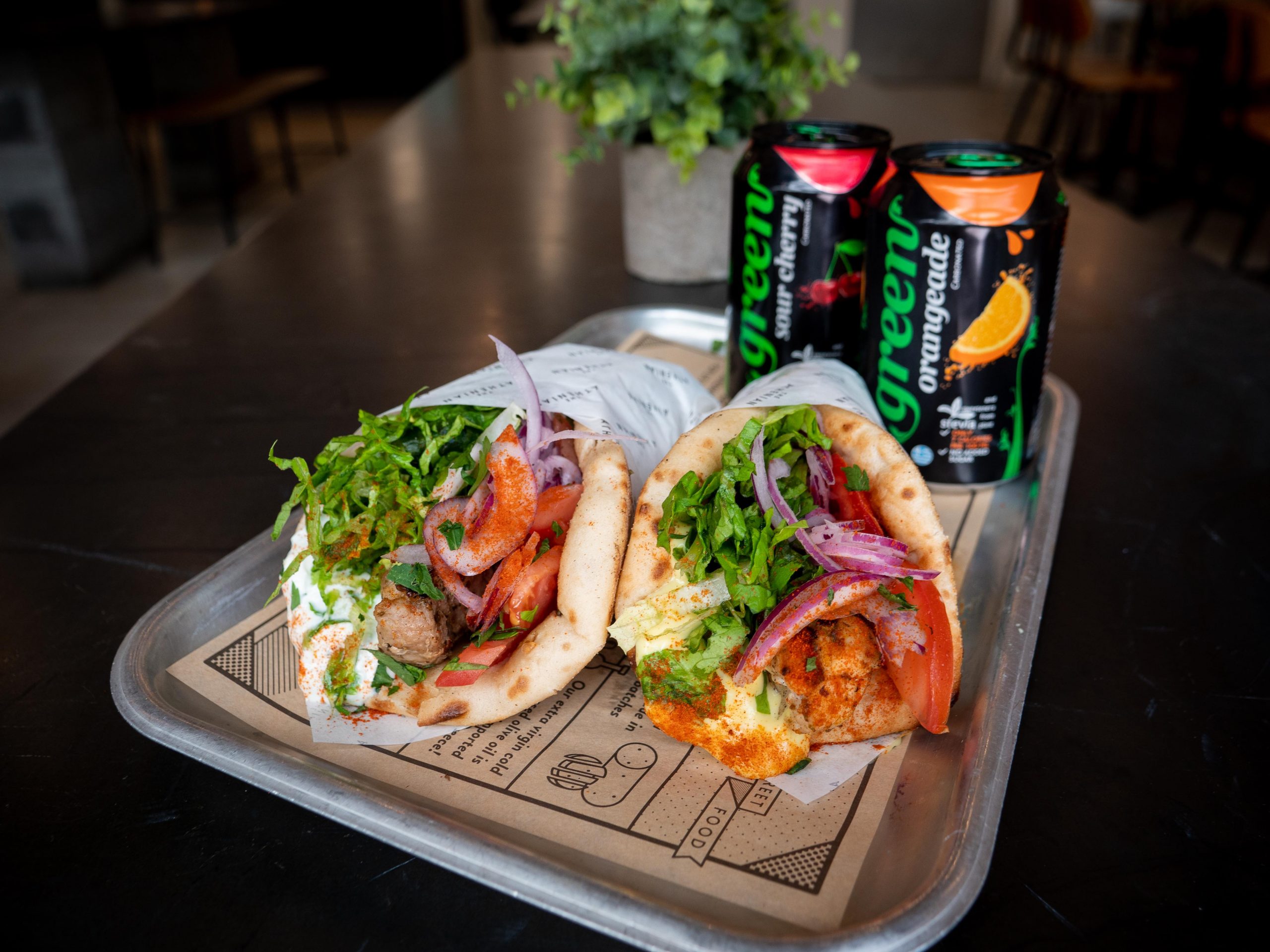 What: The Athenian has rolled out a new campaign to encourage hungry Londoners to Eat Like A Greek. Any Greek street food aficionado knows that Greeks can never resist a second souvlaki, so The Athenian is offering two mini souvlakis for the price of one. In addition, The Athenian has teamed up with award-winning vegan brand Violife to create the ultimate vegan halloumi treats as part of the new movement.
The Lowdown: The new Little Souvlakis on the menu are a mini version of their signature wrap (chicken, pork and halloumi) and throughout October The Athenian are offering two little souvlakis for the price of one (£5). The brand's signature souvlaki is a delicious combination of carefully sourced ingredients, hand skewered, grilled then wrapped in warm and fluffy pitas, served with oregano-flecked fries, croquettes as well an array of zingy sauces and crisp, refreshing salads. Don't miss the vegan halloumi wrap and a new vegan version of their classic halloumi fries.
Where: Locations here