About Time: You Discovered London's Hottest Autumn OpeningsBy Alicia Grimshaw
The only thing we like more than going out for dinner, is going out for dinner at a new restaurant. From a popular ramen restaurant opening in E17 to a specialist chocolate shop setting up their second bricks and mortar site in the capital, here's what new openings we're loving this autumn:
Just Opened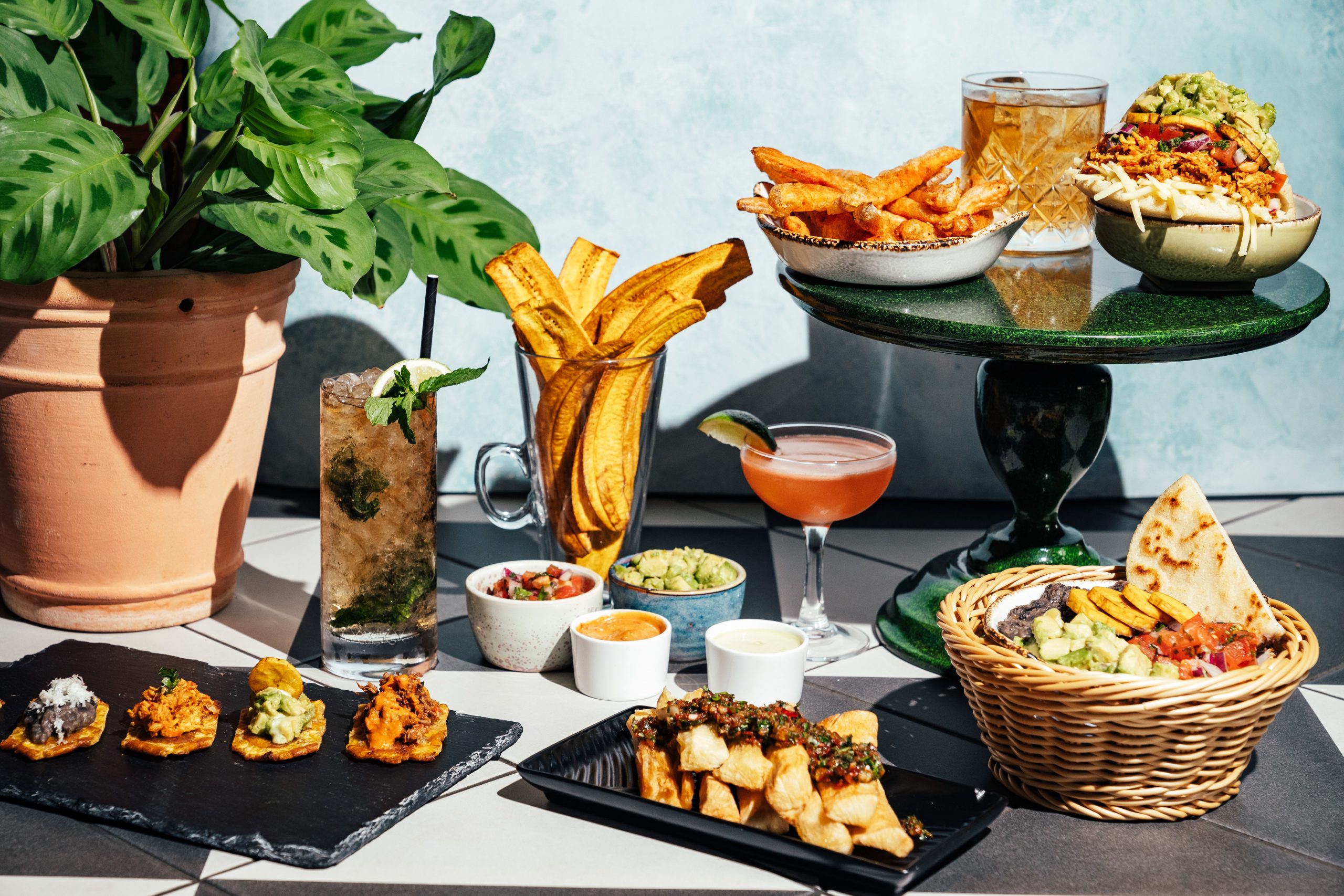 The Lowdown: A slice of Old Havana has arrived in London with the launch of Bar Bolivar, a vibrant cocktail bar with Cuban-inspired serves and food from Venezuelan street food heroes, Pabellón.
Eat and Drink: Referencing the strong historical relationship between Cuba and Venezuela, the vibrant food, made for sharing, is a perfect compliment to Bar Bolivar's extensive cocktail list. Pabellón's signature dishes are inspired by their time growing up in Caracas in Venezuela: Arepas, grilled cornbread filled with cheddar cheese; Pico de Gallo salad, avocado chunks and sweet fried plantains and slow-cooked beef brisket, winner of the British Street Food Awards 'Sandwich of the Year 2019'; and Pabellóns (rice bowls filled with your choice of the same toppings). Don't miss the Bolivar Mojito, a salute to La Bodeguita del Medio, the Havana bar and temple of the Mojito.
Where: 2 Reuters Plaza, London, E14 5AJ
Photo Credit: Haydon Perrior
The Lowdown: Thanks to the warm welcome they've received since opening their first London bricks and mortar site in Clapham Junction, Knoops, the home of expertly crafted chocolate drinks, has recently opened their second site in the capital on Kensington High Street.
Eat and Drink: On a mission to make drinking hot chocolate a real experience, Knoops is committed to providing the best possible ingredients – a range of different % chocolates and milk  – resulting in a velvety smooth drink catered to customers' varying tastes and requirements. A first of its kind in the chocolate world, Knoops allows guests to create bespoke drinks from a menu that encompasses around 21 different chocolates (13 of which are vegan), and five different milks. A Knoopologist guides you through the chocolate percentage menu, flavour options, and milk choices (a process called 'Knoopology'), meaning the opportunities are endless.
Where: 80 Kensington High Street, London W8 4SG
Photo Credit: Nick Warner
The Lowdown: Rendang + Rice by Jasmin Ayling is the newest addition to Camden's Buck Street Market – the UK's first eco-conscious consumer market. Boasting a menu of traditional, rich and fragrant rendang curries and fluffy Boa Buns, Rendang + Rice's is inspired by bold and vibrant Indonesian family recipes.
Eat and Drink: Rendang, known as 'the king of curry', is a traditional Indonesian slow-cooked dry beef curry that has been voted the world's best dish several times. For Rendang + Rice founder, Jasmin Ayling – former Head of Innovation at Wagamama and a 2019 MasterChef quarter-finalist – it has an even deeper meaning. Wanting to capture a part of her family story, her rendang curry is a recipe passed down through generations in her Indonesian ancestry as a staple midweek dish shared with her loved ones.
Where: First Floor, 180-188 Camden High St, Camden Town, London NW1 8QP
The Lowdown: Shaman at Leman Locke has welcomed groundbreaking vegan dining experience, Alter, for a 6-month residency. Founded by Andy Hogben, Alter exists to challenge the common perceptions of vegan food by never using substitutes. Instead, Alter champions dishes, techniques and cultures which are daringly delicious and vegan without alteration.
Eat and Drink: Menu highlights include: izakaya pickles with 1:1:1 relish betel leaf, salted watermelon and toasted coconut rice; fermented enoki 'naem het' served with mouse sh*t chilli; shiitake and fermented yellowbean wontons with kelp soy; and Vietnamese 'falling water' salad of pomelo and shiso.
Where: Leman Locke Hotel, 15 Leman St, London E1 8EN
Opening in November
The Lowdown: Launching in Shoreditch on Monday 2nd November is Joan, a new restaurant and bar headed up by Niko Kontogiannatos, who was previously head chef at Caravan Fitzrovia. Initially open for dinner during the week and for brunch on weekends, Joan will offer an all-day modern Mediterranean menu that draws inspiration from Niko's native Greece as well as the casual, eclectic style of food from his time at Caravan. Using some of London's best ingredients and suppliers such as HG Walter and Carnevale, Niko makes everything in house from scratch, from the bread to the ice cream.
Eat and Drink: Highlights from the small plates include: Hispi cabbage, pancetta lardons, croutons, anchovies and garlic sauce; Salmon tartare with avocado sorbet and squid ink tuile; and Roasted cauliflower with spiced cumin yogurt, coriander and harissa. For dessert, Joan will offer a range of Niko's own homemade ice cream and sorbets including Blood orange sorbet; Green apple sorbet; and chocolate, vanilla, and raspberry ice cream.
Where: 19-23 Bethnal Green Road, Shoreditch, E1 6LA
The Lowdown: There's good news for ramen lovers as Tonkotsu is set to open a new site in Walthamstow in late November. Bringing its signature ramen bowls, gyoza, and chicken kara-age to E17 for the first time, the new opening will be Tonkotsu's twelfth site in London.
Eat and Drink: The menu at Tonkotsu Walthamstow will feature the brand's signature Tonkotsu ramen, a rich and creamy pork and lardo broth with thin-cut noodles, and topped with roast pork belly, bamboo shoots, bean sprouts, spring onions, burnt garlic oil and a seasoned egg. Other favourites include the Chilli Chicken Ramen – a chicken and sea salt broth pimped up with Tonkotsu's addictive Eat the Bits Chili Oil – and the vegan Mushroom Miso ramen. All soups can, of course, be customised with extra toppings such as kimchi or the super spicy scotch bonnet hot shot.
Where: Unit 4, 202 Hoe Street, E17 4BS
The Lowdown: This November, Taiwanese inspired restaurant Mr Ji, located in the heart of Soho, will reopen its doors with a new look and a brand new, extended menu. Working closely with friends Ana Gonçalvesand Zijun Meng of TĀ TĀ Eatery and TŌU on the redesign and menu development, founder Samuel Haim has refurbished the space to transform Mr Ji from a grab-and-go spot to a buzzy restaurant with table service.
Eat and Drink: Expect a dinner menu of The Classics and Small Eats that celebrate Mr Ji's fried chicken expertise while drawing on Ana and Meng's passion for innovative flavour combinations and modern techniques. Kicking off 'The Classics' will be The O'Ji – a twist on the original from Mr Ji of a deep-fried chicken breast with chilli sprinkles, while The Ji Sando will be made with a pineapple bap, deep-fried chicken thigh and cucumber salad, and Lil' Chick will be a roasted poussin with spicy XO sauce and peanut. For those looking for lighter bites to go with their chicken, Small Eats will include Not Another Cucumber Salad, with cucumber, black fungus, yubaand chilli, and Daikon Cake, made of steamed daikon and shiitake mushrooms with a garlic soy paste.
Where: 72 Old Compton St, Soho, London, W1D 4UN