A perfect crumpet is nothing short of an edible art form. Soft, springy and utterly divine, crumpets are a buttery treat that can be topped with anything. We love a crumpet soaked in a paving slab worth of butter, which oozes into the little pores, and leaves a pool of residue on the plate. From sourdough wonders to brunch winners – here's the best crumpets in the capital:
1. For a Sourdough Crumpet: Good and Proper Tea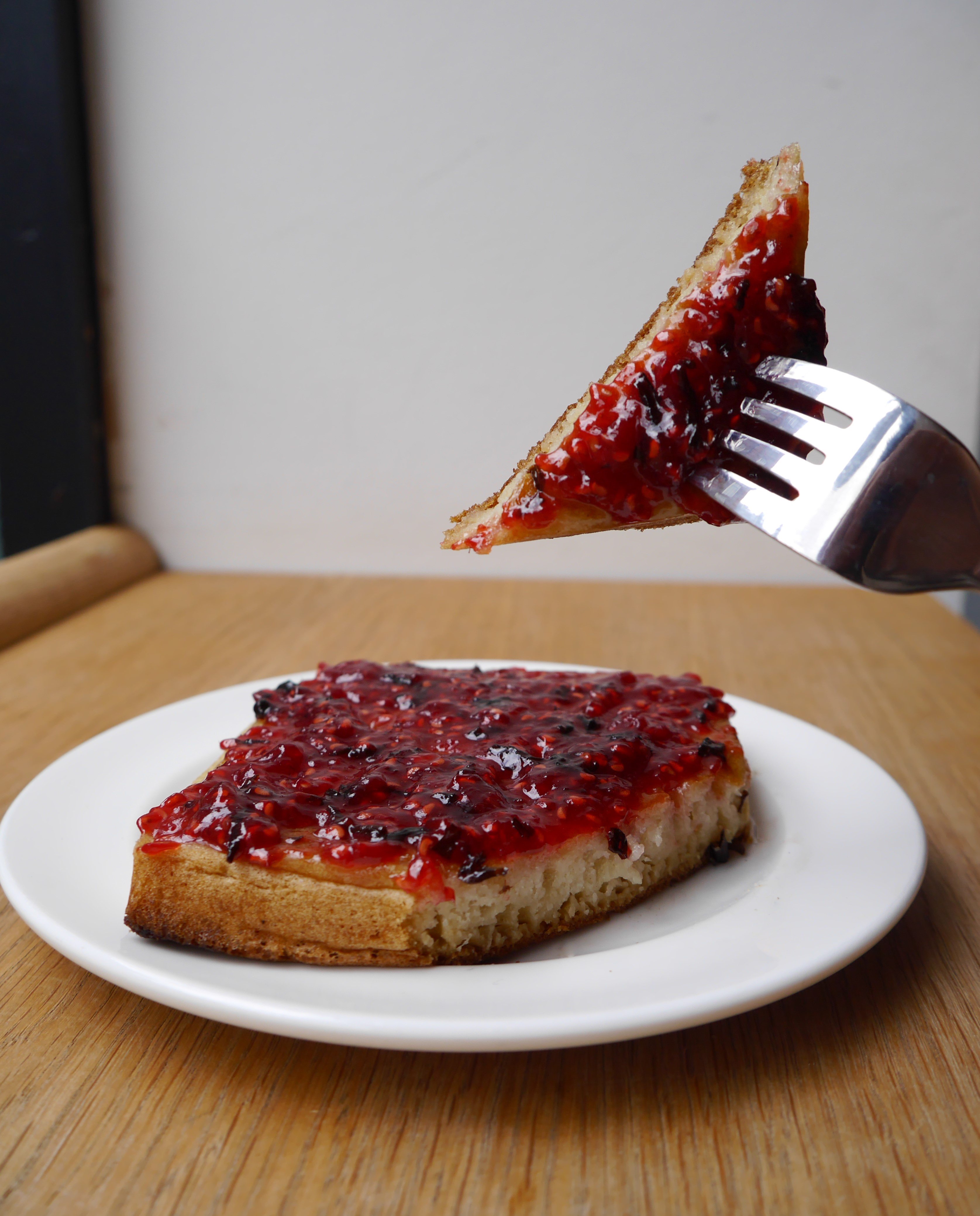 Order: Sourdough crumpets with Marmite rarebit
The Run-Down: Good and Proper Tea have two power moves: tea and crumpets. Giving the limelight to the nation's favourite hot drink, this cosy all-day pit stop has an unbelievable spread of teas. And morning greats: crumpets. They serve their homemade sourdough crumpets everyday at their tea bar, and on Saturdays out of their tea van at Brockley Market. Their crumpets are nicely bubbly at the top, crisp around the edges, and lightly doughy on the inside, and come topped with either butter and salt, avocado with chilli flakes or homemade jam.
Where: 96 Leather Ln, London EC1N 7TX
2. For a Posh Crumpet: Cornerstone
Order: Potted shrimp crumpet with kohlrabi, gherkin and parsley
The Run-Down: A bastion of flavours and incredibly exquisite dishes, Cornerstone is chef Tom Brown's first solo venture – and it's a knockout. The menu changes daily, but expect thoughtfully put together small plates like pickled Porthilly oysters, celery and horseradish, and chicken liver croquettes with devilled mayonnaise. The iconic potted shrimp crumpet is a triumph: a crispy, golden crumpet drenched with shrimp butter that dissolves into the holes, topped with a zingy mix of kohlrabi, gherkin and parsley.
Where: 3 Prince Edward Road, Hackney Wick, E9 5LX
3. For a Decadent Crumpet: Dirty Bones
Order: 12 hour slow-cooked short rib, poached eggs and hollandaise on two toasted crumpets (£9)
The Run-Down: NYC inspired comfort food joint, Dirty Bones really take things to boozy heights when it comes to their weekend brunch spread. The menu thrums with Stateside bites – think fried chicken and waffles, and steak and eggs, all washed down with a potent mix of free-flowing Bloody Marys or Prosecco. The toasted crumpets, soaked with unami butter, and topped with a decadently rich short rib is next level.
Where: Locations here 
Photo Credit: Paul Winch-Furness
Order: Crumpet lobster toast with kumquat and chilli sauce
The Run-Down: The Ottolenghi team have done it again with their latest outpost, Rovi. With vegetables at its heart but with a fresh focus on fermentation and cooking over fire, Rovi knock out outrageously good Middle-Eastern inspired sharing plates. The crumpet at Rovi is not your usual holey number, instead it's a brilliant prawn toast mash-up, featuring a crispy yet doughy crumpet, pilled high with hunks of lobster, finished with an outer shell of sesame seeds, and served with a punchy chilli dip.
Where: 1 Pearson Square, Fitzrovia, London W1W 7EY
5. For a Classic Crumpet: Ask For Janice
Order: Fresh crumpets with butter and house jams
The Run-Down: Anywhere that reminds us of New York always wins our affection. Ask For Janice in Farringdon succeeds in seducing; a soundtrack radiating into a light, chilled room which oozes ease and general good vibes, and not forgetting the simply and exciting food. Breakfast is served throughout the week, with a larger brunch menu available at weekends. The light-as-a-feather crumpets fit the morning bill perfectly; there's good reason why buttered crumpets have a prominent place on the British table.
Where: 50-52 Long Ln, London EC1A 9EJ