About Time: You Had the Ultimate Soya Latte in LondonBy Ben Williamson
Whether you're vegan, lactose-intolerant or trying to be more health-conscious, there's a good chance you're partial to, or at least have encountered, a soya latte in London in the last few months. If you are really interested in making the perfect soya latte take a look at some barista courses in London. Hailed as a miracle food, soya has become the classic dairy alternative in London's café scene. But there's controversy over this little bean; some cafes refuse to stock it, and experts disagree on the best way to make the ultimate soya latte. So here for your frothy pleasure is your first-hand guide to finding the best soya lattes in London, now sip happy:
Question 1: To Bonsoy, or not to Bonsoy?
With its distinctive golden packaging, Bonsoy, has obtained almost mythical status in Soyaland. The Japanese brand acts as a universal mark of quality for leading coffee purveyors, who rejoice in its name recognition. It is the soya milk of choice for Curators Coffee and The Association, two fine City establishments reviving the deal-hosting independent coffee shops of old. "The speciality coffee places prefer Bonsoy because of its taste and texture" says Andrew Tolley, Co-Founder of fellow City chain Taylor Street Baristas and Director of Coffee at Harris + Hoole, of Tesco fame. "The taste balance is not too sweet and it doesn't have the acidity of some of the others".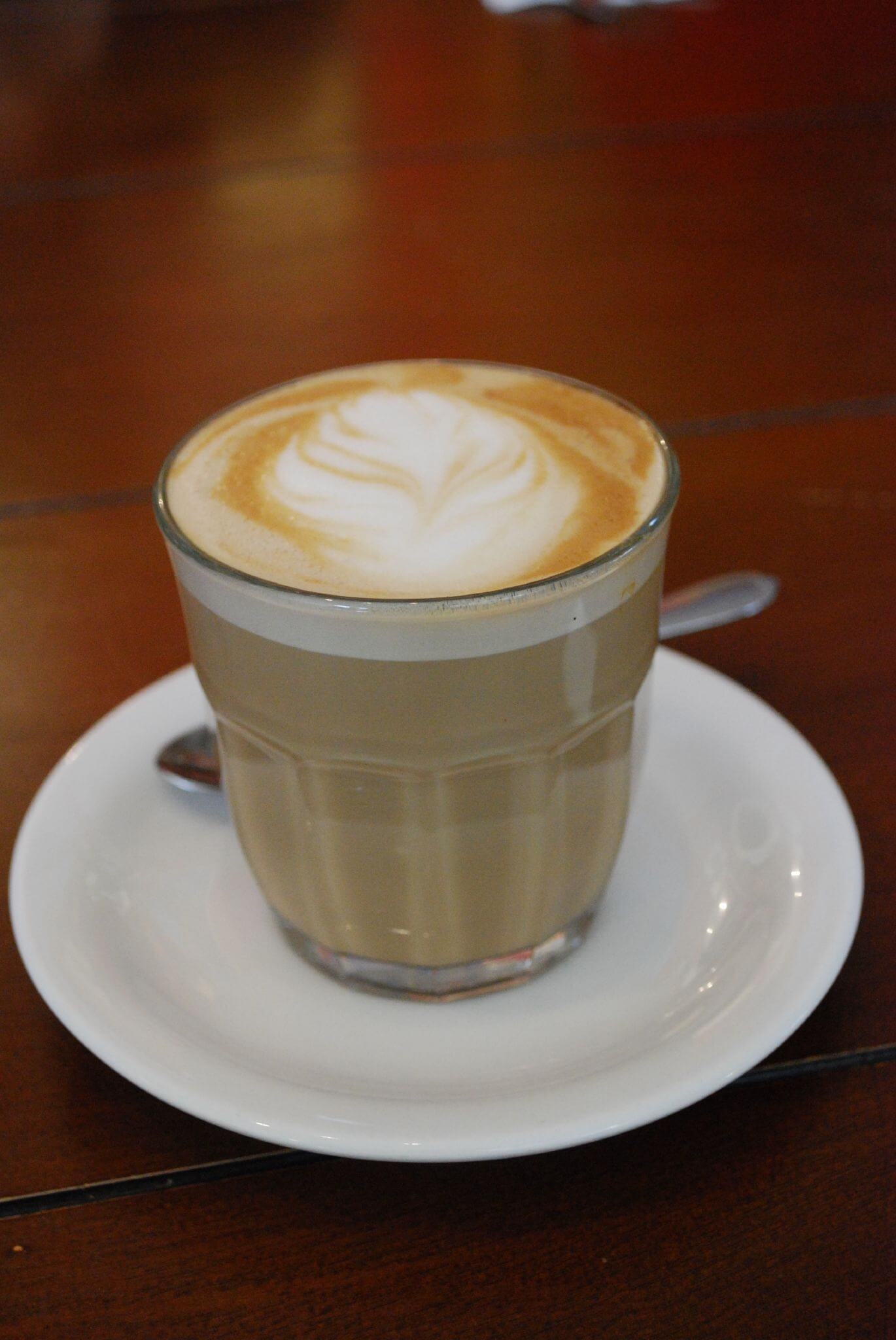 Some see it differently. "It's just a hipster thing", says James, a manager at TAP Coffee who tells me that people come in all the time asking if they use Bonsoy. "We could sell Bonsoy but then we'd have to charge an extra pound and it's not worth it". Bonsoy, the Beats by Dre of soya milk?
"Alpro For Professionals is better" says  Edy Piro from Terrone, based in Hackney's hip Netil Market. "Bonsoy is the choice for taste but not for art". Miguel Lamora – bronze medallist at the 2013 World Latte Art Championship – agrees, although the Spanish champion winces at the very mention of soya milk.
Question 2: How to avoid the curdle hurdle?
If you've ever poured soya milk into your home brew, you've probably noticed it seize up, coagulating into unpleasant curds. Coffee is acidic and shocks the milk, making a kind of loose tofu in your cup. Many cafés overcome this problem by mixing the espresso and cold soya milk first and then steaming. The result is a uniform light brown, duotone coffee drink with a perfectly textured foamy head all the way around the glass.
"The only problem is you can't do latte art" says Matthew from Nude, in Hanbury Street just off Brick Lane. Aside from looking nice, latte art shows you've steamed the milk properly, acting as a form of quality control in lieu of being able to taste the coffee as can a cocktail. Gareth from Prufrock, on Leather Lane, starts by taking the soya milk out of the fridge. Foam is best created from a low temperature allowing the air to get into the latte for longer without the drink overheating.
A few outlets add in a step or two to allow for latte art. Early on a grey Sunday morning, Karol, from Kaffeine on Great Titchfield Street in the West End, pours a small amount of steamed milk onto the espresso which is already in a latte glass and then stirs the two into a deep brown mixture before adding the rest of the steamed milk and drawing a pretty leaf. Other baristas who are in more of a rush might swirl the vessel around while they pour the steamed milk straight onto the espresso.
Question 3: glass or cup?
Lattes are traditionally served in tall glasses but lots of places choose cups knowing that's how Brits have traditionally consumed hot fluids.
"It comes down to personal preference" is the verdict from the team at Bulldog Edition, the lobby café in Shoreditch's trendy new ACE Hotel. Glasses allow the flat and even texture of pre-mixed lattes to be enjoyed in three dimensions. But when the milk is steamed separately from the espresso it's nice to see the latte art presented against the subtle background of a neutral-coloured smooth cup, as if you were framing a Matisse cut-out.
Whether you prefer a glass or a cup, it's important any establishment keeps its receptacles on top of the coffee machine so that they're warmed.
The Conclusion
While dieters and cow-friends may love soya milk, coffee purists – and increasingly nutritionists – do not. "How do you make a good soya latte?" said one coffee know-it-all at the UK Aeropress Championships. "Start by throwing away the soya milk."
Such resistance and over-reliance on the Bonsoy brand, has, for my money, lead to all of the ten aforementioned establishments being beaten on taste by the soya lattes served up at M&S. Smooth, silky and with hints of coconut.
The Future

–
Coffee Guru Andrew Tolley is interested. "There needs to be some agent that sweetens it without being acidic… A lot of us in the coffee industry have spent a lot of time looking for better soya… I am happy to go to M&S and have a try." Job done.
A few years ago there was a Bonsoy shortage in London, after which many places stopped serving soya altogether, opting instead for another dairy alternative or none at all. Almond milk has quite a buzz around town at the moment and is already popular in coffee shops on the other side of the Atlantic.
"I think soya is likely to stay as nut allergies are always going to be a concern" says James Hoffman, Managing Director of Square Mile Coffee Roasters and a former World Barista Champion.  "Almond milk is pretty easy to make, and can taste great – though can be even pricier than soya which poses another challenge." Rest assured latte lovers, your soya is safe for now.