Looking for some new foodie options in the capital this week? Here's our rundown of some new restaurants you simply have to try in London – thank us later:
What: A delicious healthy lunch option in Belgravia's lively Ecclestone Yards complex. The restaurant has a modern approach to eating; with a mixture of plant-based and high-protein salads and hot food lunch options. The restaurant is ethical, sustainable and responsibly-sourced, using seasonal ingredients, and their food is really very special. Delicious food for the body, soul and planet.
Eat and Drink: They have a great range of seasonal, salad and hot food bowls. My personal favourite is the Panzanella Amore salad with tomato medley, roasted red peppers, pickled onion, olives parmesan and sourdough crumbs. It's just so good. Other favourites include the Mexican-inspired Azteca salad with charred sweetcorn, black beans, feta, avocado and lime coriander dressing – add blackened chicken for a high-protein, tasty hit.
Where:1-2 Eccleston Yards, London SW1W 9AZ
What: Introducing BAO's first-ever Noodle Shop, located on Redchurch Street, Shoreditch. Taking its cues from the beef noodle shops of Taiwan, expect steaming bowls of Taiwan's much-loved national dish.
Eat and Drink: At BAO Noodle Shop, bowlfuls of shimmering beef noodle soup are the star of show, with two versions available. The first, a classic Taipei-style broth that closely matches the style of the beef noodle soup found across Taiwan, is rich in flavour, with slow-braised beef cheek and beef shortrib, spiced beef butter, and fermented greens. Secondly, there's BAO's take on a Tainan-style broth based on recipes from the southwest of the island – a much lighter broth with imported 400 day-aged white soy and thin slices of rare poached rump cap, for diners who like to drink from the bowl. Both broths are made with aged beef bones, fermented chilli bean paste and assorted spices, and you can add cured egg; crispy egg; or spiced beef butter to your bowls.
Where: 1 Redchurch Street, London E2 7DJ
What: Sachi is a new restaurant which celebrates Japanese food, culture and design housed in Pantechnicon, London's home of Nordic and Japanese creativity.
Eat and Drink: Sachi translates as "happiness" in Japanese and that's the focus of the food. The menu has been crafted by Head Chef Collin Hudston (Dinings, Roka) and Pantechnicon's Executive Chef Chris Golding (Nobu, Zuma, Dinings). Designed for sharing, standout dishes include Hotate no chōri – scallops, artichoke, and yuzu with fermented grains; Suzuki Usuzukuri – a delicate combination of seabass, lava salt, sea and buckthorn and Robusutā Nama Harumaki – lobster, kohlrabi and cucumber with mugi miso.
Where: Sachi, 19 Motcomb Street, London, SW1X 8LB
What: OrmerMayfair by Sofian is the first solo project by exciting young chef, Sofian Msetfi. With a Michelin-starred kitchen brigade and brand-new tasting menus, this is refined, elegant dining at its best. No gimmicks, no try-too-hard food, just impeccable ingredients, treated with respect and perfectly plated.
Eat and Drink: Sofian has created three tasting menus – five-courses (£50 lunch only) plus seven (£70) and nine-courses (£90), including vegetarian options. Signature dishes include warm Ibérico ham with Parmesan, Bramley apple and nasturtium; English asparagus, morels and Vin Jaune; poached native lobster, Isle of Wight tomatoes, pine nuts and basil; roast rack of Dorset lamb, confit of lamb breast, cucumber and dill; and Abinao and tapioca tart with Pedro Ximénez sherry and salted milk sorbet. Vegetarian tasting plates include pearl barley risotto with garlic, Parmesan and puffed barley; and a shallot tarte fine with confit garlic, chicory and sherry butter sauce.
Where: 39 Clarges Street, Mayfair, London, W1J 7BH |
What: Korean Dinner Party (KDP) has opened its doors; a restaurant tucked right at the top of bustling Kingly Court in Soho from the team behind Señor Ceviche. Duck under the glowing neon signage and settle in at KDP for an evening of family-style hospitality, East-meets-West dishes, kitsch cocktails and beers.
Eat and Drink: Kick off with snacks and starters including Bacon Mochi, rice cakes wrapped in caramelised bacon with a gochujang caramel and spring onions; a crispy kimchi Pancake with onion and oyster mayo; and beef tartare made with bavette, crispy seaweed and rice crackers. With a nod to LA's thriving Mexican food scene, main dishes see a playful take on tacos with Pork Neck Al Pastor topped with ssamjang, chilli relish, slaw and housemade wheat wrappers, while some dishes draw on more classic Korean flavours such as the Kimchi stone pot with potato, enoki mushrooms, tofu, egg yolk and brown rice.
Where: Top Floor Kingly Court, Carnaby St,  London W1B 5PW
What: Lyle's have launched a set lunch menu, available every weekday for £30. Taking the opportunity to open some of the bottles that they've been saving in the cellar, each menu features a different grape served by the glass.
Eat and Drink: First up, is Lumière De Sens, a light red from Jean-Pierre Robinot, expressing spice notes and herbal characteristics. As always, the menu highlights the very best of what's in season. To start: Biodynamic courgettes, ricotta & Nasturtium, followed by Hereford bavette or grilled Cornish sardines with preserved tomato, little gem and new season garlic salad, and to finish on a sweet note, Tayberry ice cream.
Where: Tea Building, 56 Shoreditch High St, London E1 6JJ
What: Set in the acclaimed Zaha Hadid designed extension to the Serpentine's North gallery, The Magazine opened in June with Slovakian-born Chef Tomas Kolkus at the helm, and a contemporary menu that puts sustainability and seasonality at the heart of the kitchen, ensuring maximum taste and minimum waste.
Eat and Drink: Chef Tomas has worked alongside Cooking Sections on exciting new CLIMAVORE dishes; a form of eating that is more kind on the planet and limits human impact on the environment. Rotating seasonal dishes include; Wye Valley Asparagus with Miso Aioli; Rope-Grown Mussels with Urfa and Rock Samphire; Slow-Roasted Cauliflower with Chickpea Stew, Dulse & Sea Buckthorn; Agar Panna Cotta with Elderberry Syrup & Blackberries; and a Vegan Chocolate Mousse.  The food is all incredibly light, tasty and healthy – in a stunning setting, perfect for a special day out.
Where: W Carriage Dr, London W2 2AR
What: Due to popular demand, The Lanesborough Hotel, London, is bringing back its exclusive afternoon tea experience in collaboration with world-famous bakery, Peggy Porschen. Combining one of London's most beautiful afternoon tea settings, under the naturally illuminated domed glass roof of Michelin-starred Céleste, with the fairy tale pink aesthetics of Peggy Porschen, guests can expect a celebration of beautiful floral features, pastel hues and exquisite tastes from 5th August 2021.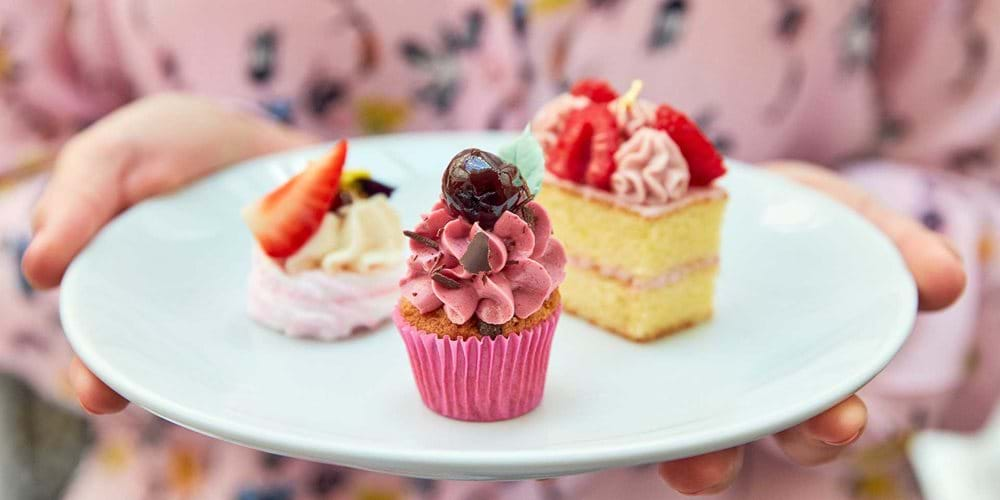 Eat and Drink: The tea will feature some of Peggy Porschen's signature creations, classic afternoon tea essentials such as finger sandwiches, scones, clotted cream and jam, plus the bespoke afternoon tea blends of Peggy Porschen and The Lanesborough. Highlight sweet treats include Peggy's Pink Pavlova, lemon & elderflower tartlet, cherry and chocolate chip cupcake, salted caramel and popcorn cupcake, and a slice of lemon, raspberry & rose layer cake.
Price: The Lanesborough's Peggy Porschen Afternoon Tea is priced at £54 per person; £71 per person with The Belgravia Bloom cocktail or £73 including a glass of Champagne.
Where: Hyde Park Corner, London SW1X 7TA