With the Spring season well underway, quality produce is the focus of so much exciting action in the London food scene this week. It's also great to see sustainability becoming an increasingly important part of the capital's food business. And in case you've wondered, fusion cuisine is alive and well! Enjoy this week's mouth watering new delicacies – whether you're keeping it local or out to celebrate, there's something for you:
What: Chef James Donnelly, who previously held a pop-up at Louie Louise in Elephant & Castle, is now residing at Bermondsey Bar & Kitchen. By popular demand, his residency has been extended to the end of the year.
The Lowdown: James' cooking brings together the best modern British cuisine using root-to-leaf locally sourced and sustainable produce from the UK. His new seasonal dishes include whole-baked sea bream with Cornish mussels and spring greens; and a delicious Comice pear with shaved fennel, castelfranco and hazelnut salad. Sweet treats include Yorkshire rhubarb and custard tart and a killer sharing toffee apple sundae.
Where: Donnelly's at Bermondsey Bar & Kitchen, 40 Bermondsey Street, London, SE1 3UD
What: Red Rooster Shoreditch, located within The Curtain Hotel, has just launched its spring menu. The new menu celebrates the roots of American cuisine – and we can tell you it's great.
The Lowdown: The new menu fuses Southern soul food with the Northern European background of Red Rooster's Culinary Director Marcus Samuelsson. Expect soul food with a twist – Billingsgate sashimi with crispy grits and cucumber; lobster risotto with peas, broad beans, bok choy and caviar; Antonio's lamb, with sweet potatoes dumplings, baby artichoke and spring onions and sweet potato steak with mushrooms, spring vegetables, basil-garlic tofu and almonds.
Price: Starters from £10, larger plates from £14 and classic desserts from £7 (including a triple-chocolate baked Alaska and drunken doughnut – I know!).
Where: Red Rooster at The Curtain Hotel, 45 Curtain Rd, Hackney, London EC2A 3PT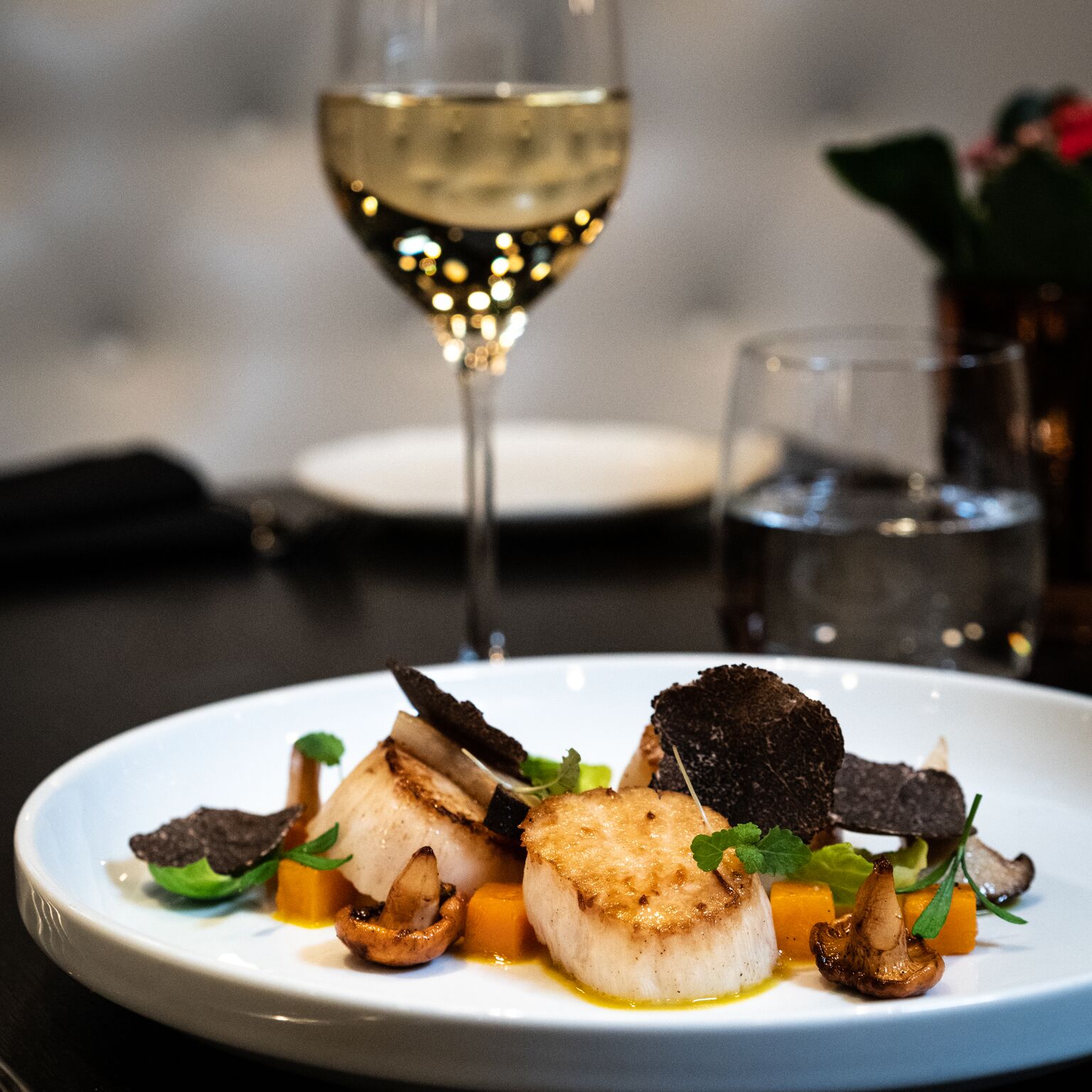 What: The vibrant Babbo Mayfair Italian restaurant celebrates its first anniversary this month! Babbo – meaning 'Daddy' in Italian – features contemporary renditions of classic Italian recipes passed down over 100 years alongside signature cocktails and an expansive 230-strong wine list.
The Lowdown: In the kitchen, executive chef Nicola Cariglia uses the best of British and Italian produce. Both pasta and bread is made in-house, from scratch, every day. Babbo's signature dish is Lasagne al Ragout with other standout pasta dishes including Spaghetti Con Calamari e Bottarga and Capelli d'Angelo (angel hair pasta).  The latter comes with your choice of indulgent toppings of either Caviale caviar or truffle grated tableside. For the health conscious and diners with dietary requirements, Babbo offers a separate vegetarian and vegan menu with gluten-free pasta options.
Where: 39 Albemarle Street, Mayfair, London W1S 4JQ
What: Jason Atherton's Hai Cenato has announced this month's new guest chef pizza, as part of their monthly series, with Alyn Williams of Alyn Williams at The Westbury in Mayfair.
The Lowdown:  The sourdough pizza designed by Alyn will feature Aubergine fondue, grilled courgette, Isle of Wight tomatoes, mint, basil, and ricotta. The pizza, available throughout May will be priced at £17 with £1 of every pizza sold going to the charity, Hospitality Action. Alyn Williams follows a string of brilliant collaborations with the likes of Massimo Bottura, Monica Galetti, Clare Smyth and Paul Ainsworth.
Price: £17 with £1 charity donation
When: Available now until the end of May
Where: Hai Cenato, 2 Sir Simon Milton Square, Westminster, London SW1E 5DJ
What: Fancy a different lunch? Mac & Wild's delicious new Wild Bowls lunch menu combines mouth watering recipes with a big Scottish heart.
The Lowdown: Mac & Wild have launched a brand new Wild Bowls menu, with delicious options including the Wild Salmon Bowl with sea buckthorn diced salmon and super grains, Vegan Pulse pop bowl and The Beefy Bowl with grilled beef steak, salsa verde and crackling. Well worth a try!
Price: £12.50 – £14
When: Lunchtime Mon-Fri
Where: Mac & Wild Fitzrovia:65 Great Titchfield St, Fitzrovia, London W1W 7PS  or Mac & Wild City: 9A Devonshire Square, Spitalfields, London EC2M 4YN
What: Fancy a pizza? Try Farina's signature pizza – The 'Farina' – featuring roasted cherry tomatoes, smoked mozzarella, spicy Calabrian 'spianata' and nduja.
The Lowdown: Farina is an independent pizzeria in Notting Hill where Italian chefs are busy making London's most authentically Neapolitan pizza. They create the bases using the traditional method featuring the renowned Neapolitian Caputo brand flour, and slow fermenting the dough up to 48 hours, making it fresh and easy to digest with a puffy crust.
Where: Farina Pizzeria, 115 Notting Hill Gate, London, W11 3LB
What: Tipple time! Try Special Cinco de Mayo Cocktail at TT Liquor. In honour of this year's Cinco de Mayo, Kingsland Road bar TT Liquor will be dusting off their sombreros and celebrating with a boozy tequila cocktail throughout the week. 
The Lowdown: Available in the intimate cellar bar, TT Liquor will be serving the 'Eighth Battalion', which features Tequila Ocho, a small batch Mexican tequila made using traditional methods in a slow, artisanal way as its base, along with Cacao infused Triple Sec, Lime & Ancho Chilli, and Hibiscus infused Pomegranate (£6).
When: 1st-6th May
Where: TT Liquor, 17B Kingsland Road, London E2 8AA