Smoothie bowls are a spoonable meal we can get on board with. The smoothie bowl craze has been going strong for the past few years, and as it's summer, these delicious bowls of wonderment are the perfect breakfast. Here's our favourite, fruit-filled bowls in the capital:
1. For Summer Flavours: Brother Marcus 
Order: Acai Bow – acai, raspberry, banana and coconut bowl topped with summer fruits, coconut, chia and linseed
The Run-Down: Brother Marcus is the creation of three best friends from London who worked alongside each other for years before opening their first site in Balham last year (read: wooden tables, cream walls and floods of natural light). Following the success of their south London opening, the boys have opened in Angel recently and the menu still follows the same principles: simple, organically sourced produce and just, really tasty.
The Bowl: Big, bold and beautiful – it's happiness in a bowl.
Where: 9 Chestnut Grove, London SW12 8JA and 37-39 Camden Passage, London N1 8EA
2. For Breakfast Perfection: Detox Kitchen 
Order: Raspberry Oat – raspberries, oats, banana, almond milk, goji berries, chia seeds, pumpkin seeds and coconut chips.
The Run-Down: The Detox Kitchen is a healthy favourite in London; serving up salads, breakfast pots and the best smoothies in town. The Detox Kitchen team make it their mission to pack every dish they make with as much flavour and as many nutrients as possible – because food should be delicious, enjoyable, and nourishing. We love the build your own breakfast pot concept, which is available at both delis. You can choose your base: granola, muesli or porridge, then top with their choice of yogurt (including coconut yogurt and Greek yogurt) and seasonal fruits, nuts and seeds.
The Bowl: Pretty in pink, these vitamin-packed bowls are not only delicious, they're good for your gut too.
Where: 10 Kingly Street, London, W1B 5PJ and 10 Mortimer Street, London W1T 3JJ
3. For a Berry Bowl: Farm Girl 
Order: Açai Bowl – frozen Amazonian berries with banana and almond milk topped with summer fruits and chia seeds
The Run-Down: A Portobello Road favourite, Farm Girl has now three eateries across the capital (within Sweaty Betty on Carnaby Street, Notting Hill and Chelsea). A holistic and healthy, yet comfortingly simple approach to Australian cafe culture in London, Farm Girl values fresh, nutritionally nurturing ingredients and big, bold flavours. They've got all sorts of weird and wonderful dishes on the menu like the teff porridge (the latest superfood buzzword), and the dragon bowl with frozen pitaya blended with banana and almond milk topped with hemp seeds and summer fruits.
The Bowl: Edible art. And we also like the option of adding in almond butter and granola for a lil crunch.
Where: Locations here 
4. For a Virtuous Smoothie Bowl: Redemption
Order: Green is the New Black – avocado, pineapple, spinach, kale and chia seeds topped with berries and seeds
The Run-Down: Dubbed one of London's healthiest restaurant, Redemption serves up vegan, sugar-free, and wheat-free food with an alcohol-free bar. But it's not fun or flavour free, we'll tell you now. Redemption is organic where possible and recycles up to 90% of its waste. The smoothie bowls look as vibrant as they taste, and they're served in real coconut shells. Try the likes of the Dragon Power with pitaya, blueberries, banana and chia seeds topped with raspberries and strawberries, or the Turmeric Tonic – mango, turmeric, coconut milk, gluten-free oats topped with kiwi, pomegranate and pumpkin seeds.
The Bowl: Nutrient-boosting, protein-packed bowls that burst with colour and personality.
Where: 6 Chepstow Road, London W2 5BH and 320 Old Street, London EC1V 9DR
5. For a Build Your Own Bowl: Sambazon at Whole Foods Kensington 
Order: Acai bowl – acai, banana, coconut and peanut butter
The Run-Down: Ryan Black co-founded Sambazon back in 1999 with his brother, Jeremy Black. Having already become a Cali mainstay on many heath driven menus, and embraced by the wellness community Stateside, Sambazon hit the UK shelves a few years ago and has already been lauded by health fanatics and breakfast lovers. You can buy packets of Sambazon from various health food shops, or visit Whole Foods Kensington for their self-serve kiosk where you can enjoy ready-made smoothie bowls, with a range of toppings.
The Bowl: Anything that's build your own is a winner. Pay extra and sprinkle on almonds, cocoa nibs and cashews for a bit of texture.
Where: 63-97 Kensington High St, Kensington, London W8 5SE
6. For a Vegan Bowl: The Good Life Eatery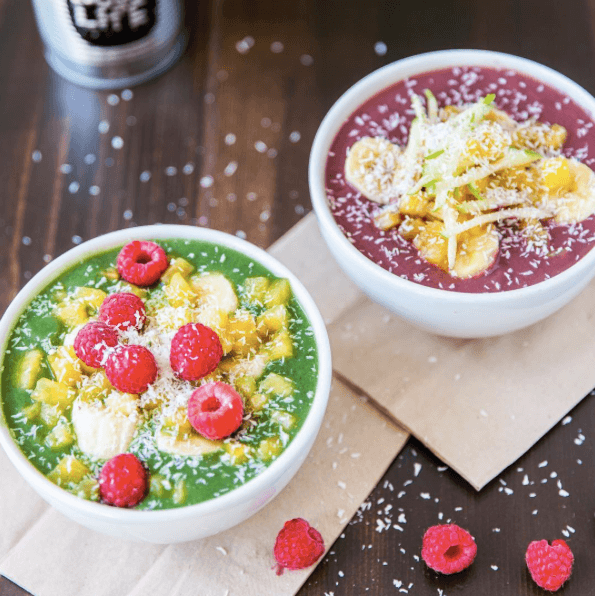 Order: Pink Haze Bowl – pitaya mix, amaranth and almond crumble, chia seed pudding, berry and chia compote
The Run-Down: The Good Life Eatery is a favourite pit stop for the virtuous foodie crowd, who come here to lap up a bit of zen and delicious, nutritious food. You'll find The Good Life tucked away from the Kings Road, and they also have a branches in Belgravia, St John's Wood and Fitzrovia. The menu caters for gluten-free, vegans, vegetarians and the dairy-free queens.
The Bowl: This spoonable meal is packed with a ton of flavours: earthy and nutty amaranth, an almost savoury-like crumble and a hit of fruity berry compote.
Where: Locations here 
7. For a Classic Bowl: Viva Acai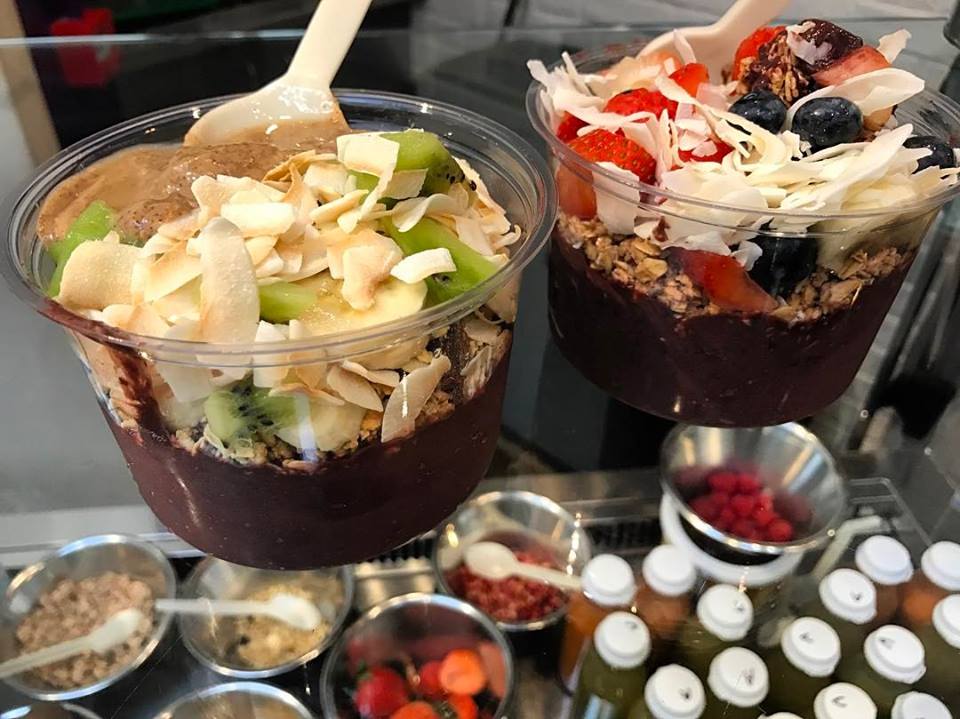 Order: Original Berry Bowl
The Run-Down: Viva Acai is London's only dedicated acai bowl cafe. They're all about the healthy and happy life, and have created their acai bowls from traditional Brazilian recipes. They've kept it simple with their acai offering – choose from original, or the special bowl where you can choose your range of toppings. And their made to order cold pressed juices are not to be missed.
The Bowl: Healthy. Tasty. And you can add on a ton of toppings. What's not to love?
Where: 15 Gloucester Arcade, 128 Gloucester Rd, Kensington, London SW7 4SF