Summer is in full swing in London, and we love nothing more than knocking back cocktails by the river – be it in Hackney, Hammersmith or Battersea Park. Here's seven on of the best riverside restaurants in London. Happy exploring: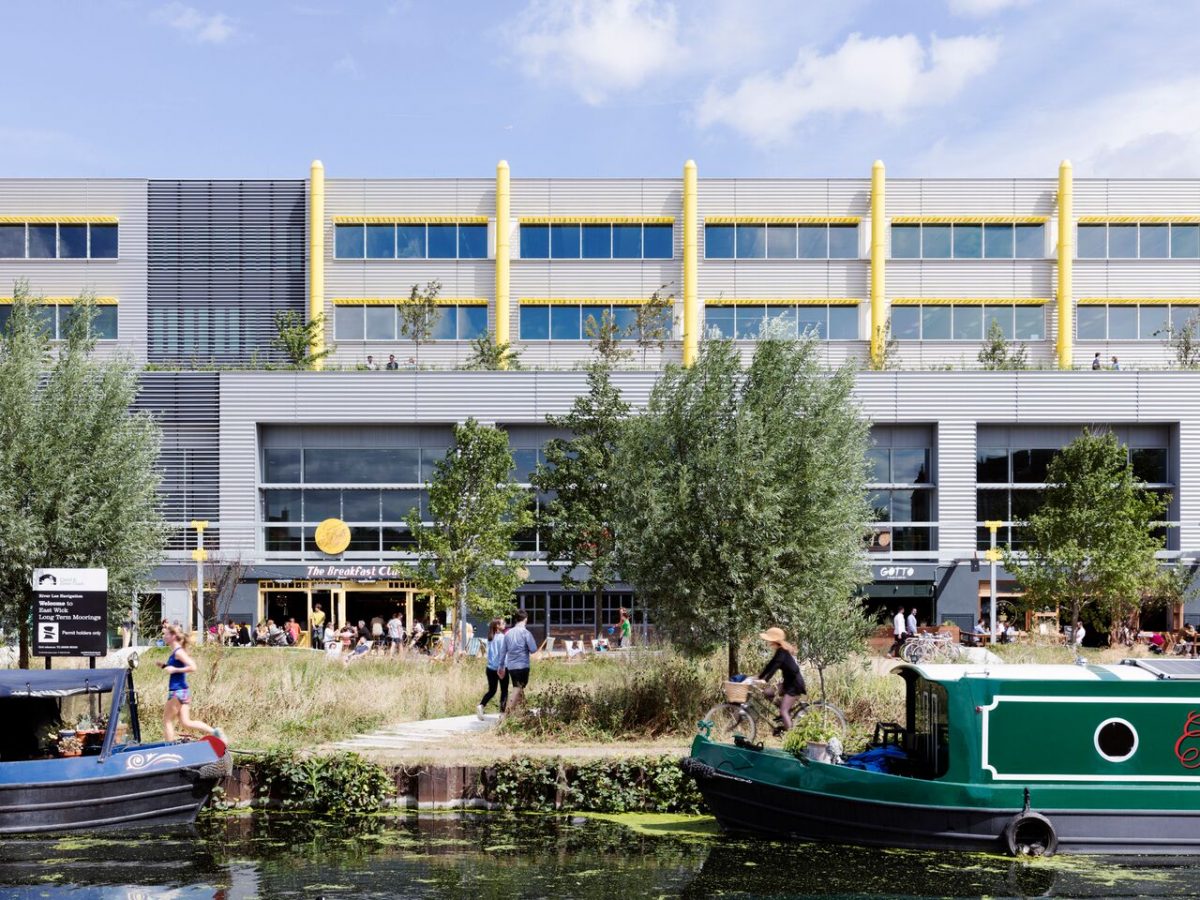 The Lowdown: Whether you're gasping for a few drinks by the water, a beer and a burger, or a full-blown Italian feast, Canalside has you covered. This gem by the River Lea is home to The Breakfast Club, Randy's Wing Bar, Gotto Trattoria, Mother, and Four Quarters. New this year is The Lock Inn – a Italian inspired bar with all the bells and whistles.
Eat and Drink: We can't get enough of the plant-based wonders at Mother and the poultry delights at Randy's Wing Bar. Gotto Trattoria, sister site to Mele e Pere in Soho, bang out big ol' bowls of homemade pasta. Book a table and tuck in.
Where: Queen Elizabeth Olympic Park 14 E Bay Ln
The Lowdown: Rated London's number 1 restaurant 2019-2020 and Traveller's Choice 2020 by Tripadvisor, you're in safe hands at Barge East.  Pick to dine on the 118-year-old Dutch Barge or relaxing riverside gardens (they're massive), serving a seasonal British Menu. Great for a weekend Sunday roast or if you're feeling thirsty, the epic  Saturday bottomless brunch.
Eat and Drink: Expect a casual food and drink offering, with a street food menu concentrating on the classics. Utilising fresh produce from their garden, Barge East's garden menu features the likes of: bacon and sage Scotch egg; Buttermilk chicken burger; mushroom poutine; and for afters, deep-fried apple tart. On the barge is a fine-dining affair – think modern British fare with a delicious wine menu to boot. 
Where: River Lea Sweetwater Mooring, White Post Ln, London E9 5EN
The Lowdown: No restaurant by the water list worth its salt would miss out the iconic River Cafe. A London institution, this riverside restaurant knock out seasonal changing Italian plates executed with aplomb. The team always bring the sunshine even on the greyest of days.
Eat and Drink: Everything. The menu changes daily, but expect inventive seasonal Italian plates, such as the almighty Calamari ai ferri (chargrilled squid with fresh red chilli and rocket); Ravioli stuffed with buffalo ricotta, garden herbs and lemon zest with marjoram butter and Pecorino; and Taglierini with cherry and marigold tomatoes and basil. Plenty of pasta and plenty of wine too.
Where: Thames Wharf, Rainville Rd, London W6 9HA
Photo credit: Matthew Donaldson Studio
The Lowdown: The original location that started the Emilia's craze is nestled in the idyllic St Katherine Docks. Emilia's is the culmination of founder Andrew's travels around the Emilia-Romagna region and other parts of Italy, and it definitely shows in the menu.
Eat and Drink: Experience homemade fresh crafted pasta, with elevated classics like the truffled cacio e pepe  – a delicate twist on one of the most ancient dishes of traditional Roman cuisine. We also love the homemade basil pesto with grated parmesan, because you can't beat a simple pasta.
Where: C3, Ivory House St Katharine Docks, London E1W 1AT
The Lowdown: Operated by the much-missed Sam's Brasserie in Chiswick for 10 years, this riverside restaurant delivers a sophisticated Anglo-French menu. With summer views, and an expansive terrace, Sam's Brasserie is the ultimate summer spot.
Eat and Drink: Oysters are a must-have whilst making the hard decision of choosing what to have for main and dessert. Trust us when we say, the seafood platter is top-notch, and while we're banging on about the menu, the Devon lobster and crab roll with chips is damn tasty too.
Where: Crisp Rd, London W6 9DN
The Lowdown: Annabel Partridge (formerly of Petersham Nurseries) and Will Burrett (ex-Spring) opened up Pear Tree Cafe in 2016, offering seasonal and carefully sourced dishes. The ever changing daily specials mean you can keep coming back and always try something new, whilst the all-day lunch lends itself to a casual mealtime with friends and family. Dogs haven't been forgotten either, making this one friendly for everyone.
Eat and Drink: Think well-loved cafe fare, we're talking about buttery scrambled eggs, smashed avocado on toasted topped with all kinds of lovely stuff, and buttermilk pancakes with lashings of maple syrup and bacon.
Where: Lakeside Cafe Battersea Park, London SW11 4NJ
The Lowdown: This all-day dining destination on Granary Square is perfect for meeting up with friends for a long leisurely brunch that last well into the afternoon. With a whopping three alfresco terraces, it's easy to sit all day sipping on cocktails before tucking into the menu of everything from light salads and flatbreads to meat and fish.
Eat and Drink: If you're coming for a late breakfast, you can't go wrong with the buttermilk waffle piled high with banana ice-cream, peanut brittle and caramel sauce. There's larger plates of steak, burgers, and a particularly glorious roasted summer squash tart.
Where: 3 Granary Square, London N1C 4BH