If you're in need of some weekend brunch inspiration – you've come to the right place. Here's 5 ways to enjoy brunch in London this weekend:
1. For a New Brunch Menu: Bryn Williams at Somerset House
What: Bryn Williams at Somerset House have launched an all-new weekend brunch menu, served Saturday and Sunday from 10am – 4pm. And if you're dining between 12pm-4pm on Sunday, make sure you check out the roast menu – it's pretty special.
Eat and Drink: Expect delights such as poached Burford brown eggs with semolina muffins, smoked rosemary hollandaise and a choice of smoked salmon, pancetta and nduja, or avocado and chilli. A selection of pancakes and waffles are available, still incorporating the essential fruit and veg, such as banana pancake topped with maple cured bacon, caramelised banana, and pumpkin pancakes with candied walnuts and summer berries. A selection of Bryn's signature veg-centric starters and mains are also up for grabs, including his signature roast cauliflower with golden raisins, capers, soft polenta and salted grapes.
Where: Somerset House, London WC2R 0RN
Photo Credit: Steven Joyce
2. For a Vegan Brunch: Aster x Ketel One x Lumene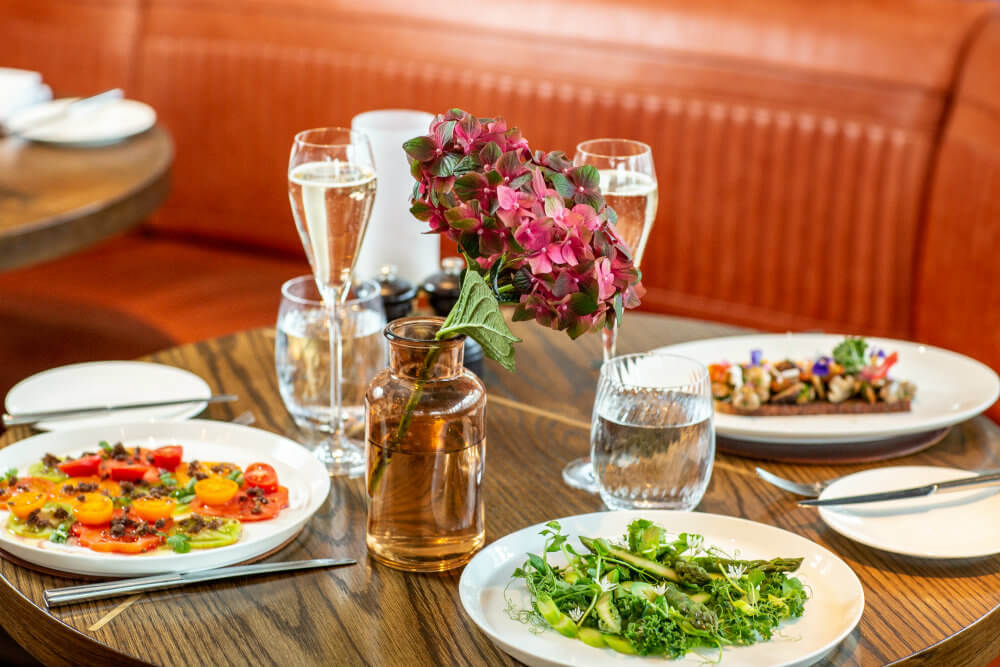 What: Aster has partnered with Ketel One and vegan Nordic skincare brand Lumene to launch a new vegan brunch menu, available every Sunday throughout summer. Chef Patron Helena Puolakka (originally from the south west coast of Finland), has created a plant-based menu featuring two or three courses with a vegan Bloody Mary DIY station, and free skincare goodies to take home.
Eat and Drink: Filled with warm, refreshing and unique flavour combinations, the menu offers dishes such as heritage tomatoes with baby basil and sherry dressing; teff (gluten-free flour) pancakes topped with a golden drizzle; smoked courgettes with super seeds; and mushrooms on toast with a herb salad. For those who have a sweet tooth, try the fresh pineapple with chilli and vanilla, or the mango with rich coconut cream.
Where: 150 Victoria St, Westminster, London SW1E 5LB
3. For a Sunday Barbecue: South Place Chop House
What: South Place Hotel are celebrating the arrival of the warmer months with their all new BBQ Sunday menu, available in their restaurant, Chop House. Head Chef Guy Betteridge recently joined South Place Hotel from the Gordon Ramsay Group, and has transformed the menus to showcase fresh, local produce.
Eat and Drink: Grab your mates, and feast upon a sharing menu featuring chimmi churri chicken, mouth-watering Scottish salmon, as well as a glazed short rib with an array of seasonal sides for £22.50 per head. And you can make your barbecue boozy and pay an additional £15 per person for free-flowing rosé.
Where: 3 South Pl, London EC2M 2AF
Photo Credit: Paul Winch-Furness
4. For a Sunday Sharing Feast: Hoppers
What: On Sunday (10th June), gather elbow-to-elbow at communal tables at Hoppers' Soho restaurant to enjoy a one-off feast focusing on large cuts of meat, whole fish, and traditional sharing karis from the subcontinent.
Eat and Drink: Highlights from the menu include banana leaf wrapped mackerel, roast black pork belly, duck heart chukka, curry leaf roasted sweet potatoes, and a chocolate biscuit pudding amongst other home-style eats. To accompany the feast, Group Bar Manager James Stevenson has been busy fermenting a special Hoppers' Toddy, which will be served alongside Sri Lankan Lion beer, premium bin-end wines and seasonal softs.
Where: 49 Frith Street, London W1D 4SG
Tickets are priced at £30, including food and service, and can be bought here. Drinks additional.
5. For French Dishes: Les Nénettes
What: Meaning 'the girls' in French, Les Nénettes is a charming French Bistro and terrace run by an empowering all-female team in Clapton. Its brunch menu, available across the weekend, is authentically French, fresh and seasonal. Ooh la la.
Eat and Drink: With a focus on 'oeufs French-style', the brunch menu includes classic petit déjeuner dishes such as a Croque Monsieur, andDeux Oeuf à La Coque and Mouillettes (soft boiled eggs) with a choice of anchovy butter soldiers or cheese straw soldiers. There's also tartines, including an avocado, pomegranate and poached egg version, among other European delicacies.
Where: 19 Lower Clapton Rd, London E5 0NS