Plans this weekend? Brunch, obviously. Here are 5 ways to brunch in London this weekend:
1. For a Classic Brunch: Brew Cafe
What: This small cafe offers creative breakfasts and lazy weekend brunches. Come for homey vibes and a lovely neighbourhood feel. Brew recently opened a Chiswick branch, taking inspiration from the all-day dining scene in Melbourne. Brew is well-known for its delicious homemade culinary concoctions, from innovative brunches and fresh juices to great value lunches.
Eat: Where do we start with Brew's brunch menu – everything tastes good, and we mean everything. They've got a heap of egg dishes on the menu including their popular Turkish eggs in hung yogurt and hot chilli butter. Don't miss their special dish of eggs with aubergine and avocado on sourdough toast – it's an absolute winner. Make sure you leave space for their banana bread with honeyed hung yogurt and pistachio. Take it from us, you won't regret it. And, to get you in the Christmas spirit, order the cinnamon spiced latte.
Where: Locations here 
2. For a Winter Brunch Menu: Friends of Ours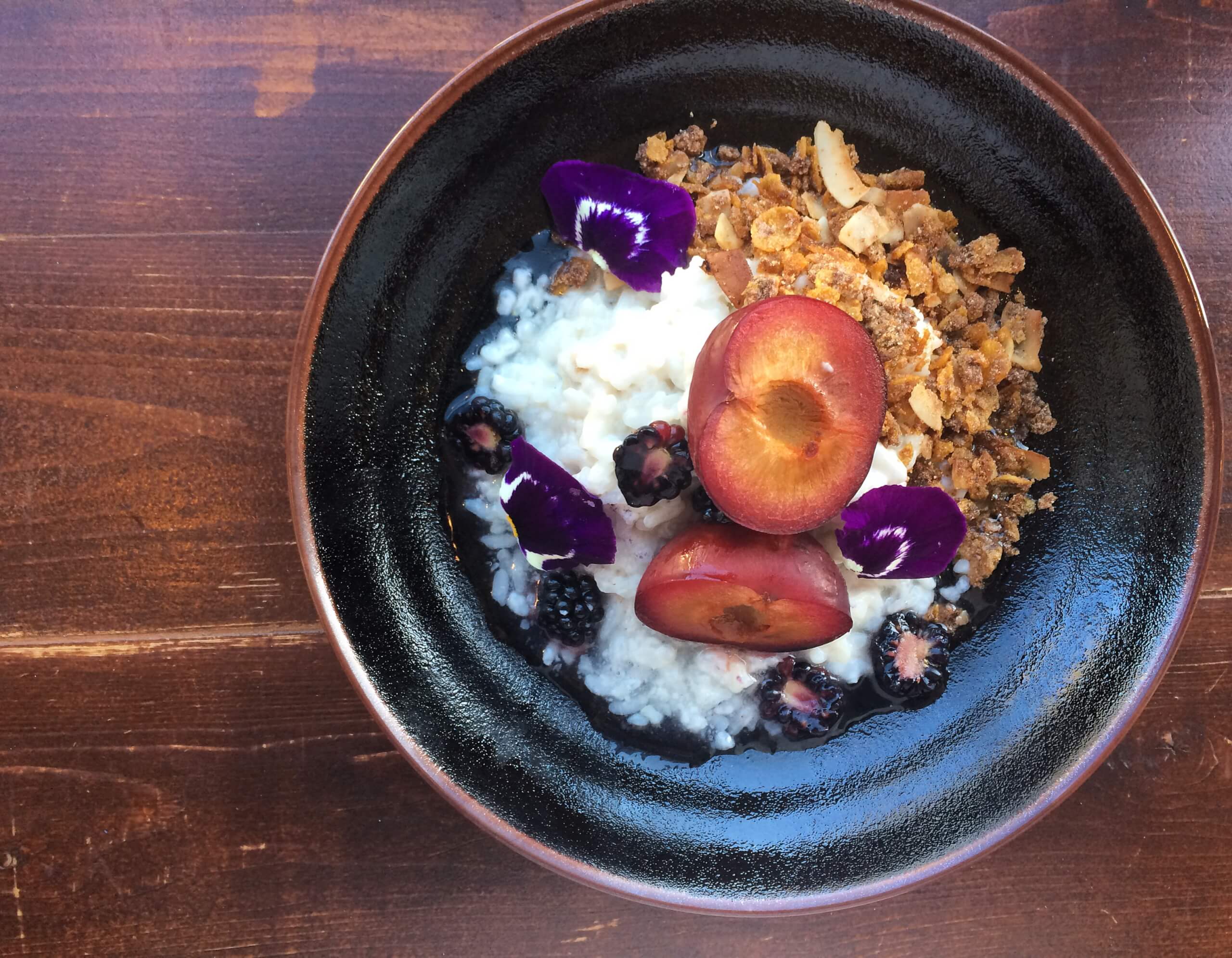 What: Friends of Ours is a newcomer to the brunch scene. This snug cafe has won over the locals with their coffee, brunch dishes and lunchtime offerings. They've just launched a new winter brunch menu which combines unusual flavour combinations that just work. The menu is different to the usual brunch fare – don't be scared about the lack of granola, they have much better grub.
Eat: Friends of Ours menu has a dish for everyone. For the Eggs Benedict lovers, try their pork belly Benedict on toasted organic wheaten sourdough or the crayfish Benedict with yuzu and siracha hollandaise. Sweet-toothed fans, order the French toast with roasted pears, rosemary and vanilla, clotted cream and crumble or opt for the coconut rice pudding served with roasted plums, blackberries and afghan crumb – both are dreamy. Asian inspired brunch dishes also feature on the menu including, chicken and gochujang braised aubergine ramen, and the panko chicken breast with  shredded lettuce, pickled cucumber and pickled red chilli. If you're after a new brunch spot – make it Friends of Ours.
Where: 61 Pitfield St, London N1 6BU
3. For an Argentinian Brunch: CAU
What: CAU pays homage to the vibrant city of Buenos Aires with their brunch menu. The menu embraces Buenos Aires cuisine, a melting pot of comfort food inspired by Italy and Spain alongside the jewel in Argentina's crown, its beef. We're talking about some pretty spectacular steak and eggs – Steak pre 11am is definitely ok.
Eat: At CAU feast on eggs, granola and crepes. Try the Latin eggs, grilled avocado, poached eggs on a toasted muffin, drizzled with fresh hollandaise and chimichurri. The stacks of pancakes are also a good shout, as well as the sweet potato and chorizo hash with a poached egg and chilli. They serve a great range of smoothies and milkshakes, including Dulche de Leche and Peanut Butter. Get boozy with the Avellana Shake, a heavenly combination of Nocello liqueur, Baileys and chocolate ice cream. Go on, it's the weekend.
Where:  Weekends at CAU St Katharine Docks, 1 Commodity Quay, London, E1W 1AZ opens at 9am.
4. For an American Brunch: The Lockhart
What: Chef Brad McDonald's classic Southern restaurant in Marylebone has recently launched their popular American brunch on Saturdays. Mississippi born, Brad has created a range of brunch dishes from the Southern States. Loosen the trousers because this brunch is certainly not buckwheat pancakes and green juices. Man, we do love an indulgent brunch.
Eat: On the menu is classic American staples like fried chicken and waffles with maple syrup, short rib beef hash, shrimp and grits, and the much loved Lockhart Cornbread which is baked to order and tastes like heaven. Meat fan? Try the candied pork jowl and scrambled eggs, it's a show stopper of a dish. If you're nursing a sore head, go all out and order the smoked Jacob's Ladder short rib with coleslaw and BBQ reduction. The chaps at Lockhart know how to make a cracker of a Bloody Mary and they also serve bottomless coffees. Any place that serves portions of pecan waffles as a side gets a yes from us.
Where: 22-24 Seymour Pl, London W1H 7NL
5. For a Boozy Brunch:  Le Meridien Piccadilly
What:  The Terrace Grill & Bar at Le Meridien Piccadilly puts on a mean brunch at the weekends. If you want to impress your mum, take her here. The restaurant was recently awarded an AA Rosette Award for Culinary Excellence and serve only locally sourced fish and meat.
Eat: The buffet platter at The Terrace Bar & Grill puts the finest wedding buffets to shame. Not only do they put on a feast, they have carving stations of Serrano ham and other cold cuts of meat. The menu features smoked Scottish salmon and mackerel pate with capers and shallots, and braised pork and tiger prawn risotto with red capers. That's not all,  delve into cajun spiced crispy lollipop chicken and mini beef and pulled pork sliders with salsa mayonnaise. And, do you want to know the best bit? It's unlimited booze. Sensational.
Where: 21 Piccadilly, London, England, W1J 0BH