If you're in need of some weekend brunch inspiration – you've come to the right place. Here's 5 ways to enjoy brunch in London this weekend:
1. For a South London Brunch: The Coal Rooms
What: The Coal Rooms in Peckham have sorted out your weekend plans with their Saturday brunch. A spread fit for late morning kings and queens, the menu is a mecca of British classics, excellent coffee and spicy Bloody Marys to help you kick off the weekend in boozy style.
Eat and Drink: Saturday Brunch, available from 10am-3pm, is a hangover sorter and one for true meat lovers, featuring a full English for two – a plateful of smoked goat sausages, fat and back bacon, smoked pig's head black pudding, fried duck eggs, smoked bone marrow butter mushrooms, beef tomatoes, toast and smalec. Other popular dishes include the epic bacon sandwich with coffee-cured bacon, homemade brown sauce or ketchup stuffed into a custard bun, and the smoked bone marrow butter on toast with a fried egg and mushrooms.
Where: Peckham Rye Station, 11a Station Way, London SE15 4RX
2. For NYC Inspired Dishes: The Good Egg
What: After conquering the brunch scene in Stoke Newington, the team behind The Good Egg have opened their second site in Kingly Court, Soho. Sticking to the same winning and delicious formula, The Good Egg Soho knock up New York and Middle Eastern influenced dishes with a whole lotta love.
Eat and Drink: It's a right ol' yolk feast here; shakshuka, Hanukkah brisket hash topped with a fried egg, bacon and egg pitta, and egg and cheese bagel all feature on the brunch menu. If you enjoy variety – order the Jerusalem Breakfast, a medley of beets and dill, house labneh, marinated aubergine, whipped green feta, fried eggs and herbs, dak dak salad, hogget Merguez and crispy halloumi. Grab a slice of freshly baked babka for the tube ride home.
Where: Ground Floor, Kingly Court, Kingly St, Carnaby, London W1B 5PW
3. For a Middle Eastern Brunch: Villa Mama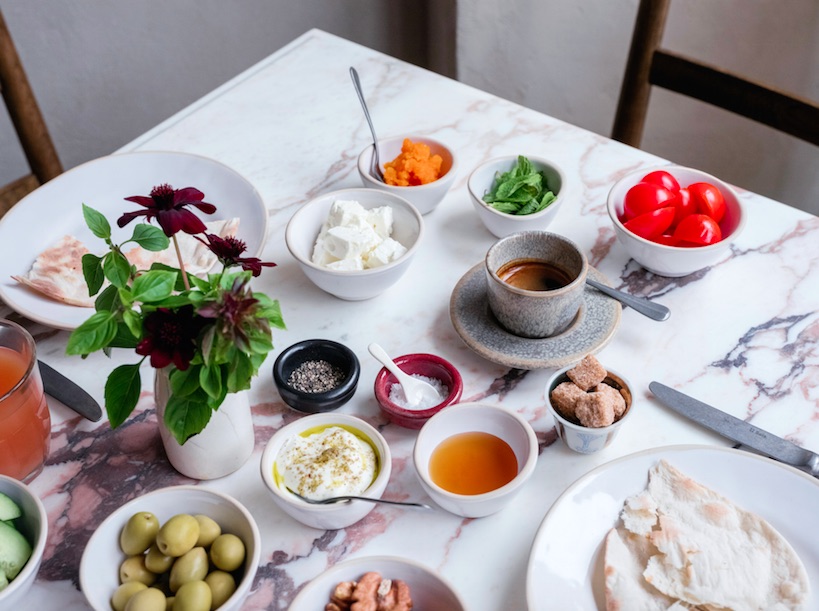 What: Inspired by the relaxed breakfasts of the Middle East, Villa Mama's new weekend brunch menu reflects chef and founder, Roaya Saleh's Bahraini heritage, travels and culinary traditions from across the Khaleej, Persia and beyond.
Eat and Drink: The menu includes 'Khubus', a tandoor-cooked flatbread, served with meyhawa, a Bahraini speciality of fermented sardine sauce, za'atar and du-ah and 'Gers Tabay', a sweet Bahraini date crêpe. Larger plates include 'Balaleet', sweet saffron and rose water vermicelli topped with scrambled eggs and 'Ch'bood Deyay', chicken livers sautéed with masala and vine leaves, all served with khubus. To share between two, the Mezzeh comprises of fresh labneh, seasonal jam, honey, halloumi, olives, walnuts, cherry tomatoes and khubus.
Where: 25 Elystan St, Chelsea, London SW3 3NT
Photo Credit: Carol Sachs
4. For Sweet and Savoury Bites: Bread Ahead Beak Street
What: Bread Ahead Beak Street is now open! This new site from the famous bakers in Borough Market provides, not only their fabulous cakes and bakes, but also hot breakfasts with a number of sweet and savoury options.
Eat and Drink: The breakfast offering at Bread Ahead includes a variety of savoury and sweet eats, including more indulgent options such as: Croque Monsieur, brioche French toast with jam, honey and icing sugar or bacon and syrup, scrambled eggs served on a demi-brioche bun with smoked salmon, and toasted brown sourdough with mushrooms and a fried egg.
Where: 21 Beak St, Carnaby, London W1F 9RP
Photo Credit: Steven Joyce
5. For a Vegan Brunch: Deliciously Ella Deli
What: The Deliciously Ella team have expanded their offering at their delis to include a brand new breakfast selection with two smoothie bowls and savoury dishes. And The Weighhouse Street Deli now offers draft Kombucha, with two flavours available: Original and Ginger.
Eat and Drink: New on the brunch menu is smashed avocado on sourdough toast with mixed seeds, chilli and rocket; PB&J Bagel, a toasted gluten-free sourdough bagel with lashings of peanut butter and covered in sweet raspberry chia jam; creamy porridge with slow cooked pineapple compote, coconut chips, chopped pecans and coconut yoghurt; homemade beans on toasted sourdough; as well as a new 'build your own' breakfast bar.
Where: Locations here