When the weather is on the chillier side, we like to load up on hearty dishes, carbs and wrap ourselves in a duvet like the slugs that we are. We're pleased to report this feature has plenty of carb-based lovin' – from new vegan pizzas to sourdough dishes. And not forgetting chocolate. Because chocolate is the answer to most things. Here's what you need to know:
1. For a Special Collaboration: #CookForSyria x Pophams Bakery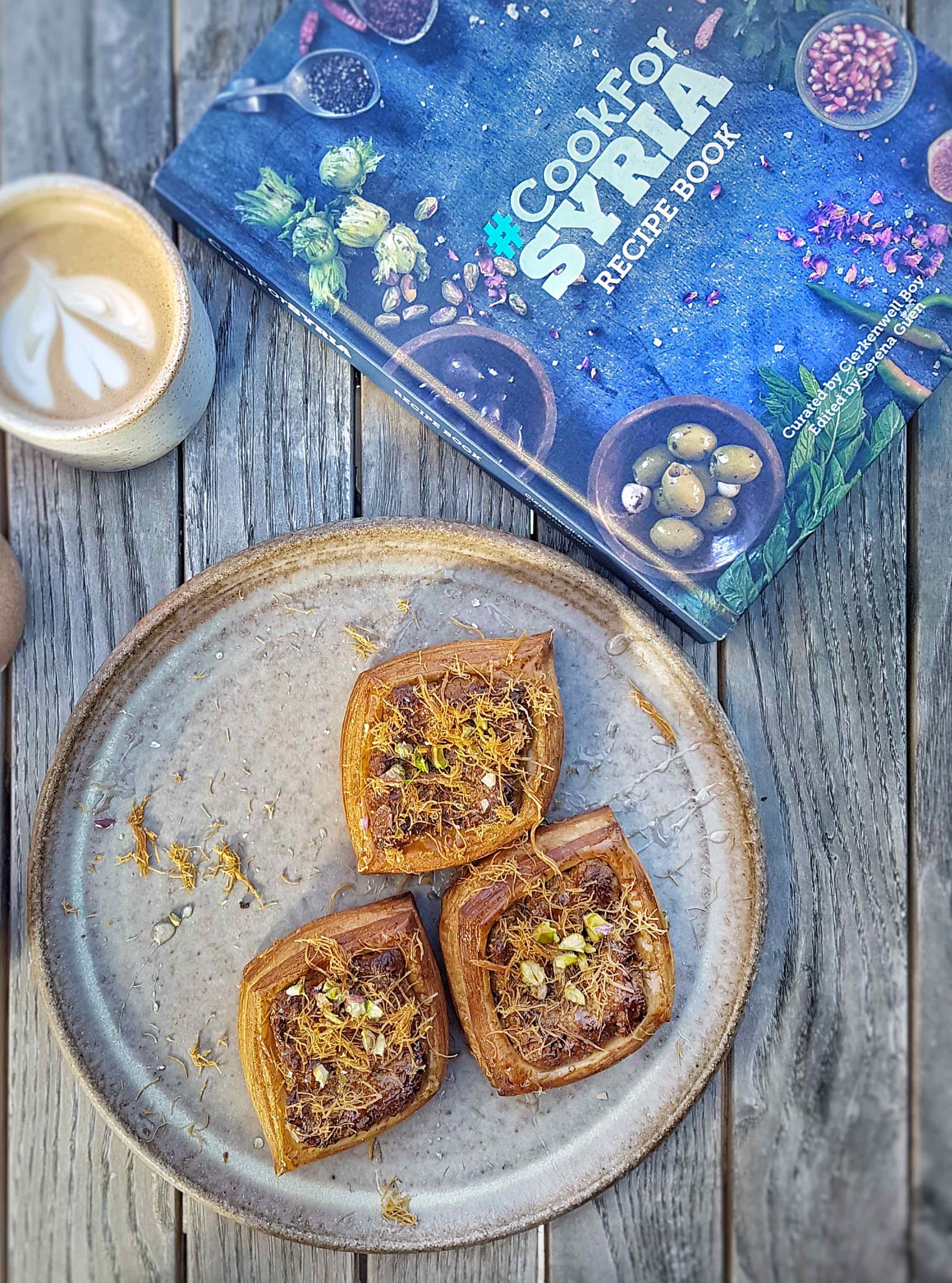 What: #CookForSyria and Pophams Bakery have come together to create a limited edition #BakeForSyria pastry with a Syrian inspired twist, and it's glorious.
Why: Available now at Pophams Islington bakery for one month only, the special #BakeForSyria oval shaped croissant features a baklava filling of ground almonds, walnuts, rose water and a pistachio paste. The pastry costs £3.20 and 100% of proceeds go to Unicef's Syrian Relief Fund, raising money to contribute towards Unicef's appeal for the children of Syria via NextGen London.
Where: 19 Prebend St, London N1 8PF
2. For a New Vegan Pizza: Four Hundred Rabbits x Greedy Khao 
What: This is a London first: Four Hundred Rabbits have teamed with popular streetfood trader Greedy Khao to create a vegan Thai Massaman curry pizza. The limited edition sourdough pizza is inspired by one of the first plant-based modern Thai classics served by the KERB and Maltby Street Market vendor when they began trading one year ago, and showcases Greedy Khao's signature bold authentic flavours.
Why: The Massaman curry pizza is topped with a variety of ingredients such as Thai Massaman curry sauce, jackfruit, chickpeas, peanuts, pomegranate, red onion and coriander. The team have also now added a new plant-based sourdough pizza to their regular menu, pairing radish, courgette, garlic and pine nut pesto pumpkin seeds, thyme and San Marzano tomato, after the growing cult following amongst regulars and local visitors for their previous "off-menu" vegan pizza.
Where: Locations here 
3. For a New Pop-Up: Spice and Rye 
What: Glenmorangie is celebrating the Golden Age of American Whiskey this month with the opening of Spice and Rye: a vibrant Speakeasy cocktail bar in the heart of Fitzrovia, London. Situated on Percy Street W1, Spice & Rye celebrates rye whiskey's heyday as the spirit of choice at the turn of the last century, taking visitors through a series of sensory spice and cocktail moments.
Why: Open from 20th-24th March, the bar's tipples have been inspired by a time that made whiskey cocktails so significant and using a selection of spices and unique flavours. Serves include High & Rye, made with Glenmorangie The Original, ginger, pineapple, and topped off with rye beer; Bloodstone, a twist on the classic Blood & Sand, made with coffee infused Glenmorangie The Quinta Ruban, Rubino and Cocchi Torino; and Chapel St Sour, a blend of Glenmorange Nectar D'Or, Rinquinquin, lemon and toasted coriander seeds.
Where: Spice & Rye, 14 Percy Street, Fitzrovia London, W1T 1DR
What: Former head chef of Ottolenghi's NOPI, Ramael Scully, has opened Scully in St James' Market, and the interiors will make your eyes hurt it's that pretty. The restaurant focuses on capturing the flavours of chef Scully's layered heritage, taking diners on a journey around the world; from his childhood home in Malaysia to the kitchens in Sydney where he trained, to his travels in the Middle East, Russia and Europe.
Why: To compliment Scully's larder ingredients (think jars of pickles, syrups, shrubs, preserves, fermented fruit and vegetables), the menu showcases seasonal, sustainably-sourced fresh vegetables, fruit, meat and fish from around the British Isles and Europe. Dishes include: baby beetroot jerky with green cardamom cream; crispy corn biscuit, eggplant sambal and bergamot cream; and grilled octopus served with salt baked avocado and black garlic.
Where: 4 St James's Market, St. James's, London
What: Located minutes from Highbury and Islington Station, St. Paul is Islington's new all-day destination bistro. Following its strong daytime offer – grab and go breakfasts, leisurely lunches, afternoon coffee and cake dates, casual conviviality will now continue into the evening with its continental-style menu.
Why: Choose a glass of wine or enjoy a craft beer whilst sampling a selection of olives and charcuterie, from spicy Calabrian Ventracina salumi to Tuscan fennel salami and the finest DOP prosciutto. Also up for grabs in a changing line-up of cheeses  like the Tor ash goat's cheese from Devon, Chaource from the French Champagne region, Italian chilli Pecorino and both Picos de Europa and Manchego sourced from Spain. For something a little more substantial, small plates include burrata with crushed smoked almonds, green beans and lemon zest; lemon, ginger and garlic chicken wings; meatballs in arrabiata sauce with crusty sourdough; and the traditional French classic, Tartiflette. 
Where: 274B St Paul's Rd, London N1 2LJ
We're feeling lucky… 
6. For a New Lunch Menu: St James' Court, A Taj Hotel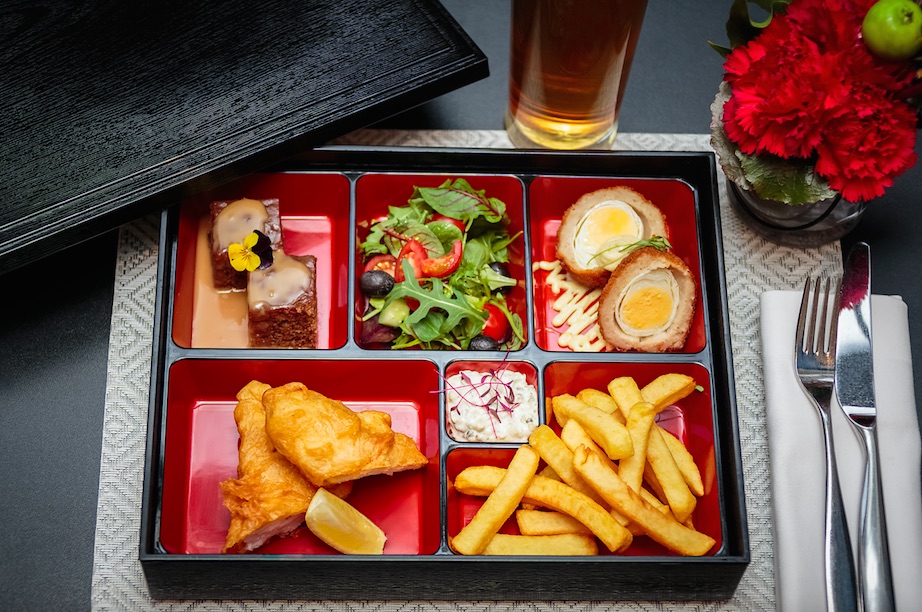 What: St James' Court, A Taj Hotel's newly refurbished Bistro Restaurant is shaking up the lunch-scape in Westminster with their new selection of Global Bento Boxes.
Why: Fresh, fast and full of flavour, the Pure Box includes grilled roast chicken or a vegetable panini, served with sweet potato fries and a zesty smoked salmon salad. ​Quintessentially British, the English Classic Box contains lightly battered fish, a scotch egg, salad and a sticky date and walnut pudding. For those that considered curry no-go at lunchtime, the Bharat Box offers a light way to enjoy Indian cuisine. Drawing on the hotel's Indian heritage, the box includes a tangy samosa with tamarind chutney, creamy tikka masala and tempered potatoes with cumin and coriander.
Where: 54 Buckingham Gate, Westminster, London SW1E 6AF
We're feeling pretty lucky… 
7. For New Chocolate Flavours: Shangri-La Hotel London 
What: Executive Pastry Chef Heather Kaniuk and her team at Shangri-La Hotel, At The Shard, London have created two unique signature blends of chocolate using the finest cocoa beans and cocoa masses from around the world. Created specifically for the Shangri-La hotel in London, the milk chocolate 'Harmonie' and the dark chocolate 'Utopie', are key ingredients in the hotel's homemade chocolate desserts, as well as being available to purchase in a chocolate bar format.
Why: The fine Utopie dark chocolate is rich in cocoa flavours with 69% cocoa and features spicy, woody and smoky notes. By combining beans originating from Mexico, Papua New Guinea and Sao Tome, Central Africa, Kaniuk has created a complex yet smooth texture.  Utopie is the main ingredient for the Dark Chocolate Delice signature dessert with caramelised clementine and macadamia nuts, available on the a la carte menu at TĪNG Restaurant & Lounge. The delicate Harmonie milk chocolate contains 41% cocoa solids and combines beans from Ghana, the Ivory Coast and Ecuador to give it its woody and fruity flavours.  When biscuit and caramel notes are then married to these, it creates the perfect balance.
Where: 31 St Thomas St, London SE1 9QU