Whether it's a new vegan sandwich or a charitable lunch menu, we've found the best food in the capital this week. Stop your Google searching now, here's five things you need to eat in London this week:
1. For a New Residency: Rumpus Room x Mr Bao 
What: Every Tuesday evening throughout August, Peckham favourite Mr.Bao is popping up in Mondrian London's striking rooftop lounge, Rumpus Room, serving up buns alongside American and British inspired cocktails, champagnes, wines and spirits from the bar's drinks menu.
Why: Feast on fluffy bao steamed buns including the Mr.Bao with slow braised pork, house pickles, roasted peanut and coriander, and the Diddley Bao with 24-hour-marinated fried chicken, wasabi mayo, house kimchi and coriander as well as flavoursome vegan option, the Mushroom Bao with teriyaki Shiitake mushrooms, picked onions and miso. The tasty buns are served alongside Asian sides including smacked cucumber, ginger and garlic edamame, and tenderstem broccoli with ponzu sauce.
Where: 20 Upper Ground, South Bank, London SE1 9PD

2. For a New Foodie Deal: Wright Brothers 
What: Throughout August, renowned seafood specialists Wrights Brother's are taking things up a notch by celebrating the Native Lobster. Feast upon a whole Native Scottish or Cornish lobster grilled with garlic butter, served with fresh green salad and fries for only £20 per person Monday – Friday, 12pm-5pm.
Why: Wright Brothers Wholesale are showcasing their amazing Native Lobsters in their restaurants (Battersea Power Station, Soho, South Kensington, Borough, Spitalfields) as the warmer months bring a bountiful supply. Sourced from the waters around the Cornish and Scottish coast these are softer in flesh and richer in flavour than their Canadian cousins, which are usually available all year round.
Where: Locations here
3. For a New Collaboration: Yard Sale Pizza x Best Pizza
What: Calling all pizza aficionados: this is one not to be missed. Frank Pinello, founder of the renowned Best Pizza in Brooklyn and the host of The Pizza Show on Vice Munchies, is joining London's Yard Sale Pizza as their second summertime guest chef this August. Bringing a taste of Brooklyn to London, Frank is crossing the Atlantic on Monday (6th August) to add one of his signature pizzas to the Yard Sale menu.
Why: From August 6th to 31st, all Yard Sale shops will have one of Frank's signature pizzas on the menu, giving Londoners a rare chance to try authentic New York-style pizza from one of the best. At Best Pizza, Frank does things the old school Brooklyn way, using only the best ingredients to make a classic 'white pizza' pie, with a thin crispy base, simply topped with ricotta. From there toppings can include anything from pickled veg to pepperoni, and for London, Frank has created a one-off special topped with ricotta, caramelised onions and a sesame seed crust.
Where: Locations here 
4. For a New Special: Oatly x Max's Sandwich Shop
What: Oatly has teamed up with everyone's favourite sandwich inventor, Max Halley (founder of Max's Sandwich Shop) for a delicious collaboration this August: the Oatly Vegan Custard Bombolone. Grab one for a fiver until 13th August.
Why: This one of a kind sandwich is filled with vegan choux-pastry bombolones oozing with Oatly Vanilla Custard (rolled in sugar and vinegar powder for a perfect flavour balance), tangy blackcurrant jam, Max's signature shoestring fries, all sandwiched between lightly-toasted vegan bread.
Where: 9 Crouch Hill, Stroud Green, London N4 4AP
5. For a New Guest Chef: Carousel x Arnout van der Kolk
What: Heading over from Amsterdam, chef Arnout van der Kolk from Restaurant C will be taking over the kitchen at Carousel between 7th-11th August.
Why: Arnout van der Kolk's menu gives intriguing insight into what varying temperatures can do to different ingredients. Achieving such precision takes skill, which Arnout has gained in the country's most lauded establishments (** Restaurant Ciel Bleu, *** Oud Sluis and ** Aan de Poel, amongst others). Arnout's choice of ingredients are key to the overall experience; expect dishes including his sub-zero creation of chocolate, peanut, banana and caramel, and high temperature Dorset lamb with anchovy and brocollini. 
Where: 71 Blandford St, Marylebone, London W1U 8AB
One for luck…
6. For a New Lunch Menu: Jikoni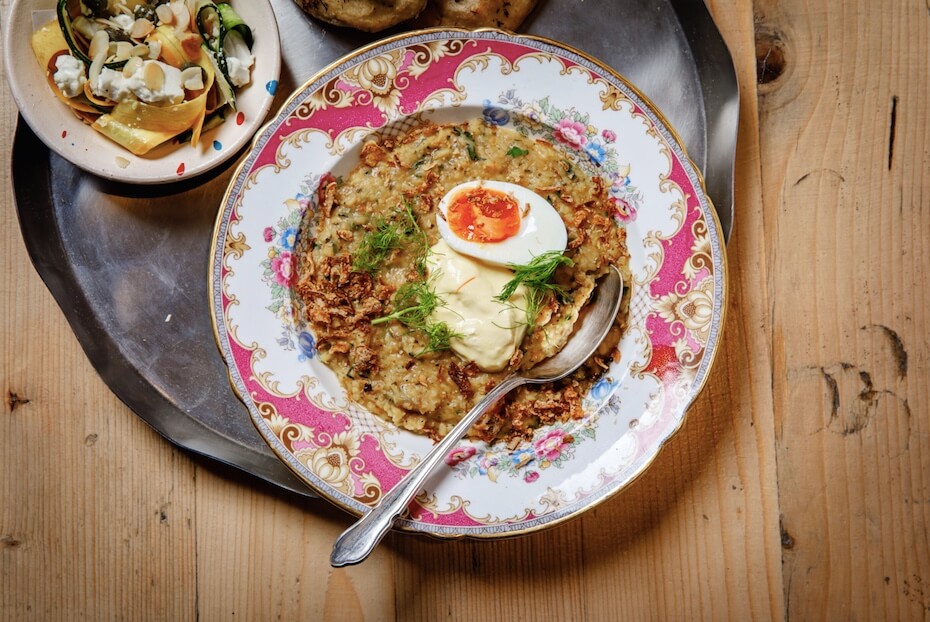 What: Ravinder Bhogal has launched the Jikoni Community Lunch at her restaurant on Blandford Street. Passionate about her local community, Ravinder is raising money for the Marylebone Food Cycle as well as The Felix Project, with £1 from every lunch donated to combat food waste and to serve meals to members of the neighbouring Lisson Green Estate.
Why: Lunchtimes draw on Ravinder's multi-continental menu with flavours and culinary traditions from Britain, East Africa and Asia. Each hearty platter contains three to four seasonal dishes such as; pickled lemon and coriander stuffed sardines with fennel and orange salad; yoghurt and bulghur soup with dried mint and pul biber butter; sour pomegranate chicken with kisir, whipped feta and radishes; or methi chicken with theplas, boondi raita and potato, onion and herb pakoras.
Where: 19 – 21 Blandford St, Marylebone, London W1U 3DH