There's something so magical about summer in London; every warm day is another chance to drink alfresco, park picnics are a big thing, and it's the best time to eat your way around the capital. From a new lunch menu to three new openings – here's where you need to be eating in London this week. Enjoy the rays. And dessert:
1. For a New Permanent Site: SE Cakery 
What: Well known on London's street food circuit (find them at Street Feast and Kerb), South East Cakery have opened their first permanent location in Dulwich – tucked away on Upland Road – just minutes away from their HQ, by Peckham Rye Park.
Why: The bakery's street food staple Brownie Bars are available in a variety of flavours, including salted caramel, honeycomb and peanut butter – all deliciously gooey in the centre. And there's resident cakes on rotation like banoffee, carrot cake, chocolate cake and loads more. Come lunchtime, there's a savoury menu of brunch and lunch favourites, including sandwiches, salads and quiches.
Where: 20 Upland Road, London SE22 9EF
2. For a New Lunch Menu: The Blue Posts
What: The Blue Posts (the sibling duo behind The Palomar, The Barbary and Jacob the Angel) is now open for lunch on Tuesdays through to Sundays. The Blue Posts dates originally from 1739 and combines three floors of drinking and dining: first floor saloon bar The Mulwray, Evelyn's Table restaurant in the former beer cellar and the ground floor free house.
Why: The concise lunch menu has been created by Luke Robinson, head chef of Evelyn's Table, with a casual bar-diner in mind. Dishes include Six Orford oysters on the half shell and a fritto misto brioche roll. And for the cheeseburger au cheval, the team have worked with premium butchers HG Walter to create their own beef patties. Plant-based? Give the vegan royale burger a whirl.
Where: 28 Rupert Street, London W1D 6DJ
Photo Credit: Chris Terry 
3. For a New Site: Beef and Brew 
What: Kentish Town favourite, Beef & Brew, are bringing their grass-fed beef and craft beers to the former Duke's Brew & Que site in the heart of East London, just a stone's throw from Regent's Canal in Haggerston, opening on Tuesday 24th July.
Why: Taking cues from the building's long history as the old Duke of York public house, begin with a half pint of fried oysters with a yuzu dressing, or brisket on toast with pickles and gravy. The star of the show is, of course, the beef, coming in a range of cuts from a host of renowned suppliers. Sirloin is sourced from retired dairy cows, from Txuleta in Galicia; fillet cuts from Swaledale Foods' native-breed cattle in North Yorkshire; and onglet from grass-fed Herefords. Each steak is dipped in beef dripping before being quickly chargrilled – and side dishes include carrots with dill and buttermilk dressing; smoked aubergine with honey and miso; and sweet potato, coconut yogurt and spices.
Where: 33 Downham Rd, Hackney, London N15AA
4. For a New Summer Menu: Bombay Bustle 
What: Bombay Bustle are running a summer seafood menu throughout July and August, inspired by co-founder's Samyukta childhood summers spent playing on the golden beaches of Kerala as her family escaped the city heat of Mumbai.
Why: Inspired by flavours from India's palm-fringed backwaters, dishes include Malvani Sukka Clams cooked using the traditional Mangalore method, as Dorset clams are simmered in their shells with ladles of spicy coconut sauce; and Chettinad Langoustines, made to a recipe from Tamil Nadu with West Coast langoustines, marinated with classic ground spices including tamarind and fenugreek and barbecued on the griddle. Goan highlights feature Cafreal Red Snapper caught in the fishing town of Brixham roasted with coriander, mint and palm Jaggery before moving to the bustling Capital where Surender has adapted a popular local favourite, Koliwada Squid – calamari rich with chill, fresh garlic and Coram seeds.
Where: 29 Maddox Street, Mayfair, London W1S 2PA
5. For a New Opening: Soane's Kitchen
What: New opening alert: Alex Head, founder of Social Pantry, has opened a new restaurant and café, Soane's Kitchen at Pitzhanger Manor & Gallery in Ealing. Soane's Kitchen is located inside the original walled kitchen garden at Pitzhanger Manor, which was built in 1800-1804 by acclaimed British architect Sir John Soane as a country retreat to entertain his friends.
Why: The all-day menu at Soane's Kitchen delivers light and comforting, seasonal dishes that reflect Social Pantry's signature style. Highlights include: burrata with broad beans and radish; grilled baby carrots with ricotta; and bavette steak with carrot top pesto, seabass and confit tomatoes. On Sundays, a bottomless brunch provides the perfect opportunity for long, lazy get-togethers with friends and family, with signature dishes included summer pea on toast with feta and poached egg; and a Ginger Pig fry up, with all the usual trimmings.
Where: Pitzhanger Manor, Walpole Park, Ealing, London W5 5EQ
One for luck… 
6. For a New Trader: Feast Bar & Kitchen x Other Side Fried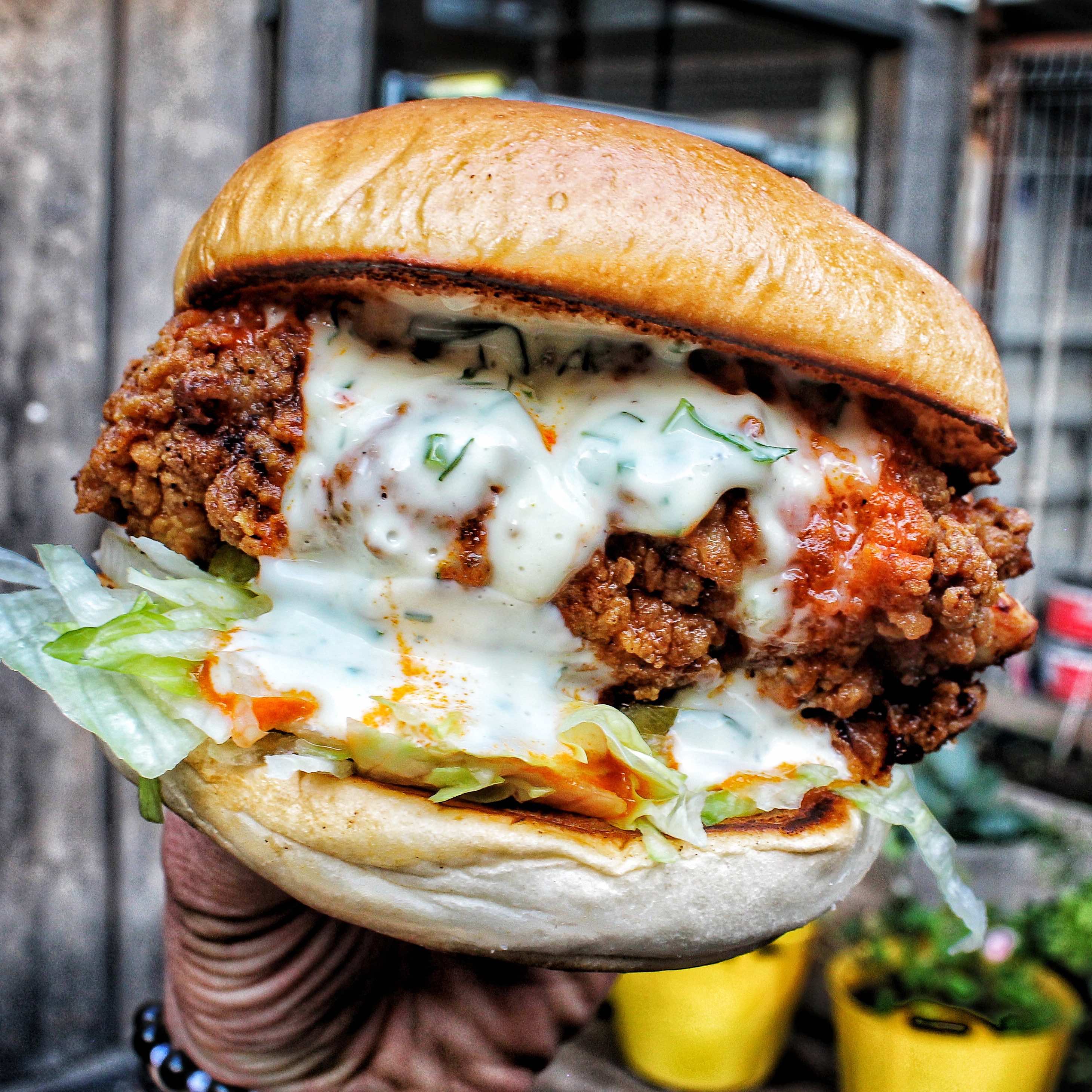 What: Guess who's moving into Feast Bar & Kitchen? You got it…fried chicken legends Other Side Fried are taking up residency in White City's epic drinking and dining den from Wednesday 25th July.
Why: The menu pays homage to their much-loved chicken burgers and sides; expect all the classics such as the O.S.F made with fried chicken, brown butter mayo, parmesan, garlic and mayo and the Honey Butter with fried chicken, smoked honey butter bacon, pickles and lettuce.
Where: 201 Wood Ln, Shepherd's Bush, London W12 7TP