London restaurants are always buzzing with new ideas, menus and concepts. From a special breakfast menu from one of London's finest street food traders to a vegan sushi menu – here's 5 things you need to eat this week in the capital. Time to tuck in, London:
1. For a New Partnership: Le Swine x The Pilgrm
What: Le Swine (aka the creators of London's best bacon butty), have taken over the kitchen at The Pilgrm hotel in Paddington. Available for a limited time only, the Le Swine gang have created a special breakfast menu prepared daily by The Pilgrm's Head Chef Sara Lewis and her team.
Why: Dishes on the menu include egg and soldiers with soft boiled duck egg, pig trotter soldiers and homemade ketchup; eggy bread topped with poached peach, crispy bacon, crème fraiche and fruit syrup; and Arbroath smoked haddock Kedgeree. And, of course, there's Le Swine's cult classic bacon butty.
Where: 25 London St, Paddington, London W2 1HH
What: For any Barrafina fans out there – this is pretty great news: the Drury Lane eatery has just launched a new menu – the first time since its opening in July 2015. And they've just opened their terrace for the summer, too. Happy days.
Why: The new menu feature dishes such as Anchoas del Cantabrico "00" – Cantabrian anchovies with grated tomato and pickled garlic in the Para Picar section, and pork belly, ears and chickpeas as well as Rubia Gallega Pintxos Morunos (spiced Galician beef) in the Meat section. Two new tortillas have been added: chorizo and ganxet bean, and prawn and manchego. And for pudding, there's seasonal poached fruits with sangria sorbet, tarta de queso with lemon curd and summer berries, and a traditional crema Catalana.
Where: 43 Drury Lane, Covent Garden, London WC2B 5AJ
Photo Credit: Greg Funnell
3. For a New Opening: Scarlett Green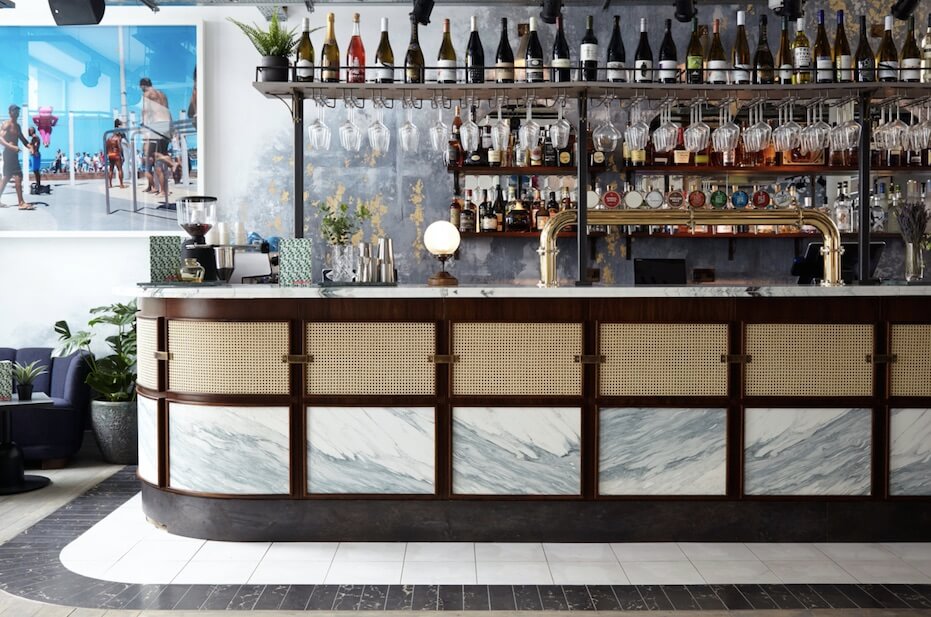 What: The Daisy Green collection have expanded their brood with the opening of Scarlett Green in Soho. Like their sister restaurants, Scarlett Green focuses on Antipodean-inspired, imaginative food and beautiful cocktails.
Why: Spicy tuna tostadas, Bondi hot prawns and Vegemite, and truffle and cheese doughnuts reflect the team's distinctive and fresh Aussie-style cooking, with house sharing favourites like the giant chicken parmigiana and their award-winning banana bread sandwich available. Also on the menu is grass-fed rare-breed dry-aged steaks from Nathan Mills of The Butchery Ltd, all cut to order and chargrilled at over 500 degrees on their custom-made Josper Grill.
Where: 4 Noel Street, Soho, London, W1F 8GB
Photo Credit: Leyla Kazim
What: ROKA decided to create a Japanese inspired take on all things green, and have knocked up their very first vegan tasting menu. Showcasing their chef's expertly created cuisine, the new menu stays true to ROKA's ethos: taste sensation, visually stunning and aimed to be shared.
Why: A myriad of diverse vegan starters, mains and desserts are available such as: grilled tofu with shiitake mushrooms, lemon and chilli; rice toban with japanese mushrooms, mountain vegetables and shaved truffle; peanut, vanilla and chocolate sundae with poki sticks and banana tempura.
Where: Locations here
5. For a New Summer Menu: Abokado
What: Abokado's have shaken up their menu, and introduced 17 new and re-invigorated sushi dishes – all lovingly prepared in-store each morning. The New York inspired summer menu showcases sustainably and responsibly sourced tuna and salmon, locally sourced herbs and vegetables, and the freshest ingredients.
Why: The wide range of sushi sets include classic superior grade sashimi, nigiri, maki rolls (vegan and veggie options available), wakame, edamame salad and fresh raw side salads. There are three all-new dragon rolls: California dragon rolls, teriyaki chicken rolls with miso sauce, crispy onions and fresh herbs, and veggie dragon rolls, topped with a sprinkling of crunchy seeds.
Where: Locations here