You should know the drill by now: if there's new menus, openings or one-off collabs in London, we know about it. Here's what you should be eating in the capital this week. Nom:
1. For a New Collaboration: Moving Mountains x Dirty Bones
What: New vegan dish alert! Moving Mountains has teamed up with Dirty Bones to launch a new vegan burger which 'bleeds' (oo-er), and is an entirely plant-based twist on one of Dirty Bones' most popular signature dishes, The Mac Daddy.
Why: Available at all five of Dirty Bones' locations in Kensington, Carnaby, Shoreditch, Soho and Oxford, The Vegan Mac Daddy features the Moving Mountains plant-based meat B12 patty topped with vegan mac and cashew 'cheese', smoky mushroom 'short rib' and espresso-spiked BBQ sauce on a soft bun.
Where: Locations here
What: 2015 was a mega year for the Kricket team. In a small 20 seater shipping container in Brixton, the kitchen were shelling out the finest Indian small plates in south London. After closing to open their first permanent site in Soho, Rik Campbell and Chef Will Bowlby are back in brixton with the opening of their shiny new bricks and mortar gaff under the railway arches.
Why: The Brixton menu showcases a roster of all new creations such as lotus root yakni, morels and lotus root crisps; pig head vindaloo with artichoke tarka and pickled shallot; and rock oyster pakora, rhubarb chutney and thecha. These dishes sit alongside a few Kricket classics previously conceived in Brixton which have become a mainstay of London's "must order" dishes, including bhel puri, samphire pakoras and Keralan fried chicken.
Where: 41-43 Atlantic Road, London SW9 8JL
What: We love The Ninth, and if you haven't tried Chef Jun Tanaka's supersonic tarte tartin – you're missing out. Now there's another reason to visit: a new Mediterranean-inspired menu, available to order exclusively from the bar or the restaurant's al fresco terrace from 5.30pm to 7.30pm Monday to Saturday.
Why: Jun has designed the menu to be enjoyed as a precursor to dinner, or as a selection of dishes to share. The menu includes new dishes such as fried chicken wings stuffed with morels; salted beef cheek and pickled radish on sourdough; grilled Sicilian prawns in Shio koji; and crispy pig's trotter with sauce gribiche, as well as some of The Ninth's classic crowd pleasers such as the duck and foie gras scotch egg and the razor clam ceviche.
Where: 22 Charlotte St, Fitzrovia, London W1T 2NB
4. For a New Bar Opening: The Green Room at The Curtain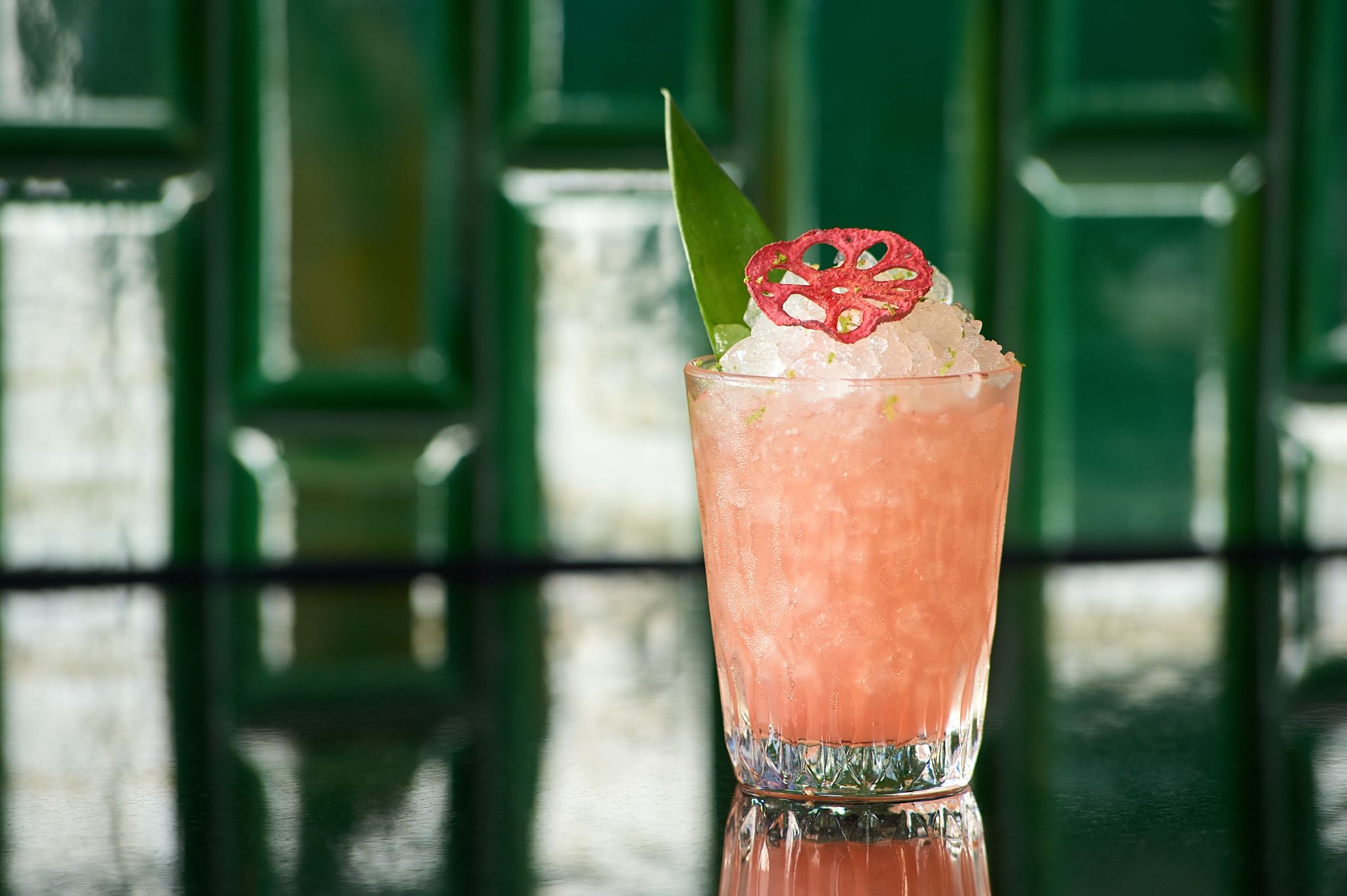 What: After celebrating their first birthday recently, the uber trendy Curtain Hotel have just opened a new cocktail bar, The Green Room. Heading up the super swish bar is The Curtain's Director of Beverage, Jenny Willing, who previously opened Mondrian London's globally-acclaimed Dandelyan Bar.
Why: Based in East London herself, the cocktail menu reflects Jenny's experiences of the area, using local products such as East London Liquor Company Rum, Land Chocolate, London Turmeric Honey and E5 Bakery sourdough. Cocktails on the menu include: Holiest Harlot, a muddle of Bramble Gin Liqueur, Martini Riserva Bitter, rosé Champagne and celery bitters; Bread with Butter Sazerac with Johnny Walker Black Label, apricot bitters, E5 Sourdough and whey syrup; and the Strawberry Thief, a summery concoction of Grey Goose L'Orange, wild strawberry vermouth, green leaf bitters and fresh lemon soda.
Where: The Curtain, 45 Curtain Road, London EC2A 4PT
Photo Credit: Justine Trickett
What: Bucket is a new restaurant and bar in Westbourne Grove serving up sustainably sourced seafood, by, err, you guessed it, the bucketful. The concise menu centres on classic seafood dishes, complemented by an extensive offering of regularly changing seasonal specials.
Why: On the menu are buckets. Lots of buckets individually filled with prawns, whitebait, fritto misto, and a delicate tempura of banana blossom, viola artichoke and fennel. Buckets of mussels are offered with a choice of four distinctive sauces: a classic white wine, garlic and parsley; coconut and chilli; lobster and brandy; and pancetta, chorizo and tomato. Alongside the buckets, the menu includes rustic boards of grilled whole fish, chicken and steak as well as plates that feature dishes like tuna tartare with breakfast radish, avocado mayo and seaweed crisps, seafood linguine, fish finger sandwiches and a delectable lobster and prawn toastie.
Where: 107 Westbourne Grove, Notting Hill, London, W2 4UW