Your time is precious. And so are burgers. Don't spend your time trawling through menus, here are 5 new February menus in London to try this week. Happy munching:
1. For a New Pop-Up: Q Grill x Vintage Salt Upper Street
What: Things are heating up at Vintage Salt Upper Street just in time for BBQ season with the launch of 'MeatClub Monday' – a new Monday kitchen residency, courtesy of Q Grill .On Mondays throughout the summer, the team from Camden's barbecue restaurant Q Grill, will be bringing a selection of their most popular dishes to serve up alongside Vintage Salt's classic British seafood favourites.
Why: Q Grill offers the sweet-tasting BBQ flavours of traditional Memphis-style smokehouses next to the charcoal grills of South America and the delicate raw flavours found in the dishes of coastal regions from Asia to Brazil. Led by Head Chef Lukasz Kocot, the Q Grill MeatClub Monday features a changing menu of Q Grill classics such as Sriracha fried chicken wings, house smoked salmon and crispy duck egg, the popular Southern fried chicken, and the crowd pleasing, chocolate and bacon pretzel jar. Knock back root beer floats, Samuel Adams Boston lager and Honeycomb old fashioneds.
Where: 189 Upper Street, London, N1 1RQ
2. For a New Watering Hole: Top Dog
What: Top Dog Diner in Soho has officially launched 'Upstairs at Top Dog' –  your one stop, chicken and cocktails shop. The new, quirky drinking den boasts an ever-evolving drinks menu, showcasing carefully curated cocktails made by some of London's best bartenders (we're talking about Alex Lawrence at The Orchid, and Gareth Evans from The Blind Pig).
Why: The new cocktail lists features; Pollen Street Heist – Porters Gin, lime juice, Coco Lopez, Spanish bitters, egg white and Gomme, and Dill or No Dill – Gin, elderflower cordial, lemon, cucumber, dill and smoked sea salt. Soak up the booze with chargrilled "smashed patty" burgers, as well as free-range, fried, buttermilk chicken buns and punchy plates of their notorious Kentucky fried cauliflower, truffle mac and cheese, and corn dog pups. There's also a varied selection of vegan dishes, as well as plenty of gluten-free options. For those with a sweet tooth, tuck into fudge nuts and a British take on an American classic – s'mores. 
Where: 48 Frith St, London W1D 4SF
What: Pizzicotto has thrown the rulebook out of the window, with the regular beige doughy number being shunned for their new dusky black activated charcoal pizza dough. With an emphasis on the best possible ingredients, and as a member of Slow Food UK, the West London pizzeria is determined to push the boundaries on this traditional dish to enhance flavour, variety and the overall eating experience.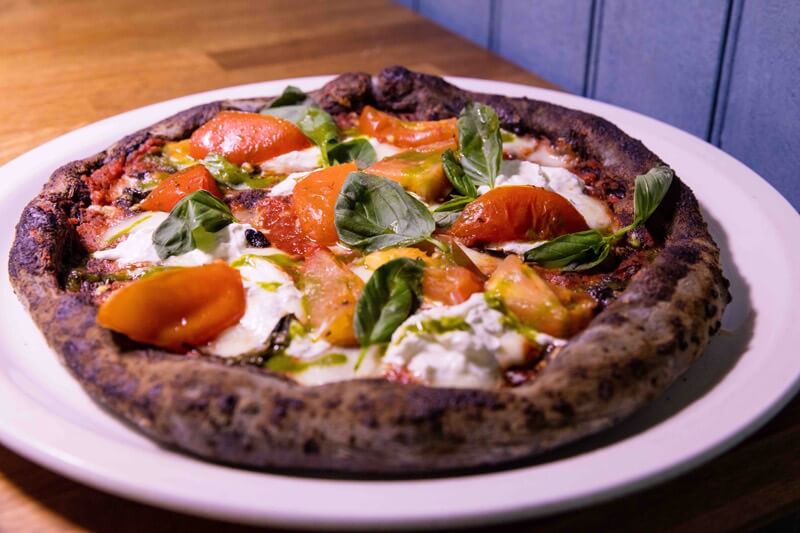 Why: The new pizza base can be selected when ordering, and is served with a range of different toppings. These include; Spacca Napoli with salted anchovies marinated in garlic and chilli, mozzarella, black olives and capers, Il Napoleone topped with Portobello mushrooms, artichoke, prosciutto cotto and olives, and for those seeking a no tomato base – the cream of pumpkin base, homemade salsice and  raddichio salad is a must. All doughs are made with unrefined stone ground flour from the Apennine Mountains and are proved for a full 72 hours to ensure a light and delectable base.
Where: 267 Kensington High Street, London, W8 6NA
4. For a New Residency: Tombo x Liberty London
What: Award winning matcha specialists Tombo are set to launch their six-week pop-up matcha café this Friday (20th May) at Liberty department store, Soho. The pop-up will be situated at the Kingly Street entrance of the iconic London department store located just off Regent Street. 
Why: The matcha bar will showcase a variety of drinks including their signature matcha latte and iced matcha tea alongside more unique blends such as cinnamon matcha latte and iced matcha apple and ginger. Tombo's range of green teas such as deep steamed sencha and cherry blossom green tea will also be available by the cup. The café will also offer a selection of snacks and desserts such as their famous matcha brownies and matcha marshmallows. There's also a chance to purchase the full range of their high quality teas in store, as well as essential tools for brewing the perfect cup in .
Where: Regent St, London W1B 5AH
5. For New Burgers: Yeah! Burger Slider Bar
What: Burger innovators, Adam Creissen and Scott Hopkins of Yeah! Burger, best known for their off-the-wall culinary concepts and fresh approach to the humble burger, have turned up the heat once more, announcing a new residency at East London's Off Broadway bar. The Yeah! Burger Slider Bar, serve up punchy flavours and fresh ingredients, but this time in just two easy bites, each inspired by the duo's favourite food cultures.
Why: Expect classic British combo's, zesty Californian influences and spicy lilts from South America, all packaged up into bite-sized sliders to enjoy alongside your favoured craft beer or Off Broadway's famed Pickleback. Open from lunch until late on Sundays, as well as weekday evenings, enjoy seeing off your hangovers with Yeah!'s cleverly curated grazing platters, including unique twists on brunch classics like Huevos Rancheros and good old fashioned eggs and bacon.
Where: Off Broadway, 63-65 Broadway Market, London, E8 4PH