This week in London is going to be a cracker. Why? Well, a new burger hangout has just opened, Giant Robot has welcomed a new vendor, and Max's Sandwich Shop are flogging festive sarnies. Time to eat:
1. For a New Permanent Site: Burger and Beyond 
What: Burger favourites Burger & Beyond have now opened the doors to their first restaurant in Shoreditch that brings their signature buns to a permanent site for the very first time, as well as a new expanded menu.
Why: In keeping with their current residencies at KERB, Street Feast and Camden Assembly, the brand's burgers and sides, honed after three and a half years in the business, take centre stage. Drinking snacks include giant chilli corn, sourdough with bone marrow butter, and truffle nuts, while smaller plates feature like lamb nuggets with burnt onion dip, burrata with crispy crumb and truffle, and shaved rib cap with anchovy butter. Choose from the likes of the Cheeseburger (​aged beef patty, double American cheese, smoky mayo and onion), Krispie Fried Chicken (​rice Krispie fried chicken, miso maple butter and ranch pickle slaw), or the The Bougie Burg (​2x aged beef patties, cold smoked American cheese, steak sauce 2.0, marrownaise and beef fat onions).
Where: 147 Shoreditch High Street, London E1 6JE
Photo Credit: Lateef Photography
2. For a New Menu: La Mia Mamma 
What: La Mia Mamma is a unique concept that offers authentic regional Italian cuisine, with the restaurant inviting  over an Italian Mamma from a different region every season. Following the success of Sicily, the restaurant's debut focus, Emilia-Romagna is the new region with a brand-new menu at the Chelsea restaurant from an Emilia-Romagna Mamma.
Why: The new menu features a medley of regional dishes like the piadine flat breads filled with cheese and cured meats and erbazzone, a type of savoury filled pie. The fresh pasta dishes include gramigna con ragù di salsiccia e funghi (slow cooked sausage with mushroom) and lasagna filled with seasonal ingredients, and whatever mamma thinks is freshest and best. Mains on the new menu include Cotoletta Bolognese, breaded veal cutlets with Parma ham and parmesan cheese, and Pollo al Lambrusco – tender chicken cooked in Lambrusco, a typical red sparkling wine from Emilia Romagna.
Where: 257 King's Road, London, SW3 5EL
3. For a New Dish: TABASCO x Max's Sandwich Shop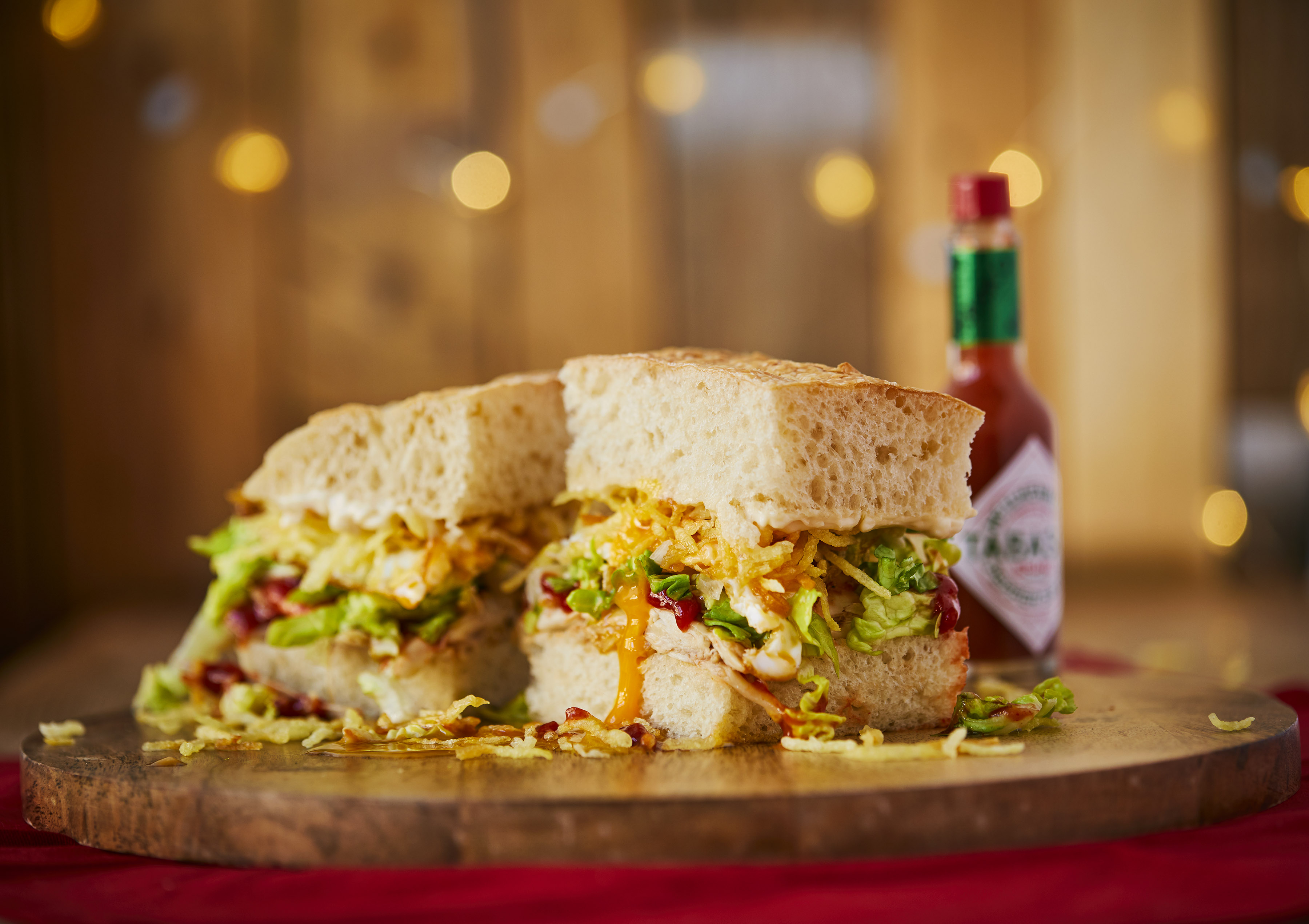 What: As part of its 150th anniversary celebrations, TABASCO has collaborated with sandwich maestro Max Halley (owner of North London institution Max's Sandwich Shop) to bring a food innovation that the capital has been waiting for: the first Christmas breakfast sandwich.
Why: Max's Morning Reviver is a hot sarnie which packs a festive punch with smoked turkey legs, a fried egg, turkey gravy mayo, Bloody Mary ketchup with TABASCO Sauce, shoestring fries and Baby Gem lettuce in home-made focaccia bread. A vegetarian option is also available, featuring a sage and onion stuffing patty.
Where: 19 Crouch Hill, Stroud Green, London N4 4AP
4. For a New Trader: Pastaio x Giant Robot 
What: Pastaio, Stevie Parle's pasta restaurant, has launched a residency at Street Feast's Giant Robot in Canary Wharf. The new pop-up serves up homemade pasta, classic antipasti, and their legendary Prosecco Slushies.
Why: Try the simple but sensational Cacio e Pepe, slow cooked Sausage Rigatoni, a rich tomato rigatoni and Pastaio's best-seller, the Mushroom Tagliatelle with meaty wild mushrooms, garlic, parmesan and olive oil. Dig into six antipasti including creamy burrata, Italian cold meats and the all-new deep-fried mozzarella and 'nduja. And finish up with their mega soft-serve coffee ice cream.
Where: Crossrail Pl, Canary Wharf, London E14 5AR
5. For a New Collaboration: Yard Sale Pizza x Loyle Carner
What: Having collaborated with some of the best chefs and street food traders in London and New York over the past few years, Yard Sale Pizza has something every special in store for its Christmas Love In. Taking a different direction Yard Sale have bought Mercury Prize-nominated musician Loyle Carner on board to create an incredible festive charity special, available until January 8th.
Why: Dubbed the Christmas Con Carner, the pizza has been inspired by Loyle's Chilli Con Carner cooking school, a free initiative he runs in collaboration with the social enterprise GOMA to get teenagers with ADHD into the kitchen. £1 from each pizza and limited edition t-shirt sold will be donated to the school to help fund more kids being able to attend the school next year. The Christmas Con Carner sees Yard Sale's signature double-fermented dough base topped with turkey chilli, mozzarella, and teardrop peppers on a house tomato sauce garnished with cheddar, sour cream, coriander and lime. A veggie version is also available.
Where: Locations here 
Photo Credit: Justin De Souza