If reading about new burger collaborations in London doesn't make you happy – nothing will. Here's the best eats you need to munch in London this week. Time to feast:
1. For a New Burger Collaboration: Ben's Canteen x Brewdog 
What: Neighbourhood burger hangout Ben's Canteen has teamed up with BrewDog to launch Ben's Canteen x BrewDog Burger: the first in a series of Ben's and BrewDog collaborations. And you can get your mitts on the new meaty bite from Monday (July 31st) at both Ben's Canteen sites as well as a selection of BrewDog bars in London.
Why: For beer and burger connoisseurs Ben's Canteen x BrewDog Burger is packed with two beef patties, double smoked cheese, streaky bacon and BrewDog's scene-stealing flagship Punk IPA barbecue sauce. Stacked with crack fries (fries in BrewDog's Kingpin batter) to give it that extra height and crunch. Oh baby.
Where: Earlsfield branch: 422 Garatt Lane, SW18 4HW and Battersea branch: 140 St John's Hill, SW11 1SL
2. For a New Residency: The Elephant x John Lewis Gardening Society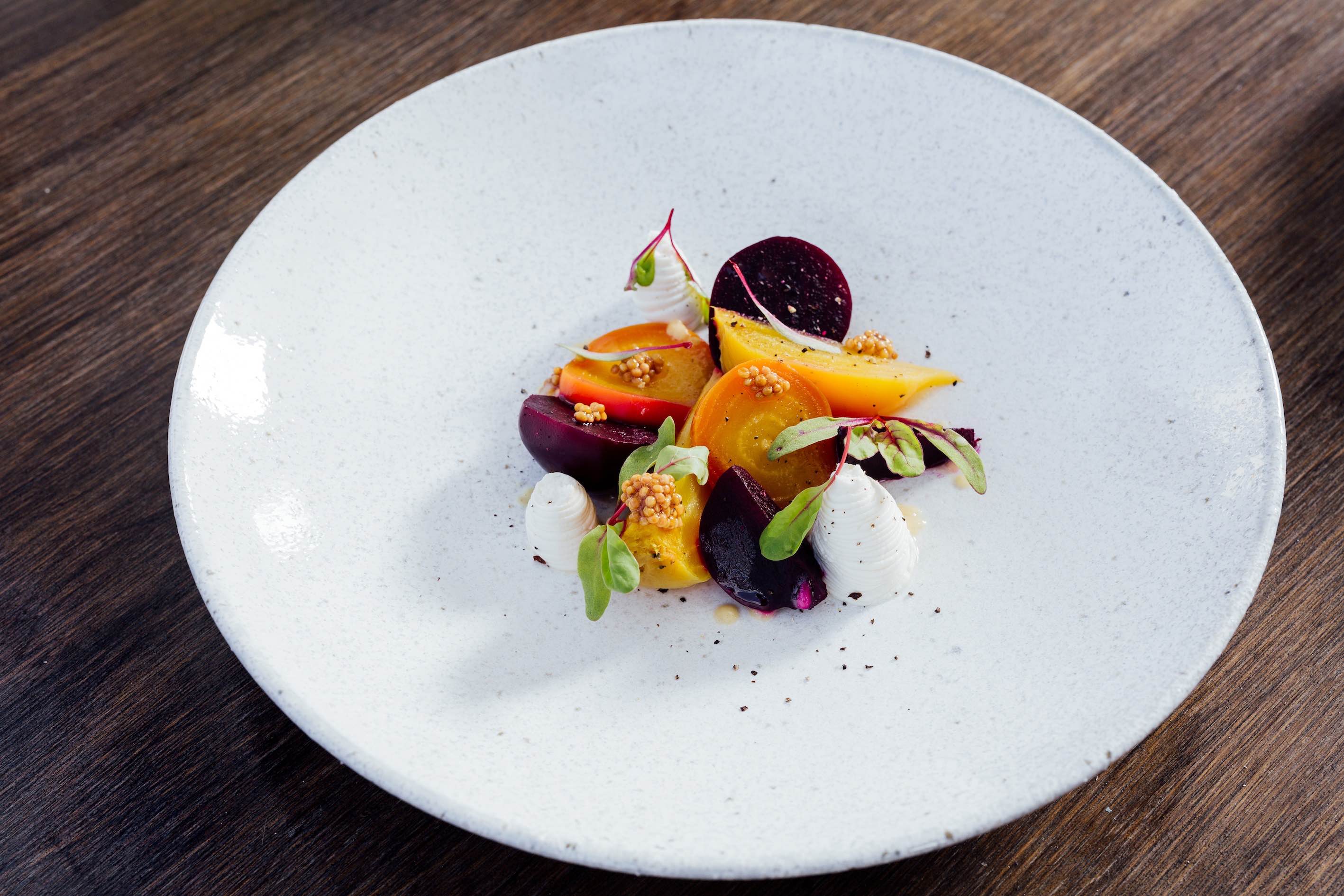 What: The John Lewis Gardening Society will bring the fresh flavours of Devon to London as acclaimed Michelin-starred Torquay restaurant, The Elephant, launches on the roof of John Lewis Oxford Street Running from 1st August until the end of September, The Elephant's residency will offer casual fine dining and the exquisite flavours of the English coast.
Why: Chef Proprietor of The Elephant, Simon Hulstone's bespoke menu will change daily dependent on seasonal availability. Dishes will include: chicken crackling with sour cream and chicken salt;  Paignton crab with bantam egg, spelt toast, salsa verde and Tellicherry black pepper; Kikkoman soy and ginger cured Fjord trout, cucumber, natural yoghurt and Cornish dulse powder; and sustainably sourced fish, Cornish seaweed butter, samphire and pickled onions. 
Where: 300 Oxford St, Marylebone, London W1C 1DX
3. For a New Dish: Porky's x Hellmann's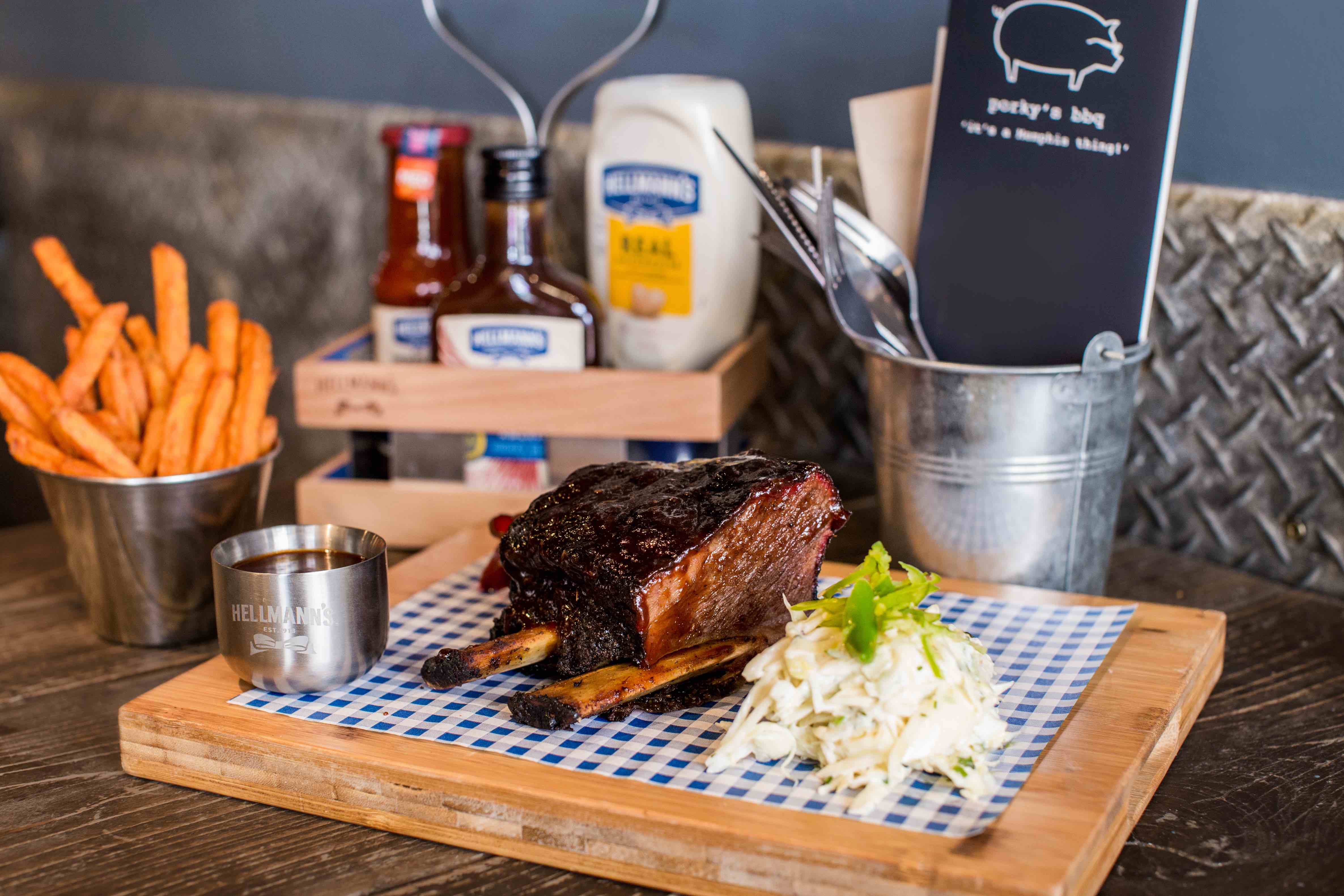 What: Calling all foodies and barbecue fanatics: Hellmann's is partnering up with Memphis-inspired barbecue joint, Porky's, to launch a new limited-edition dish, the BBQ beef rib glazed with bourbon and chipotle sauce, available until 24th August.
Why: The BBQ beef rib glazed with bourbon and chipotle sauce features a succulent beef short rib, marinated in bourbon and Hellmann's American Smokey BBQ and Smokey Chipotle sauces. To really fulfil your appetite, the ribs are also served with pickles and green chilli 'slaw using Hellmann's Real Mayonnaise.
Where: Locations here 
4. For a New Pop-Up: Freak Scene 
What: It's a familiar story; chefs across the country are pushing the culinary boundaries and launching fresh pop-up concepts that become so popular they end up staying far longer. And now the chef behind smash hit Japanese rock n'roll restaurant Kurobuta, which started life in 2014 as a six-month pop-up, is back with a brand-new and very exciting concept.
Why: For Freak Scene, Hallsworth has crafted a menu of pan-Asian dishes, prepared with an innovative flair. The menu is an enthusiastic, whistle-stop tour of Asia, stopping by everywhere from Thailand and Malaysia to South Korea and Japan. Star dishes include a hot short rib rendang; miso-yaki foie gras croissant with star anise jus; chilli crab with avocado wonton 'bombs'; and tea-smoked lamb chops with a spicy Korean miso.
Where: 91 Cowcross Street, London EC1M 6BH
What: Boki is a new all-day venue delivering a creative menu for breakfast, lunch and in the evenings, exciting internationally-inspired small plates expertly paired with a menu of cocktails, craft beer, wine and aperitifs.
Why: Healthy breakfasts include Boki bowls with avocado, quinoa, beetroot, edamame and smoked tofu, and the breakfast muffin with bacon, poached egg, and sriracha mayo. A range of sandwiches, quinoa bowls, chicken and veggie salad bowls and fresh charcuterie plates are available for lunch. The evening menu offers a balanced selection of small plates such as slow cooked BBQ lamb mini tacos with peanut brittle, mint and sweet corn salsa; chorizo toad in the hole with Harissa yoghurt; and crispy chicken skin crackling with lemon and paprika hummus.
Where: 20 Earlham Street, Seven Dials, London WC2H 9LG