The weather is divine, the long summery nights are unbeatable, and Londoners are flocking to the nearest beer garden in their droves. In the spirit of the Great British summer, this week's 5 things features new ice cream flavours and fantastic fish dishes. Less chat, more eating:
1. For a New Pop-Up: Little Moons 
What: Little Moons is launching a pop-up bar at London Selfridges from Monday (17th July) till September, giving ice cream lovers the chance to try three exclusive new flavours. If you're not familiar with Little Moons they produce mochi combining gelato spheres made from British dairy ice-cream, and wrapping them with sweet, soft mochi dough.
Why: The pop-up offers fifteen flavours, rotating daily: Matcha, Coconut, Toasted Sesame, Raspberry, Mango, Vanilla, Salted Caramel, Hazelnut, Chestnut, Dulce De Leche and Banana, alongside three flavours exclusive to Selfridges. The Black Espresso Shot is made with raw activated charcoal and packed with espresso: one for the caffeine fans. The Earl Grey of Oxford Street pays tribute to the founder of Selfridges, also known as the 'Earl of Oxford St'. The Earl Grey mochi ice cream has lovely floral notes, and the Yellow Yuzu and Elderflower flavour is an homage to Selfridges' iconic yellow bags. 
 Where: Food Hall, Selfridges & Co, 400 Oxford Street, London W1A 1AB
2. For a New Menu: Chop House Restaurants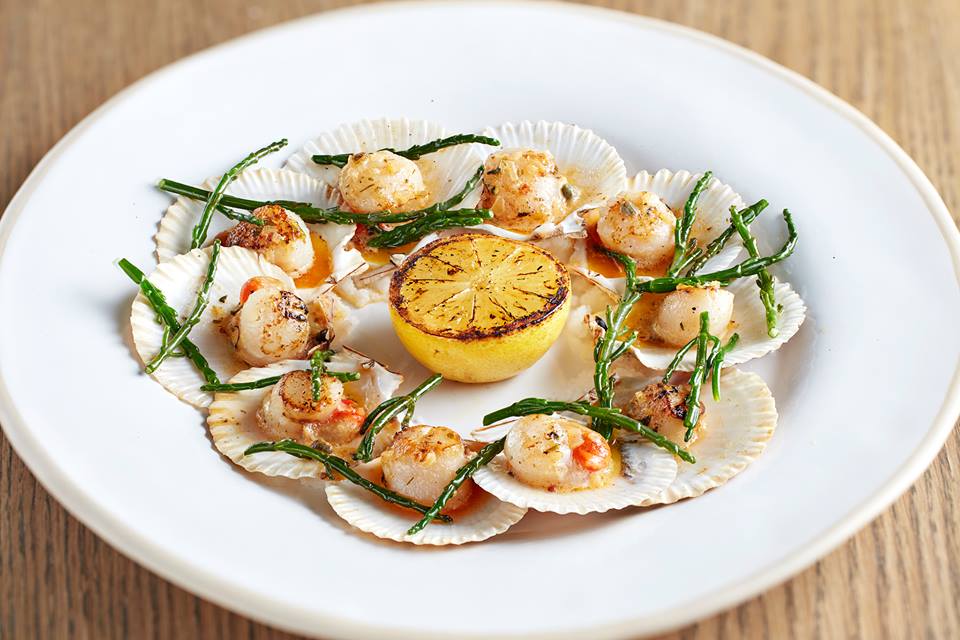 What: For the month of July, D&D London's Chop House restaurants have launched an exclusive Coast to Coast menu, celebrating the best of the waters of the British Isles. The special menu is a supplement to the main menu, with a focus on provenance and sustainability – central to the Chop House ethos. Curated with award-winning suppliers Flying Fish, the menu's sustainable seafood is sourced from all over Britain; from St. Austell Bay in Cornwall to the Isle of Gingha, off Scotland's Kintyre coast.
Why: Dishes include starters of Cornish mussels, smoked bacon and Somerset cider, and Scottish hand- dived scallops with Chop House butter and samphire. When it comes to main courses, there's a choice of grilled Isle of Gingha halibut and tartare hollandaise, or the fish of the day. Both dishes use the freshest catches, brought direct from boat to kitchen.
Where: Butlers Wharf Chop House: 36E Shad Thames, London SE1 2YE, South Place Chop House: 3 South Place, London EC2M 2AF, and Paternoster Chop House: 1 Warwick Court, Paternoster Row, London EC4M 7DX
3. For a London First: Naughty Avocado
What: It has happened. It has actually happened. We're surprised it has taken so long for London to welcome a dedicated avocado bar, but one has opened in Old Street Station and it's filled with so much healthy fat goodness we, quite simply, can't get enough.
Why: Naughty Avocado smashes their avocado like a pro. The idea is simple: pick your bread (go for the bacon infused sourdough, it's quasi-religious), and choose from the toppings available, or make your own. The avocado topped with sundried tomatoes, bocconcini, crispy shallots, purple basil, mozzarella and truffle is an AT certified banging lunchtime eat. And if you're up for trying something new, we say, order the pickled onion and feta option. It's a sweet, salty, creamy combo we're lapping up. And the green team are also planning a waffle menu. Watch this space.
Where: Unit 2a, Old Street Station, London EC1Y 1BE
Photo Credit: Deliveroo
4. For a New Summer Menu: Aubaine 
What: Aubaine has created a new summer menu, celebrating the simple and sophisticated flavours of French food. Led by Executive Chef Anthony Ekizian, the new menu and style sees some exciting additions whilst retaining Aubaine's passion and warmth that is at the heart of its cooking.
Why: For the perfectly balanced start to your day, try Aubaine's new breakfast salad – a mix of asparagus, soft boiled eggs, mixed leaves, avocado and sweety drop peppers. For something different, try the breakfast cassoulet, a twist on the dinner time feast featuring smoked Montbeliard sausages, confit duck leg, fried egg, bacon, tomatoes and haricot beans with a herb crust. For dinner there's only one dish to order: 100% Highland Wagyu burger with truffle chips. And if you're going to sample any of Aubaine's freshly made loaves, slather the smoked alsace bacon butter all over it. So rich. So glorious.
Where: Locations here 
5. For a New Opening: Mint Gun Club 
What: Mint Gun Club will open its doors in Stoke Newington on Friday (21st July). The brainchild of renowned bartender and drinks expert, Richard Hunt (Milk & Honey, Hawksmoor, Mahiki), the Mint Gun Club will specialise in delicious apéritifs, globally-inspired cocktails, fine teas and an array of exotic delicacies.
Why: The pantry-style food offering draws ingredients from Middle Eastern, Asian and Mediterranean larders. The menu is pick and choose situation – choose your favourite specialties to form a platter of spreads, salsas, breads, pickled fruits and salads. The cornerstone of the food offering will be the exotic Mint Gun Club High Tea which features layers of exotic sweet and savoury treats including mochi, proper marshmallow, Turkish delight, semolina cake, cucumber kimchi sandwiches and the MGC twist on the staple Club Sandwich. The drinks menu features a beautiful selection of simple, avant-garde cocktails: fragrant and diminutive Gimlets; an extensive array of tropical Apéritif; tonics and sodas; and innovative cocktails and nightcaps.
Where: 4a Brooke Rd, London N16 7JN