Man alive, this is an exciting week in London for foodie collabs. We've got Thai inspired pizzas on the go, one-off street food dishes, and meat-tastic poke bowls. Here's the deets:
1. For Gelato: Gelupo x Robin Gill x Andrew Clarke x Stevie Parle
What: Gelupo have collaborated with some of London's leading chefs, including Robin Gill, Andrew Clarke and Stevie Parle, to create the 'Garden Gelato' collection celebrating the best of British produce.
Why: First up is The Dairy's Robin Gill with a Fig Leaf flavour; the leaves used are symbolic of his farm-to-table cooking in the restaurant, providing a fragrant aroma and taste (6th-7th October). The next flavour is from Andrew Clarke at St Leonards/Brunswick House who will deliver a wild Spruce Leaf Honey (13th-14th), an unusual recipe with a tender and fresh flavour that will satisfy the sweetest cravings. Finally, the last of the collection is offered by Stevie Parle at Craft London (20th-21st), bringing a Craft Honey and Cardamom Bun flavour, using his very own Greenwich honey combined with the delicious fresh buns they make on site.
Where: 7 Archer St, Soho, London W1D 7AU
Photo Credit: Steven Joyce
2. For Pizza: Yard Sale Pizza x Farang 
What: Yard Sale Pizza is back for a globe-trotting yet local love-in collaborating with its north London neighbour, Farang, for a Thai-infused pizza special, available from Wednesday 10th October to Wednesday 7th November.
Why: Bringing together Farang's fresh Thai flavours and Yard Sale's signature double-fermented dough base, the Thai Society is topped with Farang's sticky soy pork belly, burnt chilli sauce, sesame-lime ricotta, spring onions, pickled ginger, and toasted pumpkin seeds. Available across all Yard Sale Pizza sites (Clapton, Finsbury Park, Walthamstow, and Leytonstone).
Where: Locations here 
3. For Poke: Island Poke x Pitt Cue 
What: Island Poké have joined forces with smoked meat specialists Pitt Cue for their latest collaboration; an exclusive smoked caramel chicken poké bowl, available now at all Island Poke sites. 
Why: The bowl boasts Pitt Cue's chicken thighs, smoked and doused in a chipotle caramel sauce, chicken skin crackling, white onions pickled in their house-brewed brown beer, a super light slaw marinated in Thai green chilli laab dressing, and Island Poké's house topping of burnt corn salsa. Everything sits on Island Poké's house sushi rice, drizzled with Pitt Cue's green chilli laab mayo.
Where: Locations here 
4. For a Burger: Honest Burgers x Karma Cola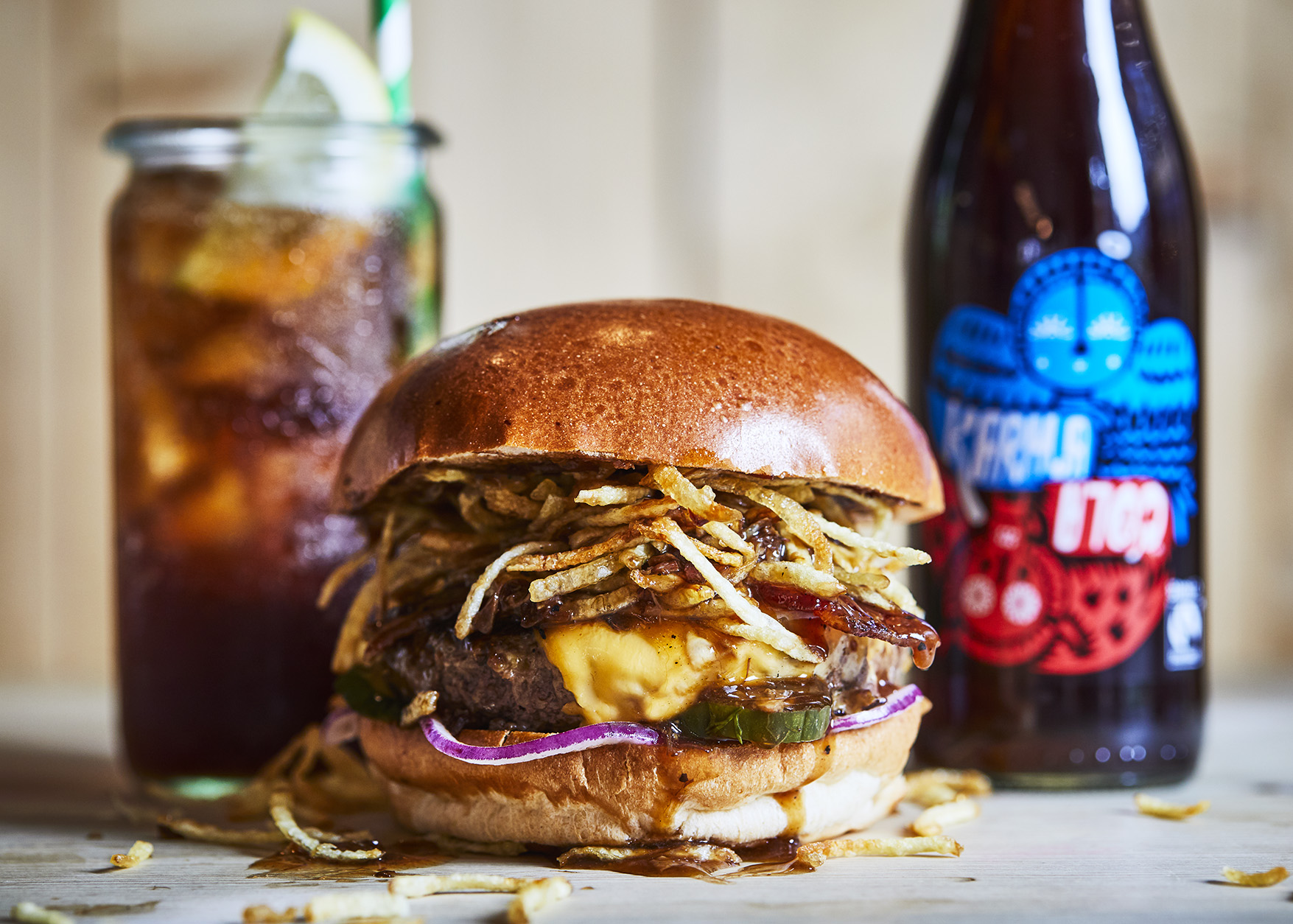 What: The Honest Burgers team are big fans of Karma Cola, the Fairtrade drinks company making great tasting organic cola featuring actual cola nuts from Sierra Leone (unlike the big guys, who ditched this namesake ingredient aeons ago, in favour of artificial imitations). They've come together to create a brand new, all-killer riff on the mighty American cheeseburger
Why: The Good Karma burgers features Karma Cola candied bacon, Karma bacon gravy, and bush pepper infused-pickles – a highly aromatic peppercorn that tastes similar to black pepper, bought directly from farmers in Sierra Leone. Every Good Karma burger and Karma Cola sold will raise money for the Karma Cola Foundation that supports the cola nut growers, farmers and their families in Sierra Leone.
Where: Locations here 
5. For All The Collaborations: KERB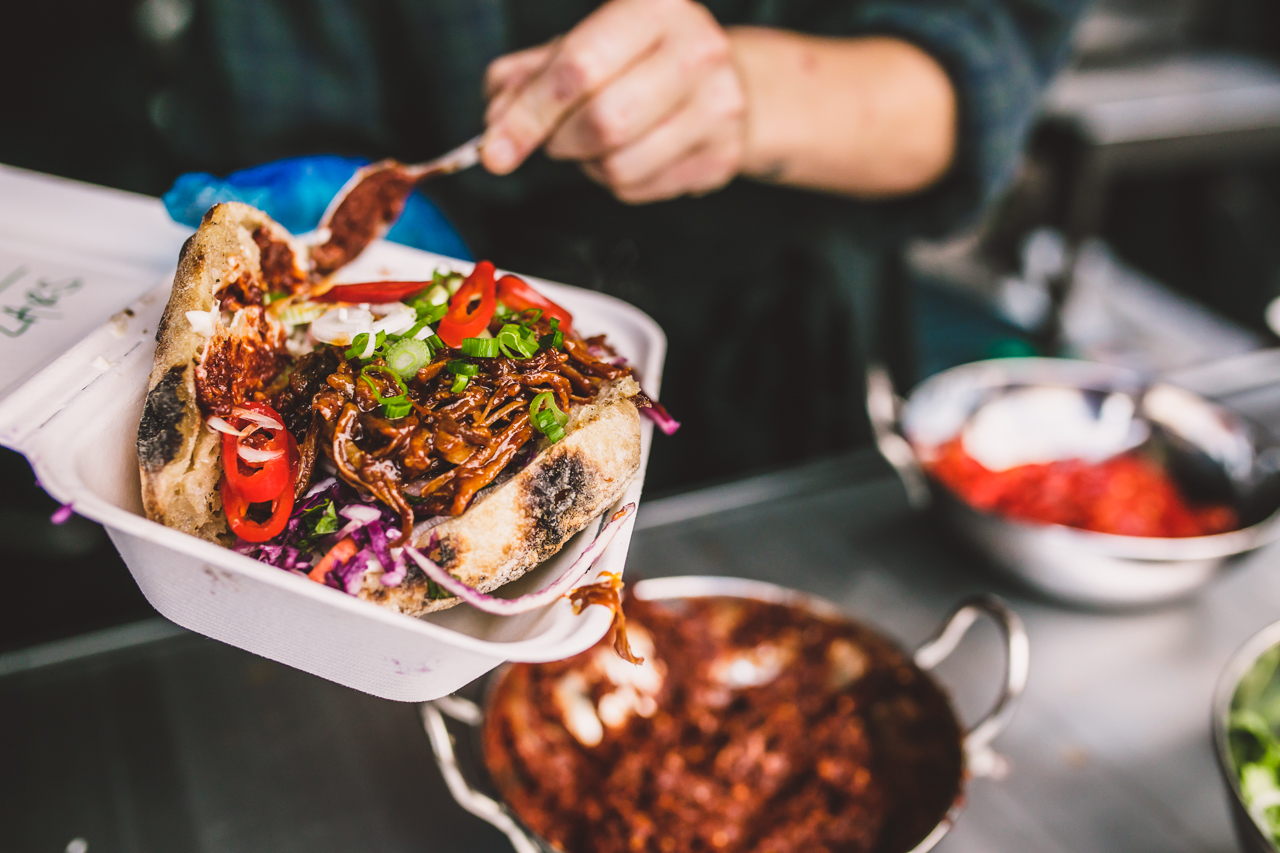 What: Street food trailblazers, KERB, are throwing a house party on October 6th, and there's high chance it's going to be a messy one. This year's line-up includes some of their best new inKERBator stars (Wheelcake Island, Biff Jack Shack, Smokin' Lotus, Growlers) plus old school KERB legends (Baba G's, Club Mexicana, BBQ Dreamz, Spice Box, Luardo's, Donostia, Born & Raised), cooking up one-off dishes and KERBlaborations you won't find anywhere else on London's streets.
Why: BBQ Dreamz and Smokin Lotus are joining forces to bring you smoked lobster and pork sui mai, served with a smoked pork ju, vinegar pearls, sesame dust and micro cress; Wheelcake Island and Da ja are whipping up Taiwanese fried chicken wheel cakes; vegan dream team Spice Box and Biffs Jack Shack will be on hand with Biff Burrow's deep fried sugar cane-speared jackfruit wingz dunked in Spice Box's special vindaloo or masala sauce, with a side of spicy chips; and, finally, Indian tapas from two of KERB's biggest street food legends, Baba G's and Donostia. 

Where: West Handyside Canopy, London N1C 4LW
Photo Credit: Jake Davies 
Tickets here