We're having a right ol' plant-based knees up at HQ. You name it, we've been eating it. From sushi to burgers and everything in between – here's the best new vegan dishes the capital are serving up right now. Hubba hubba:
1. For a BBQ Menu: Rudy's Diner
The Run-Down: Just because you're a plant-powered babe, doesn't mean you have to miss out on the greatest British summer tradition: BBQ treats. And excellent news – Rudy's Dirty Vegan Diner has all the barbecue bases covered with their new vegan summer BBQ menu.
Eat and Drink: This is not a half arsed attempt and a few soya sausages, this is a barbecue menu featuring BBQ'd seitan ribs, lobster rolls, mock ribs and rib platters. The kitchen team are always adding new summer dishes to the menu, but if you get a chance – load up on the fries with BBQ burnt ends. And the spicy Buffalo chick'n burger.
Where: Unit 739, Camden Stables Market, Camden Town, London NW1 8AH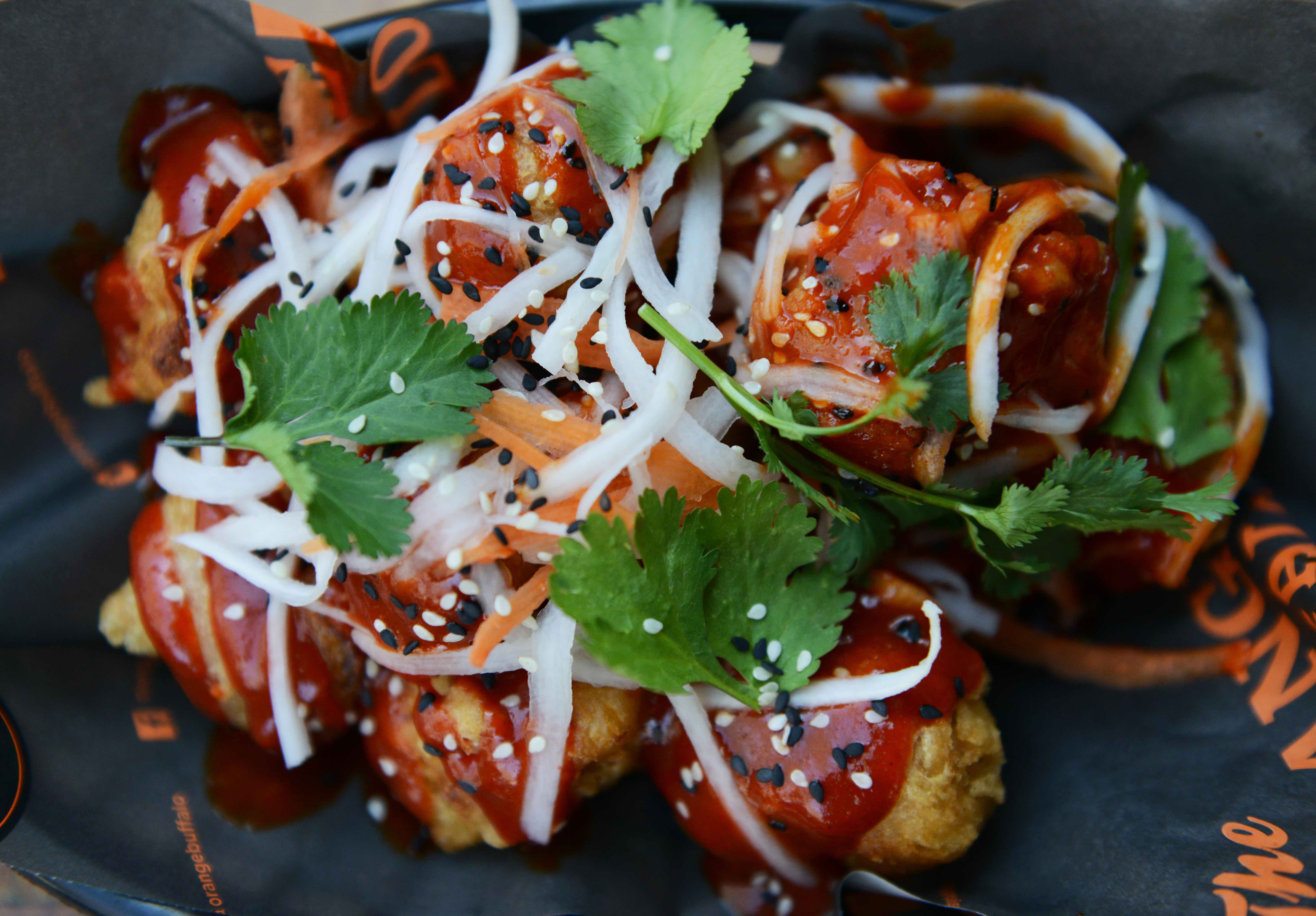 The Run-Down: Wing masters and king of the poultry, Orange Buffalo, have created a vegan special – their epic cauliflower wings, served exclusively at their Hoxton Square Bar & Kitchen site.
Eat and Drink: The delicious morsels of deep-fried cauiliflower are coated in Orange Buffalo's K-Town sauce – a savoury spicy and slightly sweet blend of Gochujang paste, soy, honey, and sesame seeds. It's everything you could want from a fried veggie, and then some.
Where: 2-4 Hoxton Square, London N1 6NU
3. For a Burger: The Vurger Co x Gaz Oakley
The Run-Down: One of the hottest vegan collabs to hit London in since, well, forever, The Vurger Co and Gaz Oakley (@avantgardevegan) have teamed up to create The Kicking Caribbean Burger, available from 30th June for one month only.
Eat and Drink: The burger features a jerk-spiced hot pepper bean patty, topped with with deep-fried plantains, housemade mango ketchup and coconut bacon bites. Make a meal of it and order The Vurger Co's famed sweet potato fries and Oreo shake.
Where: 9, Avant Garde Richmix Square, Cygnet St, London E1 6LD
The Run-Down: ROKA decided to create a Japanese inspired take on all things green, and have knocked up their very first vegan tasting menu. Showcasing their chef's expertly created cuisine, the new menu stays true to ROKA's ethos: taste sensation, visually stunning and aimed to be shared.
Eat and Drink: A myriad of diverse vegan starters, mains and desserts are available such as: grilled tofu with shiitake mushrooms, lemon and chilli; rice toban with japanese mushrooms, mountain vegetables and shaved truffle; and peanut, vanilla and chocolate sundae with poki sticks and banana tempura.
Where: Locations here
5. For a Vegan Brunch: Aster x Ketel One x Lumene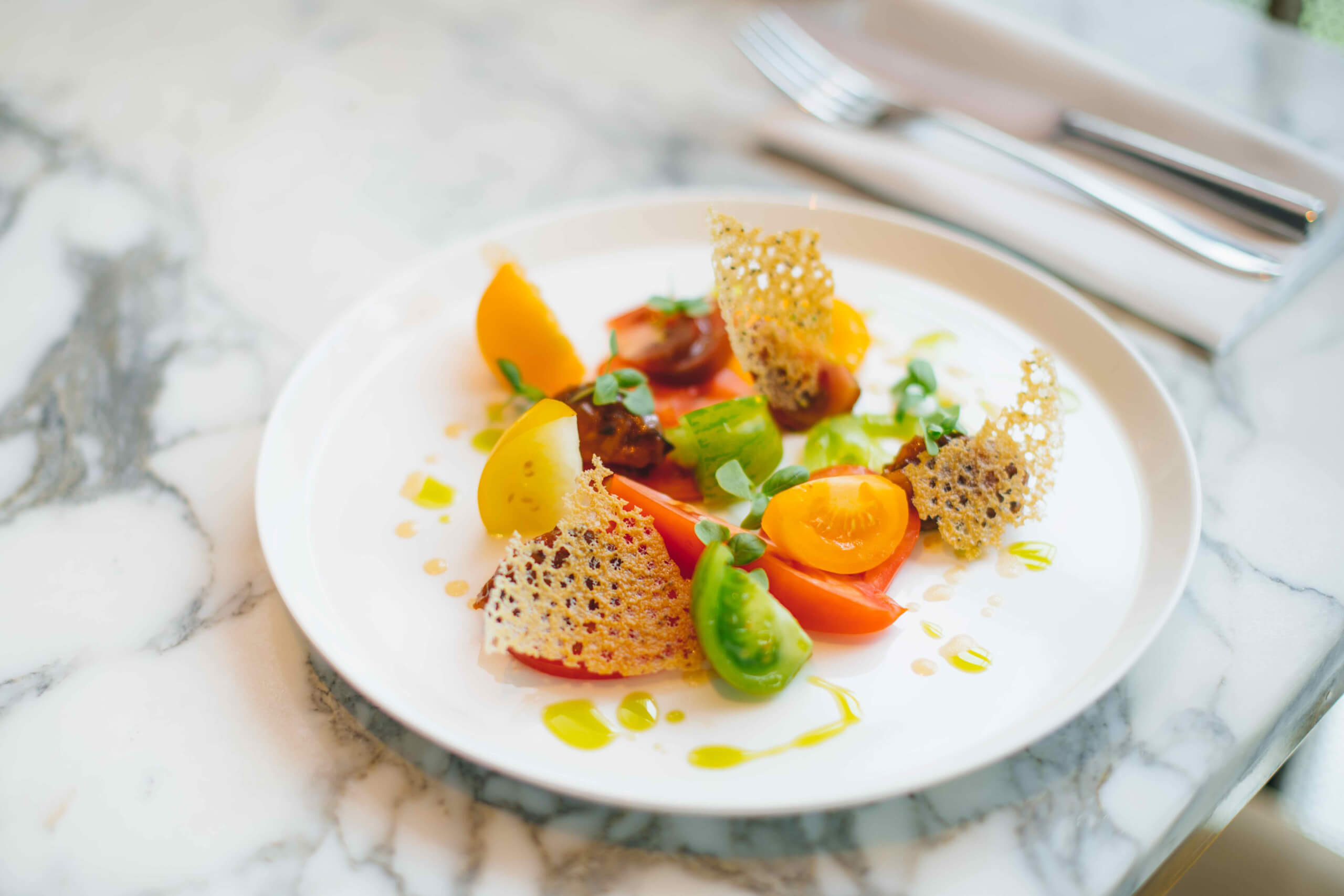 The Run-Down: Aster has introduced a vegan brunch in partnership with Ketel One and vegan Nordic skincare brand Lumene. Chef Patron Helena Puolakka, originally from the south-west coast of Finland, has created a plant-based menu which offers two or three courses with vegan Bloody Mary's, and free skincare goodies to take home, every Sunday throughout summer.
Eat and Drink: Filled with warm, refreshing and unique flavour combinations, the menu offers dishes such as heritage tomatoes with baby basil and sherry dressing and teff (gluten-free flour) pancakes topped with an invigorating golden drizzle.

Where: 150 Victoria St, Westminster, London SW1E 5LB