Nothing says Christmas more than a festive sweet treat. From savoury bakes to Christmas eclairs – here's 5 festive bakes you need to eat in the capital this week. Dig in:
1. For Festive Cereal: Dominique Ansel Bakery London
What: Christmas Morning Cereal (£13)
The Run-Down: With the festive season well and truly upon us, Dominique Ansel Bakery London have introduced a handful of limited edition delectable treats. The Christmas Morning Cereal is a gourmet cereal, made with Valrhona Caramelia (caramelised milk chocolate) puffed rice, caramelised hazelnuts, and smoked cinnamon Mini-Me's (miniature meringues). The cereal is best eaten with cold milk, or topped with ice cream. We'll be eating the cereal with the latter. For something deliciously different, order the gingerbread loaf made with lemon-infused honey syrup and custom blend of holiday spices. Glazed with dark chocolate and topped with homemade marshmallow snowflakes and their peppermint Mini-Me's. Divine. 
Where: Order online 
2. For a Festive Eclair: Marc Patisserie 
What: Mince Pie Eclair (£5.50)
The Run-Down: Two great things have come together: mince pies and eclairs.  Don't get us wrong, a deep filled, all butter pastry mince pie is hard to beat (we're looking at you M&S), but this little puffed beauty is something else. This  dessert contains a luxurious mincemeat creameux, encased in choux pastry with a festive crimson sugar crust – MARC Patisserie have taken the eclair to a whole new level. Stop by their luxury boutique at Selfridges, and fill your basket with their macaroons, chocolate tarts and mini lemon meringue pies.
Where: Selfridges & Co, 400 Oxford Street, London, W1A 1AB
3. For a Festive Yule Log: MAMIE'S 
What: Christmas Crepe Log
The Run-Down: MAMIE'S has re-created their very own Bûche de noël (a traditional French roll made with sponge and whipped cream). MAMIE'S version is made up of thin carefully rolled-up crêpes to create the base, then filled with generous layers of silky French chestnut cream, doused in dark chocolate and topped with edible Christmas figurines. This traditional festive French cake, similar to a Christmas yule log, has had a true MAMIE'S makeover. Best served with a nice cold glass of Bailey's, or a pint of cider.
Where:  19 Catherine Street, London WC2B 5JS
4. For Another Festive Eclair: Maître Choux's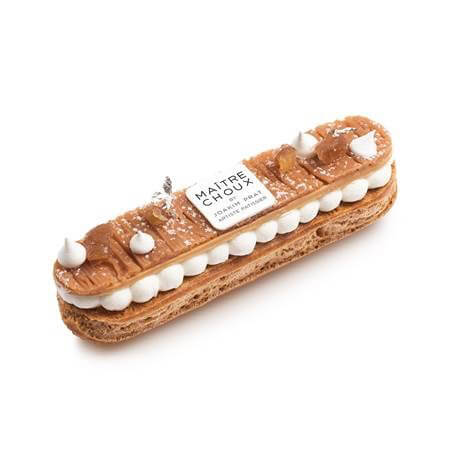 What: Mont Blanc – Cheeky Christmas Chestnut (£5.80)
The Run-Down: Maître Choux's limited edition eclairs are already the dessert of champions, but with their latest seasonal special: Mont Blanc – Cheeky Christmas Chestnut – they really are scaling new tasty heights. This confection is filled with Maître Choux's signature Tahitian vanilla cream, a light unsweetened whipped cream, together with an intense chestnut cream. It's then topped with freshly candied chestnuts and meringue pieces. All your Christmases really will have come at once with this new twist on the classic French dessert.
Where: 15 Harrington Road, South Kensington, London SW7 3ES
5. For Festive Chocolates: Paul a Young 
What: Box of 9 Festive Chocolates (£15.50)
The Run-Down: Paul.A.Young fine chocolates' seasonal collection draws on influences from Scandi and European sources, with a range sprinkled with berries, warm toffees and the comfort of caramels. Paul has also taken some of our favourite nostalgic traditional sweets and transformed them with a touch of extravagance this winter. Expect a Figgy Pudding and Port chocolate, the intriguing sounding Crackling Embers, a 72% Venezuelan dark chocolate with chipotle chilli and ginger, Lapsang Souchong tea and popping candy, as well as a Marzipan, Prune and Cognac chocolate. The 2016 collection also includes the following flavours: Gingerbread and Blue Cheese, Gold, Frankincense and Myrrh, and Liquorice and Treacle Toffee Salted Caramel.
Where: Locations here 
One for luck.. 
6. For a Festive Slice: Gregg's
What: Festive Bake (£1.50)
The Run-Down: I'm sorry Angelica, but Gregg's is life. Gregg's is a beacon on hope on the high-street; the mender of broken hearts and killer hangovers. Forget your Christmas sandwiches and baguettes, it's all about the festive bakes. Gregg's is famed for their festive number – a golden puff pastry crammed full of pieces of chicken breast, sage and onion stuffing, and sweetcure bacon in a creamy sage and cranberry sauce. And like any successful Gregg's trip, you need dessert. The pink iced finger never fails.
Where: Locations here