While Mother's Day 2021 may be a little different this year, there's never been a better time to up your gift game. From gin-packed boxes to chocolate galore – here's a selection of delicious hampers suitable for all budgets and tastes:
The Lowdown: South Bank hotel Sea Containers London has created two special Mother's Day hampers to help you show that special lady in your life just how much you care. Drawing inspiration from the upcoming Yayoi Kusama exhibition at Tate Modern, the two hampers feature a striking bouquet of vibrant dried flowers from Peckham-based florist SAGE Flowers, alongside a selection of other treats for some well-deserved relaxation – blended essential oils from the knowledgeable team at agua London, wine, Champagne and candles – and a voucher to visit once the hotel reopens.
Where: Buy online, from £45
The Lowdown: Presented in beautiful wicker hampers, mums will find an abundant stash of gourmet foodie delights inside. From homemade strawberry and hibiscus jam, goji berry and buckwheat cookies, London honeycomb and HIDE's artisan granola to smoked rapeseed oil with garlic and rosemary, quince and Moscatel chutney, and a jar of Italy's finest Nocellara del Belice green olives, the team have ensured every hamper will be sure to excite. For some extra luxe, there is also the option to add black truffle, the finest Beluga caviar, as well as HIDEAWAY's famous lobster roll.
Where: Buy online, from £65
The Lowdown: In celebration of Mother's Day 2021, Pierre Marcolini has shared his prettiest pieces to bring joy and happiness to loved ones. The tiered gift boxes are bursting with signature delights. After all, there's nothing like showing your love and appreciation for someone with 2, 3 or 4 drawers full of classic hearts, truffles, pralines and more.
Where: Buy online, from £64
The Lowdown: Rogues London have come through this year with a sensation hamper choc-a-block with tasty bites. After a tough 2020, Rogues have gone the extra mile with their luxury Mother's Day hamper. Think a bunch of daffodils,  scented candle, mini bottle of Prosecco, teapigs Everyday Brew tea bags, and a selection of afternoon tea sweets; scones, jam and clotted cream, hazelnut and fig choux bun, salted caramel truffles and double chocolate cookies.
Where: Order online, £35
The Lowdown: The 'A Special Mum Bundle' contains one of Craft Gin Club's most popular featured gins, La Distillerie De Monaco Gin, helping to give her a taste of sunshine even in lockdown. Alongside the gin, she will also receive six Lovely Drinks Indian Tonic Waters, perfectly paired dried Raspberry and Juniper garnish, along with delicious Lemon and Thyme Olives from Olly's Olives and Mr Filbert's French Rosemary Almonds to snack on.
Where: Buy online, £59
The Lowdown: Joe & Seph's Mother's Day Pamper Night In Gift Box is the perfect treat to help mum relax and unwind on her special day. The pampering box is filled to the brim with luxurious gourmet and boozy goodies, featuring White Chocolate & Raspberry Popcorn Bites, and a selection of indulgent gourmet popcorn flavours, including Strawberries & Cream, Pina Colada,  and Strawberry Cheesecake and Prosecco. The premium gift box includes a decadent Joe & Seph's smooth Prosecco Caramel Sauce, which is delicious served on pancakes, ice cream or straight out of the jar with a spoon.
Where: Buy online, £25
The Lowdown: Primo Aperitivo create high quality, ready-to-pour cocktails, and have partnered with luxury Italian food delivery, NifeisLife, for a special Mother's Day hamper. The box provides a five-star Aperitivo experience, bursting with Italian delicacies for a real gourmet feast, topped off with Primo Aperitivo Negroni, to enjoy at home.
Where: Buy online, £59
The Lowdown: The Cheese Bar have curated two Mother's Day hampers comprising a trio of dairy-based wonders. The Mummy's Boy includes a selection of 3 cheeses, crackers and a bottle of Pago de Tharsys Cava. Alternatively, the Mummy's Little Helper – Cheese & Gin Tasting Box – includes 4 cheeses (Driftwood, Baron Bigod, Kirkham's Lancashire and Cropwell Bishop Stilton) with each individually paired with a different artisan gin. The box comes with tasting and pairing notes from The Cheese Bar's Head Cheesemonger.
Where: Buy online, from £35
The Lowdown: Bottle Bar and Shop's personalised Mother's Day hamper allows you to pick and choose from a selection of their handcrafted cocktails alongside tasty local treats. The hamper includes: small and large cocktails of your choice, a gin infusion, almond biscotti by Sunday Pancakes Bakery, seasonal chutney by Good Food, and artisan chocolate by Chocolate Tree
Where: Buy online, £55
The Lowdown: The Cherry Tree's Mother's Day Hamper is crammed full of the good stuff – cheese, condiments, and crackers. The signature blue gift-box features: Lemon and Lime Curd, Cherry with Amaretto Extra Jam, Spicy Tomato and Caramelised Onion Chutney, a selection of cheeses, and Caramalised Onion Cracker Bites. Also included is a handmade Mother's Day greetings card with a handwritten message of your choice.
Where: Buy online, £35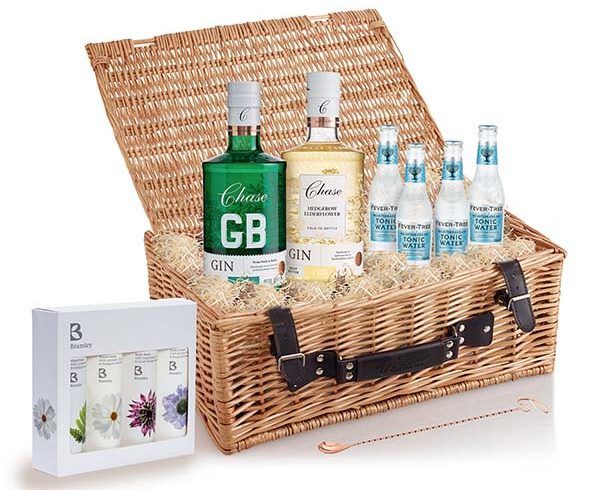 The Lowdown: Chase Distillery have all the bases covered (booze and skincare) with their Ultimate Mother's Day Hamper, in collaboration with Bramble Products. With only a select numbers of hampers available, the beautiful packages containing 1 bottle of GB gin and Hedgerow Elderflower Gin, 4 bottles of Fever-Tree tonic, a copper bar spoon and a Fern Bramley gift set containing 4 full-sized products of their best-selling Hand Wash, Hand Cream, Body Wash and Body Lotion with their unique blend of essential oils.
Where: Buy online, £125
The Lowdown: St-Germain has teamed up with renowned London florists, McQueens Flowers, to add a touch of French 'joie de vivre' to this year's Mother's Day. The limited-edition hamper features a stunning floral bouquet, inspired by the freshly handpicked elderflower blossoms used to create the iconic liqueur, along with everything required to make the signature St-Germain Spritz cocktail. This includes: a bottle of St Elderflower Liqueur, a beautiful bottle of Perrier-Jouët Grand Brut Champagne, two cans of Perrier Sparkling Water and a pair of art-deco glassware.
Where: Buy online, £185